Here's a fun little question for today: Where in your home are you working? Are you cycling through a few spots in your home, or do you have a solid preference for one space? Here are some of the pros and cons to the different spaces…
Home Office
Pros: You've got a setup — maybe dual monitors, an ergonomic keyboard, a great office chair — peak productivity! 
Cons: This may be a fantasy and may not exist — and if you have kids home, you may not be able to lock yourself away in the office all day.
Desk
Pros: It may not be a full, self-contained office, but you've probably got a keyboard tray and a comfortable computer chair, and you can leave your papers on the desk undisturbed at the end of your work session!
Cons: Your desk space may be a bit cramped since it isn't a full office — and you may also be tucked in the corner of the living room or some other space where roommates, kids, or partners are also trying to work. Noise and focus may be a problem — you may also have some interruptions.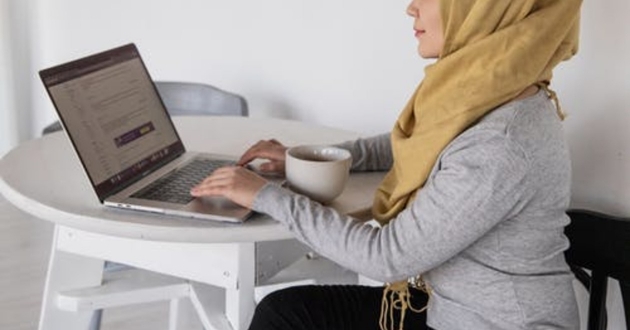 Kitchen Table/Counter
Pros: You've got a table and a chair — and a lot of room to spread out your papers! A pro and a con: You're probably in the hub of your home, which means you can supervise others but also get interrupted more.
Cons: Your papers (and/or computer) may accidentally get food or drinks on them from others in the house (or, let's be honest, from you), and they may get shuffled and out of order. Odds are good you'll have to move your papers around to actually, you know, eat in the space.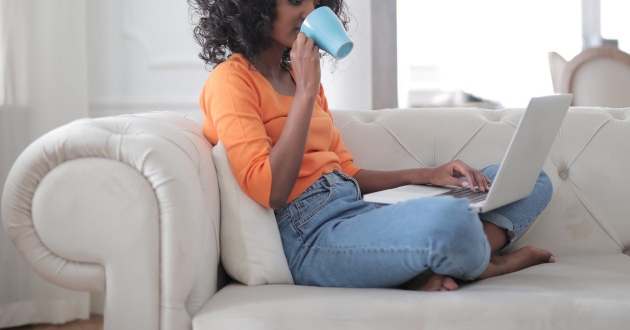 Couch/Chair/Floor
Pros: Peak laptop life, right? You can work wherever, which means you can chase the sunlight, sit in front of a nice window to look outside, or move around the space to supervise kids or pets as needed. 
Cons: The ergonomics here are… not great. Your back/bum/legs may be aching if you sit in one place for too long, it's hard to find space to keep the papers you may or may not need to reference, and, well, if you have limited space and want to watch TV later, it may feel like pretty much the exact same setup, which isn't best for work/life boundaries.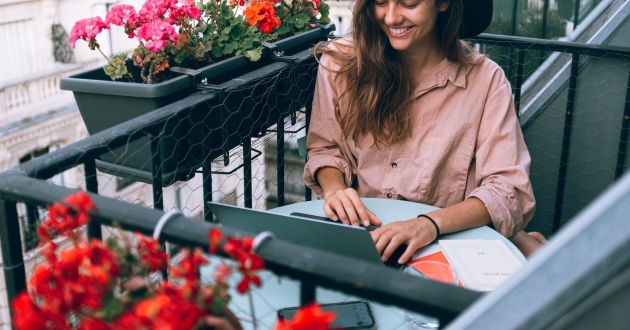 Outside (e.g., Balcony/Backyard)
Pros: Now we're talking! Sun! Breeze!
Cons: WiFi may stink out there, a stiff breeze can take your papers, and your laptop may not like the sun's glare.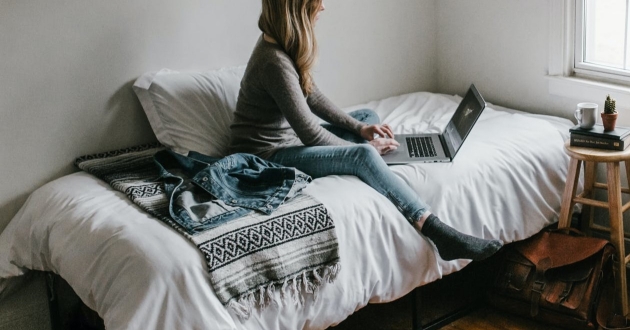 Bed/Bedroom
Pros: You can probably get privacy by shutting the door — plus, who needs to get out of bed to answer emails, amiright?
Cons: Just a warning — workplace experts really advise against working where you sleep. It can be a great way to get a few discrete tasks done (checking email, proofreading docs, etc.), but be warned against working there all the time. Plus, the ergonomics are… not great. (A lap desk (affiliate link) can help a bit!)
What are your thoughts, ladies — where have you been primarily working from? Have you found it productive to switch between a few spots, or perhaps try to train yourself to do certain tasks in certain spaces? Where do you prefer to work from home?
All stock photos via Pexels: woman on couch (Andrea Piacquadio), woman at kitchen table (Ekaterina Bolovtsova), woman on balcony (Daria Shevtsova), woman on bed (Andrew Neel).