If you thought following a paleo diet would mean giving up your favorite cookies, you'd be right, because this collection of easy, save-worthy paleo cookie recipes will make your usual ones pale into insignificance! Sugar cookies, carrot cake cookies, and even banana bread cookies are all here, as well as decadent double chocolate treats, and thumbprint ones filled with salted caramel that you'll crave again and again, and all of them are totally paleo-friendly.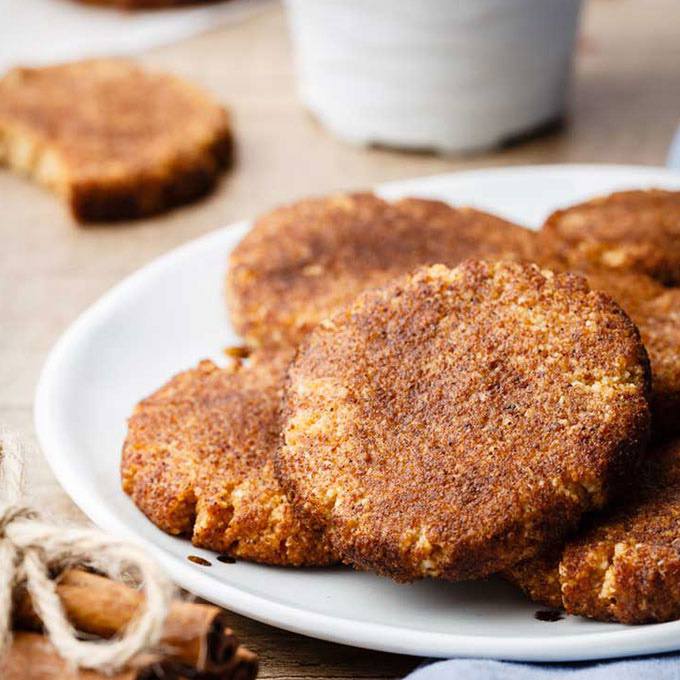 Easy Paleo Snickerdoodles
paleogrubs.com
The golden coating on these cinnamon and coconut sugar snickerdoodles speaks volumes about the taste, which is true to the classic version but without the refined and dairy-based ingredients.
---
Paleo Chocolate Chip Cookies
paleogrubs.com
Using dark chocolate is a much healthier alternative to milk, and it's used to great effect in these paleo cookies, which are also made with almond flour, honey, and apple cider vinegar.
---
Thumbprint Cookies with Homemade Chia Jam
paleogrubs.com
Thumbprint cookies are a lot of fun to make, and great for the kids to get involved in. Make these paleo-friendly versions and fill them with a homemade blueberry and honey jam.
---
Chocolate Crinkle Cookies
paleogrubs.com
These might not look like cookies but make no mistake – they are every bit as delicious and decadent as any classic version; soft and chewy on the inside, with a crispy outer shell.
---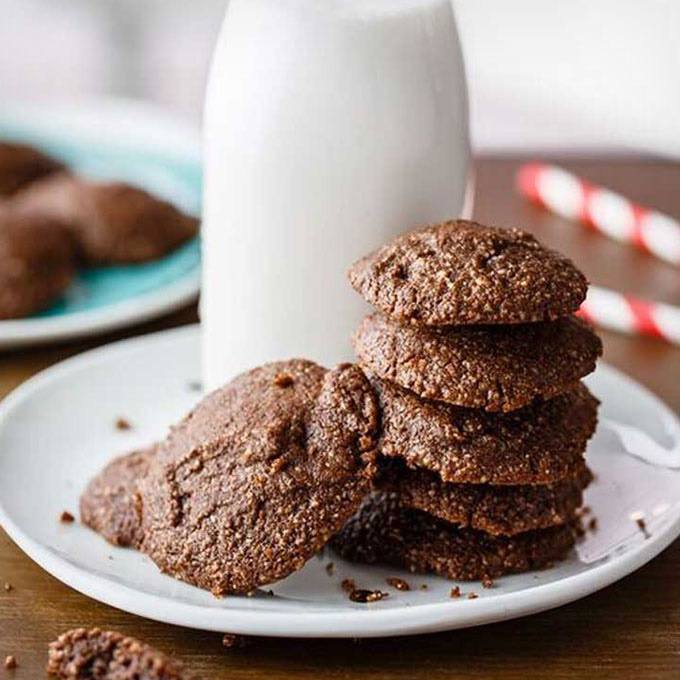 Chocolate Brownie Cookies
paleogrubs.com
Chocolate brownie cookies are like having two of the world's greatest desserts in one, and being on a paleo plan doesn't preclude you from enjoying these indulgent treats at all.
---
Chocolate Chunk Cookie Dough Bites
paleogrubs.com
Eating raw cookie dough is one of life's guilty pleasures, but the egg can be a bit of a gray area; however, you can solve the problem by using coconut oil instead.
---
Paleo Fig Newton Cookies
paleogrubs.com
With a soft and chewy fig and date filling, these fig Newton cookies are a real luxury and are ideal for when you want to really indulge in something special.
---
Paleo Carrot Cake Cookies
paleogrubs.com
You either love or hate carrot cake, but if you are a fan you will adore these carrot cake paleo cookies which also include pecans, raisins, honey, and a touch of cinnamon.
---
Ultimate Chewy Paleo Coconut Cookies
beamingbaker.com
Coconut puts you in mind of tropical holidays, and these coconut cookies will ensure you're looking and feeling beach ready and beautiful, because they're so much healthier than non-paleo ones.
---
4-Ingredient Meringue Cookies
paleogrubs.com
If you thought meringues were off-limits when eating clean, think again because these little meringue cookies are made using coconut sugar, egg whites, and lemon juice for a totally paleo-compatible treat.
---
German Chocolate Cookies
paleobythepenny.com
You won't need to eat many of these German chocolate cookies because they're super rich, and topped with a maple syrup and pecan frosting, and drizzled with chocolate to finish.
---
4 Ingredient Paleo Vegan Cashew Butter Cookies
beamingbaker.com
Both flourless and gluten-free, these simple cookies need just four ingredients and cook in 12 minutes, so you can have sweet treats on the table in virtually no time at all.
---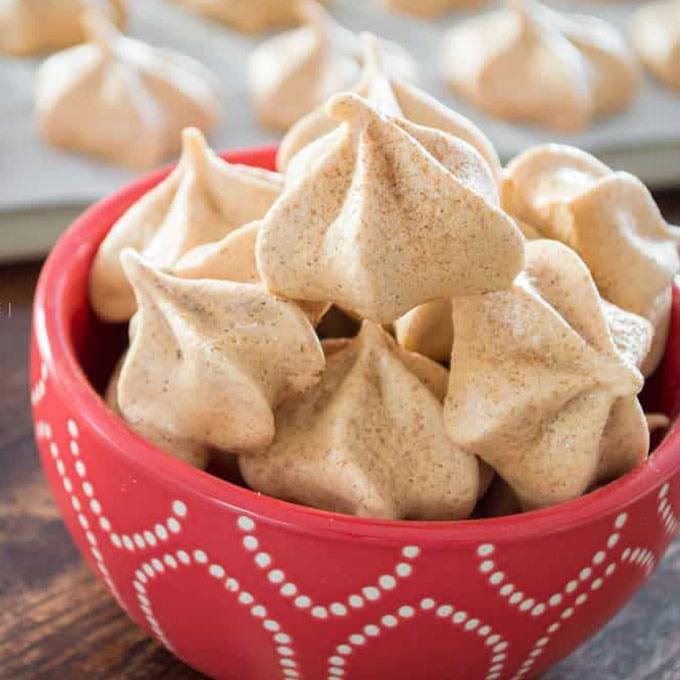 Cinnamon Maple Meringues
ourpaleolife.com
If meringue is your jam, then take a look at these cute little cinnamon maple meringue cookies; although they take more than 2 hours to bake, they're totally worth the wait.
---
Banana Bread Cookies
simplyjillicious.com
Banana bread is a winner and an easy way of using up those overripe bananas. Turn your favorite loaf into cookies instead, by following this fabulous paleo recipe with only six ingredients.
---
Melt in Your Mouth Mexican Wedding Cookies
paleogrubs.com
With such a romantic name, Mexican wedding cookies are bound to be delicious, and by tweaking the ingredients to healthier alternatives, you can enjoy them on a paleo diet, too.
---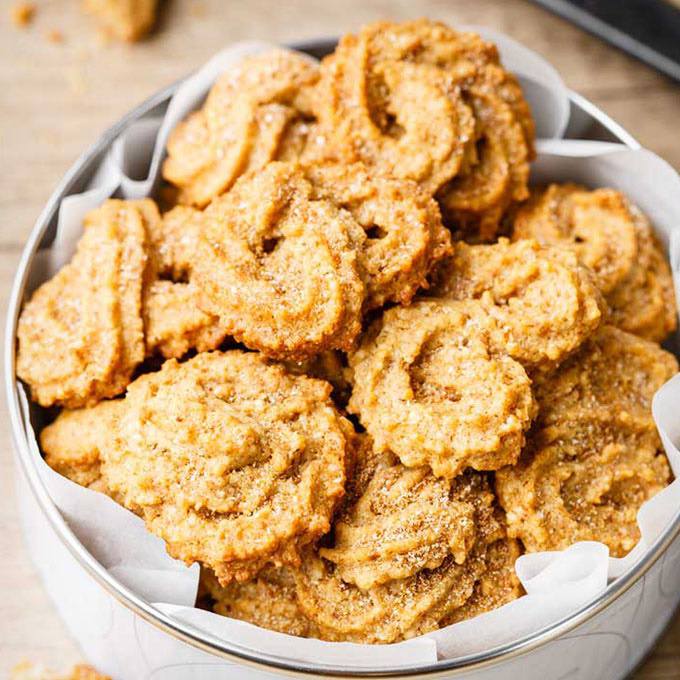 Spritz Cookies
paleogrubs.com
Capture the spirit of a German Christmas with these spritz cookies; they gained their name from the German word for 'squirt', which is how their unique swirly shape is traditionally formed.
---
Molasses Cookies
whatmollymade.com
Infuse your baking with the deep, rich sweetness of blackstrap molasses with these deliciously spicy cookies which are just perfect for baking (and eating) through the holiday season.
---
Paleo Magic Cookie Bars
realfoodwithjessica.com
Magic cookie bars are a taste sensation, and ideal if you have a sweet tooth but still want to stick to your paleo diet because every ingredient used is compliant with the plan.
---
Gluten-free Lemon Cookies
texanerin.com
If chocolate is a little heavy or sweet for you, these lemon cookies will make a delightful alternative, because both the cookie and the frosting are infused with a fresh lemon taste.
---
Gingerbread Cookies with Chocolate Icing
paleogrubs.com
Christmastime or any time, gingerbread cookies are always fun to make and eat, and this recipe shows you how to make them using almond and arrowroot flours, before decorating with chocolate icing.
---
Soft & Chewy Double Chocolate Cookies
paleomg.com
Cookies should be soft and chewy, especially if they have chocolate in them, and that's exactly what this recipe offers by way of almond butter, cocoa powder, and paleo-friendly chocolate chips.
---
Nana's Christmas Gingerbread Cookies
paleogrubs.com
Full of anti-inflammatory properties, these gingerbread cookies not only taste great, but they are awesomely good for you, too, whatever shape you decide to cut them into.
---
Double Chocolate Mint Paleo Cookies
erinliveswhole.com
Savor the taste of chocolate and candy canes in these gorgeous cookies, which use peppermint extract for flavor, and paleo-friendly flours and other ingredients like nut butter, coconut oil, and maple syrup.
---
Paleo Cookie Pizza with Cashew Cream
foodfaithfitness.com
Pizza night just got even yummier thanks to this incredible cookies pizza, because no matter which way you look at it, a cashew cream and chocolate dinner is waaaay more delicious.
---
Amaretti Cookies
flavcity.com
Amaretti cookies are delicious little bites and have a unique, almond flavor thanks to the almond flour and extract included in this simple six ingredient paleo cookie recipe.
---
Chocolate Chip Cookie Sticks
livinghealthywithchocolate.com
Light and crisp on the outside, and soft and chewy within, these cookie sticks are the perfect sweet treat for anyone following the paleo diet as they're sweetened with raw coconut palm sugar.
---
Cinnamon Swirl Cookies
ketodietapp.com
Cinnamon swirls are a great way to start the day, but they are usually loaded with sugar and other not-so-good-for-you ingredients. Make these cookies the paleo way and you can enjoy them guilt-free.
---
Black and White Cookies
paleogrubs.com
Black and white cookies are a visual delight, and they taste every bit as good as they look when they're made according to this recipe, which uses almond flour instead of refined.
---
Chewy and Soft Gingerbread Cookies
shuangyskitchensink.com
If you love the taste of gingerbread men but prefer your cookies to be more soft than snap, this paleo recipe will give you all the tools you need to make them your way.
---
Apple Cinnamon Cookies
realsimplegood.com
Using dried apples makes these fruity, spicy cookies last longer than using fresh, but either way they make the perfect fall indulgence for those colder, crisper days.
---
Autoimmune Paleo Samoa Cookie Copycat
forestandfauna.com
These donut-shaped cookies are super pretty to look at, which just makes them even more delicious, from the vegan caramel layer to the toasted coconut and drizzled chocolate topping.
---
Vegan Lemon Coconut Sandwich Cookies
plentyandwell.com
Like sunshine in a cookie, these sweet sandwiches have lemon flavored nut or seed butter rounds which are held together with a creamy, whiter than white coconut and honey cream filling.
---
Snowball Cookies
bakeitpaleo.com
There's no flour needed in this paleo cookie recipe – instead it's made using dates, coconut, and protein powder, and then rolled in some powdered monk fruit to resemble the 'snow'.
---
Grain Free Espresso Cashew Butter Cookies
fitmittenkitchen.com
Make your own espresso cashew butter by following the link in this recipe, and then use it to create these utterly delicious cookies which are soft, filling, and just the right amount of sweet.
---
Simple Paleo Chocolate Chip Cookies
paleogrubs.com
Simple and wholesome, not to mention delicious, these chocolate chip cookies may be free from gluten, dairy, and grain, but the one thing they're not lacking is taste, because they are delicious!
---
Chunky Monkey Paleo Banana Cookies
theendlessmeal.com
If the idea of eating cookies for breakfast excites you but you'd feel guilty if you did, fret no more because these chunky monkey cookies are full of breakfast friendly ingredients.
---
Low Carb Coconut Flour Chocolate Chip Cookies
paleogrubs.com
When you're trying to include a lot of healthy fats into your diet but you fancy a sweet treat, try these chocolate chip cookies using grass-fed ghee, coconut flour, and dark chocolate chips.
---
Double Ginger Lemon Paleo Cookies
littlebitsof.com
If you've ever had lemon and ginger in hot water when you've had a cold, you'll know what a great combination it is, and here it is again in these wonderfully fresh-tasting cookies.
---
Almond Flour Cookie Ice Cream Sandwiches
paleogrubs.com
It's so easy to make creamy chocolate banana ice cream using frozen bananas, and it can be used with great success to fill these fabulous paleo and dairy-free ice cream sandwiches.
---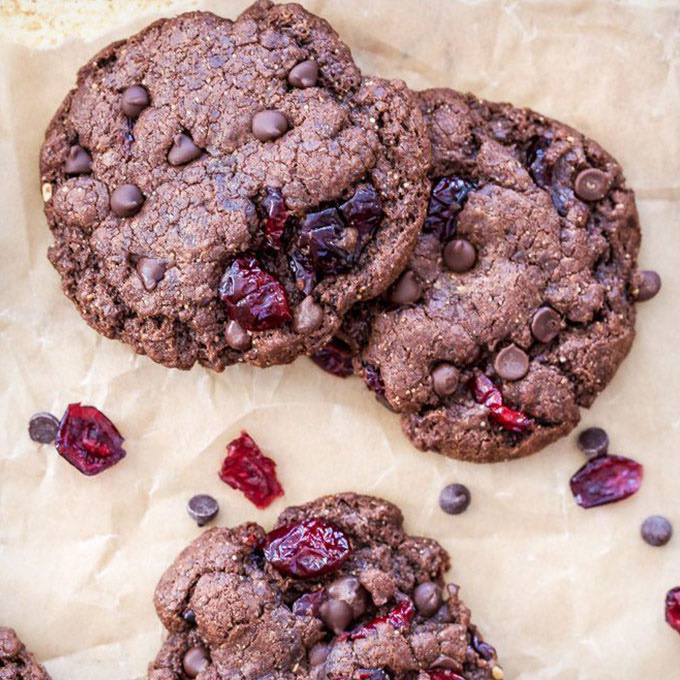 Double Chocolate Cranberry Cookies
reciperunner.com
Packed with paleo-friendly chocolate chips and dried cranberries, these double chocolate cookies have an added boost of protein thanks to the inclusion of some cocoa and coconut collagen whey.
---
No-Bake Walnut Cookies
paleogrubs.com
Both nutty and chewy, these golden cookies are made using a no-bake recipe for the easiest cookies ever, and if you don't like the taste of coconut, try swapping in chocolate chips, instead.
---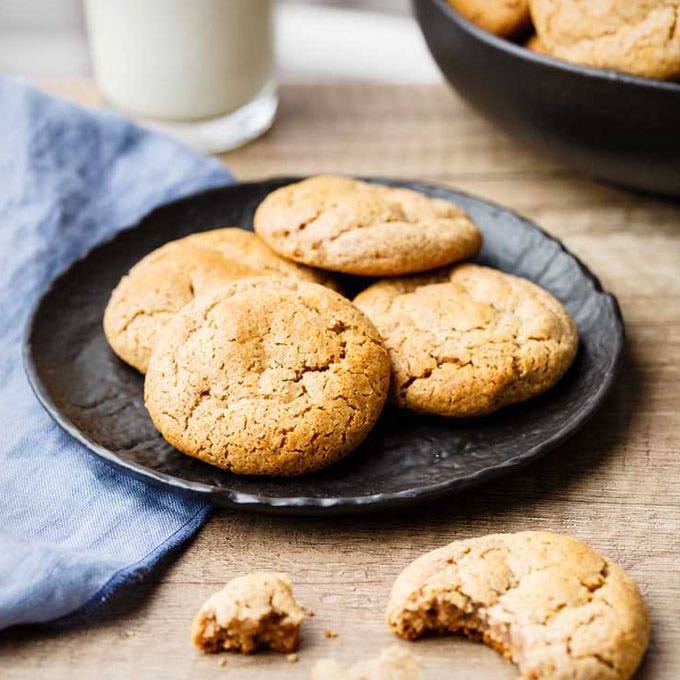 Easy Almond Butter Cookies
paleogrubs.com
Cookies are a tried and tested treat, so it follows that you should use a tried and tested recipe, and by swapping a few of the ingredients you can make them paleo-friendly, instead.
---
Homemade Paleo Oreo Cookies
unboundwellness.com
Don't think for a moment that being paleo means missing out on Oreos, because this recipe will let you make your own even tastier versions at home, using all-natural ingredients.
---
Pumpkin Spice Cookies
aipsisterhood.com
Anything with pumpkin spice in the name is going to be a winner, and this recipe for paleo cookies makes it easy to get your fall fix without eating any refined foods at all.
---
Paleo Homemade Tagalong Cookies
realfoodwithjessica.com
Tagalongs are shortbread cookies with a peanut butter topping which is encased in chocolate – a paleo's nightmare, right? Well, not anymore, because this version is made using all paleo-compliant ingredients.
---
No-Bake Chocolate Cookies
paleogrubs.com
With just six ingredients needed, these chocolate cookies couldn't be easier, because…wait for it…they need absolutely no baking at all, just making into a dough, shaping, and cooling in the fridge.
---
Mind-Blowing Lemon Cookies
paleogrubs.com
When you fancy a sweet fix, you don't want to spend hours in the kitchen making and baking. Luckily, there's this lemon cookie recipe which takes only 25 minutes from start to finish.
---
Chai Spiced Cookies
texanerin.com
If you're more of a chai than chocolate person, you'll love these cookies which are perfect at any time of the year, but especially in the fall as they're packed with autumnal spices.
---
4-ingredient Salted Maple Shortbread Cookies
amandaleelifestyle.com
If someone told you that just 4 ingredients could produce a melt-in-the-mouth salted maple syrup shortbread cookie, would you believe them? It's true, and what's more, they're totally paleo-friendly, too.
---
Paleo Carrot Cake Cookies
runningtothekitchen.com
You might think that carrot cake is a healthier choice by definition, but it's still packed with sugar, dairy, and grains, unless you follow this fabulous recipe which uses paleo-friendly alternatives.
---
Salted Caramel Thumbprint Cookies
well-fedsoul.com
Get the kids involved with these cookies by letting them make the thumbprint well in the middle, which you can then fill with gooey, chewy paleo friendly salted caramel.
---
Double Chocolate Peppermint Cookies
finishedwithsalt.com
Soft and chewy are two words which describe these incredibly festive double chocolate cookies, which are flavored with peppermint extract and can even be sprinkled with crushed candy cane.
---
Gluten-Free Sugar Cookies
paleogrubs.com
When sugar cookies are primarily made from sugar and butter, it can be hard to find a paleo alternative, but this recipe, with its white chocolate and strawberry frosting, is here to save the day.
---
(You may also like: 85 Easy Paleo Dessert Recipes to Satisfy Your Cravings)