Enjoy a Healthy Paleo Friendly Mexican Cuisine Night
When making these spinach tortillas, you'll need to use a large pot and add in approximately three tablespoons of water along with your chopped fresh spinach. Cook over medium heat until all of the liquid has evaporated and then remove from the heat.
Take your cooked spinach and throw it into your food processor along with the olive oil, another 1 ½ tablespoons of water, and the cassava flour. Process everything together until the mixture forms a soft dough.
Wrap this dough and refrigerate it for 30 minutes, and then divide it into six balls over a lightly floured working surface. Roll each of these six balls between two pieces of parchment paper.
Next, lightly grease a non stick skillet with your extra olive oil and heat it over medium heat. Heat the tortillas for one minute on each side, just long enough for them to develop some nice brown spots. You're going to want to serve these bad boys warm when you're done!
4 Signs That Your Spinach Tortilla Is Going Bad
Homemade spinach tortillas typically have a shelf life of about 1 week if they're properly stored in the refrigeration (in an airtight container). The vegetable content in these definitely shortens their shelf life, so I wouldn't recommend making a ton of them unless you plan to finish them all in a few days.
If you're not quite sure if your tortillas are still good or not, here are five signs to look out for that indicate they have indeed gone bad:
There's fuzzy white specks on them
If they start to have a rather wet and sticky texture
If they give off a foul odor, unlike the leafy smell that is to be expected
Can I Reheat My Paleo Spinach Tortillas?
Yes, you can absolutely reheat these spinach tortillas. I usually just wrap them in a damp piece of paper towel and then microwave them on high for between 15-20 seconds, repeating in 5-second intervals as needed. You want them to be hot and pliable after reheating them, but if you leave them too long in the microwave, they can get incredibly tough after you take them out.
5 Reasons Why Spinach is Such a Nutritional Powerhouse
Popeye was definitely on to something all of those years ago when he was eating cans of spinach left and right. Spinach is without a doubt my favorite leafy green to eat. It's just such an incredibly nutrient-dense veggie that provides a ridiculous amount of benefits for your health.
Here are five reasons why spinach is such a nutritional powerhouse:
Spinach is incredibly nutrient-dense and it's packed full of essential vitamins and minerals, including vitamins A, B6, B9, C, E, and K1, iron, and calcium.
It's also an excellent source of disease fighting antioxidants, which help to fight off cellular damage caused by harmful free radicals. (1)
Spinach offers benefits for your eye health because it's rich in both zeaxanthin and lutein, two carotenoids known to both help prevent macular issues, as well as possibly being able to reverse existing issues. (2)
It can help to reduce your risk of stroke and heart disease by helping to relieve hypertension thanks to its high concentration of nitrates. (3)
Spinach is an excellent source of dietary fiber as well, which helps to lower harmful LDL cholesterol levels and regulate bowel movements. (4)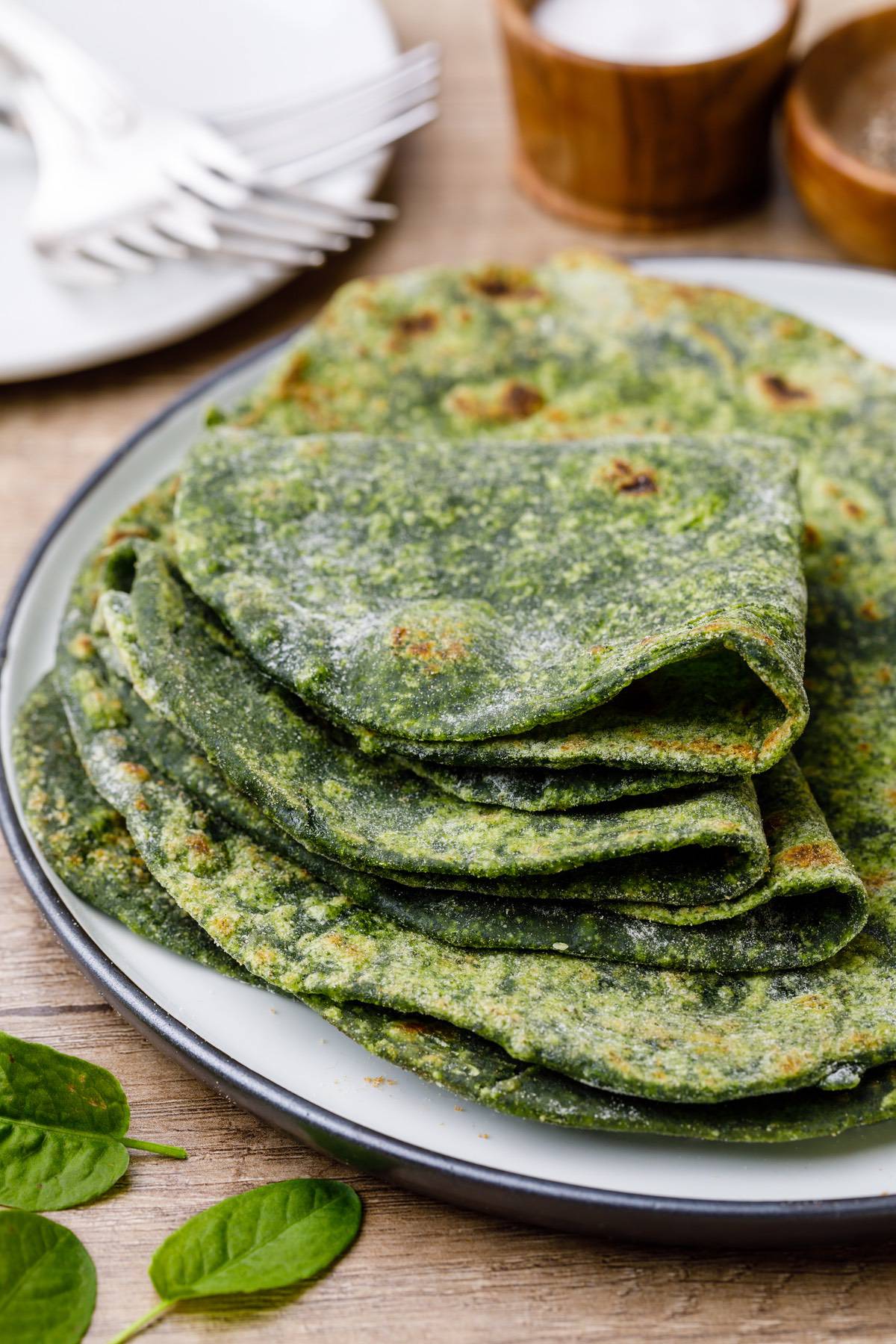 Aside from Spinach, What Other Leafy Vegetables Can I Use?
Spinach isn't the only healthy green veggie that you can use for making wraps and tortillas. Here are a few other great options that will work equally as well:
In addition, there are several other vegetables that you can use to make tortillas, including these:
Eggplant
Zucchini
Cauliflower
You're welcome to try them all, or even try a combination of these vegetables, if you're feeling adventurous!
More Low Carb Breads You'll Love: