Chili and Paleo work extremely well together because it's a great way to mix a lot of meat with a lot of vegetables. The biggest change up to a traditional chili recipe is getting the beans out because there's no legumes when eating Paleo. Whenever I am craving a good hearty, soul-satisfying bowl of paleo chili, these are the recipes I make again and again. They also freeze very well, so make extra and freeze the leftovers for a quick meal later.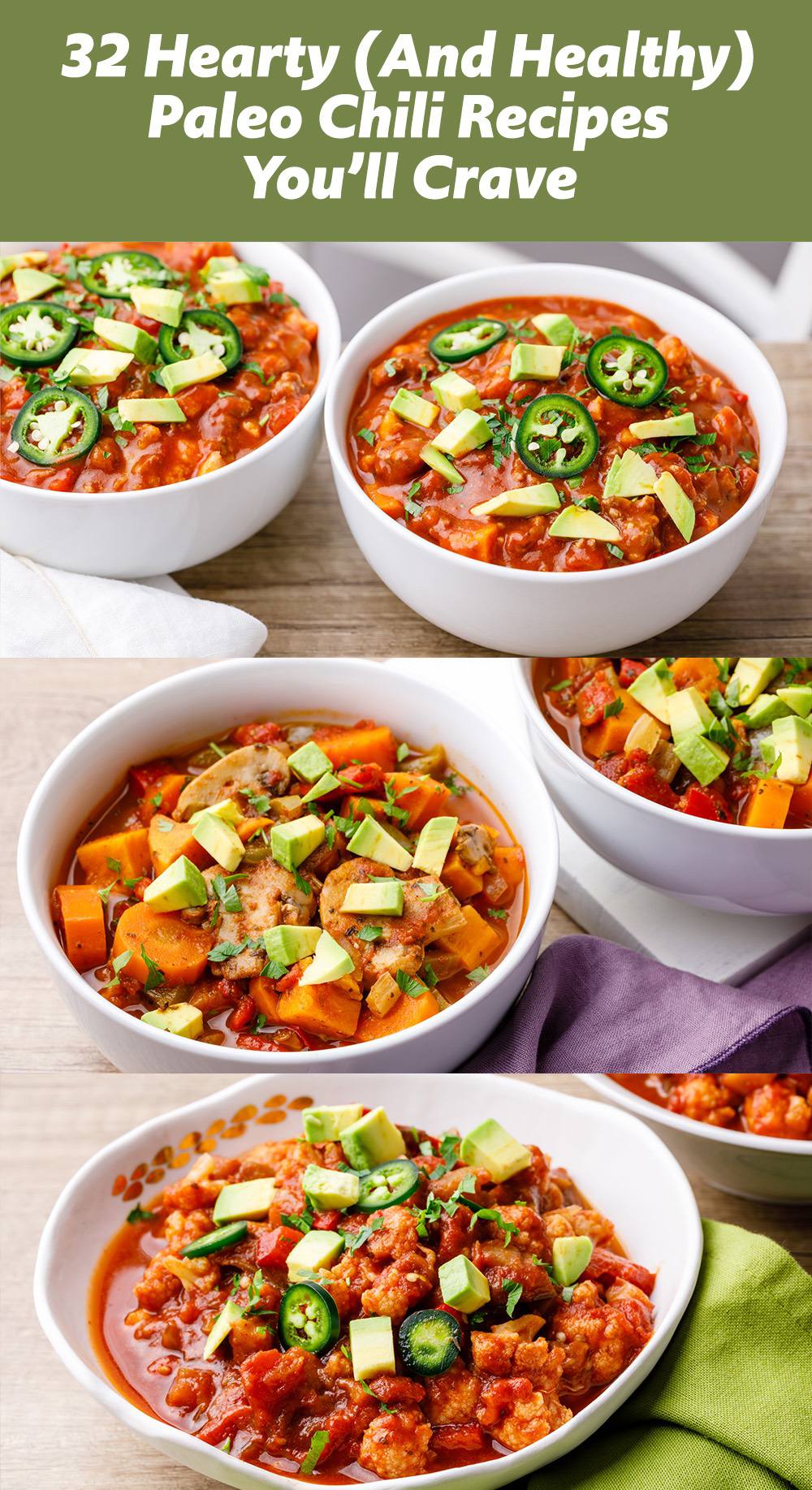 Easy Slow Cooker Sweet Potato Paleo Chili
paleogrubs.com
Slow cooking is the perfect way to ensure tender ingredients and depth of flavor. This spicy sweet potato chili is full of proteins and healthy fats, along with fiber-rich carbs.
---
Crockpot White Chicken Chili
paleogrubs.com
Set aside just 10 minutes in the morning to prep this white chicken chili, and you will come home to a creamy, satisfying meal which is packed with health-giving cruciferous vegetables.
---
The Best Instant Pot Vegetarian Chili
paleogrubs.com
You don't need meat to make a chili, as this recipe shows. Full of flavor and texture, this recipe uses garden vegetables and plenty of spices to create a filling, warming meal.
---
Easy Crockpot Chili
paleogrubs.com
For a chili that's ready when you are, try this crock pot recipe which uses lots of vegetables as well as ground beef and spices, and gets tastier the longer it cooks.
---
Comforting Instant Pot Cauliflower Chili
paleogrubs.com
Cauliflower makes a great substitute for potatoes and other carbs, and it really does the job in this Instant Pot vegetarian chili which will be ready in around 15 minutes.
---
Instant Pot Chili Dogs with Paleo Cheese Sauce
paleogrubs.com
Kids and adults alike love chili dogs, which makes it a great family-friendly option. This recipe even includes a 'cheese' sauce which is made using raw cashews and nutritional yeast flakes.
---
Spicy Texas Slow Cooker Chili
paleogrubs.com
Absolutely packed with protein, this particular chili recipe uses cubed chuck beef instead of ground for a more substantial meal, with deep flavors which develop beautifully over 6-8 hours.
---
Nightshade-Free Red Wine Chili
hewontknowitspaleo.com
Red wine will elevate the flavors in this chili, making it rich, tasty, and filling. Nightshade-free, this recipe uses pumpkin puree instead, meaning it's also suitable for those following the AIP diet.
---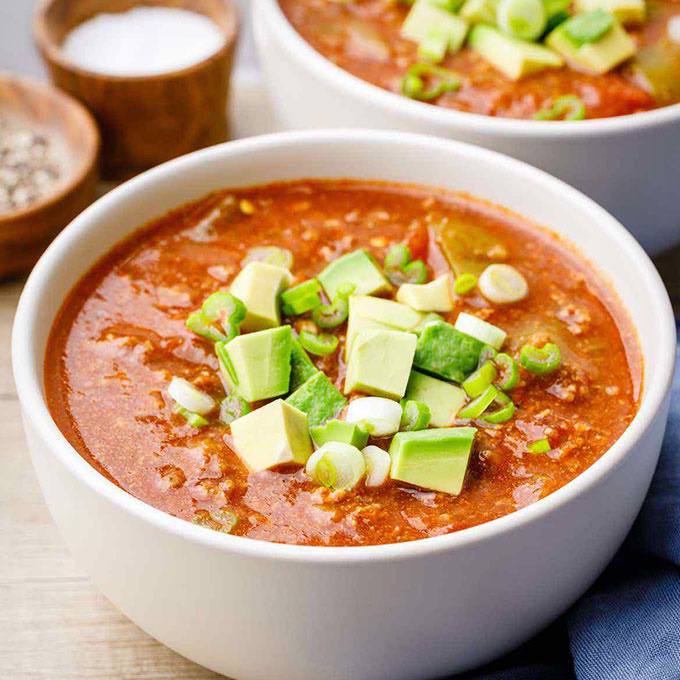 Instant Pot Ground Beef Paleo Chili
paleogrubs.com
Using only healthy whole foods, this chili also offers a range of health benefits such as anti-inflammatory properties, and takes next to no time when cooked in the Instant Pot.
---
Shiitake Turkey Chili
eatlivepaleo.com
Add texture and substance to chili by using slightly more unusual ingredients such as fennel and shiitake mushrooms instead of beans. Top with sunchoke croutons for added flavor and crunch.
---
Low Carb Instant Pot Turkey Chili
paleogrubs.com
High in protein and low in fat, this mild Instant Pot turkey chili is the ideal base for adding flavorsome toppings, such as avocado, scallions, or a scattering of cilantro.
---
Spicy Chipotle Chili with Andouille Sausage
paleogrubs.com
Chili doesn't have to be made with ground beef. Try this warming recipe which includes chunky butternut squash, chipotle pepper, and Andouille sausages for a taste which is deliciously different.
---
Paleo Chili with Carrots and Zucchini
5dollardinners.com
Since beans are off-limits on the paleo diet, fill the taste-and-texture gap by swapping them for chopped zucchini and carrots. Tasty and nutritious, you won't even notice the beans have gone.
---
Squash Chili
aspoonfuloffamily.wordpress.com
Sometimes a chili which is sweeter and less spicy is called for. Adding sweet potato to this recipe dampens down the heat, while the acorn squash 'bowls' add an unusual touch.
---
Butternut Squash Chili
everydaymaven.com
The trouble with vegetables is that they can water down a recipe, but not so with the butternut squash in this chili, which adds bulk and texture in place of the beans.
---
Comforting Crockpot Chicken Pumpkin Paleo Chili
paleogrubs.com
If you're looking for an easy way to up yours and the family's vegetable intake, this chili is made with chicken, pumpkin, and a powerhouse of fresh garden vegetables.
---
Fiery Sweet Dumpling Chili
sustainabledish.com
There are a lot of flavors going on in this recipe, but they all combine to make a deliciously warming chili. Use leftover pork or beef for an economical but flavorsome meal idea.
---
Instant Pot Homestyle Paleo Chili
paleogrubs.com
Adjust the plethora of herbs and spices in this paleo chili recipe to suit, and you will have a tailor-made warming family dinner which cooks in under 30 minutes.
---
Raspberry Liver Paleo Chili
paleoflourish.com
Chili can have many unusual ingredients, and this one is more unusual than most. The raspberries add a sweet but subtle flavor, while the liver delivers a hit of vitamin B12.
---
Paleo Chili Hand Pies
freshplanetflavor.com
Chili isn't generally edible without a fork, but these clever hand pies are made using grain-free pastry and filled with a ground beef chili, which makes them the perfect party food.
---
Instant Pot Whole30 Chili with Butternut Squash
40aprons.com
If you want the taste of an all-day-cooking chili, but without waiting all day, turn to the Instant Pot for a low carb, paleo-compliant dinner which is bursting with slow-cooked flavor.
---
Cincinnati-style Chili
paleoinpdx.com
Spiralizers have made it super easy to have healthy noodles with this Cincinnati chili, because the noodles are actually made from zucchini. Unsweetened cocoa powder completes the rich, flavorsome dish.
---
Spicy Pineapple Chili
civilizedcaveman.com
Chili is full of vegetables, but this recipe has a fair serving of fruit, too. Diced pineapple adds a sweetness to this otherwise spicy dish, while the bacon gives it a delicious saltiness.
---
10 Minute No Chop Chili
ibreatheimhungry.com
You'll be able to rustle up a tasty chili in just 10 minutes with this easy recipe. Use readymade salsa and spices, and nobody will ever know how simple it was.
---
Smoky Beanless Chili
stephgaudreau.com
Beautifully colorful and full of flavor, the sweet potato and butternut squash in this recipe make a delicious alternative to beans, while the paprika adds a subtle hint of smokiness.
---
Paleo Elk Chili
realsimplegood.com
If you like your chili really meaty, this recipe certainly rises to the challenge thanks to the elk and Italian sausage which slow cook for 8 hours to become meltingly tender.
---
Chili Stuffed Sweet Potatoes
littlebitsof.com
Pick up a forkful of this dinner and you'll be in taste heaven, as the spiciness of the chili mingles with the sweetness of the potato for an all-in-one winter warming meal.
---
Chili Con Carne with Beef Chorizo
irenamacri.com
For possibly the most flavorsome chili ever, try this paleo-friendly recipe. With chipotle pepper, chorizo, and ground beef, the flavors will deepen as they slow cook for the perfect family feast.
---
Instant Pot Beef Chili with Bacon
paleorunningmomma.com
Avocado slices are ideal for replacing the bulkiness of potato or rice, and they're full of healthy fats, which makes this already-healthy recipe for beef chilli with bacon even better for you.
---
Easy Chile Verde
noshtastic.com
If you love the taste of chili but want to switch things up a little, this chili verde is made with pork, tomatillos, and Anaheim peppers for a different but equally delicious taste.
---
Stovetop Sweet Potato, Kale and Turkey Chili
paleogrubs.com
While turkey adds protein to this dish, the emphasis is on the chunks of sweet potato which bulk up the meal perfectly, eliminating the need for beans of any kind.
---
Chili Goulash
cookingweekends.blogspot.com
Put a Hungarian spin on an American/Mexican classic by combining chili with goulash. Using marbled round steak, this hybrid dish is made by adding Hungarian paprika along with chili and other spices.
---
(You may also like: 100 Best Paleo Diet Recipes)