Finding an easy dessert or snack when you're on the paleo diet isn't easy, as most recipes use flour and sugar, and other unhealthy ingredients. These ermagherd-worthy paleo bars, however, use only the finest and most natural ingredients like nut butters, coconut flour, and even avocado, to produce delicious snack bars which are delicious, decadent, and decidedly better for you than their non-paleo counterparts.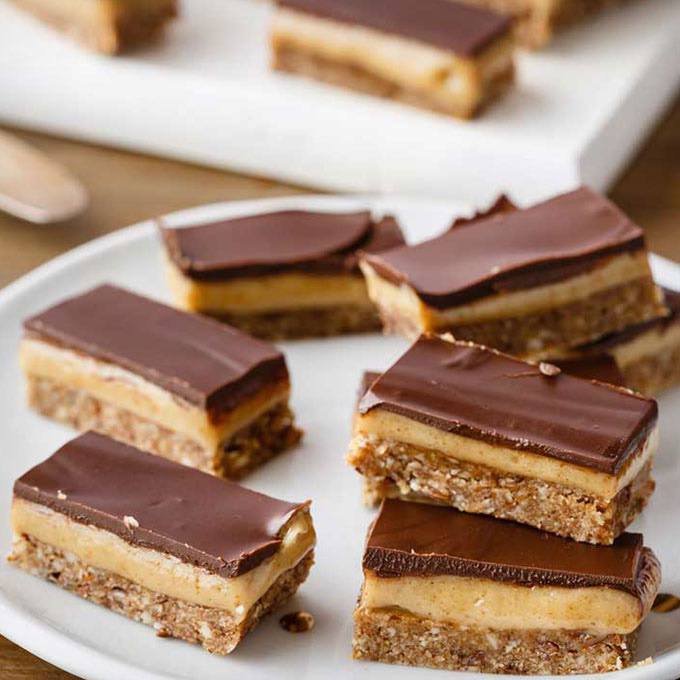 Almond Caramel Paleo Bars
paleogrubs.com
Anything with caramel in is bound to be bad for you, or is it? This healthy triple layer almond caramel bar has an almond and flaxseed base, which is topped with impossibly creamy smooth paleo caramel, and then topped with a smooth dark chocolate and coconut oil coating.
Also try: Almond Butter Energy Bites
---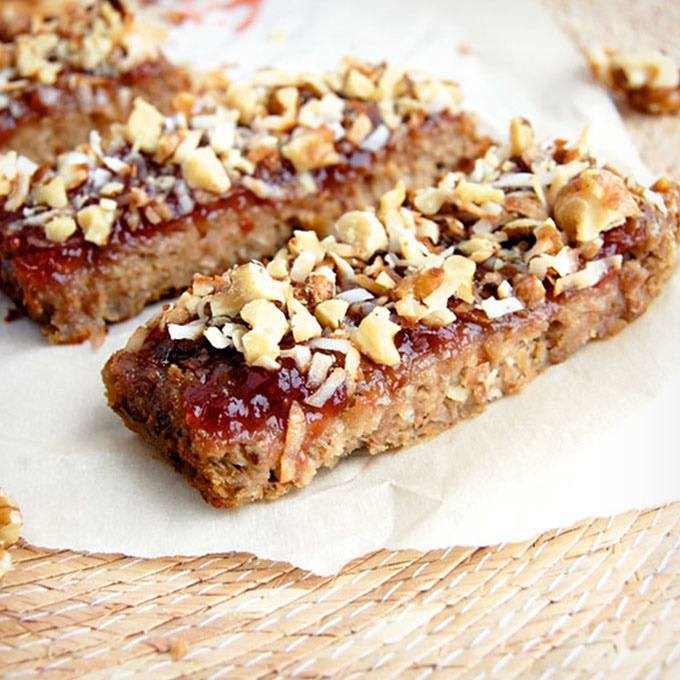 Strawberry Banana Paleo Breakfast Bars
paleogrubs.com
If sitting down to a cooked breakfast isn't for you, these bars are just what you're looking for. Soft and chewy, these bars are sweet and filling, and made with bananas, walnuts, and coconut, and then finished with a layer of strawberry jam.
---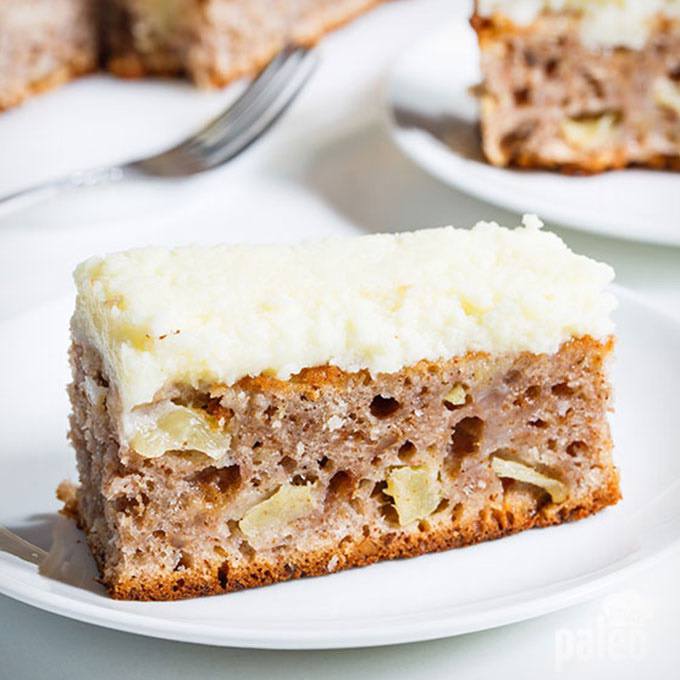 Hummingbird Bars
paleogrubs.com
If fruity flavors are what you love, then you'll really enjoy these hummingbird bars. Naturally sweet, these banana and pineapple bars have a delicious walnut crunch and come with the creamiest cashew and honey frosting which you make a day ahead.
---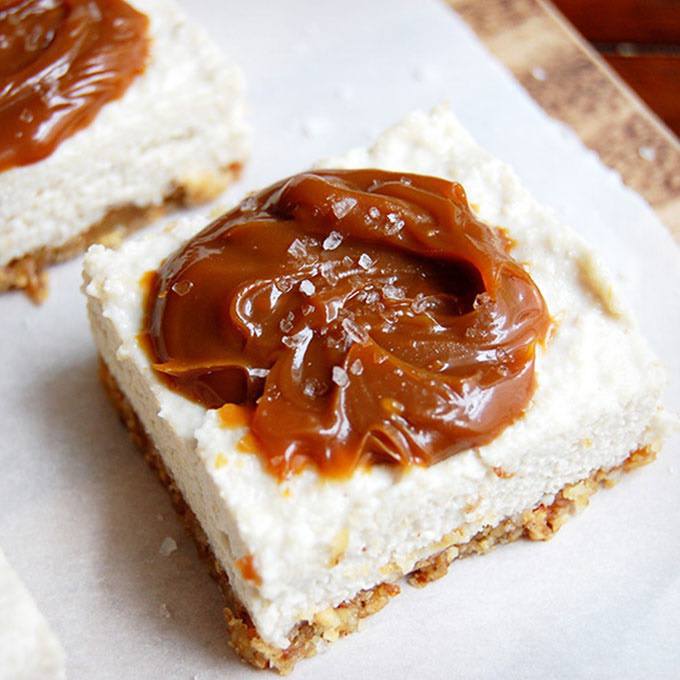 Paleo Salted Caramel "Cheesecake" Bars
paleogrubs.com
Salted caramel cheesecake can most certainly be yours on the paleo diet! With a crust made from dates and coconut, and a creamed cashew filling, the real decadence comes from the sticky, smooth salted coconut cream and palm sugar caramel which is spread all over the top.
You may also like: No-Bake Key Lime "Cheesecake"
---
Easy Homemade Gluten-Free Energy Bars
paleogrubs.com
Swap those high sugar energy bars for these incredibly healthy ones, which require no cooking whatsoever. Using just five ingredients – which you can mix and match to suit – you can make these fruity, nutty, and chewy bars in a matter of minutes.
---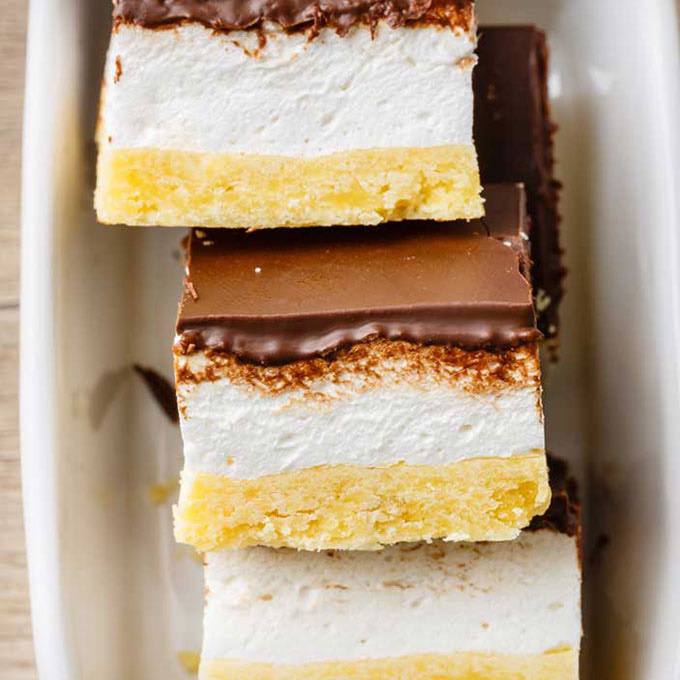 Dreamy Paleo S'mores Bars
paleogrubs.com
If you thought you had to say goodbye to S'mores, you were wrong, because these ones are super healthy! Made with an almond flour base, the marshmallow is homemade using gelatin, honey, and vanilla, before being topped with a dark chocolate and coconut layer.
---
Thick, Gooey Paleo Pecan Pie Bars
paleogrubs.com
A heart healthy snack which tastes good seems too good to be true, but it's not. These bars are loaded with pecans, as well as honey, coconut milk, and ghee for a bar which is deliciously sticky and chewy, and totally hunger-busting.
---
Almond Butter Paleo Granola Bars
paleogrubs.com
With less than 15 minutes needed to make these granola bars, they're the perfect grab and go snack. Bursting with goodness from the apricots, chia seeds, and other health-giving ingredients, these bars are chilled in the fridge rather than baked for a convenient but flavorsome energy boost.
---
No-bake Almond Joy Bars
detoxinista.com
With three delicious layers, these almond joy bars need no baking at all, so are incredibly easy to make. With a creamy coconut filling and dark chocolate topping, these paleo bars look like they should be laden with artificial and refined ingredients, but they're only made using wholesome, healthy alternatives.
---
Healthy Turtle Bars
40aprons.com
You can take all the delicious flavors of a Turtle Bar and make it healthy with this recipe. With an almond and coconut flour crust and a coconut cream filling, these utterly moreish bars are then covered with a vegan chocolate layer and sprinkled with heart healthy pecans.
---
Paleo Almond Joy Bars
paleogrubs.com
These coconut chocolate bars taste every bit as good as they look. With raw almonds hidden on a creamy coconut filling beneath a coat of smooth semi-sweet chocolate glaze, they're also super healthy and need only 6 wholesome ingredients.
---
Crunchy Cherry Pistachio Paleo Granola Bars
paleogrubs.com
Are granola bars your go-to grab snack for when you need to bridge the gap between meals? If so, try making this cherry pistachio version which includes pumpkin seeds, coconut flakes, and of course dried cherries and half a cup of shells-off pistachios.
---
Applesuace Breakfast Bars
paleoglutenfree.com
These colorful breakfast bars will get your day off to a flying start! Dotted with vibrant raspberries and drizzled with an optional coconut butter glaze, these bars are sweetened with applesauce, while the chewiness comes from the Medjool dates.
---
3-Ingredient No Bake Paleo Protein Bars
thebigmansworld.com
If you like the taste of protein powder, you will love these simple, no bake 3-ingredient protein bars. Using the powder, coconut flour, and non-dairy milk, these bars can be further enhanced by adding a smooth nut butter for even more flavor and texture.
---
Carrot Cake Bars
paleorunningmomma.com
Are you missing your favorite carrot cake? If so, these carrot cake paleo bars will cure that longing. Not only are they delicious, but they're made with three different layers which includes a pecan streusel topping and a pecan and maple sugar 'cream cheese' filling.
---
Mixed Berry Almond Crumb Bars
wifemamafoodie.com
If you thought these mixed berry almond crumb bars were too luxurious for breakfast, think again. Packed with mixed berries and sweetened with maple syrup, these bars also contain a light almond flour base and crumb, making them healthy enough for breakfast, and decadent enough for an after-dinner treat.
---
Easy Paleo Snack Bars
beamingbaker.com
You'll get a real boost of energy with these easy snack bars. Using nuts, seeds, and coconut chips, you can also customize the recipe to suit your tastes and then mix it all together with the almond butter and maple syrup before baking.
---
Lemon Bars
paleogrubs.com
Lemon is such a light and uplifting flavor, and perfect for an indulgent treat. These lemon bars are the perfect combination of a sweet honey and almond flour crumb base and a tart topping, which is made using both lemon zest and freshly squeezed juice for a perfect tart taste.
---
Cherry Berry Grain Free Granola Bars
paleorunningmomma.com
Naturally sweetened with dates, these bars are grain free and vegan, and suitable for a range of diet plans. Full of protein and heart-healthy fats from the cashews, almonds, and pecans, these bars also contain dried blueberries and cranberries, although you could switch out the fruit for a different kind.
---
Superfood Protein Bars
acleanbake.com
These protein bars are an excellent way to get some more superfoods into your diet. With hemp and flax being full of healthy fatty acids, and cacao to combat nasty free radicals, these nutty no-bake bars will boost your dose of essential nutrients in a deliciously chewy and satisfying way.
---
Paleo Strawberries and Cream Collagen Bars
agirlworthsaving.net
With a flavor that tastes just like summer, these fruity bars are the perfect between-meals snack. Made with dried strawberries and coconut cream, this recipe also calls for collagen peptides which will work wonders on your hair, skin, and nails.
---
Strawberry Banana Cereal Bars
physicalkitchness.com
Make the mornings flow by baking a batch of these cereal bars which, unlike store-bought varieties, contain no added sugar at all. With a layer of freeze dried strawberries nestled within the cashew butter and banana batter, they bake up into fruity breakfast bars which are super good for you.
---
Paleo Pecan Caramel Cheesecake Bars
themovementmenu.com
Free from dairy, gluten, and refined sugars, these cheesecake bites are like three desserts rolled into one. With a blondie base, cashew and coconut cheesecake filling, and caramel pecan topping, it's hard to believe that these sweet squares are actually really good for you!
---
Paleo Snickers Bar
blog.paleohacks.com
Replicate a Snickers bar the paleo way with this healthy recipe, and enjoy a sweet treat completely guilt-free. With four delectable layers – base, nougat, caramel, and chocolate – these candy bars take just over 2 hours to make, but the wait will be so worth it.
---
Chocolate Chip Paleo Cookie Bars
paleogrubs.com
Are you missing chocolate chip cookies now that you're following the paleo plan? Don't worry, because this recipe will show you how to create a perfect but much healthier substitute in the form of these chocolate chip cookie bars, which use only natural, wholesome ingredients.
---
Paleo Bars with Nuts And Chocolate Drizzle
aspicyperspective.com
Wonderfully colorful and full of protein, these bars will do you the world of good! Crammed with cashews, almonds, pecans, walnuts, and pepitas, these syrupy bars are baked for 20 minutes before being drizzled with melted dark chocolate for a subtle yet luxurious finish.
---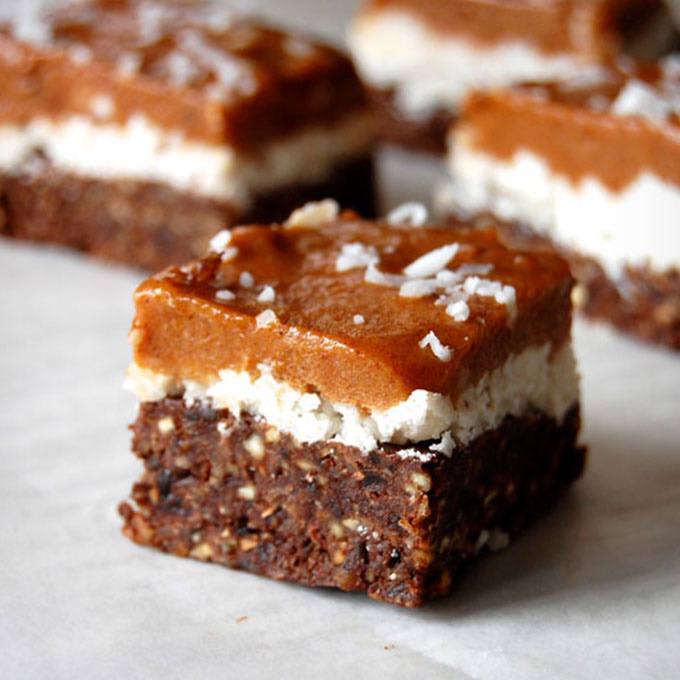 No-Bake Paleo Pumpkin Bars
paleogrubs.com
If fall means pumpkin-everything to you, this recipe will definitely be a winner. With three delicious layers, these pumpkin bars use only natural ingredients like dates, coconut, and pumpkin puree, and require no baking at all, just blending, forming, and then chilling in the fridge.
---
Vegan PaleoEnergy Bars
eatburnsleep.com
Nuts and dates work in synergy with each other. While dates have naturally occurring sugars which could cause a spike in blood levels, nuts lower the GI. which keeps things on an even keel, making these delicious energy squares the perfect snack between meals.
---
Paleo Mint Chocolate Chip Cookie Bars
bakeitpaleo.com
If you like your food to look good as well as taste delicious, ditch the artificial coloring and go for natural, instead. These mint choc chip cookie bars are colored a beautiful mint green with the help of spirulina, an algae which is high in iron, magnesium, and protein.
---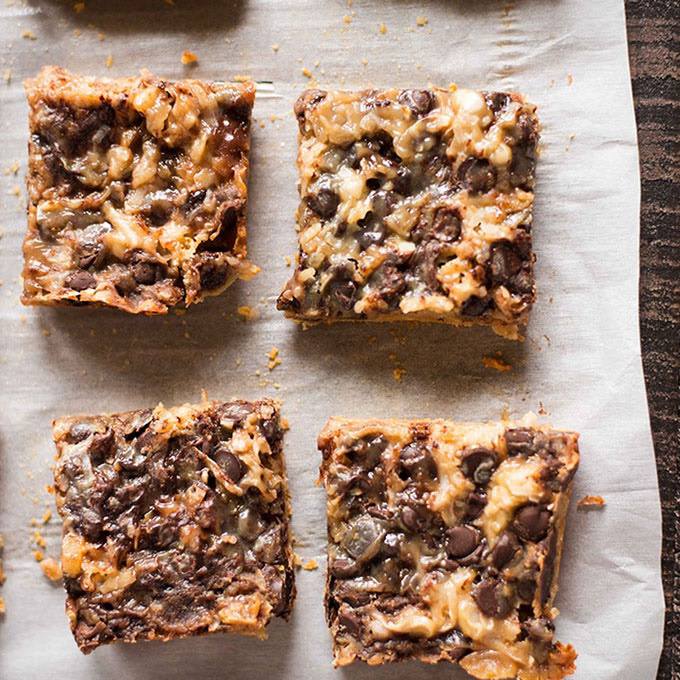 Paleo 7 Layer Bars
asweetpeachef.com
These 7 layer bars are reimagined as healthy, paleo-friendly snacks which have all the great taste without the masses of sugar. By swapping the refined ingredients with natural ones, you are well on the way to creating a childhood favorite which is actually good for you.
---
Coconut Crack Bars
kirbiecravings.com
Drizzle rather than coat these bars and you'll have the perfect amount of dark chocolate to complement the coconut underneath. Made with unsweetened coconut, coconut oil, and maple syrup, they don't even need to go in the oven, so are incredibly convenient and quick to make.
---
Cranberry Orange Coconut Bars
nutriholist.com
Coconut doesn't get stored as fat, so it's the ideal ingredient for between-meal snacks. These colorful cranberry orange coconut bars are layered with a festive, fruity topping which has been thickened with chia seeds for an even healthier bite.
---
Raspberry Crumble Paleo Breakfast Bars
paleogrubs.com
Breakfast bars are a great alternative for when you haven't got time to sit down and eat, and these ones are superb. With a tangy but sweet raspberry, lemon, and chia filling and an almond flour and honey base, these bites are finished off beautifully with a crunchy walnut crumble.
---
Protein Breakfast Bars
wallflowerkitchen.com
High in carbs and protein, these flapjack-style bars would make the perfect snack for anyone who needs an injection of energy on the go. Packed with fruit, nuts, and seeds, these vegan bars are free from dairy, gluten, soy, and grains, so will suit most eating plans and diets.
---
Crunchy Homemade Paleo Kit Kat Candy Bars
paleogrubs.com
Make your own healthy KitKats which the whole family will love with this remarkable recipe. Alternating crunchy and frosting layers are topped with a smooth and creamy chocolate coating made with semi-sweet chips and coconut oil, for a luxurious treat which is totally free of guilt.
---
Paleo Chocolate Salted Cookie Bars
whatmollymade.com
Fans of salted caramel will love these salted chocolate cookie bars. Moist and soft inside, these rich and indulgent bars use Hershey's dark chocolate cocoa powder for a truly decadent taste, with optional chocolate chips and sea salt sprinkled on the top.
---
Paleo Vegan Chocolate Coconut Crunch Bars
thebigmansworld.com
You'll never run out of sweet snacks again once you have this fabulous recipe to hand. Needing only 6 ingredients and 5 minutes to make, these speedy bars are a blend of nut butter, coconut, and sweet chocolate chips.
---
Avocado Fudge Bars
grazedandenthused.com
Avocado is every bit as delicious in sweet things as it is in savory, and it adds a delightfully creamy texture. These avocado carob fudge bars are full of healthy fats and use only the most natural of ingredients, which results in a decadent triple-layer bar which is bursting with essential nutrients.
---
No Bake Lemon Coconut Paleo Energy Bars
cottercrunch.com
If keeping carbs low is your aim, try out these light and refreshing coconut energy bars. With lemon for sharpness and maple syrup to sweeten, these bars also contain tons of healthy fats in the form of cashews and almonds. What's more, there's no baking required!
---
Pecan Pie Protein Bars
bakerita.com
Pecan pie in a protein bar sounds like a tiny slice of heaven! Make these grab-and-go energy bars using just 5 ingredients, and the collagen will keep you feeling fuller for longer, while also working to keep your blood sugar levels steady.
---
No-Bake Nutella Bars
paleogrubs.com
Keep a jar of homemade Nutella to hand and you will be able to make a whole host of decadent desserts, like this no-bake Nutella bar. Crammed with seeds, nuts, and coconut, these bars are held together with the DIY chocolate spread, and then chilled for half an hour.
---
Coconut Raspberry Energy Bars
primalpalate.com
There are just 6 ingredients standing between you and these coconut raspberry energy bars. With a base made of roasted nuts coated in honey and cinnamon, these slices are topped with organic raspberries before being smothered with a warm coconut cream concentrate and then chilled in the fridge.
---
Paleo Samoa Bars
stressbaking.com
Girl Scout Samoa cookies might not be paleo-friendly, but this version definitely is! The shortbread base is made with coconut flour, while the caramel layer uses maple syrup and almond butter before being drizzled prettily with melted dark chocolate chips.
---
Paleo Chocolate Brownie Bars
chocolatecoveredkatie.com
These chocolate brownie slices couldn't be simpler. With no baking and only 5 ingredients required, these moist, rich bars are created by blending dates, nuts, and cacao powder together and then shaped into bars which can be topped with a generous helping of chocolate chips.
---
Paleo Apple Crumble Bars
healthylittlepeach.com
Apple crumble is one of life's great comfort foods, and perfect for the fall. With this recipe, you can take that taste with you wherever you go, because it combines all the great flavors of this delicious fruity dessert into paleo bars which can be eaten on the go.
---
No Bake Paleo Lime Bars
empoweredsustenance.com
This colorful no-bake bar is the ideal healthy summer treat. Creamy and smooth, the filling for this lime and avocado slice is both tart and sweet, and filled with healthy fats thanks to the fresh avocado, while the crumb uses tigernut and coconut flour, and the nut butter of your choice.
---
Homemade Paleo Milky Way Candy Bars
paleogrubs.com
You can stock up on candy bars the guilt-free way with these paleo milky ways! With nougat made from cashew nuts, almond butter, and maple syrup, these handy bars are topped with a honey caramel and then coated in a semi-sweet chocolate glaze.
---
Paleo Chunky Monkey Bars
peychoosingbalance.com
These chunky monkey bars look like the epitome of sugar-laden treats, but they're actually incredibly healthy. They only use 6 ingredients, too, and best of all they need no baking, just a stint in the freezer to ensure these nutty chocolate delights are set.
---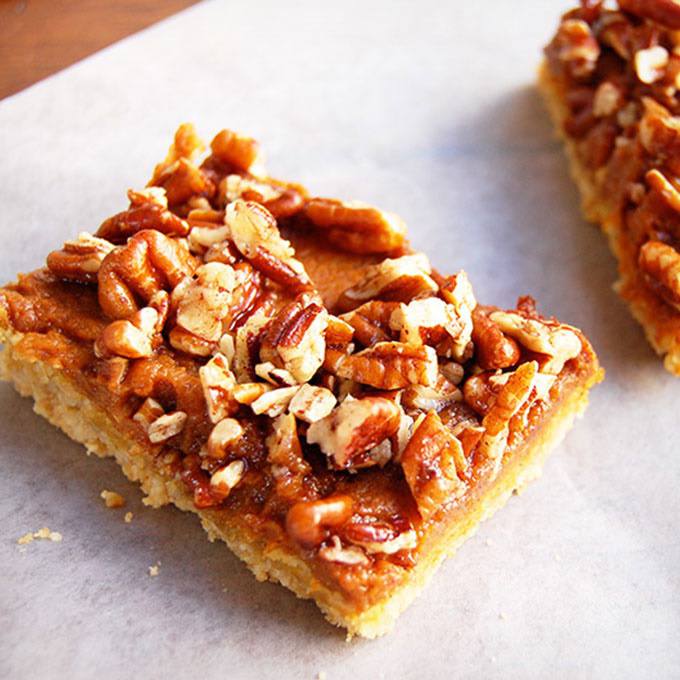 Paleo Pumpkin Streusel Bars
paleogrubs.com
Indulge in the flavors of fall with these pumpkin streusel bars, and stay healthy at the same time. Unlike traditional streusel, this flourless one uses nuts, maple syrup, and coconut oil, which sits on top of a delicious pumpkin puree filling.
---
(You may also like: 85 Easy Paleo Dessert Recipes to Satisfy Your Cravings)