New Mexico is also known as the "Land of Enchantment", a sentiment I wholeheartedly understand after road tripping through the state a few years ago. The staggering snow capped mountains, brilliant-colored desert sunsets, mouthwatering flavors of New Mexican food (chiles – green or red), and relaxing natural hot springs all come to mind.
I left New Mexico totally enamored with the state and have compiled the top things to do there:
Las Cruces
An hour outside of El Paso lies Las Cruces, a quiet town with a growing coffee scene and fun dive bars. Las Cruces is a great spot for an overnight stay en route to White Sands – there are several eccentric Airbnb properties in the area including former artist warehouses and shipping container homes. Be sure to check out High Desert Brewing Company for local craft beer, Chala's Wood Fire Grill for their famous green chile cheeseburger, Picacho Coffee Roasters for quality small batch coffee, and Las Cruces' historic watering hole with live music, El Patio.
Stay: Shipping Container Airbnb
White Sands National Park
White Sands is an absolute must stop for any New Mexico trip (and it's a recently designated National Park!). Expanding over 275 square miles, it's the world's largest gypsum dune field and while gypsum pebbles are actually clear, it gets its bright white color from the reflection of the sun.
Walking through the dunes feels like you're on another planet – following pole trail markers in the sand, the 5-mile Alkali Flat loop is a great option to explore the area. I visited on Black Friday, one of the most popular days for outdoor activities, and we had the hike entirely to ourselves by arriving just after park opening. Most visitors only venture a short distance into the dunes, so just keep going and you'll find a slice of solo sand dune paradise.
Guided moonlight hikes are available from the Visitor Center, and if you're feeling adventurous, backcountry camping permits are also available. On your way out of the park, Cloudcroft is a great mountain town pitstop for lunch. It's a minor detour on the way north, but Mad Jack's BBQ is worth it.
Albuquerque
About 3.5 hours drive from White Sands, Albuquerque is famous for its annual International Balloon Fiesta in October. It is the largest city in New Mexico, home to many cultural museums and vintage Route 66 motels. The Historic Old Town, located in the heart of the city, is known for its unique jewelry shops (beautiful turquoise stones!), leatherworking shops, and art galleries.
For food, eat doughnuts out of a double decker bus at Bristol Doughnut Company or try the Grove Cafe & Market for an organic, locally sourced spot for a break in between all the classic New Mexican food staples. The most popular outdoor activity in town is the Sandia Peak Aerial Tramway, which offers 360 degree views of the city and surrounding mountains. 
Just outside the city lies Los Poblanos Historic Inn and Organic Farm – the property is on a beautiful 25 acre working lavender farm, which also offers various workshops on site. The property is stunning and worth a visit or relaxing overnight stay.
Stay: Los Poblanos Historic Inn and Organic Farm 
Santa Fe
I initially booked my trip to New Mexico because one of my favorite DJs was playing a show at the infamous interactive art museum, Meow Wolf. With or without live music, Meow Wolf is a must visit for anyone who loves the idea of a weird, wild, immersive, can-get-lost-for-hours indoor playground. There are secret passageways (even through a washing machine!) – it's one of those things that you just need to see for yourself to understand!
For a more classic art experience, the Georgia O'Keeffe museum is worth a visit. Downtown Santa Fe is easily walkable and filled with lots of weekend open air markets. For authentic New Mexican cuisine, check out Casa Chimayo (the green chile stew is a classic!) and Cafe Pasqual's for brunch. The El Rey is a reasonably priced boutique hotel with classic southwest decor and a cute mezcal bar, called La Reina, inside.
Outside of the city, there are several great hot springs (and hiking opportunities!) to check out. Spence Hot Springs and San Antonio Hot Springs  are the most popular, with pine forests surrounding the various pools. If visiting San Antonio Hot Springs during snow season, an all wheel, high clearance vehicle is necessary, or be prepared to hike an additional 5 miles to the trailhead. Please be sure to brush up on Leave No Trace principles and hot spring etiquette before you go. Nearby, Bandelier National Monument and Kasha-Katuwe Tent Rocks National Monument are great hiking spots with unique rock formations. With so many gorgeous stops, I recommend spending 3-4 days in Santa Fe.
Stay: El Rey Court
Taos
The atmosphere of Taos is hard to explain – it's one of those towns where I immediately felt at peace, wanted to extend my trip, and soak in the beautiful and spiritual aura of it all. Maybe it's a vortex.
Between the stunning views of the Sangre de Cristo mountains from the Rio Grande Bridge, live music in "the living room of Taos" – also known as the Adobe Bar inside the Historic Taos Inn, and Black Rock and Manby Hot Springs along the river, it's definitely a town to spend a few days in. Taos is also a year-round destination offering white-water rafting in the summer and skiing in the winter, among other outdoor activities. 
One of the most popular destinations is the Taos Pueblo, the only living Native American community designated both a World Heritage Site by UNESCO and a National Historic Landmark. The pueblos are considered to be one of the oldest continuously inhabited communities in the United States – ancient ruins show inhabitants dating back over 1000 years. The cultural and historical importance of the pueblos – and Native American history in New Mexico in general – is something all visitors should learn about while visiting.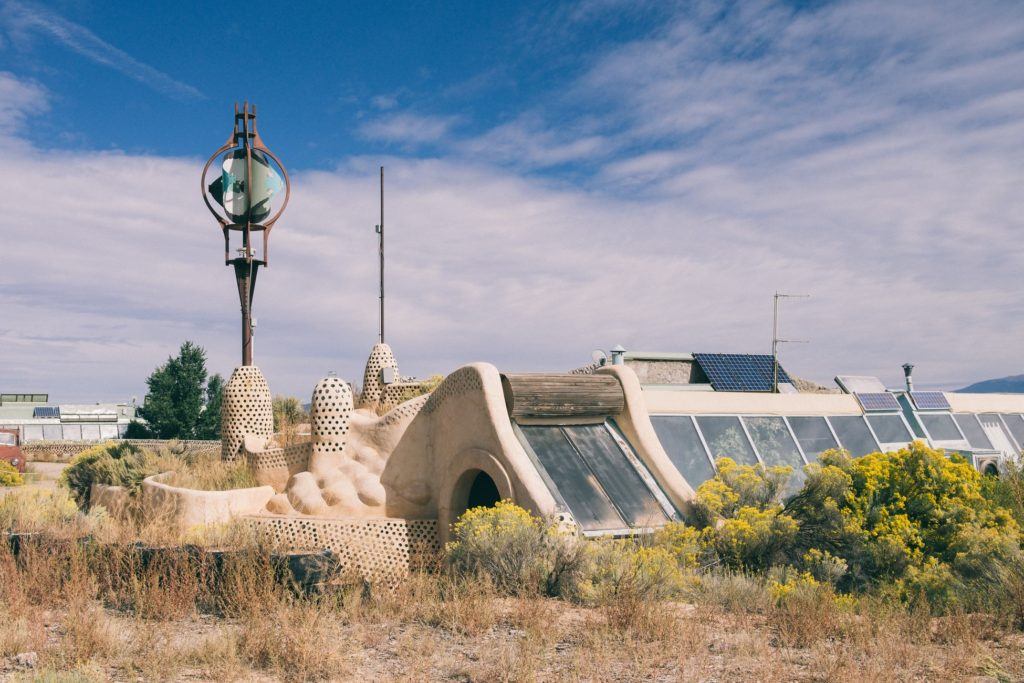 Taos also offers tours of totally off-the-grid, eco-conscious homes called Earthships – built using natural and upcycled materials (like earth-packed tires) that run on solar. You can even find some earthships on Airbnb to rent for your stay! On your drive back south, Ojo Caliente is a relaxing natural mineral springs boutique spa and the ultimate way to wind down at the end of your trip.
Stay: The Historic Taos Inn
This just scratches the surface of the beauty and magic of New Mexico – it's truly a state full of rich cultural history and hidden gems to explore. If you have extra time on your trip, consider adding Truth or Consequences, Carlsbad Caverns National Park, Roswell, or Bisti Badlands to your itinerary.
Where to Start: El Paso, Texas
I know what you're thinking – putting a city in Texas in a New Mexico guide?! Hear me out – New Mexico is a large state, and the most popular areas of interest are in the North. However, southern New Mexico has a ton to offer, and it's worth a visit for White Sands National Park alone. In order to have only one long drive on your trip, I'd recommend flying into El Paso and doing a one-way car rental. From my experience, the price isn't drastically different, and while the long stretches in central New Mexico are gorgeous, you'll be glad you don't have to double back to return your vehicle.
If you have a few hours to spare, El Paso is a really neat town with tons of street art and a viewpoint where you can see 360 views of the city and across the border into Mexico. Franklin Mountain State Park is also a great stop on your way out of town if you want to stretch your legs.
Top Mural Areas: Lincoln Park, Cotton Wall, downtown El Paso/Union Plaza
Viewpoint: Scenic Drive Overlook
Map
Everything mentioned in this post can be found on this handy Google map:
New Mexico still feels so wild and untouched. Its rich heritage is rooted in the Native American spirit is so alive that you can feel the magic in your bones as you traverse the open roads and stare up at the starry dark skies. I can't wait until I have a chance to return.
About the Author: Courtney is a longtime weekend warrior who quit her corporate job to backpack Southeast Asia. She is currently back in the US, and you can follow her future adventures on Instagram.
Click to read more posts about
The USA