Still working from home? Still eating those sad hummus sandwiches scarfed down during your brief reprieve from Zoom calls? No more—well at least on the hummus sandwich front. But having a delectable lunchtime meal doesn't mean you need to gather an unwieldy list of ingredients or spend a ton of time fussing in the kitchen. Instead, test drive these easy-to-make lunch recipes that only require five ingredients or less to assemble (we're not counting olive oil and salt and pepper on the tally). Be prepared: You'll likely find yourself returning to these recipes again and again.
Want more standout cooking ideas? Check out these amazing slow cooker recipes and five-ingredient recipe ideas to make on busy mornings.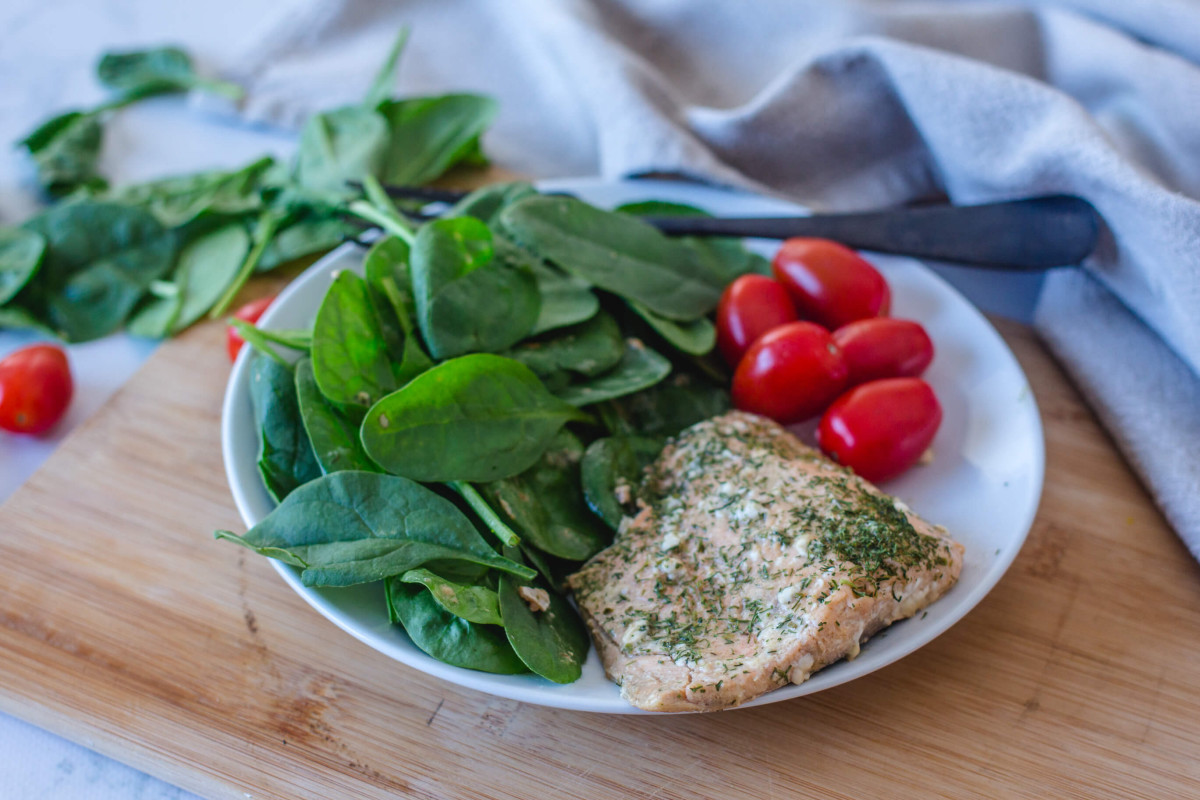 Instant Pot Salmon with Dill Recipe
A gourmet lunch in nine minutes flat? Yes. We're all about this simple salmon recipe from Corrie Duff of Corrie Cooks. Made with a two-ingredient sauce, if you really feel like getting fancy, add a squeeze of lemon juice to the fish before serving.
Corrie Duffy of Corrie Cooks Instant Pot Salmon with Dill
Makes 4 servings
Prep time: 5 minutes
Cook time: 4 minutes
1 pound salmon, deboned
1 tsp dill
2 tsp Dijon mustard
½ cup water
Salt and pepper, to taste
Mix the dill, mustard and water in a bowl. Add the salmon to the bowl and mix a bit.
Place the salmon inside the Instant Pot and pour the sauce as well.
Cook at high pressure for four minutes.
When cooking time ends, do a quick pressure release. Open the lid, season with salt and pepper and serve.
Pesto Chicken Pitas Recipe (pictured above)
Denise Bustard from Sweet Peas & Saffron lets us in on the glory that is pesto pitas: "They are extremely versatile and flexible (swap chicken for chickpeas, swap veggies for frozen vegetables, swap pita for tortilla or wrap), and they can also be made ahead, freeing up time for you during the week," she says. If you're up for it, make pesto from scratch, otherwise a jar of the store-bought stuff serves as a fine pinch hitter.
Denise Bustard of Sweet Peas & Saffron's Pesto Chicken Pitas
Makes 4 servings
Prep time: 10 minutes
Cook time: 15 minutes
1 pound boneless skinless chicken breasts (cut into 1-inch pieces)
4 cups mixed vegetables (zucchini, bell pepper, onion pictured; frozen vegetables may also be used)
2 Tbsp olive oil
⅓ cup pesto
4 pita pockets (good, sturdy ones recommended)
Heat oven to 425° Fahrenheit.
Toss the chicken and veggies with olive oil, and arrange on one-to-two sheet pans. Roast for 10 minutes, flip everything and return to the oven.
Cook the veggies for 5-to-10 more minutes, until chicken is cooked through and vegetables are soft.
Place roasted chicken and vegetables in a large bowl with the pesto, stir to coat.
Spoon into pita halves and enjoy.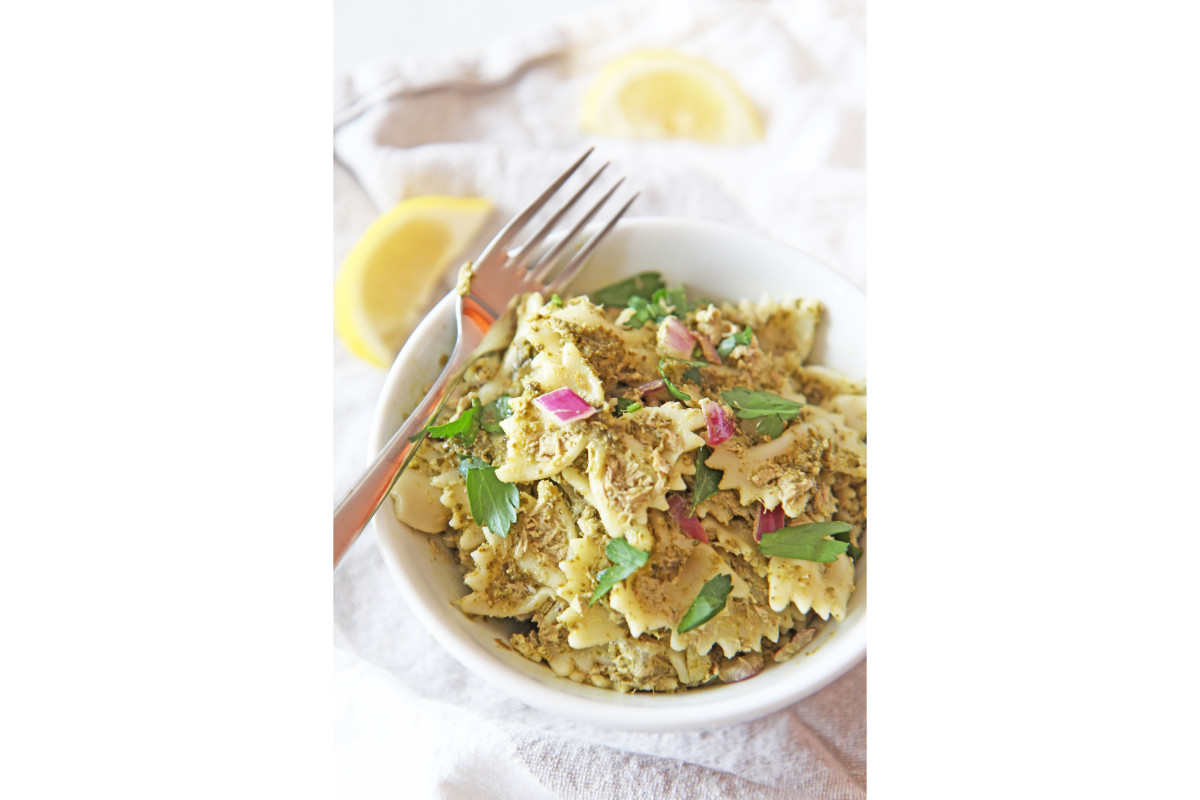 Pesto Tuna Pasta Recipe
Once you try this fast recipe from Jason Goldstein, Food Network Star finalist and recipe developer for Chop Happy, you'll wonder why you relied on tuna sandwiches as your go-to lunch all these years. "If you do not have tuna, use leftover chicken, salmon, or shrimp. You can also use chimichurri or any herbaceous salsa in your pantry," Goldstein notes. Swap Greek yogurt for mayo, or, for a less creamy option, Italian dressing, he suggests.
Jason Goldstein of Chop Happy's Pesto Tuna Pasta
Makes 2-4 servings
Prep time: 10 minutes
Cook time: 10 minutes
2 5-to-6 oz. cans of tuna
1 jar pesto
2 Tbsp Greek Yogurt
½ red onion (chopped)
1 pound pasta (cooked)
1 lemon (optional)
Mix Greek yogurt and pesto together in a bowl.
Add pasta, tuna, onions, and lemon.
Mix together and serve.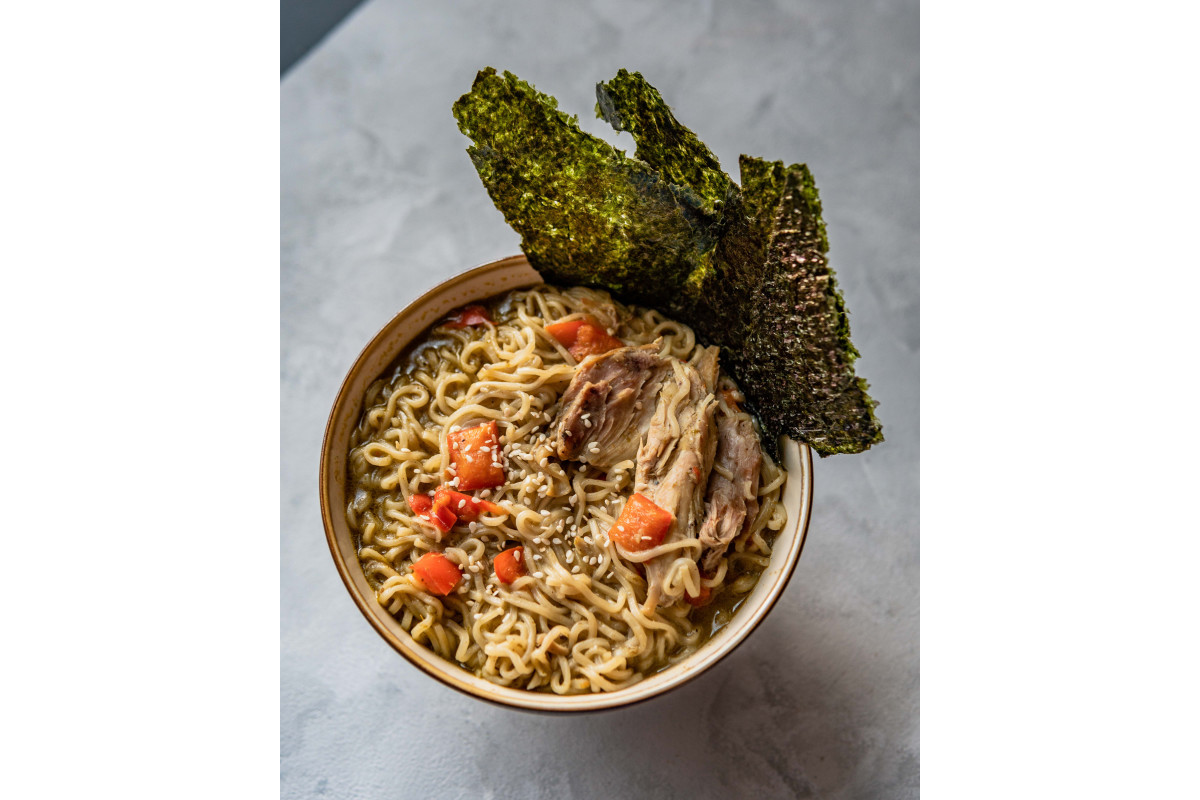 Thai Green Curry Noodle Soup Recipe
Raymond Cua, founder and editor-in-chief of Travelling Foodie enticed us with, "It's very easy and only needs one pot to make." But that doesn't mean this savory soup doesn't pack rich, nuanced flavor in a dish that tastes like far more than the sum of its individual parts. To make this recipe, you may skip the chicken and add vegetables of your choice.
Raymond Cua of Travelling Foodie's Thai Green Curry Noodle Soup with Chicken
Makes 2 servings
Prep time: 10 minutes
Cook time: 15 minutes
2-3 Tbsp Thai green curry paste
4 oz. rice noodles
2 pieces raw chicken legs (you can also add leftover cooked chicken at the end)
2 cups coconut milk
2 cups water
1 piece red bell pepper, diced
1 piece onion, diced (optional)
1 sheet seaweed, torn into pieces (optional)
2 tsp sesame seeds (optional)
Add coconut milk, water, Thai green curry paste, and chicken in a pot. Mix well to combine.
If you'd like to use veggies, dice red bell pepper, onion, and whatever else you'd like. Add to the pot.
Cover the pot and bring to a boil. Reduce heat and simmer for 10 minutes. Add noodles to the pot and let it cook according to package instructions.
If desired, garnish the bowl with seaweed and sesame seeds. Serve in a bowl and enjoy.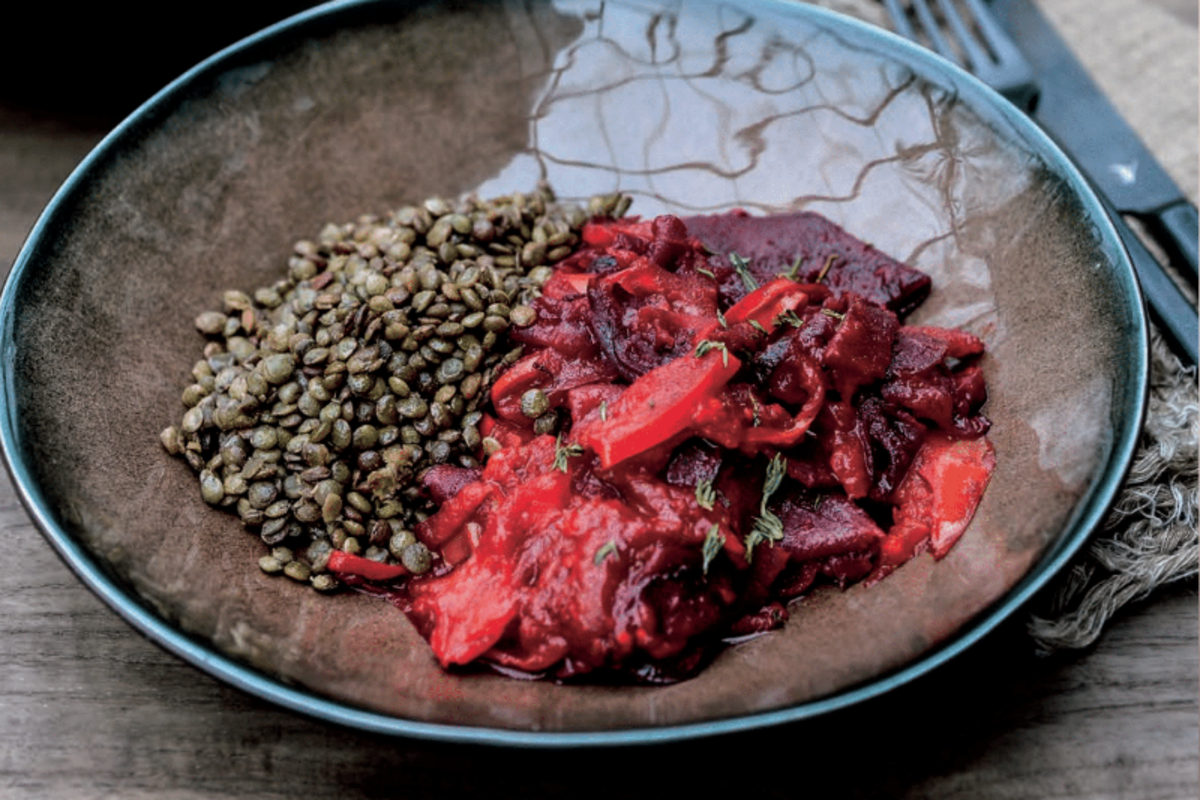 Red Vegetables with Lentils Recipe
Pascale Naessens' book Low Carb Cookbook With 4 Ingredients knows how to get you from zero to delicious fast. This satisfying vegan dish benefits from a hit of piquant flavor from red curry paste and mild sweetness from the beet. Got leftovers? Roll it up in a wrap or place inside pita for a flavorful sandwich.
Pascale Naessens' Low Carb Cookbook With 4 Ingredients Red Vegetables with Lentils
Makes 4 servings
Prep time: 10 minutes
Cook time: 30 minutes
7 oz. (200 grams) cooked lentils (green lentils are ready in 25 minutes)
4 beefsteak tomatoes
1 raw red beet (7 oz./200 grams)
2 Tbsp red curry paste
Olive oil, as needed
Salt and pepper, to taste
Clean the red beet. You don't need to peel it. Slice the beet into thin slices. The easiest way to do this is to use a mandolin slicer. Cook the slices in plenty of olive oil in a pan over medium heat, turning them over regularly.
Dice the tomatoes and remove the hard, white core. Cook them together with the red beet. Season with salt and pepper. Once the vegetables are tender, add the curry paste.
Add a spoonful of the paste at a time and taste as you go. Stir carefully until everything is warmed through. Meanwhile, warm the lentils in a splash of olive oil and season with salt and pepper. It goes even quicker when you add the lentils to the vegetables, but I like to serve the lentils separately. Spoon the vegetables and lentils next to each other on the plate.

For access to exclusive gear videos, celebrity interviews, and more, subscribe on YouTube!