I don't know about you, but the first time I saw photos of Lake Aloha I immediately got to planning. Would the water really be that clear? Was it actually that beautiful out there? Could it be that desolate? I just had to know, and the answer is yes, yes it is!
While Lake Aloha is no secret, there are ways to get it all to yourself, and to get away from the mosquitoes!
Though this can be done as a day hike, I spent four days backpacking around Lake Aloha and the surrounding area, including Mt. Tallac. This post is designed to help you whether you're just doing it as a day hike or planning a backpacking adventure. 
Here's your ultimate guide to Lake Aloha from a local:
Day Hike or Backpacking Trip?
That is the question! The answer depends on your willingness to hike with weight on and how familiar you are with backpacking. Let's talk about doing it as a day hike first.
Day Hiking to Lake Aloha
The most popular entry point for Lake aloha is Echo Lake. Most years there is a water taxi running to cut off a couple of miles, pending COVID changes (there isn't one in at the time of this writing 2020).
This hike is beautiful, and fairly flat. There is an elevation gain and loss of about 1800 feet over the course of 13 miles if you stop right when you reach the tip of the lake. Personally I find this hike pretty easy but on AllTrails People rate it as hard. However I tend to find a AllTrails reviewers to be incredibly dramatic and if you are used to hiking this won't be hard for you! It's just long, so plan accordingly if you want a good amount of time to swim at the lake.
You'll need to fill out a day permit at the trailhead, which is free. You're allowed to bring doggos as well as long as they're kept on leash. There's trail access year-round, though it's a snowshoe trail in the winter and the lake is actually a reservoir that is drained each autumn. 
Keep in mind that parking at Echo Lakes Trailhead is limited and tends to fill up very early, particularly on weekends. This hike is in South Lake Tahoe, which is also one of the busiest parts of the lake. I've heard reports of people showing up at 9 AM and having to hike an extra mile each way due to the parking lot filling up.
You will pass by five gorgeous lakes on your route. Lake Aloha is the crown jewel but the others are gorgeous as well. Prepare to see an amazing blanket of wildflowers in every color imaginable in the summer months. This is truly a stunning hike!
There's plenty of opportunity to fill up on water, though you will need to purify it (I use a Steripen). Be sure to bring snacks and some kind of insect protection (I prefer a bug suit to chemicals in bug spray) if traveling in the summer.
Lake Aloha as a Backpacking Trip
I love spending time in the wilderness, and this part of the Sierras really does remind me at times of Patagonia. Desolation Wilderness is absolutely stunning and I almost don't even wanna write this post about it because it's so precious and pristine.
That said, I know people are wondering about it, so let me take this opportunity to share that when backpacking in Desolation there are no facilities and leaving no trace is up to you.
Never wash in the lakes. Collect water and walk away from the source to do so. Never use soap or shampoo (even biodegradable!) either. Wash off any sunscreen before getting in the lake as well.
The recommendation for Desolation Wilderness is that you either take out human waste with you, or probably more realistically for most people, at least pack out the toilet paper with you, dig a hole, bury human waste, and make sure you are at least 300 feet from any water source.
As always, pack out absolutely everything you bring in and never leave any food, including apple cores (I eat mine!) out on the trail. 
You will need an overnight permit and this one can't be obtained at the trailhead. You can order them here. Be sure to look early as they book out far in advance.
Now that we've got that out of the way, let's talk about how amazing it is to backpack in Desolation and all of the route options that you have!
I also wanted to see Mt. Tallac at sunrise, so I began my hike there. 
In some ways, hiking all the way up to Tallac, which is quite a steep hike (more on that here), and back down to Gilmore with a full pack is a terrible idea. In other ways, it's a great idea. 
Yes, it was tough doing that hike with full weight, but it meant that Dr. G and I saved relaxing at Lake Aloha for the end.
Our itinerary went as follows:
Hike up Tallac and camp at Gilmore lake.
Wake up at 3 AM and hike back up to the summit of Tallac for sunrise (optional, crazy, and worth it). 
Hike past the gorgeous Susie and Heather lakes to Aloha. 
Spend two glorious nights on Aloha. 
Take the Tamarac trail out, which I really can't recommend. 
I think the best case scenario would be having two cars and beginning or ending at Echo Lake rather than turning it into a loop and having to make it back to the Tallac lot. It meant going down an incredibly steep and overgrown Tamarac trail or reversing our route back to Tallac, though the view of Fallen Leaf with Tahoe in the background almost made it worth it. 
Almost, but not quite. 
There are numerous options around, like connecting to the Tahoe Rim Trail and the PCT, among many others. Check out this trail map for more options in the area.
Camping on Lake Aloha
It wasn't clear to me prior to heading out to the wilderness where one can and cannot camp in Desolation Wilderness.
At least on the part of the trail that I did, it looks like you can pretty much camp anywhere, again provided that you leave no trace and have a permit.
I saw someone camped at the summit of Mount Tallac, there were plenty of people around Gilmore, Susie, and anywhere around Lake Aloha. You'll have to be entirely self-sufficient as there are no facilities nor established campgrounds.
But as a general rule, I always try to camp where others have already camped to minimize my human impact. I'm always looking for areas that will be safe if there is a flash flood, so never near a river, and never on top of wildflowers.
You will also need a bear can for this trip. Though I never saw any out there, a bear can is always necessary for camping and backpacking in the Sierras. Be sure to keep it well away from your camp and do your cooking away from camp as well.
If you're new to backpacking and the outdoors, I'm here to help! I created a backpacking 101 course that is totally free, and there's lots of info in this video (featuring Lake Aloha!) as well:
I've spent years testing out gear as well and these are my favorites, along with my favorite just add water backpacking meals.
Enjoying Lake Aloha
The amazing thing about this lake is how incredibly crystal clear the water is. Just Lake Tahoe, you can see right through almost to the bottom.
The southern part of the lake is a lot more lush and wooded, and a lot more buggy! This is where most people end up camping out since it is closer to the Echo Lake trailhead.
However the north and north western parts of the lake are in my opinion, a lot more stunning and a lot more barren. You'll encounter more wind there and not much greenery, but I like it a lot better for the lack of mosquitoes! It doesn't make much sense to try to go all the way for a day hike, but as a backpack or who is doing a loop, I recommend exploring until you find your little slice of paradise.
If you're a star lover like me, make it a point to be out there during a new moon, the night sky is amazing! The sunsets were consistently amazing as well.
Do also be prepared for any kind of weather, nomatter what the forecast says. The wind can get strong and each evening, I saw threatening storms come our way and then blow over us, missing us every time. I don't know if we got lucky or if this is normal, but it's always best to be prepared for any kind of weather in the wilderness.
Weather enjoying it as a day hike or as a multi-day backpacking adventure, I hope you love Lake Aloha as much as I did. Be sure to always stay on established trails, keep it clean, and only share the secret with awesome people 😉. 
Happy trails.
Read Next:
Click to read more posts about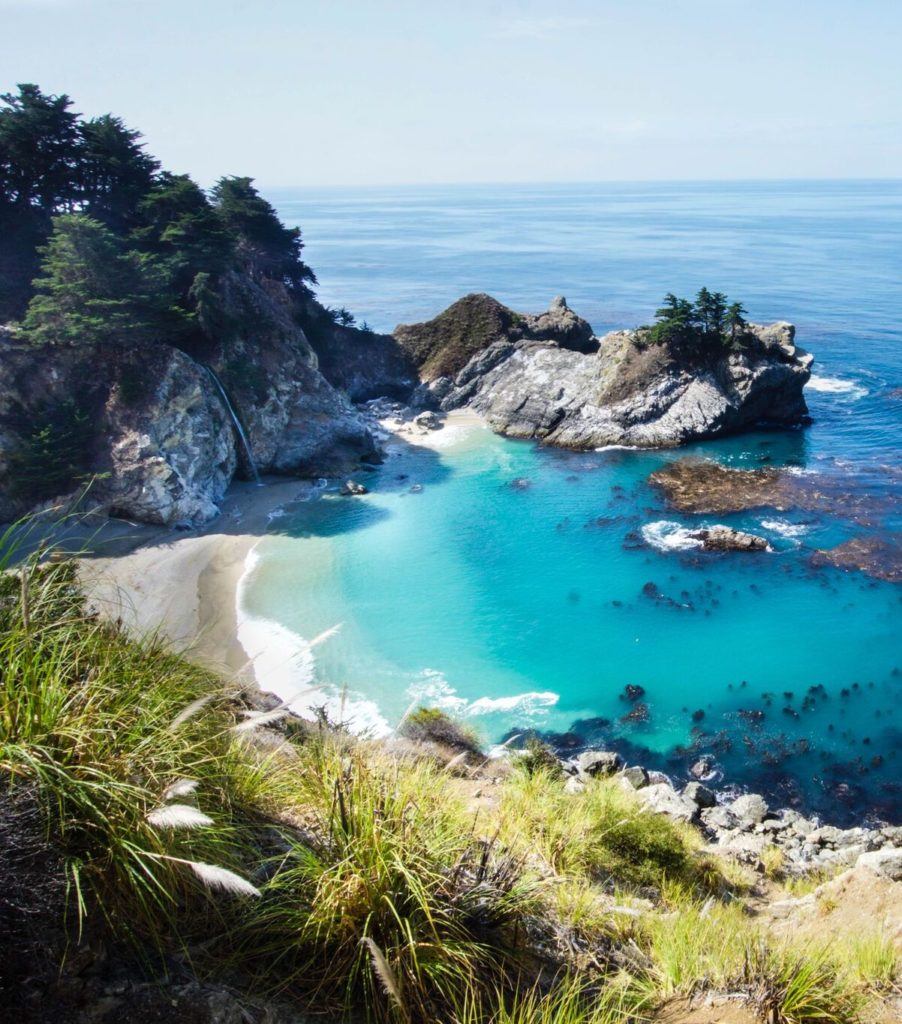 California