These days, we've been getting a lot of use out of our sheet pans for dinner. Just add all your ingredients, turn on the oven, and—voilà—dinner is ready. Whether you're craving breakfast for dinner or pesto-drenched salmon, we've got something bound to delight your taste buds. Bonus: You won't have to clean 50 pots and pans after you close up shop for the night.
For more fast and delectable recipes, check out these easy five-ingredient lunches and the best one-pot dinners to make ASAP.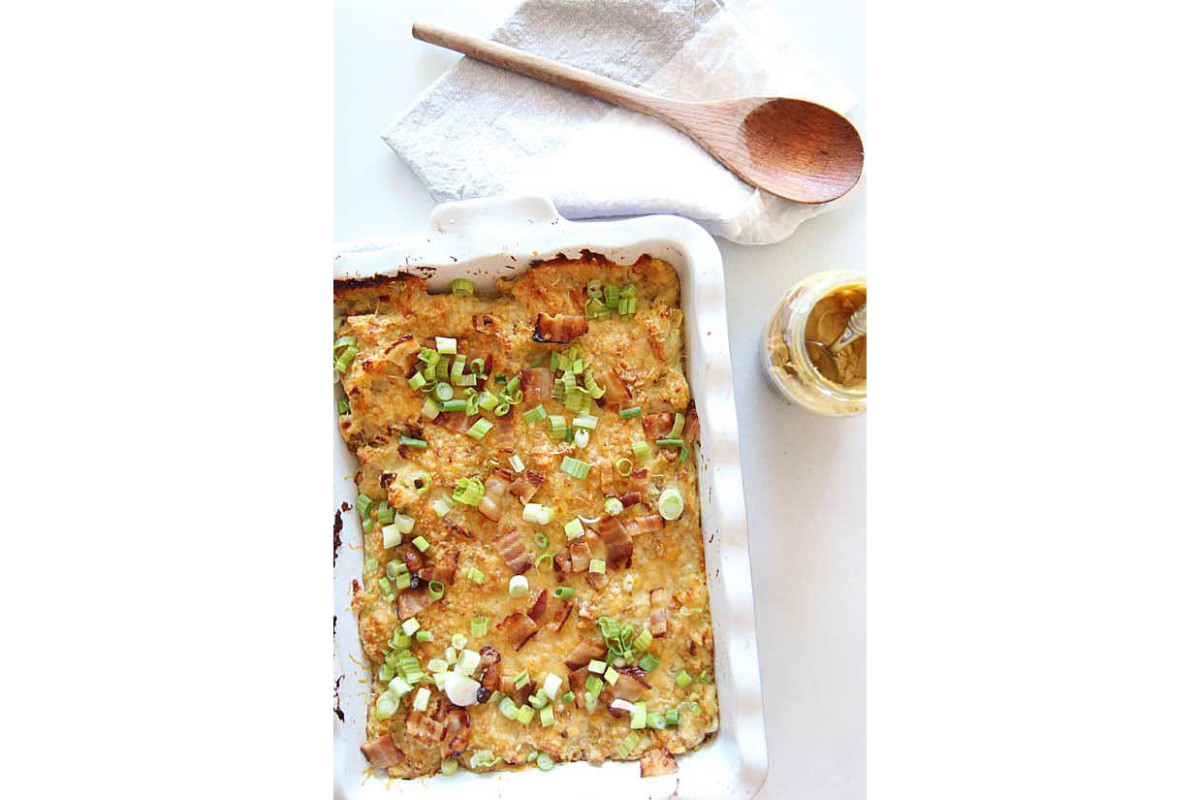 Sheet Pan Bacon Gruyère Mashed Potato Casserole
Jason Goldstein, Food Network Star finalist and recipe developer for Chop Happy has won us over with this simple recipe that really wows your palate: "This bacon Gruyère mashed potato casserole recipe is a super decadent, easy, make-ahead comfort food recipe. You just grab some potatoes, butter, cheese, and bacon," he says.
Jason Goldstein of Chop Happy's Bacon Gruyère Mashed Potato Casserole
Makes 6 servings
Prep time: 10 minutes
Cook time: 30 minutes
3 lbs Yukon gold potatoes (cut in small chunks)
5 cloves garlic (smashed)
4 cups chicken stock
2 Tbsp salt
1 tsp Dijon mustard
1 tsp black pepper
½ cup cream
2 Tbsp butter
2 cups grated Gruyère (1 cup for mash /1 cup to top)
5 scallions (chopped)
4 strips cooked bacon (chopped)
Preheat the oven to 425° Fahrenheit.
Add potatoes, salt, and chicken stock to a pot and turn the heat to medium high.
When the stock boils, cook for 15 minutes and drain.
Return the potatoes to the pot and add mustard, black pepper, and cream.
Mash until consistency is creamy.
Add the 1 cup of Gruyère, half the scallions, and mix.
Add mashed potatoes to a buttered baking dish. (Note: If you want to make this dish ahead of time, stop here. Cover and put in the refrigerator until ready to cook.)
Top the potatoes with the remaining cheese. Put on top rack in the oven and cook for about 5 minutes or until the cheese browns slightly.
Top with bacon and remaining scallions and serve.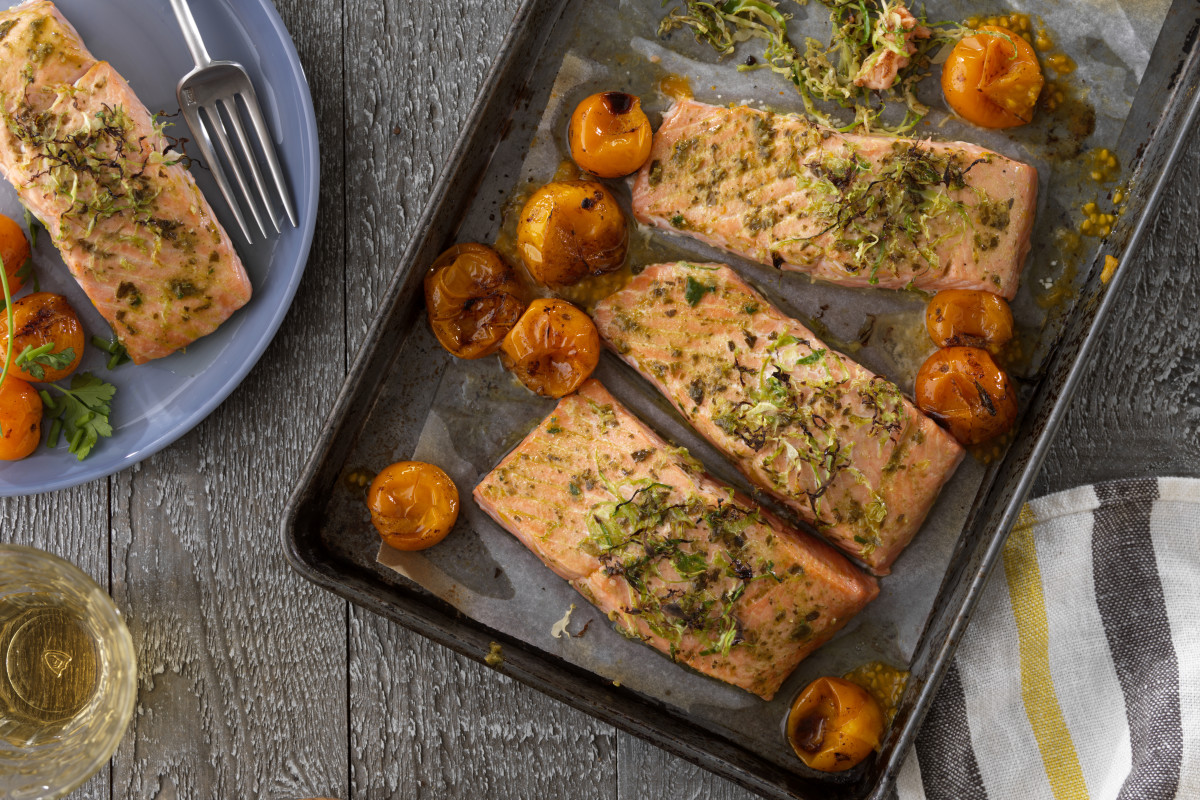 Sheet Pan Salmon with Pesto, Tomatoes, and Herbs
As Barilla Executive Chef Lorenzo Boni puts it, "if you've been cooking a lot while staying at home and need a bit of a break, sheet pan recipes are a great way to feed everyone with minimal prep work and cleanup." We concur. "Just place all the ingredients in a pan, broil for 10 minutes, and dinner is served," he adds. We'll take it. And when in doubt, always add extra pesto.
Barilla's Executive Chef Lorenzo Boni's Sheet Pan Salmon with Barilla Pesto, Yellow Tomatoes and Fresh Herbs
Makes 4 servings
Prep time: 10 minutes
Cook time: 10 minutes
1 jar Barilla Rustic Basil Pesto
4 four-oz salmon filets
1 cup Brussels sprouts, thinly sliced
1 pint yellow cherry tomatoes
2 Tbsp parsley leaves
¾ cup chives, sliced
Salt and pepper to taste
Preheat the oven to the broiler setting. In a foil-lined cookie sheet, place the fish skin side down, season with salt and pepper.
Top each filet with ¼ of the pesto sauce and some of the Brussels sprouts. Arrange the tomatoes on the same tray.
Broil until golden brown and fully cooked, approximately 10 minutes. Remove from the oven and let rest for a few minutes.
To serve, plate each filet separately with a few tomatoes and Brussels sprouts, then garnish with parsley and chives.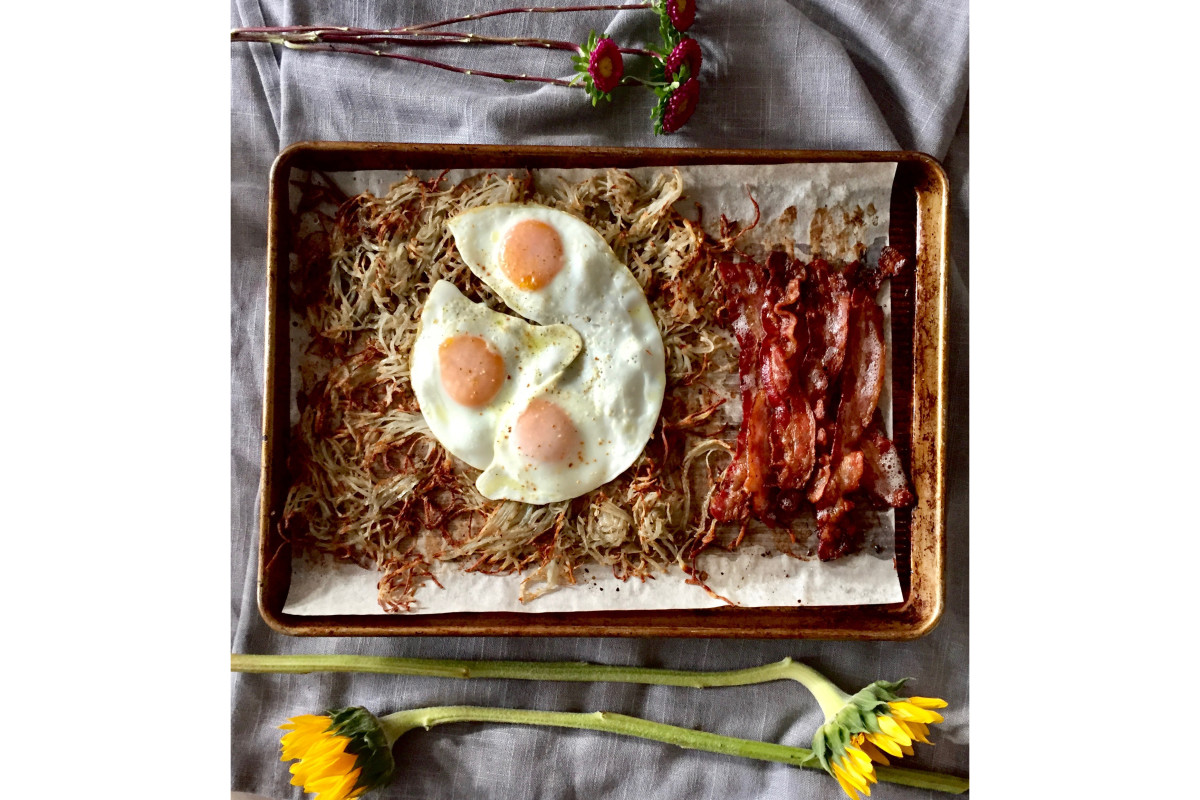 Easy Sheet Pan Breakfast for Dinner
Got kids? They'll love the thrill of eating breakfast staples come nightfall. "When I want to make something super easy and something the whole family will love, my go-to is sheet pan breakfast for dinner," says Anna Francese Gass, chef and author of the bestselling cookbook Heirloom Kitchen, of this savory and satiating sheet pan recipe. "It's a great way to get rid of some ingredients that you probably already have on hand and it comes together in minutes without a lot of time spent standing over the stove or waiting around."
Anna Francese Gass' Easy Sheet Pan Breakfast for Dinner
Makes 4 servings
Prep time: 10 minutes
Cook time: 40 minutes
8 slices bacon
1 30 oz bag frozen shredded potatoes
3 Tbsp olive oil
4 eggs
4 slices bread of choice
Preheat the oven to 375° Fahrenheit. Lay bacon on a parchment lined baking sheet Place the bacon in the oven and bake for 20 minutes.
Remove from the oven and remove the bacon to the plate. (It will not be completely ready but that's fine.)
Lay the shredded potatoes on the sheet in a very thin layer. Cook the potatoes for 20 minutes or until they begin to crisp up on the sides. Once the potatoes are ready, remove them from the oven and move them to one side of the baking sheet.
Place the par-cooked bacon on top. Drizzle olive oil on the now-empty side of the baking sheet and carefully crack the eggs onto the greased parchment.
Place the baking sheet back in the oven and cook for up to ten minutes, based on how cooked you prefer your eggs. (You can flip the eggs after 5 minutes if you like over-easy.) Place the four slices of bread on another sheet pan and toast it up alongside your sheet pan breakfast.
Remove both pans and enjoy.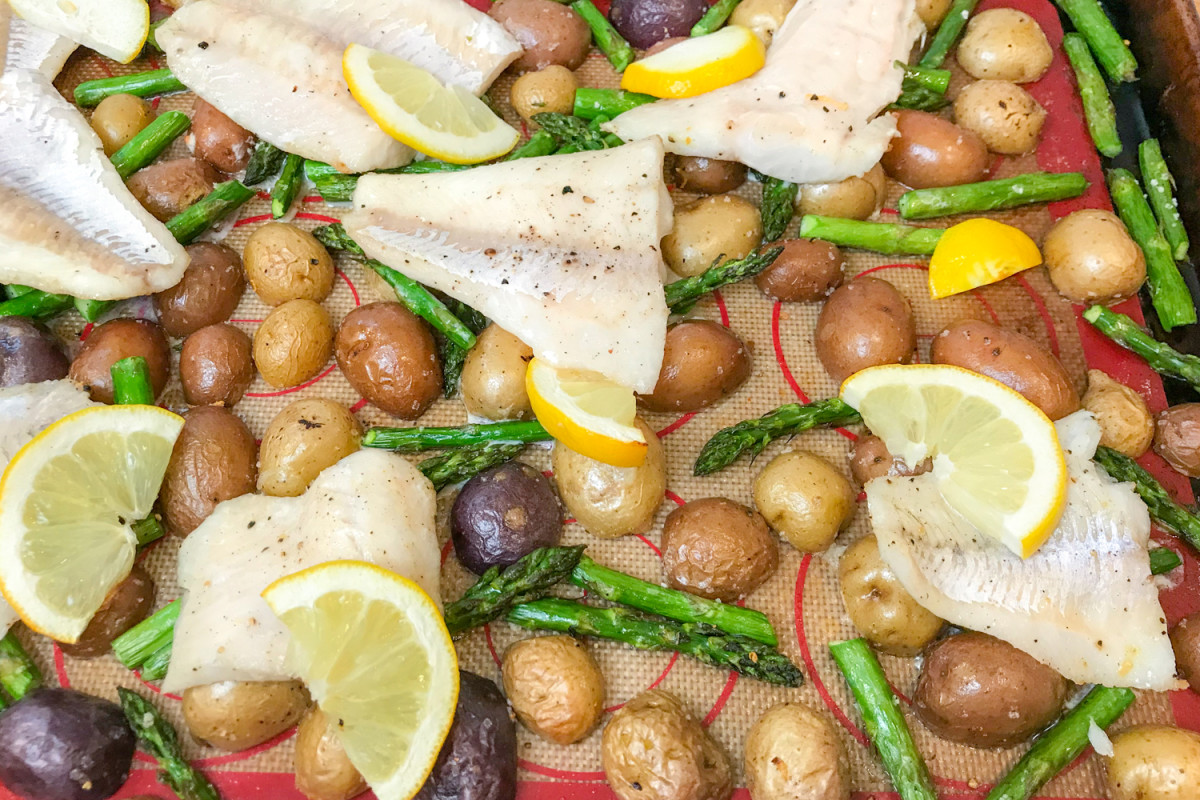 Sheet Pan Asparagus and Pickerel
Getty Stewart, professional home economist, creates this dinner with pickerel, a member of the pike family of fish, but you can feel free to experiment with other white and flaky fish. With only five ingredients (six if you want to use lemon), this no-fuss dinner is equal parts flavor-packed and practical for a fast weeknight meal.
Getty Stewart's Sheet Pan Asparagus and Pickerel
Makes 4 servings
Prep time: 10 minutes
Cook time: 20 minutes
1 lb multi-colored mini potatoes
1-2 Tbsp canola oil, divided
1 ½ tsp lemon pepper finishing salt, divided
1 lb fresh asparagus, trimmed and cut to 2″
4 pickerel fish fillets
½ lemon, sliced for garnish, optional
Preheat the oven to 400° Fahrenheit.
Wash and slice potatoes in half. Pat dry. Toss with a drizzle of oil and ½ tsp lemon pepper salt to coat evenly. Place on a sheet pan, cut side down spaced apart. Bake for 5 minutes.
Wash and trim asparagus. Pat dry. Cut to 2-inch lengths. Toss with a drizzle of oil and 1/4 tsp lemon pepper salt to coat evenly. When potatoes have baked for 5 minutes, add asparagus to the pan.
Pat fish dry. Coat evenly with a drizzle of oil. Sprinkle with 1/2 tsp of lemon pepper salt. Cut fillets in half. Place pieces on top of asparagus and potatoes. Bake for 10 minutes..
At 10 minutes, check fish and vegetables, turn fish over and add lemon slices if using. Return to the oven for another 5 to 8 minutes as needed. Fish should be flaky, opaque, white with an internal temperature of 158° Fahrenheit.
Serve immediately with optional hot lemon slices.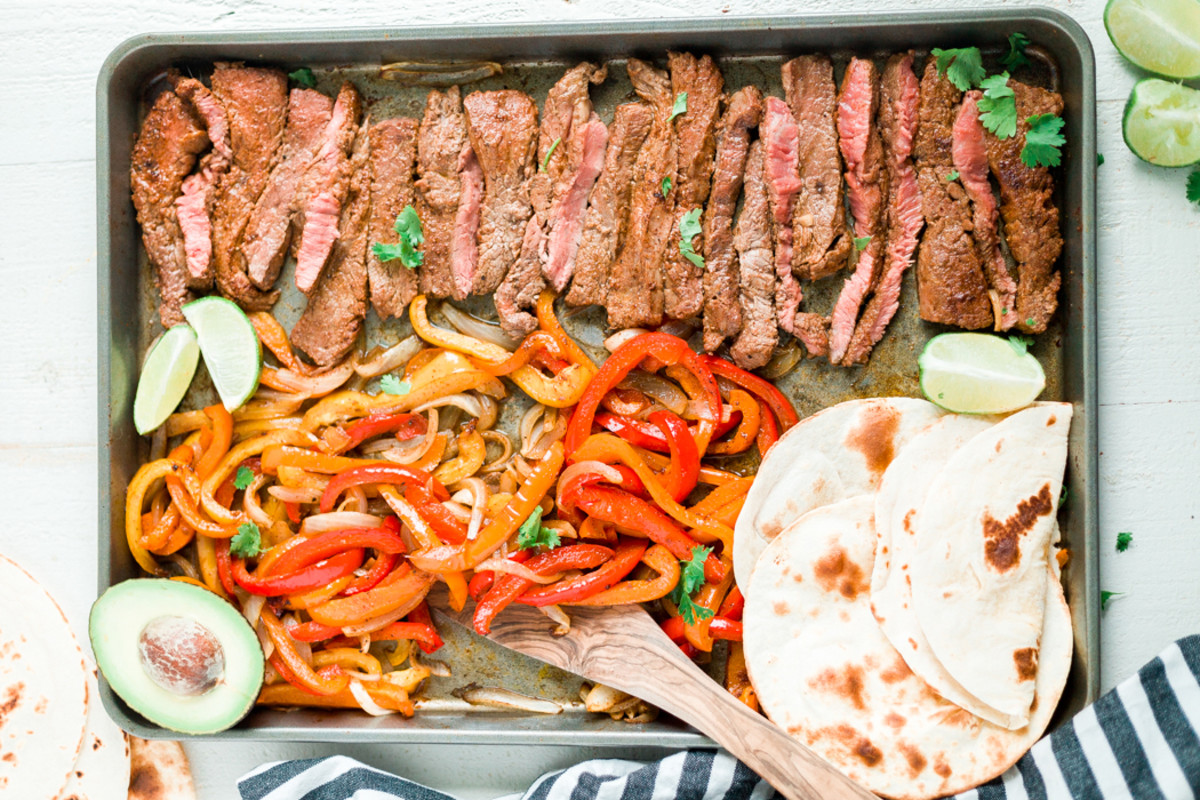 Sheet Pan Steak Fajitas
The Ohio Beef Council knows a thing or two about how to make steak really damn tasty. Thankfully, a superb meal doesn't mean you have to labor for hours in the kitchen. With these sheet pan steak fajitas by Ohio food blogger What Molly Made prep work is straightforward and cleanup is a breeze. If you're all about toppings, add sliced avocado or guacamole, diced tomatoes, or herbs like parsley or cilantro to your spread.
What Molly Made's Sheet Pan Steak Fajitas
Makes 6-8 servings
Prep time: 15 minutes
Cook time: 25 minutes
1 Tbsp chili powder
1 tsp ground cumin
1 tsp garlic powder
½ tsp paprika
½ tsp sea salt
½ tsp ground black pepper
2 pounds skirt steak or flank steak sliced into ¼-inch strips across the grain
2 Tbsp olive oil (divided)
Juice from 1 lime
1 medium yellow onion sliced into strips
2 cloves garlic, minced
2 Tbsp fresh lime juice (optional)
8 taco-sized flour or corn tortillas, warmed (optional)
Preheat the oven to 400° Fahrenheit. Spray a large baking pan with non-stick cooking spray or foil and set aside. You may need to use two depending on how large your tray is.
To make the seasoning, combine the chili powder, cumin, garlic powder, sea salt, and black pepper in a small bowl. Set aside.
Add the sliced steak to a large gallon Ziploc bag. Drizzle with 1 Tbsp olive oil, juice from one lime, and sprinkle with ⅔ of the fajita seasoning. Mix and shake the bag well until all the steak is coated. Let marinate in the fridge for 15 minutes or overnight.
Spread the sliced bell peppers and onion on the prepared baking sheet. Drizzle with 1 Tbsp of olive oil and then sprinkle with the remaining fajita seasoning. Toss to coat.
Roast the vegetables in the preheated oven for 15 minutes then remove from the oven and stir then push all the veggies to one side of the tray, trying to keep them in an even layer.
Add the marinated steak in an even layer to the tray and place back in the oven for 10-12 minutes or until the steak has reached your desired doneness.
Wrap tortillas tightly in foil and warm in the oven during the last 5 minutes of the fajitas cooking. (You can stick them in the corner of the pan.)
Drizzle lime juice evenly over the top of the pan and sprinkle with chopped cilantro.
Serve warm with tortillas and optional toppings.

For access to exclusive gear videos, celebrity interviews, and more, subscribe on YouTube!