We know that not everyone who's reading this is a vegetarian. But—call us fortune tellers—we know everyone who's reading this wants a fast, delicious dinner that pleases a variety of palates. With autumn approaching, it seems a fitting time to trade in that watermelon gazpacho and all those plant-based burgers and brats for fall staples.
And if you're anything like us, hearty mushroom stews ladled over generous heaps of mashed potatoes, sweet potato casserole, and roasted shallot anything sounds pretty damn good. Below, we've rounded up some winning vegan and vegetarian dinner recipes. Add them to your dinner repertoire and get ready for the rave reviews to start rolling in.
For more cooking ideas, we've got you covered. Check out 5 Instant Pot Recipes We'll Be Making All Year Long, 5 Fast Sheet Pan Dinners You'll Keep Coming Back To, and Easy Five-Ingredient Lunches to Make Again and Again. As for what to do with all those extra eggplants that accidentally arrived with your Instacart order, we're afraid you're on your own.
Now, roll up your sleeves, sharpen your knives, and let's get cooking. Great vegetarian dinners are just a few steps away.
Crowded Kitchen's Vegan Mushroom Stew over Mashed Potatoes (pictured above)
Makes 4-6 servings
Prep time: 30 minutes
Cook time: 2 hours
For the mushroom stew
5 Tbsp olive oil, divided
1 yellow onion, diced
1 1/2 Tbsp minced garlic
4 cups vegetable broth, divided
5 Tbsp gluten free all purpose flour (regular flour works too)
2 carrots, diced
1 1/2 cup yukon gold or russet potatoes, cubed
20 oz button or cremini mushrooms, stems removed
1 cup green beans (fresh or frozen)
1 cup peas (fresh or frozen)
1/3 cup fresh parsley
2 1/2 Tbsp thyme
1 1/2 Tbsp tomato paste
1 1/2 tsp salt
3/4 tsp pepper
1/2 tsp paprika
1-1 1/2 cups red wine
For the mashed potatoes (you can also buy them pre-made)
4-5 cups yukon gold (or similar) potatoes, peeled and cubed
4 Tbsp vegan butter (can be subbed for real butter)
1/3 cup vegetable broth or non-dairy milk (or regular milk)
1 1/4 tsp salt
4 cloves roasted garlic
2 Tbsp chopped chives
For the stew
Heat 2 Tbsp oil in a large pot over medium heat.
Add onions and sauté for 7-to-8 minutes, stirring frequently. Add garlic and cook for another 2-to-3 minutes.
While onions are cooking, add remaining 3 Tbsp olive oil to a smaller pot over medium-low heat. Add flour and whisk until no lumps remain. Slowly whisk in two cups of vegetable broth and whisk until smooth.
Once onions and garlic are softened, add carrots, potatoes, mushrooms, green beans, peas, herbs, tomato paste, salt, pepper, and paprika to pot and stir well. Add red wine and let simmer for a minute or two before adding in broth + flour mixture + remaining two cups of broth.
Cover and simmer over low heat for 1 1/2-2 hours, stirring occasionally. Taste and adjust seasoning as needed.
For the mashed potatoes
Preheat the oven to 400° Fahrenheit.
Turn an entire head of garlic on its side and slice the top off, just enough to expose the cloves.
Drizzle with a bit of olive oil, salt and pepper, wrap in aluminum foil and roast for 30-35 minutes, until golden brown and tender.
Wash, peel, and cube potatoes. Add to a large pot of boiling water, salted with 1 Tbsp kosher salt.
Boil until tender—15-20 minutes.
Drain water from potatoes and add to a large bowl. Mash well.
Stir in butter, broth or milk, salt, roasted garlic and chives. Taste and adjust salt and butter as needed. Serve stew over mashed potatoes and enjoy.
Roasted Shallot Penne from Sarah Licata, founder of Salt Jar, a food blog featuring recipes using farm-fresh produce
Makes 4-6 servings
Prep time: 10 minutes
Cook time: 20 minutes
5 large shallots, peeled and sliced into ¼ inch wedges
5 Tbsp olive oil, separated
4 Tbsp balsamic vinegar, separated
16 oz penne
1/2 cup mild blue cheese, crumbled
4 Tbsp flat-leaf parsley, chopped
1/2 cup walnuts, roughly chopped and toasted
Preheat the oven to 375° Fahrenheit.
Place shallot slices on a baking sheet and drizzle with 3 Tbsp of olive oil and 2 Tbsp balsamic vinegar. Toss to coat and season with ¼ tsp salt. Place in the oven and roast for 20 minutes, stirring occasionally, until soft and slightly charred.
While the shallots cook, cook the pasta in well-salted water according to package directions for al dente. Before draining, reserve ¼ cup of the water from the cooked pasta.
In a large bowl, combine the reserved pasta water, remaining 2 Tbsp olive oil, and remaining 2 Tbsp balsamic vinegar. Mix well and top with the cooked and drained pasta. Toss to coat.
Add the roasted shallots, blue cheese, toasted walnuts, and parsley. Toss gently to combine and season with salt and freshly cracked pepper.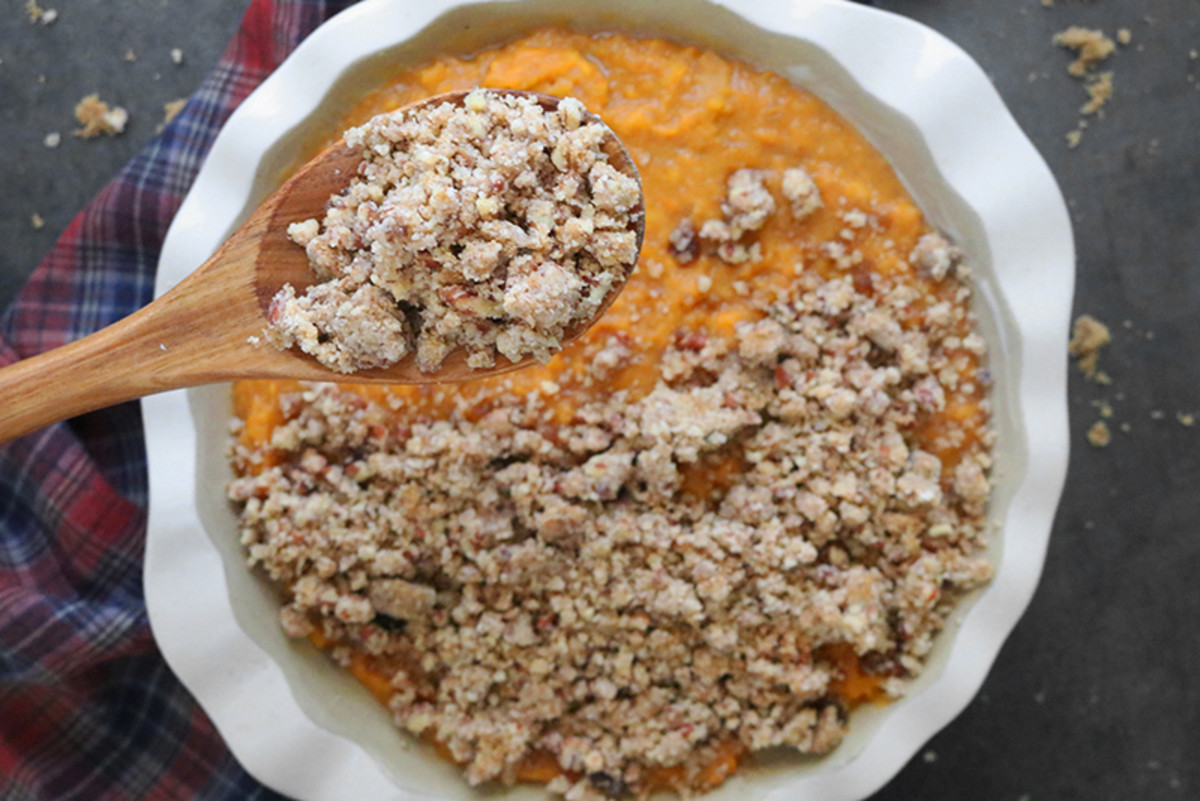 Clean Green Simple's Vegan Sweet Potato Casserole with Pecan Crumble
Makes 12 servings
Prep time: 10 minutes
Cook time: 1 hour
For sweet potato filling:
4 large sweet potatoes
1/2 cup unsweetened non-dairy milk
1/4 cup brown sugar
1 tsp vanilla extract
1/2 tsp salt
1 tsp cinnamon
1 tsp nutmeg
2 Tbsp vegan butter
For pecan crumble topping:
1/2 cup all-purpose flour
1 cup pecans
1/2 cup brown sugar
1/2 tsp salt
4 Tbsp vegan butter, softened
Wash the sweet potatoes, peel, and cut into 1-inch cubes.
Bring a large pot of water to a boil and add the sweet potatoes. Boil for 20 to 30 minutes or until tender.
While the sweet potatoes are boiling, prepare the pecan crumble topping. Pulse the pecans in a food processor until crushed but still chunky. Add the flour, brown sugar, vegan butter, and salt. Pulse three to five times until combined.
Once the sweet potatoes are ready, preheat the oven to 350° Fahrenheit. Drain the sweet potatoes and mash. Add the non-dairy milk, brown sugar, vanilla, salt, cinnamon, nutmeg, and vegan butter. Mix well.
Transfer the mixture to a greased 9×13 casserole dish or deep pie dish. Top with the pecan crumble topping, spreading it into an even layer. Bake for 25 to 30 minutes or until the sweet potato is bubbling and the pecan topping has browned. Garnish with pecans and serve warm.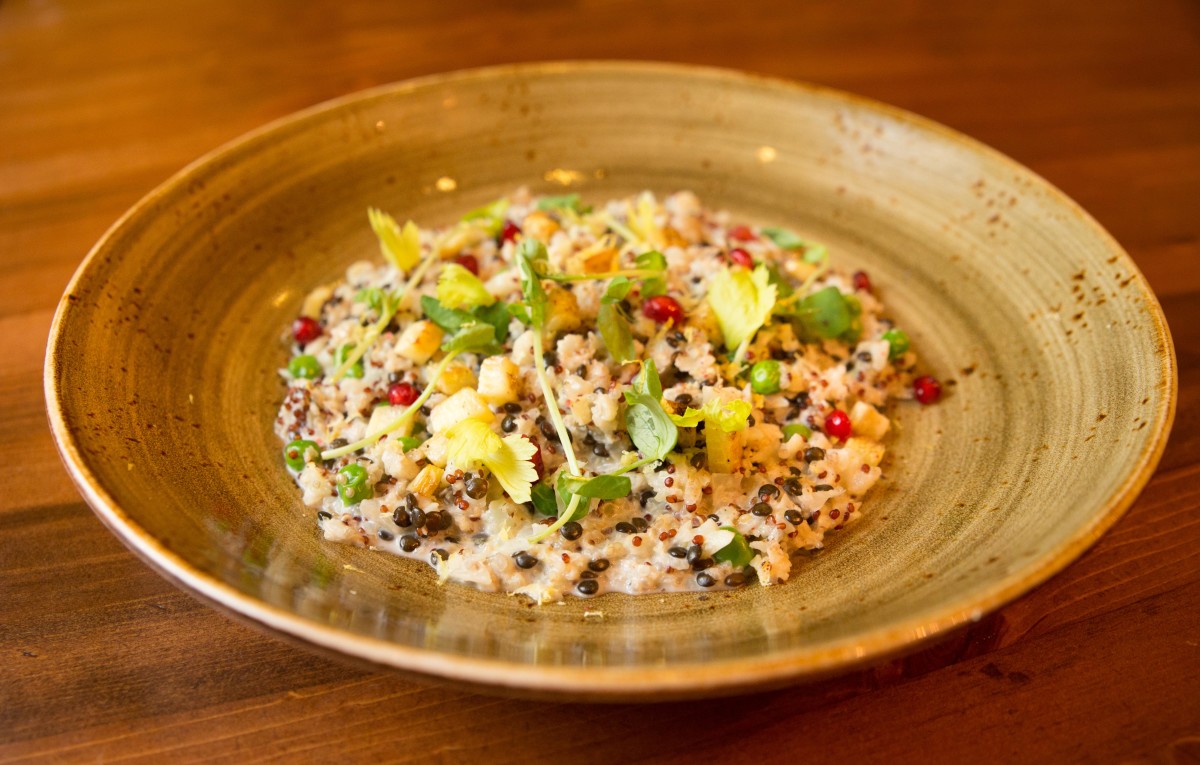 Cauliflower & Red Quinoa Risotto from Elizabeth Blau, restaurateur and owner of Honey Salt in Las Vegas, NV
Makes 1 serving
Prep time: 30 minutes
Cook time: 7 minutes
5 oz of raw, medium box-graded cauliflower
1 oz small diced onions
1 Tbsp olive oil
1/2 tsp minced garlic
1/4 tsp freshly chopped thyme
4 oz hot vegetable stock
2 oz cooked (and cooled) red quinoa
1 Tbsp small diced zucchini
1 tsp vegan parmesan
Kosher salt, to taste
Pomegranate seeds, cleaned for garnish
Green and yellow pea shoots for garnish
Celery leaves for garnish
Peppercorn mix for garnish
Sea salt for garnish
Heat sauté pan over medium-high heat. Add olive oil, cauliflower, onion, garlic, thyme, salt and pepper. Sauté for two minutes to cook cauliflower.
Add zucchini and color for 30 seconds. Taste for balance, then turn off the heat.
Add vegetable stock, vegan parmesan, and red quinoa and taste for flavor and consistency. Adjust as necessary.
Plate and garnish with pomegranate seeds, cleaned pea shoots, and celery leaves. Finish with freshly ground peppercorn mix and sea salt.

For access to exclusive gear videos, celebrity interviews, and more, subscribe on YouTube!