Can you safely camp alone? Why would you want to? Isn't it boring, scary, or difficult to do?
These are all questions that went through my mind before I tried and came to love my solo camping and hiking experiences.
Just like solo traveling the world, there are numerous benefits to solo camping, not least of which is the sense of accomplishment and resourcefulness you build when you go it alone. Being so at one with nature is incredibly healing as well. I love it so much these days, I camp alone as much as possible!
It doesn't have to be rocket science, either. In this post I will tell you all about how to do it easily, safely, and enjoyably. Without further ado, here's my ultimate guide to camping alone like a boss for solo female campers:
How to Pick a Campsite:
Campsites can vary from a paved parking lot where you're surrounded by RVs, to deep in the wilderness that takes miles to hike to. And of course, there's much in between.
If it's your first time camping or you're relatively new to it, selecting a campsite that has facilities is a good way to ease in. Unless you're in an RV, I recommend picking a more natural one. Most of the campsites in national parks are a bit more natural than a packed and paved KOA for example, and offer a bit of solitude while still having plenty of other people around.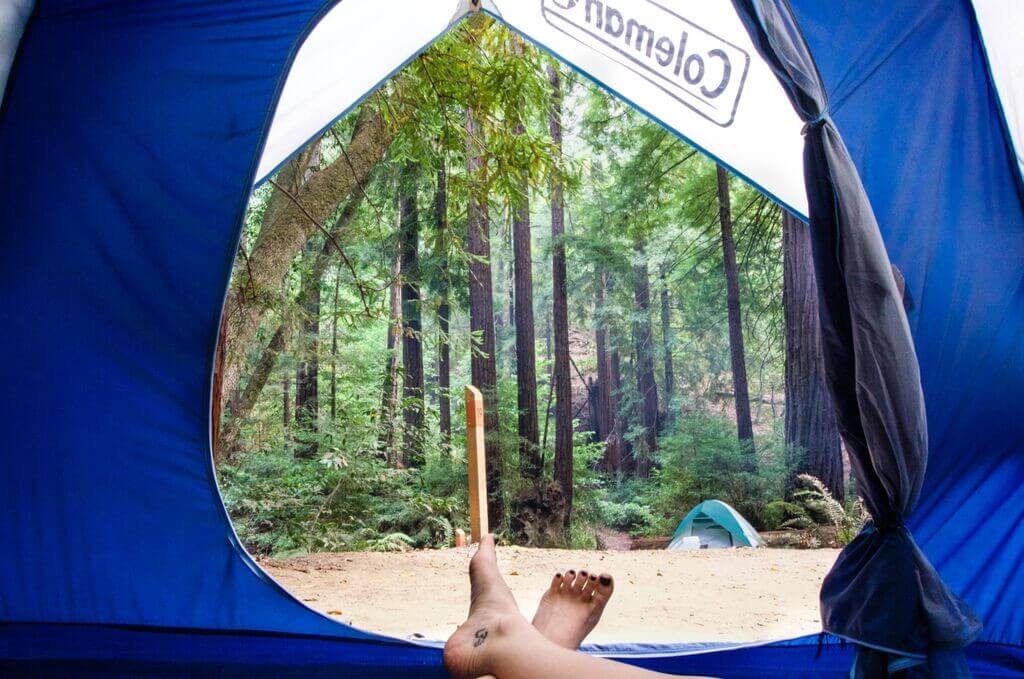 If you're new to the outdoors, you may prefer to pick a campsite that does have other people around, just to feel a bit more comfortable sleeping in a tent before jetting off into the wilderness where you're more likely to be totally alone. 
These are easy to find in state and national parks, but can book up quickly. Quite often, they're bookable on recreation.gov or can be first-come, first-served.
But what if you really want to find the middle of nowhere? Girl, I got you. This is by far my preferred way of reconnecting with nature. However this requires a lot more preparation and resourcefulness since there are no facilities and no clearly indicated places to pitch your tent. That brings me to my next point.
Preparing for Your Solo Camping Adventure
Camping doesn't have to be complicated. All you really need is a good tent, a sleeping bag that is suited to the temperatures you're likely to experience, clothing that will keep you warm enough, a sleeping mat and pillow, and a light source. I don't recommend using your phone for this, as a headlamp frees up your hands and is a lot brighter. 
Food is also a consideration, and apart from your first night, you're not going to want to bring anything that needs to be refrigerated. If you're going to be hiking into your campsite, the food you eat needs to be lightweight, I really enjoy MaryJane's Farm just add water backpacker meals to achieve this goal while still eating well.
Now, not all just add water camp meals are good, but MaryJane's are organic and I've liked every one of hers that I've tried. You'll also need a stove and a way to heat water, as well as a water source. I really like the Jetboil since it's so quick and efficient, and I use a SteriPEN to sanitize my drinking water. 
If you're truly out in the wilderness, you're also going to need to figure out your bathroom situation. That usually means digging a hole and burying it. More about that in the video below: 
What to Pack
So what should you bring? I have a car camping checklist for you here, whether you're car camping or tent camping, with all of the tried and true gear I've been using for years now.
If you're going to be backpacking, I've also got a backpacking checklist for you here, as well as an entire free outdoors 101 course that can prepare you for almost any outdoor adventure of your choosing. You can sign up for that here.
But suffice to say, if you're truly going out into the wilderness, have ample food with you, have water with you, download an offline map to your phone before you leave Wi-Fi — I like the maps.me app for this — and make sure your vehicle can handle the road you're about to take it down. If you head more into public lands and out of established state and national parks, the more alone you can be,  but also the more resourceful you will need to be. I recommend working your way up to camping adventures like this.
How to Safely Camp Alone
Just like solo hiking, there are people out there who will insist that it is never safe to camp alone. I think this advice is unfortunate, because camping alone is awesome and doesn't have to be dangerous! Let's address the common concerns:
Other people: A woman's intuition is incredibly sharp, and if you're in an established campsite, I just tend to find that people who also hang out there tend to be friendly and worth meeting. This is just based on my own experience, but campers and outdoorsy types are usually friendly and approachable. But if your intuition is telling you no, then listen. You don't have to be polite with perfect strangers if it doesn't feel right to you.
Animals: Most established campsites that have bears in the area will provide bear lockers. However if you are backcountry camping, do some research into your chosen area to make sure you don't need a bear can. They will be required in most of North America outside of the desert areas.
It's important never to feed the wild animals, or even to leave crumbs or apple cores behind. This habituates them and makes them rely on people for their food, which can cause them to starve or even get aggressive.
That said, typical animals you will find in the wilderness don't even rank in the top 10 animals that are most likely to kill people, so although it might be new to you to be in an area where these animals live, your chances of an attack, especially if you're leaving them alone to mind their own business, is much lower than getting into a fatal car accident, for example.
That's not to say it's impossible, so in the national parks where they recommend bear spray, it is wise to have some on you and to know how to use it. That said, I've never had a dangerous encounter with an animal in the states (I once had to roar at a monkey in Indonesia to keep it from biting me, which worked, but that's another story).
The bigger concern is squirrels and rodents getting into your food, which is why I like bear cans – it keeps them out, too! Just be sure not to even have trash or any snacks in your tent with you, or even scented Chapstick or toiletries. These are all things that need to go in the bear can.
Once you have your gear, an understanding of how to use it, a good tent, the right spot selected, and your food situation taken care of, then it's just time to enjoy!
Read more: 8 Clever Camping Hacks for Beginners
How to Enjoy Your Solo Camping Experience
That brings us to the last big question people have about camping alone – Isn't it horribly lonely and boring?
To which I say, how can being in these beautiful natural areas ever be boring!? I love to head out to the desert and look up at the night sky, which I can happily do for hours just watching the Milky Way and getting lost in questions about the universe.
I also think hiking alone can also be therapeutic and wonderful. I have an entire post dedicated to hiking solo here. 
You can also bring a book, cards, binoculars to look at wildlife, a camera to take awesome pictures (here's a post on how to take awesome selfies that don't look like selfies), a journal, or even some paints or colored pencils to sketch out what you're looking at.
To me, solo camping as anything but boring. I need that alone time to understand who I am without other people's opinions. I need that peace and quiet, the chance to selfishly make all of the decisions, and I think everyone should get that chance. It's particularly potent out in the wilderness where one can feel such a profound connection to earth and to self.
So I hope if you want to try solo camping that you get a chance to do so. Others may try to talk you out of it, but if you are truly prepared, it doesn't have to be lonely, dangerous, or boring. To me, it's anything but!
Click to read more posts about
Outdoors 101