Welcome to 2020. A year when so many travel career options are in flux and there are questions around how to survive and even thrive in this kind of environment. When everything seems so hostile towards travel, is travel blogging still a viable career option?
What if I told you that my ad revenues are paying higher than they ever have before, that my friends who focus on domestic travel have had some of their biggest months yet, even back in May and June, and that I've been able to pivot, expand my product offerings, and keep my employees paid and the blog running despite everything?
I admit, it looked dire in March, but 2020 will still, after all, be a six-figure year for Be My Travel Muse. So yes, travel blogging is still worth your while, but only if your strategy is on point and you're ready to innovate.
You can make money travel and lifestyle blogging, and now might be an even better time than ever because more people will be jumping ship, and more opportunities will open up for those who are ready to jump in!
In this post I'm here to help you pick and choose the best ways to grow your brand, and which courses will help you get there.
When is the right time to invest in a course?
When I first started travel blogging in 2012, courses didn't exist yet. It was mostly trial, error, and me stalking a few of my favorite blogs down to the minute details to see what they were doing that seemed to be working. It took me months to do this digging and years of trial and error before I started breaking even on my blog (you can read my full history here). These days, I've observed many bloggers skipping some of those arduous years by having the right training from the start (that said, this is not and will never be a 'get rich quick' profession).
If you're just starting out, you can cut out lots of time by joining a travel blog course or coaching program. They can range from a few hundred to a few thousand dollars.
I know that when starting out, every entrepreneur is bootstrapping and upfront investments are big decisions, but that is the nature of every new business.
My first course purchase was three years into my blogging journey back when Travel Blog Success still existed. My main reason for joining was not for the course itself, but for access to the secret Facebook group where I could talk strategy with other top travel bloggers. That was the part of the course that everyone was talking about, and since then, I've joined a high-level mastermind group that cost five figures for the same access.
What really matters is not just some course content that anyone could produce, but the coaching, the one-on-one networking conversations, the chance to ask high-level people questions, and to do it in a live format that keeps you accountable.
How to spot fakers and bad courses
Lots of people have travel blogging courses, so how do you know who is legitimate?
First of all, make sure that this person actually is who they claim to be. There are some ways to check into peoples traffic, my favorite free tool being similarweb, which does a very rough estimation of a website's traffic. It's usually not all that accurate, but if you see this, it's very bad news:

It means the blog's traffic is too low to even register.
I can't begin to tell you how many blogging courses are being hawked by people whose search results will show you this image, and how many bloggers will inflate their actual numbers.
Is the blogger who is selling the course willing to talk about traffic or provide proof of paid projects? What does their media kit or press kit look like? Can they prove they've really gotten paid work and do they show the articles from the news outlets they claim to have been featured in? Are real people commenting on their posts?
Since almost nobody does this, I think it's important to show you what I'm actually working with. Here are my stats for August 2020 straight from Google analytics: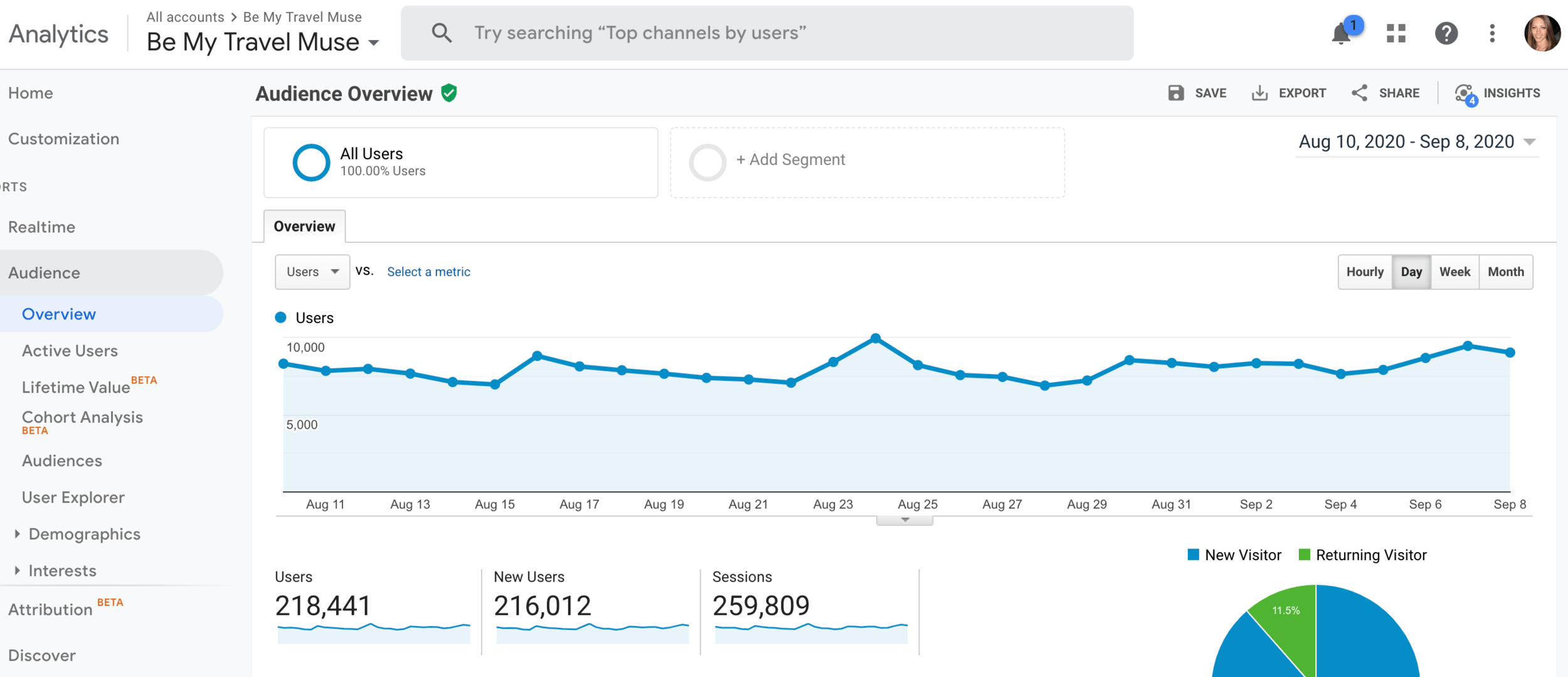 At my site's height, here are the stats for January 2020: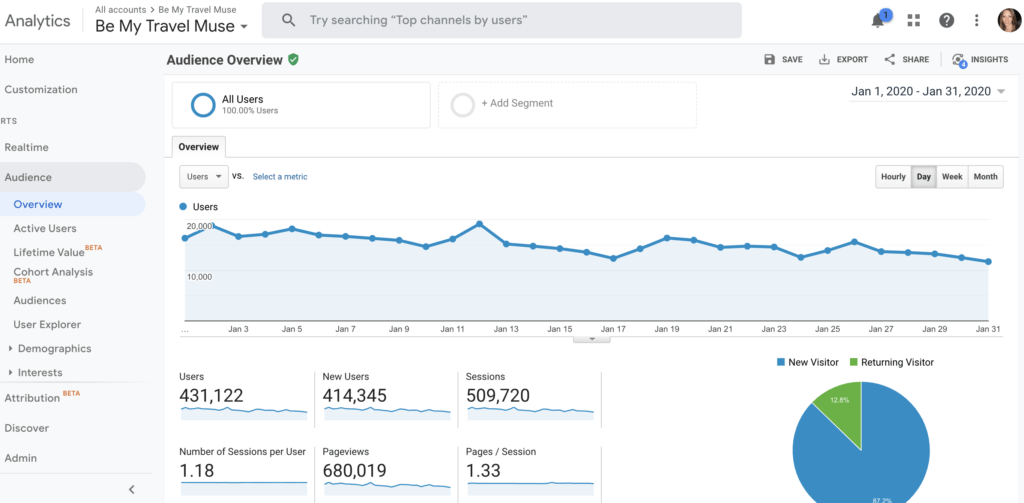 Blogging is a journey and it takes time and dedication, but yes, you can absolutely make it. So if they are promising you a way to get rich quick, run, don't walk, away!
So, which legitimate travel blogging course is right for you?
That said, there are people who do have legitimate courses and who genuinely know what they are talking about. They will deliver what they promise and are basing it on years of trial and error.
The first thing to consider is what niche the person is in. A woman can speak better to brands that face women, and a budget travel expert can speak better to blogs that focus on that niche, for example.
How does the blogger mostly make their money and do you want to do it the same way? These are good questions to ask.
Here's what's out there from my course offering to others I've learned loads from over the years:
Travel Blog Accelerator
Most courses out there have a very cookie-cutter approach and will tell you one way of being successful in this industry – their way. I think what's more valuable is accountability, having access to a wide range of successful people, and seeing the multitude of ways to make money from many angles. That's why I started a group coaching program where we meet live, rather than putting together another course that you do on your own (though recordings are always available for those who can't join live).
We have group accountability calls, a private slack chat group (so that you can stay off of Facebook!), we have a live call with a six-figure blogger with a Q&A each month, and I'm always reachable for any questions. My promise is to tell you everything that has worked for me to reach the full time, six-figure level with employees and multiple income streams.
It started in April of this year, and so far we've covered:
How to pick your niche (featuring Kristen of Bearfoot Theory)
How to get featured in media and mastering SEO (featuring Silvia of Heart My Backpack)
How to monetize and make affiliates work (featuring Liz Carlson of Young Adventuress)
Social media mastery (Featuring Ashley Yap, BMTM's Director of Marketing)
Building an email list (Featuring Alyssa Ramos of My Life's a Travel Movie)

In October we'll talk about how to create products and I've invited Alex Baackes of Alex in Wanderland to join us! In November we'll cover the business side of blogging (taxes, establishing an LLC, trademarking, and more).
Each month I ask the group what topics they most want to cover. It's a dynamic, supportive group of women of many niches and levels of experience and exactly what I felt was missing from most courses. I'm happy to report a 90% retention rate 6 months on, which is pretty amazing and something I'm proud of.
It's a monthly program that you can opt into or out of as needed, with a chance to apply for the opportunities that we get pitched for when you stay in the program for 6 months or longer. When you join, you get access to all of the previous modules as well!
You can read all about it and join here.
Superstar Blogging
Nomadic Matt's Superstar Blogging covers everything from the basics of setting up your blog to getting it off the ground. He also invites experts to talk about growth, blogging as a business, and offers monthly group calls as well.
Matt's approach to monetization is much different than mine. He focuses on making products, has his own travel conference, and makes lots off of his affiliates as well. He doesn't do press trips and has less of a lifestyle focus, instead focusing on monetizing his audience through his own creations.
I admit mine does not cover the nitty gritty basics of setting up a blog like his course does, and feel that both my coaching and his course are great complements to each other as you grow. As the most established travel blog out there with the traffic to back it up, I fully endorse his course.
Again, you have to choose what works for your niche and goals. My coaching program is much more oriented towards a female blogger's journey, with vulnerability, creating tours, making clothing products, and getting press trips in mind. Matt and I have very different approaches, and both are effective, which is why I think both are worth your time and investment.
You can learn more about Superstar Blogging here.
Pinfinite Growth
One of the best ways to make traffic happen for your blog, other than mastering SEO (which we talk about in depth in my coaching group!) is to master Pinterest. Melyssa Griffin is the queen of this niche, and her Pinfinite Growth course will take you through how to build up your Pinterest and Tailwind.
This course is also amazing for those who are looking to become a virtual assistant, which is one of the ways I recommend learning and making ends meet before your blog is profitable. Pinterest is one of the things that many bloggers like to hire out, and knowledge of this platform, not only for your own needs but for the needs of another blogger, can help you grow in so many ways!
Melyssa has several other courses, including another I've taken on how to create a course (yep, a course on how to make courses!), but it was really the high-level mastermind I joined that helped me realize how valuable the coaching format is instead.
Overall, coaching has been an amazing experience and I hope to invite you into my course to learn more. You're always welcome to contact me to ask questions about it.
Whatever you end up choosing for your blogging journey, I hope it's a labor of love and gives you as much benefit as it has given me. It's a rewarding profession with so much freedom, and I wouldn't trade it for anything – yes, even in 2020!