It's no secret that California is the land of warm sunshine and stunning stretches of coastline; however, the Golden State is also home to amazing springtime wildflowers! All across the state, spring brings colorful displays of nature's best blossoms, sometimes so concentrated and intensely beautiful that it's referred to as a superbloom. No matter which part of California you like best, here's where to check out amazing wildflowers and superblooms:
Northern California
King Range National Conservation Area
The King Range National Conservation Area, located in Humboldt County, protects 68,000 acres along 35 miles of California's north coast. Established in 1970, it was the first National Conservation Area in the country. Today, it offers more than 80 miles of hiking trails and is home to breathtaking springtime blooms like the one pictured above, as the hillsides erupt with purple, pink, and yellow wildflowers beginning in February. The only thing more beautiful than a field of wildflowers is a field of wildflowers next to the ocean!
Lassen Volcanic National Park
Lassen Volcanic National Park is home to Lassen Peak, a volcano belonging northeastern California's Cascade Range. More than that, though, it's home to dozens of wildflower species, from daisies to asters to phacelias. Depending on the area of the park and the elevation there, flowers can bloom anytime from late May to September. (The higher the elevation, the later on in the year the flowers bloom.) Some good areas to check out for the wildflowers are McGowan Lake, the Brokeoff Mountain trail, the Kings Creek Falls trail, and Mill Creek.
Lake Tahoe
Not only does Lake Tahoe offer great winter sports, aquatic activities, and hiking, it offers equally exceptional wildflower blooms! Because the elevations here are fairly high — between 6,000 and 10,000 feet — the flowers bloom later in the year than they do throughout most of the state; Mid-July through mid-August is the peak wildflower window. If out looking for them, check out the Meiss Lake trailhead, where pockets of wildflowers pop up between Meiss Meadows and Showers Lake, or the Big Meadow trailhead.
North Table Mountain Ecological Reserve
About 75 miles north of Sacramento, Butte County's North Table Mountain Ecological Reserve (located seven miles north of the city of Oroville) protects 3,300 acres of terrain created by ancient lava flows. Here, the volcanic soil creates the perfect growing conditions for a variety of wildflowers, including violets, poppies, lupines, and goldfields. As a result, the hillsides turn a stunning combination of purple and yellow in the spring months. Following the Beatson Hollow trail is one good way to take in the scenery, and while you're at it, check out the reserve's waterfalls, too!
Bay Area
Mount Diablo State Park
In the eastern San Francisco Bay Area, Mount Diablo State Park offers 37 established trails winding through 20,000 acres of park land. From the Mount Diablo summit, at 3,800 feet above sea level, visitors can see for miles — literally. On a clear day, visibility stretches as far as Lassen Peak, 181 miles away! Believe it or not, the views span across 35 counties. As if that isn't a good enough reason to visit, the springtime variety of wildflowers is another! Here, more than 400 species of wildflowers begin blooming in February.
Pinnacles National Park
Pinnacles National Park, situated 80 miles southeast of San Jose, protects the eroded half of an extinct volcano. To no surprise, the volcanic soil paired with open grassy fields makes for the perfect wildflower-growing conditions. The majority of the park's flowers bloom between March and May, though some are visible all the way into June. High Peaks Loop, Balconies Trail, and Juniper Canyon Trail are some of the best spots to check out poppies, lupines, larkspur, milkmaids, monkey flowers, fiesta flowers, and more.
Central Coast
Carrizo Plain National Monument
In southeastern San Luis Obispo County, Carrizo Plain National Monument spans nearly 250,000 acres and is the largest single native grassland left in California. The wide plain is bordered by mountains and alkali flats, and is home to springtime wildflowers like phacelia, milk vetch, and owl's clover. Described as one of the best kept secrets in the state, Carrizo Plain is a hotspot for the occasional superbloom.
Gaviota State Park
Come springtime, the hillsides of the Santa Ynez Mountains erupt with wildflowers — frequently red-orange poppies — at Gaviota State Park, 30 miles up the coast from Santa Barbara. The park encompasses two miles of central coastline plus the hills on the other side of Highway 101 (which separates the beaches from the mountains). The park boasts plenty of trails from which to take in the gorgeous wildflower blooms, the most popular of which is the Gaviota Peak hike.
Big Sur
From February to June, mustard plants and poppies (among other flowers) bloom all over the hillsides of Big Sur. Some of the best spots to see them are above McWay Falls, underneath Bixby Bridge, at Garrapatta State Beach, and along the Calla Lily Canyon coastal trail. Take a hike or drive through the flowers, or simply stop along the roadside to take a photo.
Figueroa Mountain
In the San Rafael Mountains of Santa Barbara County, in Los Padres National Forest, Figueroa Mountain is the perfect springtime destination for wildflower viewing. From February to April , shooting stars, paintbrush, lupines, poppies, and goldfields create a stunning array of purple, red, yellow and orange on the slopes of the summit. Nearby Grass Mountain displays a good deal of poppies and lupines, as well.
Eastern Sierra & Mojave Desert
Alabama Hills
Alabama hills, located a few miles outside the town of Lone Pine, protects 30,000 acres of desert landscape set against the Eastern Sierra Mountain Range. A variety of Great Basin and Mojave species thrive in the granitic soil here, most notably red milk vetch, the Alabama Hills' signature species. Asters and bush sunflowers mingle with rare species like Inyo County star tulips and Owens Valley checkerblooms, while evening snow plants open only at dusk and remain tightly closed during the day. Look for the blossoms all throughout spring.
Mono County Wilderness
The remote nature of Mono County is a wildflower lover's dream. A variety of landscapes, elevations, and soil compositions make for an equally diverse variety of springtime blooms, from daisies and prickly pear to mule ears and milk vetch. Some of the best regions to check out are the White Mountains, Fish Slough (which has eight rare plant species that exist nowhere else in the world), Rock Creek, McGee Creek (home to a glacially carved canyon), Parker Bench (with big fields of yellow daisy-like flowers), Bodie Hills (home to 14 different plant communities), and Tioga Pass.
Death Valley National Park
In the springtime, wide fields of yellow blooms with clusters of red interspersed make up the Death Valley National Park landscape. Dozens of different flower species blossom here from mid-February to mid-July. The blooms begin in the foothills and at the lower elevations in the earlier months, then they make their way up the desert slopes and canyons and finally arrive at the highest valleys, mountain slopes, and woodlands by early summer. Look for everything from bear poppies, Mariposa lilies, and desert dandelions to Mojave asters, Inyo lupines, and purple sage.
Southern California
Lancaster
In Los Angeles County, Lancaster offers a handful of wildflower viewing opportunities come springtime. For one thing, the Antelope Valley California Poppy Reserve, in the hills to the west of the city, experiences the perfect microclimate for poppies, which bloom annually there between mid-March and early May. (Sometimes, environmental factors combine perfectly to create a superbloom on these hills!) Further west, Arthur B. Ridley Desert Woodland State Park preserves native Joshua and juniper trees, and two trails run through the park's springtime beds of wildflowers. Meanwhile, to the east of Lancaster, Saddleback Butte State Park sits on the western edge of the Mojave Desert and displays tons of wildflowers from February to May on its granite mountaintop.
Malibu
Another hotspot in Los Angeles County for wildflowers is Malibu. Malibu Creek State Park, for instance, which has earned itself the nickname, "The Yosemite of Southern California." Poppies and purple lupines abound throughout the park's 8,000 acres. Over in Point Mugu State Park, which overlaps with the Boney Mountains State Wilderness Area, more than 70 miles of hiking trails wind through the Santa Monica Mountains; follow Chumash Trail to see huge displays of wildflowers, including chocolate lilies and globe gilia. Then, check out Point Dume Natural Preserve, a bluff that forms the northern end of the Santa Monica Bay; follow the two-mile loop hike to see fields of yellow coreopsis.
Walker Canyon
In Riverside County's Lake Elsinore, poppies bloom on the hillsides east of I-15. Superblooms are astounding here, and during superbloom years, cars can be seen stopped all along the side of the freeway to take photos of the bright orange hillsides. The hills are part of Walker Canyon Ecological Reserve, which encompasses 490 acres of high desert. The number of flowers depends on the rains at the beginning of the year, but the blooms typically open from February to April. While 2020 did not bring a superbloom, 2019 experienced one which covered 1,600 acres!
Joshua Tree National Park
Wildflower season at Joshua Tree runs from February to June. Springtime here is unique for all of the park's brightly flowering cacti, like the beavertail cactus, prickly pear cactus, California barrel cactus, cholla cactus, and strawberry hedgehog cactus. Other flowers here include desert paintbrush, Mojave aster, and evening primrose. Blooms open in the lower elevations of the Pinto Basin and along the southern park boundary in February, while March and April bring color to higher elevations. Areas above 5,000 feet in elevation can even bloom all the day into June.
Anza-Borrego Desert State Park
Anza-Borrego Desert State Park, which overlaps with Riverside, Imperial, and San Diego Counties, covers 600,000 acres of desert, including badlands and wind caves. A variety of blooms can be found here, from desert marigolds and lilies to canterberry bells and sand verbena. Some of the best places in the park to check out in the spring are Little Blair Valley for its big field of yellow peppergrass flowers and Jojoba Wash for its flatland of yellow and purple blooms. Others include Carizzo Wash, Truckhaven Trail, Coachwhip Canyon, Texas Dip, June Wash, Hellhole Canyon, and the overlooks south of Canyon Sin Nombre.
Spring is certainly special in California! When taking in the amazing natural scenery at this time of year, just remember to leave things the way you found them. Don't pick or trample the flowers, don't litter, and leave no trace! After all, we want to preserve the beautiful landscapes and important ecosystems of California for years to come.
Click to read more posts about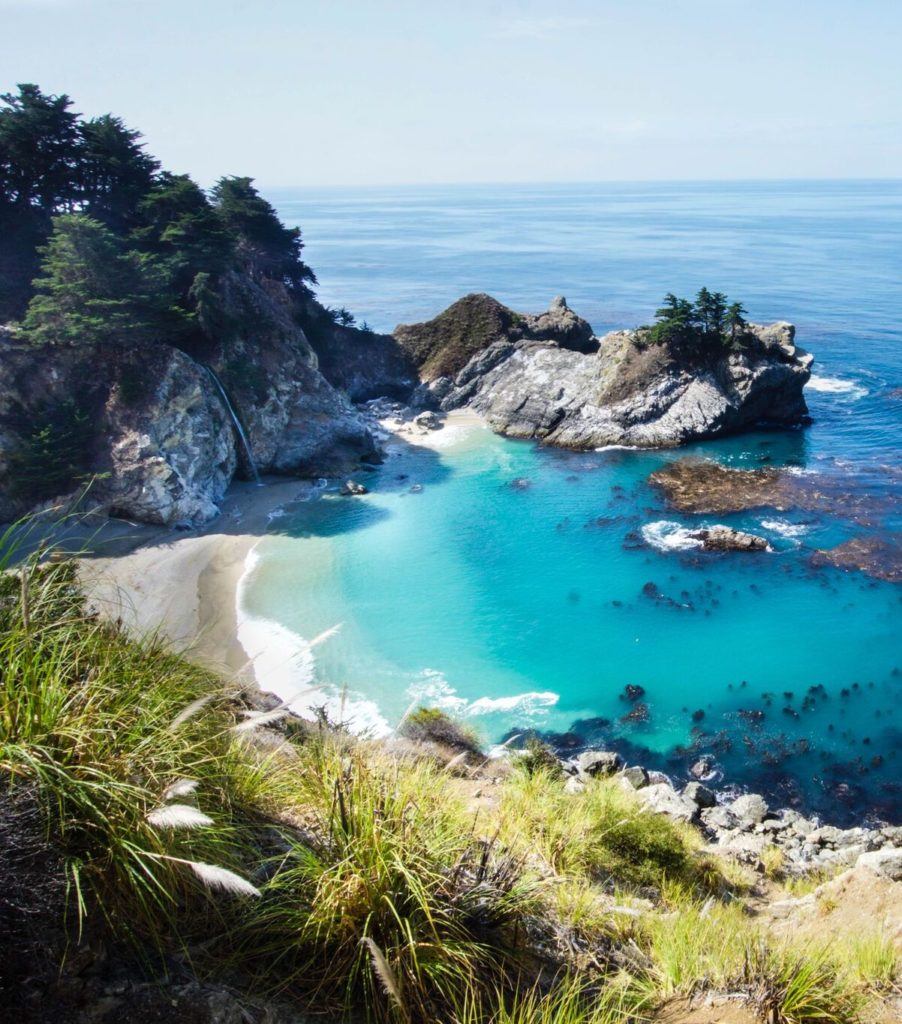 California