How to Make Instant Pot Chicken Pot Pie Soup
This recipe requires just a little bit of prep work with your meat and veggies but you only need one pot for everything. Here's the recipe:
Prepare the cauliflower. Trim all the woody parts of the cauliflower head before cutting it in half. Cut one half into florets. Set aside. You don't need to be overly precise with this.
Chop the remaining vegetables. Finely chop one onion. Chop up 3 celery sticks. Chop up 4 carrots. Finely mince 2 garlic cloves.
Prepare the Instant pot. Press the SAUTE button on the Instant pot and let stand until the screen reads HOT before adding some olive oil.
Cook the onion and chicken together. Add the finely chopped onion and chicken breast pieces and cook together for 4-5 minutes.
Add the garlic and cook for 30 seconds.
Add the remaining ingredients. Add the chopped carrots, chopped celery, cauliflower florets, half of cauliflower head, and chicken broth.
Pressure cook. Close and seal the Instant pot and then turn the venting knob to SEALING. Press the PRESSURE COOK button and adjust the timer to 7 minutes. This will help tenderize the vegetables and the chicken.
Quick release the pressure.
Remove cauliflower head. Remove half of the cauliflower head from the Instant Pot.
Blend. Add the cauliflower head to a blender with the unsweetened almond milk and blend until smooth. This will help thicken your broth.
Add the cauliflower mixture back into the Instant Pot and stir to combine.
Season and add your garnish. Season with salt and black pepper to taste and stir in the chopped fresh parsley.
Serve. Serve warm.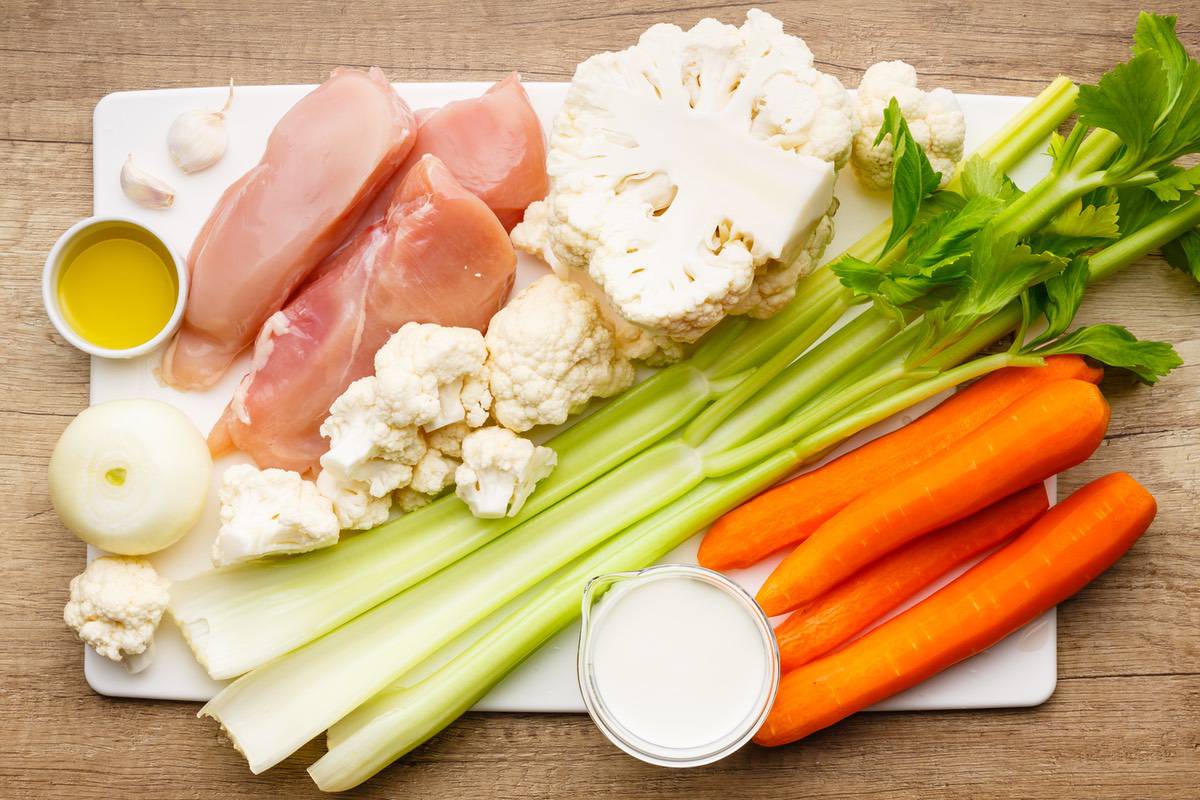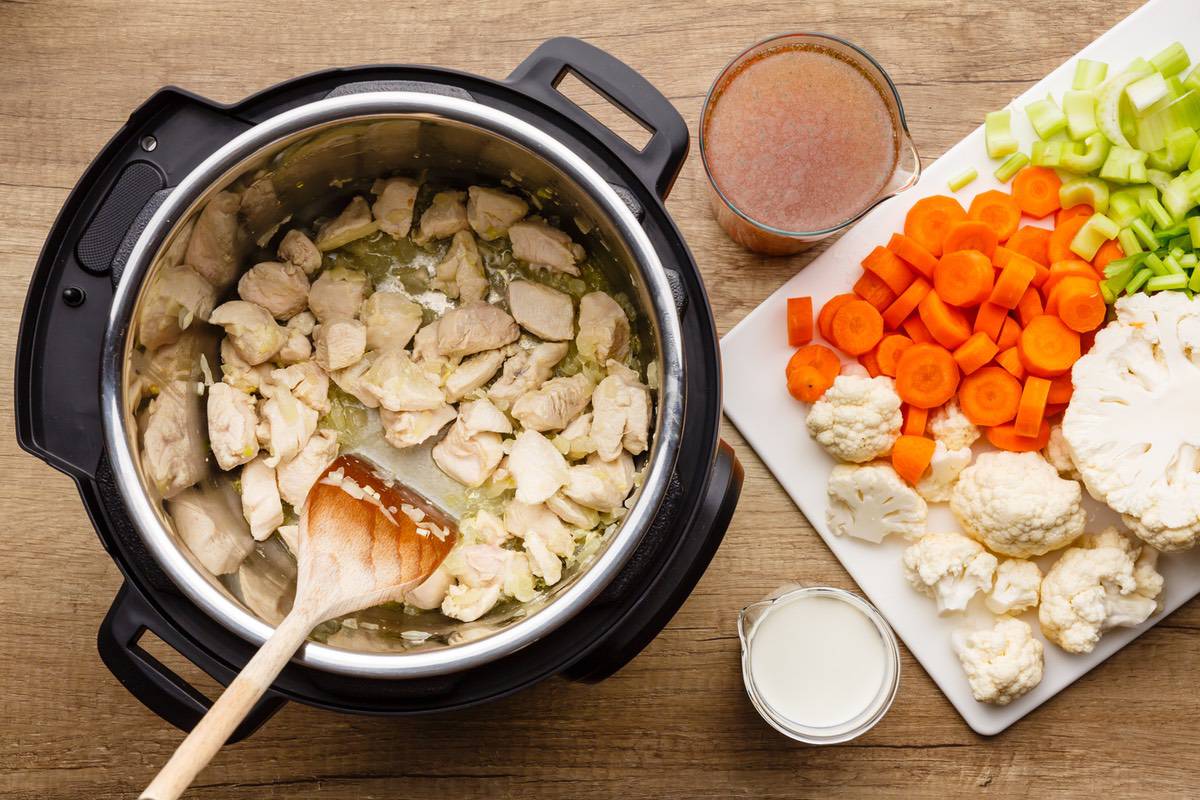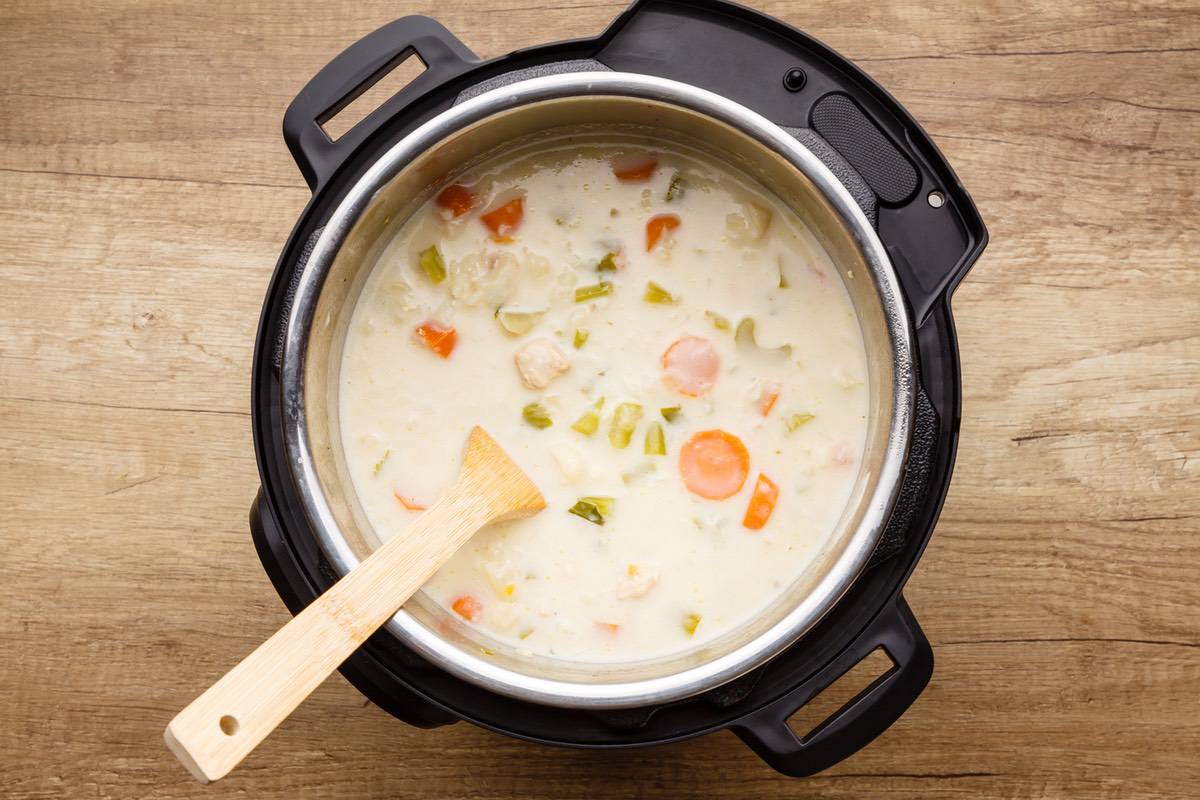 How to Prep the Chicken Breasts for Cooking
Here's how to prep your chicken breasts for making this soup recipe:
(Optional) Remove the skin. If you aren't using boneless, skinless chicken breasts, you'll need to remove the skin yourself before cooking.
On the other hand, you can leave the skin on if you would prefer but I would sear it with the skin side down for 1-2 minutes before adding the onion.
Cut the chicken. Hold each chicken breast firmly with your non-knife hand, and then use a knife to slice each breast into 1 inch thick pieces. This will help it cook evenly, especially if the chicken breast slices are quite large and thick.
If You Don't Have an Instant Pot, Use a Pressure Cooker Instead
In case you don't have an Instant Pot, you can also use a pressure cooker for this. I prefer using an Instant Pot because it's so easy and doesn't require any special techniques.
With a pressure cooker, it works by utilizing steam to build up pressure inside the pot. However if you're not familiar with how to use a pressure cooker, it can be a bit tricky to use.
How to Freeze Leftover Chicken Pot Pie Soup
If you want to freeze any leftover chicken pot pie soup that you may have on hand, then you'll first want to make sure that you allow the soup to cool completely.
You can then transfer the entire mixture into a freezer safe airtight container to store in your freezer. When kept like this, you'll be able to keep your soup in the freezer for up to 3 months.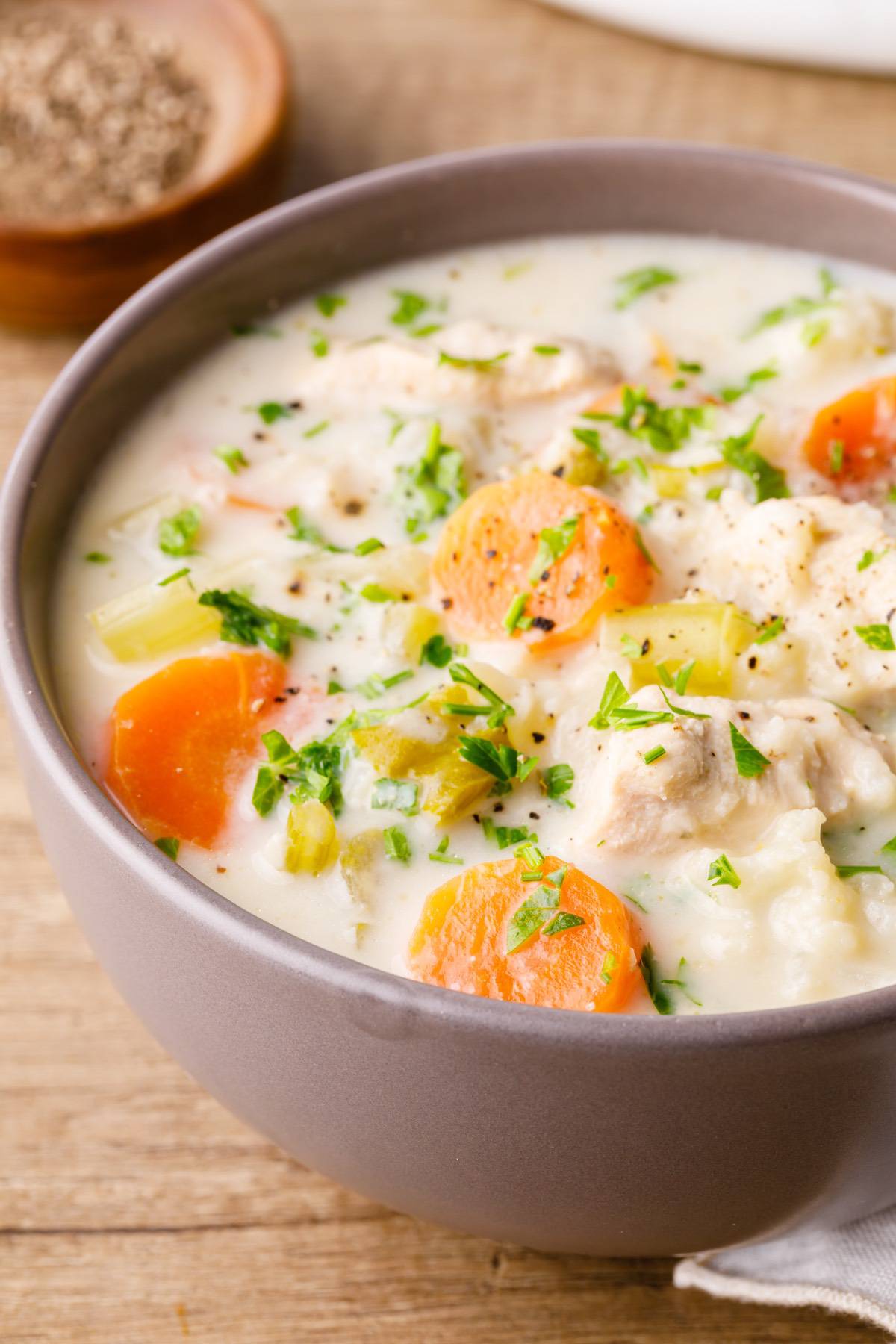 (You may also like: Instant Pot Chicken and Cauliflower Rice Soup)