How to Make Homemade Strawberry Shortcake Filling
The first thing you'll want to do is prepare the homemade strawberry shortcake filling. You'll only need 3 simple ingredients:
Prepare the strawberries. Chop up 3 ½ cups of fresh strawberries. Try to use only ripe strawberries with plenty of natural sweetness.
Combine the ingredients. Add the chopped strawberries, honey, and arrowroot flour to a bowl and toss to combine. Set aside.
Top. After pressing ⅔ of your dough mixture into the prepared pan, pour the strawberry shortcake filling mixture over top of it before adding the remaining dough.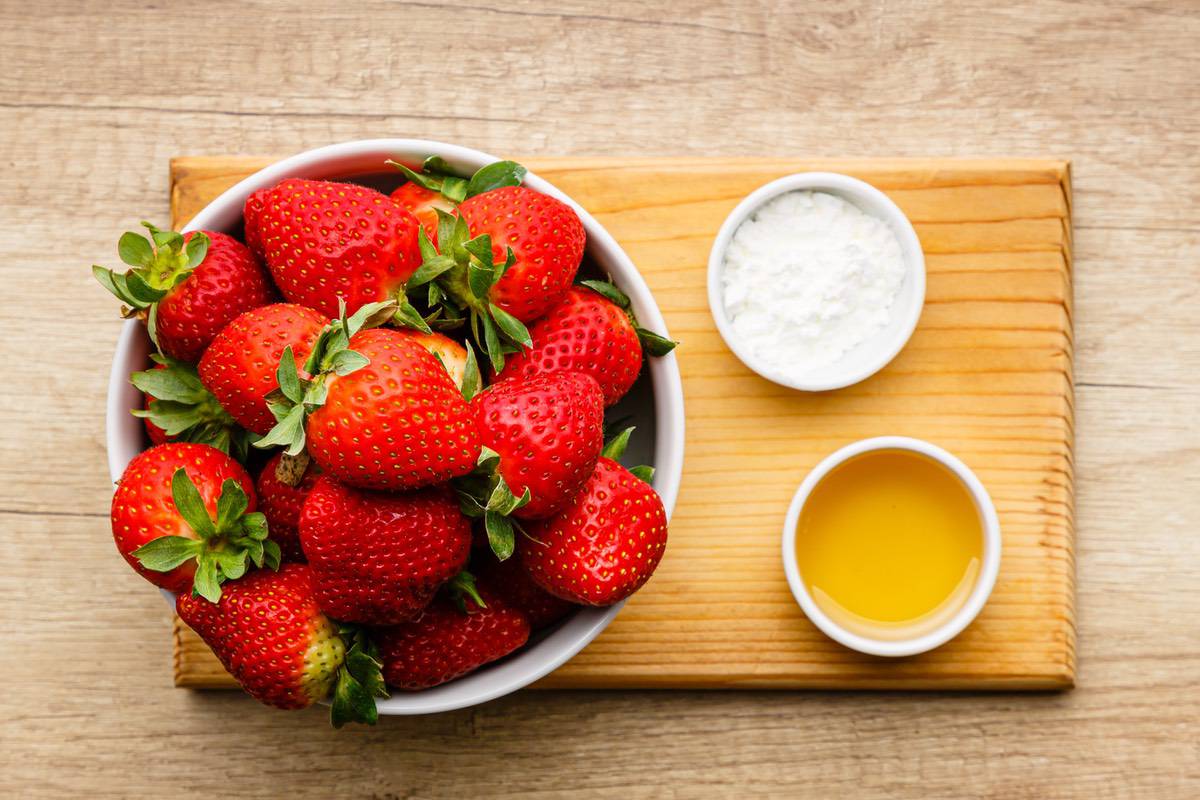 How to Make Homemade Strawberry Shortcake Crumb Bars
After making the filling, it's time to get the crust ready for your crumb bars:
Preheat the oven. Preheat your oven to 350℉ and line an 8×8 inch baking pan with parchment paper. The parchment paper makes it easier to clean up afterwards.
Combine the dry ingredients. Add the almond flour, coconut flour, baking powder, and a pinch of salt to a bowl and mix to combine.
Add the wet ingredients. Add the almond butter, melted coconut oil, honey, lemon zest, lemon juice, and pure vanilla extract to the almond flour mixture and mix to combine.
Prepare for baking. Lightly press ⅔ of your dough mixture into the prepared pan and pour the strawberry shortcake filling mixture (see detail instructions below) over top of it.
Crumble the remaining ⅓ of dough on the top. Make sure you are leaving enough dough for the remaining layer.
Bake. Bake in the preheated oven for 25-30 minutes or until the topping is golden brown.
Serve. Remove from the oven and allow to cool completely before serving.
2 Evidence-Based Health Benefits of Going Gluten-Free (For Everybody!)
There has been a lot of controversy surrounding gluten in recent years. Regardless of whether or not you have a gluten-intolerance, here are 2 proven benefits to going gluten-free with your diet:
Less inflammation. Studies have found a link between a protein found in gluten and inflammation within the gut. Going paleo and making baked goods that are 100% gluten-free can be a great way to relieve chronic inflammation. As a matter of fact, many people have noticed a marked decrease in joint pain as a result of switching to a gluten-free diet. (1)
Relief from digestive issues. Going gluten-free can clear up many common digestive issues, such bloating and excess gas. (2)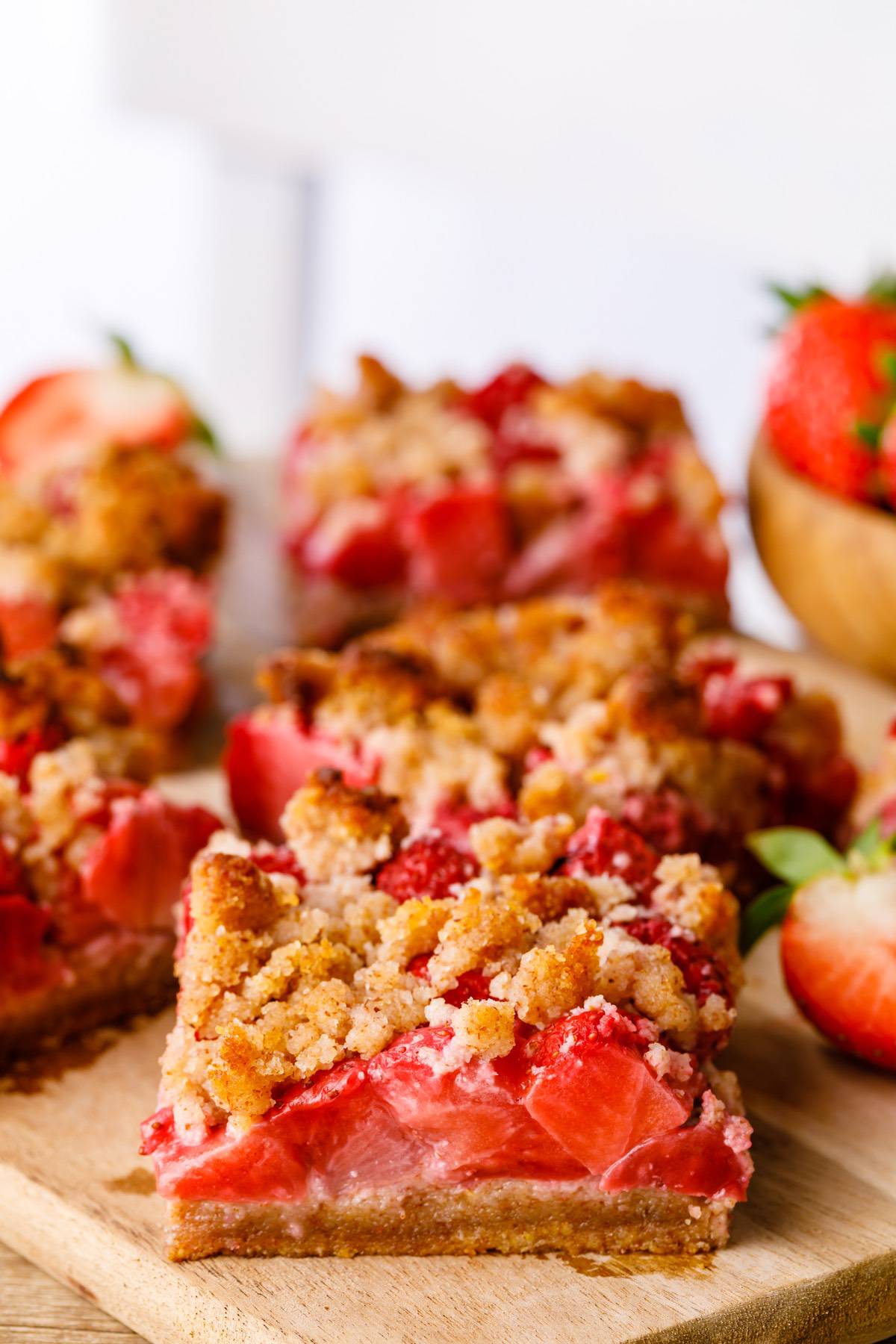 How Long Do Strawberry Shortcake Crumb Bars Stay Fresh (+Tips on How to Store Them)
Here are a few handy storage tips for your strawberry shortcake crumb bars:
Tightly wrap leftover bars in either wax paper or cling wrap.
Transfer wrapped bars to an airtight container.
Separate stacks of bars with parchment paper to prevent them from sticking (if you're planning on freezing them).
The bars will keep in the fridge for up to 2 weeks.
The bars will keep in the freezer for up to 3 months.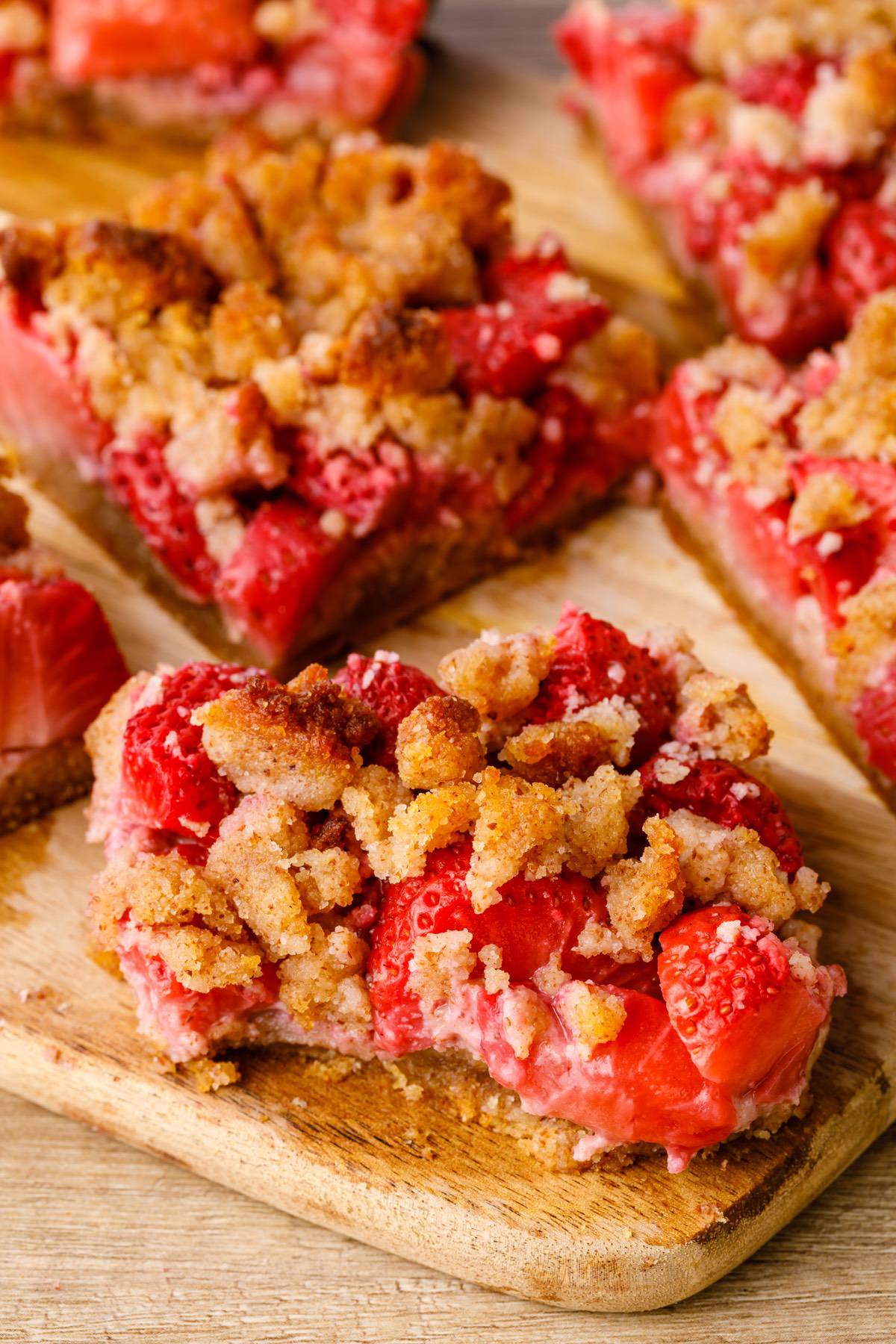 (You may also like: Strawberry Shortcake in a Jar)