I wish it were easier to avoid the cliché of calling Isla Holbox in Quintana Roo a paradise, but that's truly what it is. This small island off the coast of the Yucatán Peninsula is a dreamy place to relax, enjoy nature, and get acquainted with the beauty of Mexico.
Whether you're looking to wade through the warm, shallow waters on the beach, play in bioluminescent pools, or not do much of anything at all, here's your complete guide for Isla Holbox, with everything there is to do, where to stay, and so much more:
What to Do in and near Holbox
1. See whale sharks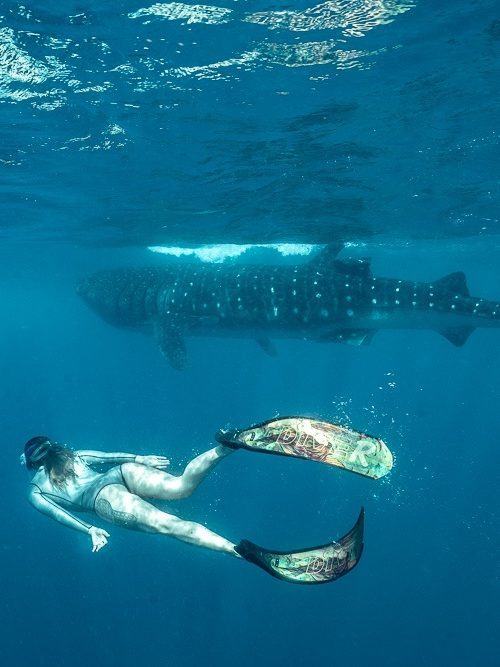 Seeing whale sharks is easily the most sought-after attraction in and around Holbox, and for good reason! These incredible creatures are surprisingly gentle and breathtaking to see up close. They are the largest fish in the world and grow to be up to 14 meters (46 feet) long!
The peak season to see whale sharks is from June to September, and they are most plentiful in the sea between Isla Holbox and Isla Mujeres, which is about two hours away by boat. You might even be able to spot dolphins, manta rays, and sea turtles along the way!
The boats that go out to the whale sharks typically only hold 10 people at a time. Guided snorkeling tours at VIP Holbox Experience are recommended and will allow you to swim near the animals, though it isn't recommended to get closer than 10 feet. Remember, they are wild animals in their natural habitat!
2. Check out bioluminescent phytoplankton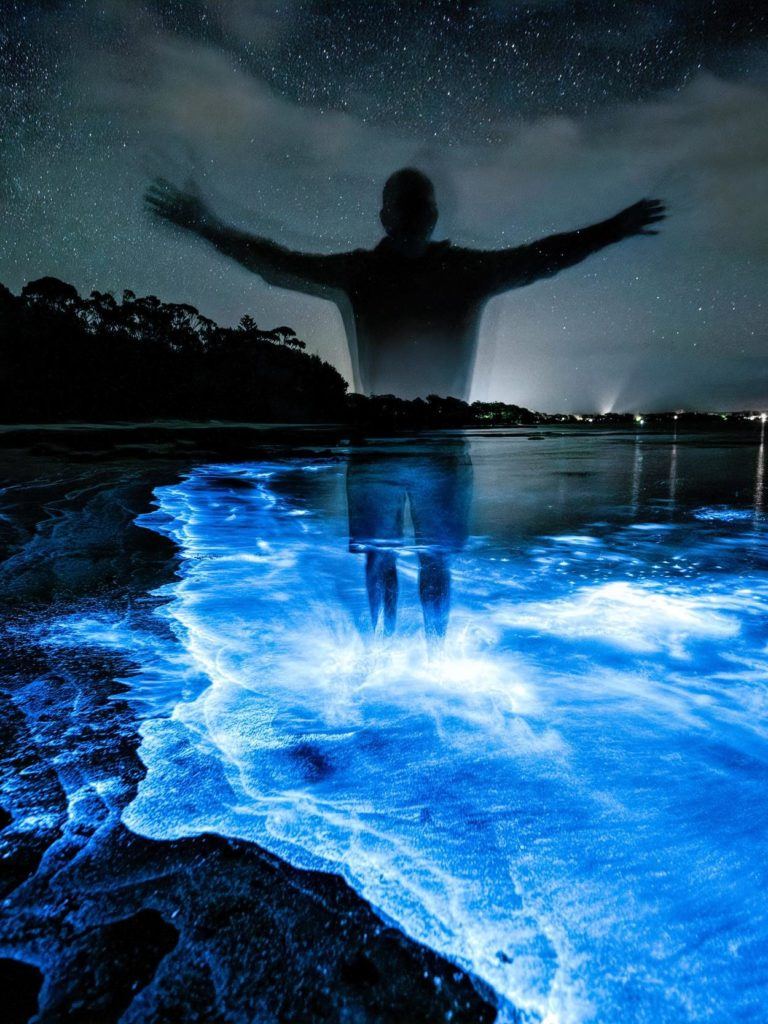 On the southern side of the island, in an area known as Punta Cocos, you will find shallow waters that are home to bioluminescent plankton that glow in the dark when the water around them is agitated. What looks to us like brilliant glowing water is actually these tiny creatures that light up as a defense mechanism against the whale sharks that like to eat them. Think fireflies, but in the ocean.
The best time to see the bioluminescence is at night when there is very little light from the moon. If you can, try to go when there is a new moon. The phytoplankton are also more abundant in summer and early fall, which is when you'll see their light at its height.
To get to the best spot to see the bioluminescence, you can easily drive there on a golf cart yourself or hire a local guide. I did the latter, having found my guide from a shack on the beach, and it worked out just fine. If you want a more "official" tour, check out Holboxeño.
3. Paddleboard on the ocean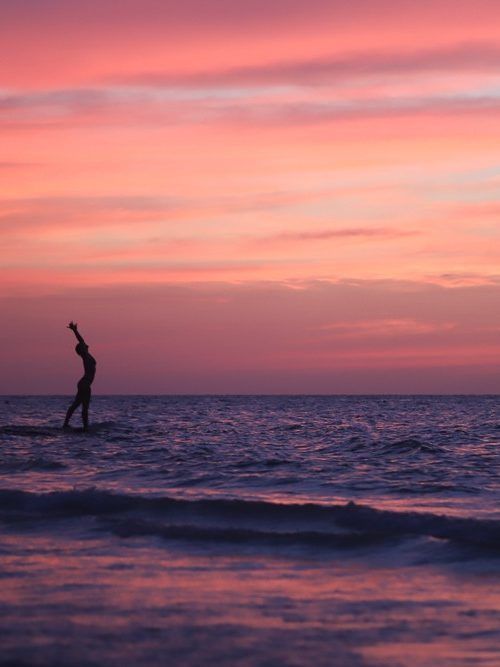 The calm, shallow waters off the beaches of Holbox make the perfect place to paddleboard. In fact, this was the first place I ever tried it — and it was perfect for a beginner like me!
To rent a paddleboard, simply walk along the beach, and you'll find plenty of places that have them. The prices tend to be the same throughout the island, but it might cost more if you want to take a class.
Holbox Kiteboarding School has paddleboards for rent and also offers SUP yoga classes!
4. Look for flamingos and other seabirds near Isla Pájaros
There is a 200-foot wide island about 30 minutes away by boat from Holbox that is uninhabited by humans (in fact, it is prohibited for humans to even set foot there, in order to protect the wildlife). It is called Isla Pájaros (Bird Island) and is known for its diverse population of seabirds. As you cruise around it by boat, you'll see various species of ducks, pelicans, and even flamingos. The island is also covered by cacti, mangroves, and other plant species, which make for a truly wild-looking terrain.
If you want to see flamingos, try to visit Isla Pájaros between April and October. The shallow waters of the Yalahau Lagoon surrounding the island make the perfect feeding grounds for the hungry birds. Seeing them, even from afar, is a beautiful site and definitely worth checking out.
Holbox Collection has an affordable tour that will take you to Isla Pájaros, Isla Pasión (a great place to swim), and Cenote Yalahau. If you don't want to trek out to Isla Pájaros, you can also find flamingos at Punta Mosquito, on the north side of the island.
5. Kayak through the mangroves
Mangroves are plentiful around Holbox and are full of wildlife. The Yum Balam Nature Reserve stretches over 150,000 acres of on- and off-shore land and wetlands, including several thousand acres of mangrove forests. There you will find not only the highest concentration of whale sharks in Mexico but also plenty of other plant and animal species.
Holbox Adventure offers a birdwatching and kayak tour that will take you through the mangroves around the island to truly experience the beauty of the area. This is another great way to see flamingos if you happen to go between April and October.
6. Explore the island by bike or golf cart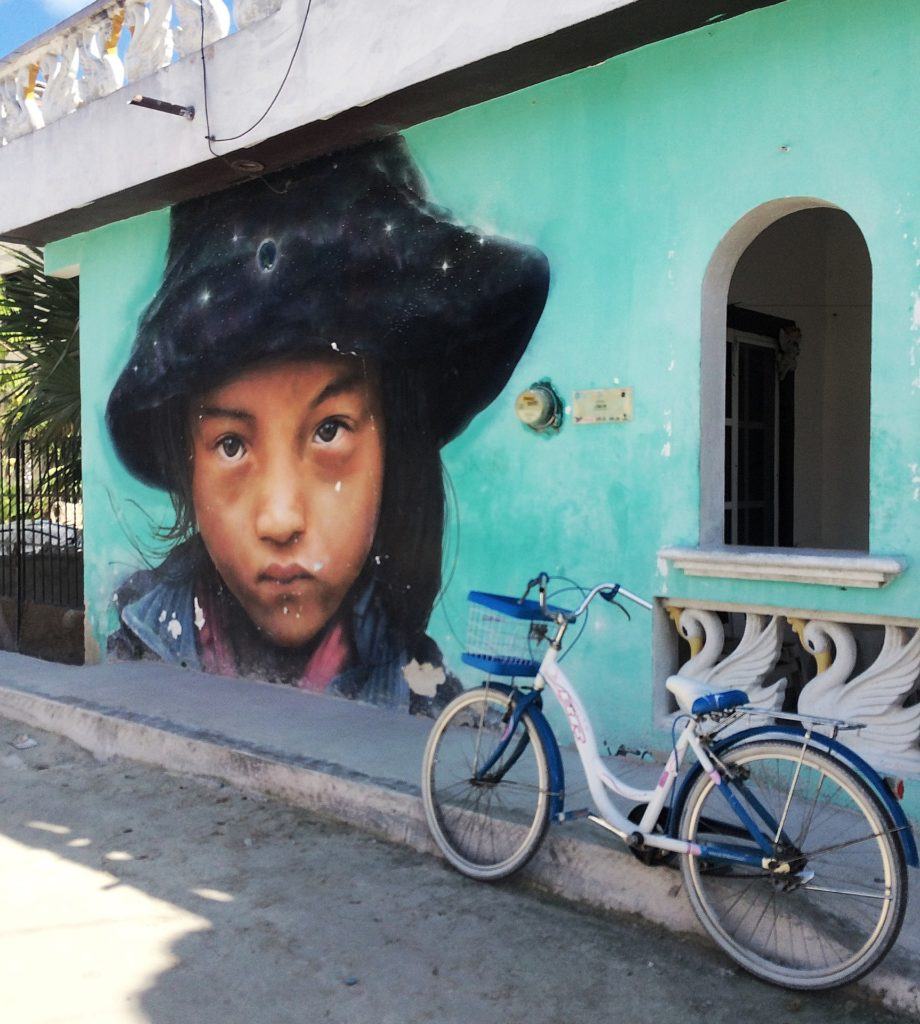 Because there aren't any cars or trucks on Isla Holbox, the best way to get around is by bike or golf cart. Personally, I think biking is more fun, because you don't have to worry about finding a place to park. Golf carts are best if you're planning on going to see the bioluminescence, however, because the trek to Punta Coco is a bit long and very sandy.
It's easy to find places renting golf carts once you get to the island, but if you want to reserve ahead of time, you can do so at Holboxeño. Renting a bike is also straightforward; Bikes Holbox is the most well-known place to do so.
7. Try kiteboarding
On any given windy day at the beach, you're sure to see plenty of kiteboarders doing their thing in the distance. The shallow water around the island makes the perfect setting for kiteboarding, especially if you're a beginner.
Holbox Kiteboarding School is the place to go for a lesson. It offers plenty of options, from beginner classes to full one-on-one courses that really up your skills. No wind? No problem. There are also paddleboarding, wakesurfing, and other fun classes on the water to choose from.
8. Admire the street art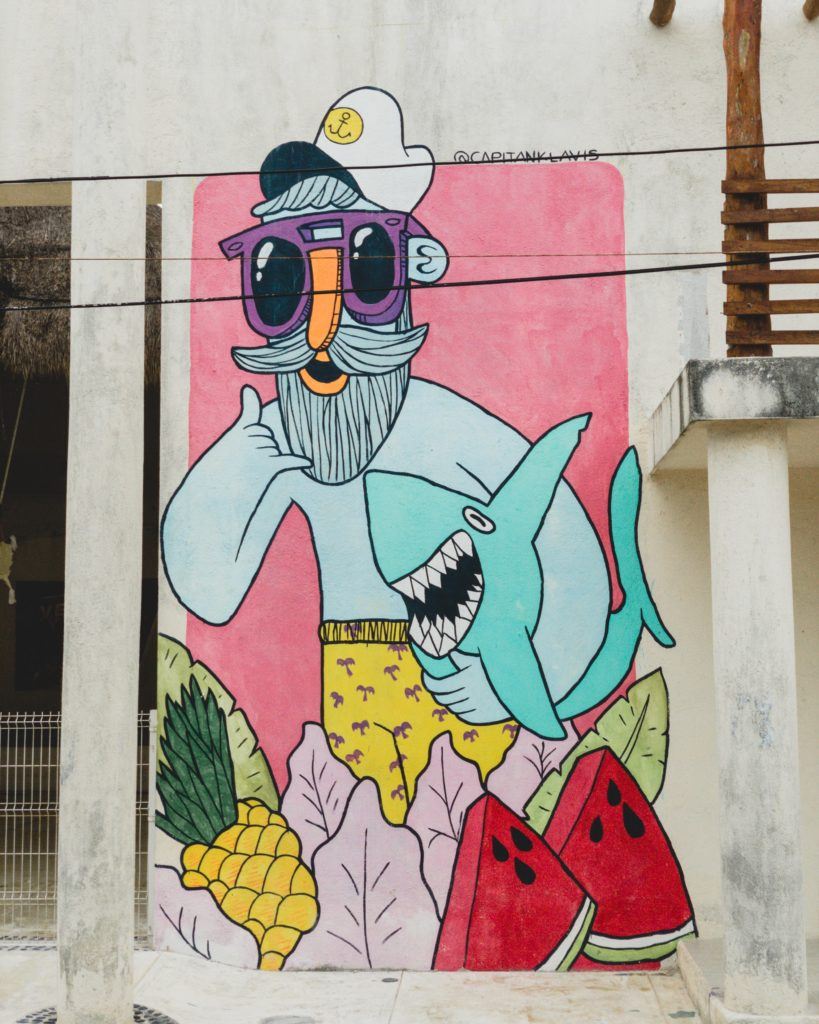 As soon as I set foot on Isla Holbox, I noticed that nearly every building was painted some shade of pastel something: pinks, blues, greens, and yellows softly complimenting the turquoise water and white-sand beaches.
The street art in Holbox is iconic, and a lot of it follows the same color scheme, making one think that it couldn't have been by accident. It also has a whimsical quality throughout and left me wanting to see even more. Since the island is so small, you can easily stumble upon the best murals while just walking around, so keep an eye out!
9. Take a dip in Cenote Yalahau
It's no secret that the Yucatán Peninsula is teeming with cenotes. These ancient limestone sinkholes are the result of ancient meteor craters that eventually opened and are now filled with fresh water from underground streams. Visiting one while on a beach vacation is a nice break from all the salty ocean water.
Many cenotes were and continue to be sacred places of worship for the Maya people. According to local legends, Cenote Yalahau was the private paradise of a Mayan king who decorated it with beautiful gardens and jade stones.
While you won't find those there now, this refreshing cenote is still worth a stop. You can get there on a tour much like this one from GetYourGuide, which will take you there via a 30-minute boat ride.
10. Take a yoga class
One of the first things I look for when I get to a new place is a yoga studio. Why? Because I always find it much more fulfilling to have that special space to relax and ground myself, no matter where I am. There are many benefits of yoga, one of them being the cultivation of gratitude. For me, that's the key to happiness — and what better way to enjoy a vacation than starting it off with a big ol' helping of gratitude?
One of the best places to take a yoga class in Holbox is Ser Cassandra, which has classes at 9am-10:15am Wednesday through Sunday. It also has a Kundalini and Breathwork class on Tuesdays at 10:30am. Casa Las Tortugas also has yoga classes with accredited teachers in its Yoga Shalla.
If you want to try something a little different, Holbox Kiteboarding School has yoga classes on stand-up paddleboards!
11. Pamper yourself
We are all about self-care over here at BMTM, in case you haven't noticed. I'm a fan of always trying to fit in at least one self-care activity into any trip. Thankfully, Holbox has plenty of options for pampering.
I recommend Aqua Spa at Casa Las Tortugas for all things wellness and self-care. It has healing sessions with local medicine women that include spiritual cleanses using Mexican traditional medicine techniques dating back centuries. There are also a variety of spa treatments and special ceremonies, including full moon and new moon ceremonies.
12. Walk rescued dogs at Refugio Animal Holbox
One of my absolute favorite things I did in Holbox was visit the animal sanctuary Refugio Animal. It's located a short walk away from town and was easy to get to on foot. There, I was greeted by several happy pups, who probably knew I was there to love on them and take them for walks.
At Refugio Animal, visitors can sign up to take the dogs for walks. If you have more time, you can also help give dogs a bath, clean the kennels, or just hang out and play with them. Being the animal lover I am, it was absolute paradise for me, and seeing how well taken care of the dogs are warmed my heart. There were also a couple of rescued raccoons, which was fun to see.
13. Snorkel at Cabo Catoche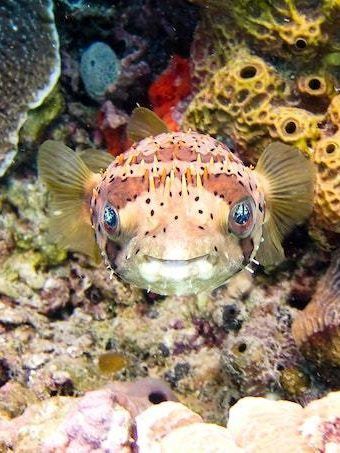 Cabo Catoche is located about 40 miles east of Isla Holbox and is one of the best spots in the area to snorkel. It's the point where the Gulf of Mexico and the Caribbean Sea meet and has lush marine life. VIP Holbox Experience has a tour that promises dolphin sightings, a stop at a remote beach, an amazing view of soft corals, and much more.
Visiting Cabo Catoche is a wonderful way to experience the beauty of the sea and the best variety of marine life near Holbox.
Where to stay in Holbox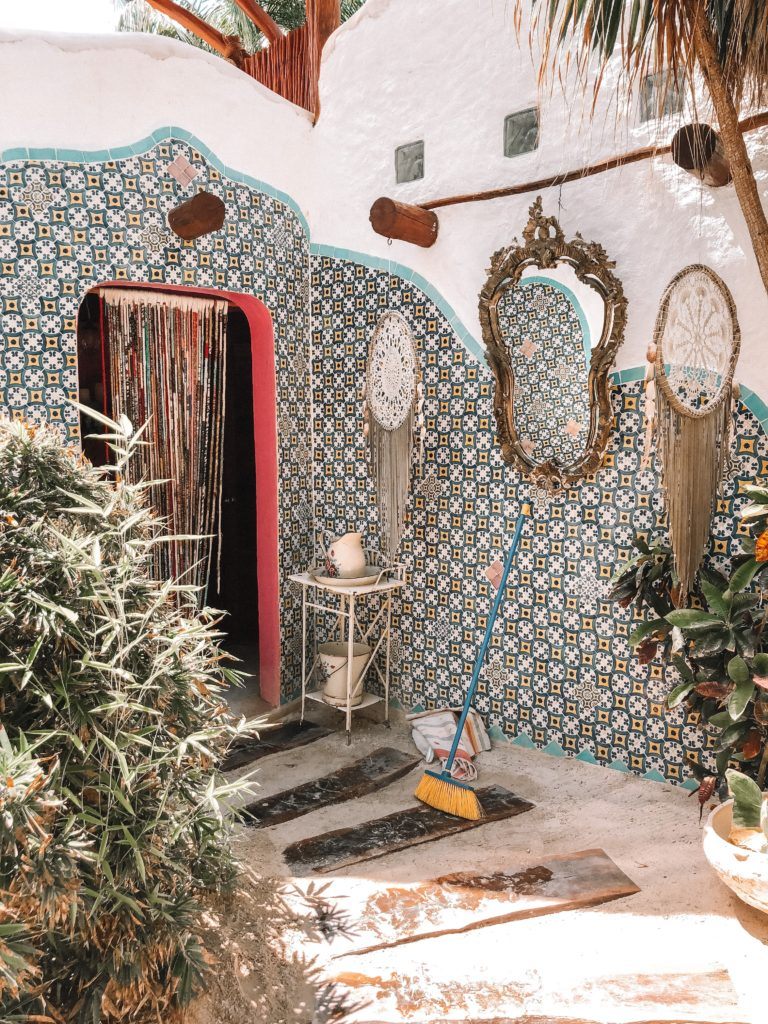 Tribu Hostel
This eclectic hostel is perfect for travelers who are looking for more than just a place to rest their head at night, and at a decent price. Tribu has dorms, double bunk-bed rooms, double-bed private rooms, and suites. It has a social vibe without the ruckus of a party hostel, which is a rare find.
The atmosphere at Tribu is what makes it truly special. It has aerial silks, a relaxing communal patio area, and a nice mix of locals who live there and foreign visitors.
Las Nubes de Holbox
This eco-boutique is the place to go to treat yourself in an environmentally friendly atmosphere. It's located right on the beach and has a restaurant and spa on the premises. The hotel offers tours to nearby attractions and even has paddleboards and kayaks for rent.
Due to its location, Las Nubes de Holbox is ideal for travelers who want to connect with nature. It's outside the main tourist area, on the edge of Yum Balam Reserve, and guests are often able to catch a glimpse of wildlife, ranging from raccoons to cuatis (raccoon-like creatures) to dolphins. Getting excited? Book your stay at Las Nubes de Holbox here.
Casa Las Tortugas
Another delightful luxury option, Casa Las Tortugas has a strong focus on wellness and spirituality. There you'll find architecture and design reminiscent of Tulum, with a mix of modern industrial flair and natural materials. Its beachfront rooms make for a truly dreamy experience, and its central location makes getting around to restaurants and attractions a breeze.
The hotel has a strong commitment to environmentally aware operating practices and sustainability. Considering how precious the ecosystem of Holbox is, I find it refreshing to see its efforts.
Book your stay at Casa Las Tortugas here!
The best time to visit Holbox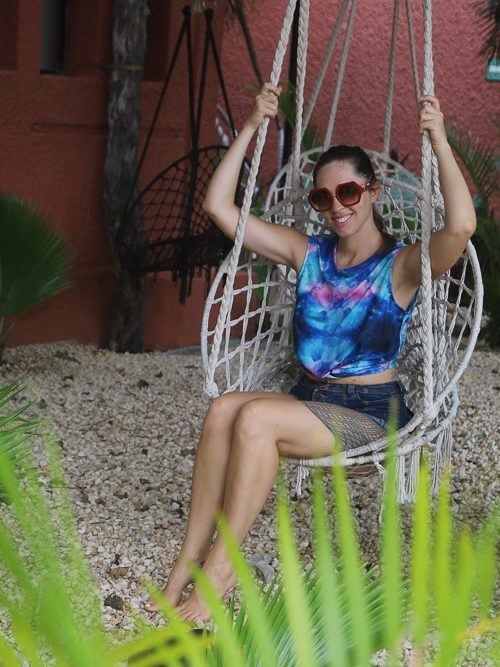 The dry season on Isla Holbox is from late November to February, which is also high season, when you'll find the most tourists on the island. Carnaval happens in late February and is a wonderful time to go if you love live music and want to dance the night away.
From February to June, the island quiets down a bit, and while you might get a bit of rain during the spring months, it is a great time to enjoy the island without the crowds.
With whale shark season and flamingo season overlapping from June to the end of August, a summer visit is truly the best way to take advantage of everything Holbox has to offer in terms of wildlife. It's also the best time to see the bioluminescence. Keep in mind, though, that summer is in full swing during that time, so the heat will be at a maximum and the ocean water at the beach stays quite warm. If you do decide to go during this time, a hotel with a pool is a good idea.
Hurricane season begins as early as September and goes until mid-November. During this time, it rains nearly every afternoon and there is a chance of hurricanes. As such, it's not a very popular time for tourism on the island.
Whatever time of year you choose, there's really no "bad" time to visit Holbox. But depending when you go, just make sure you're prepared for hurricanes, sweltering heat, or large crowds!
How to get to Holbox
From any starting point, you will have to take a 15-minute ferry to Isla Holbox from the small port town of Chiquilá. Here are a couple ways to get to Chiquilá from either Cancún or Mérida, where the closest airports are:
From Cancún:
You can get to Isla Holbox from Cancún in about 2-4 hours, depending on your choice of transportation. The quickest option for getting to Chiquilá is hiring a private shuttle, which can pick you up from the airport. This will take about 2 hours total and costs around $150 USD.
A cheaper option is to take an ADO (Autobuses de Oriente) bus from Cancún's main terminal downtown to Chiquilá. (If you're going straight from the airport, you'll have to take a taxi or a bus to downtown Cancún and then go from there.) The bus takes 2.5 to 3 hours, depending on how many stops it makes on the way; the ticket will cost around $15 USD. In total, the trip will take around 4 hours including the wait for the ferry and the ferry trip itself.
From Mérida:
Getting to Chiquilá from Mérida is just as easy as it is from Cancún, but it is much further away. A bus from Mérida's ADO terminal to Chiquilá will take 4.75 to 5.5 hours. Make sure to check the bus schedules ahead of time on ADO's website to plan accordingly.
If you rent a car in Cancún or Mérida, getting to Holbox is a breeze. Driving to Chiquilá is straightforward, and there are plenty of options for parking your vehicle there safely. It will cost around 100 pesos per day (about $5 USD) to park your car; both Kristen and I have had fine experiences doing so.
Pin me for later:
The entire vibe of Isla Holbox is adorable. Between the carless streets, the rainbow of pastel street murals, and the incredible wildlife, your visit to this Caribbean island will leave you wanting to go back as soon as you leave. Upon my first visit, I was fantasizing for weeks (OK, I might still be) about moving there and becoming a permanent ornament on the beach.
However you plan your trip to Isla Holbox, I hope this guide provides some inspo and insight!
Click to read more posts about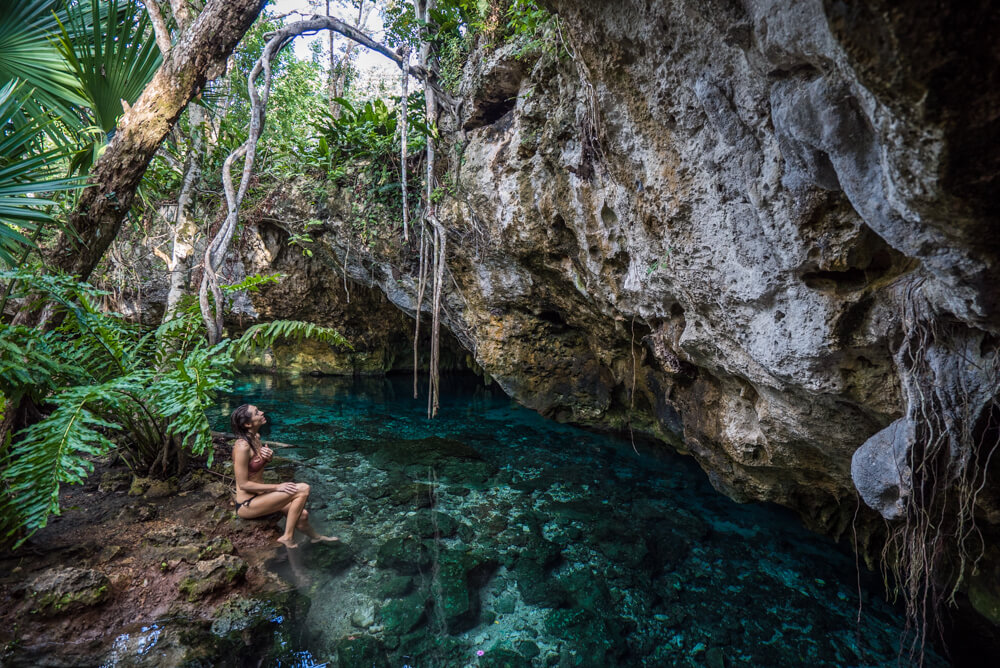 Mexico Guide