It's no coincidence that one of the grandest and most extravagant Aztec cities lies below present-day Mexico City. It blows my mind that the Aztec people built the city of Tenochtitlán on top of a lake. Several hundred years later, the megametroplis of Mexico City has expanded for miles, smack-dab on top of where the Aztecs used to thrive.
All nerdy anecdotes aside, Mexico City is a treasure trove of the best things about Mexico: incredible food, awe-inspiring museums, bustling markets, ancient ruins, and so much more. This monstrosity of a city can be overwhelming to visit without a plan, though. After going a few times over the years, getting lost on more than one occasion, and luckily having good friends to guide me, here's the list of things to do in CDMX that I wish I had the first time I went, broken down by neighborhood:
Coyoacán
This is your go-to neighborhood for a full immersion in Mexican art and culture. Coyoacán has been a hub for artists for decades and was once considered to be the outskirts of the city, which is evident by the neighborhood feel. You'll see many larger estates with vast gardens and parks here, along with some of the city's most historically and culturally important sites.
33. Immerse yourself in the world of Frida Kahlo
La Casa Azul Frida Kahlo Museum is unlike any other museum with this famous painter's work. It's the former home of legendary Frida Kahlo and Diego Rivera, where they lived from 1929 to 1954, and it holds many of the artists' possessions, making it feel like it was frozen in time. La Casa Azul is one of my favorite places in Mexico City and definitely a must-see stop for any Frida enthusiast.
The museum is closed on Mondays but otherwise open from 10am (11am on Wednesdays) to 5:45pm. The entrance fee is 230 pesos ($11.50 USD) (250 ($12.50) on weekends) plus an extra 30 pesos ($1.50) if you want to take photos inside. There's a limit on how many people can pass through per day, so you should buy your tickets ahead of time. You can spend 2 to 3 hours here and see everything in the museum.
32. Browse the work of Diego Rivera at the Diego Rivera Anahuacalli Museum
I think it's pretty badass that Frida ended up being more well known globally than Diego, especially because of how much of a big-shot artist he was when they got married.
While Casa Azul is definitely more popular than Diego's Anahuacalli Museum, the latter is worth checking out. It's just a few blocks away from Casa Azul and was modeled to look like a Mesoamerican temple from the outside. It houses an extensive collection of Diego Rivera's art, along with neat pre-Hispanic artifacts.
The museum is open from 11am to 4pm from Tuesday to Sunday and costs 100 pesos ($5) for non-Mexican visitors.
31. Visit MUAC, the Contemporary Art Museum
Located on the main campus of UNAM (the National Autonomous University of Mexico), this art museum is one of the city's best. Mexico City is a worldwide hub for artists, and some of the country's most famous ones have studied at UNAM.
The architecture of the museum makes it stand out from the surrounding campus, because of its sleek, modern design. Inside, you'll see contemporary works from around the world and many exhibitions that focus specifically on social issues, such as gender equality.
Due to the pandemic, MUAC is currently closed to the public. However, you can check the status of its reopening, along with updated hours and ticket prices, on MUAC's website.
30. See the amazing colors at Alfredo Guati Rojo National Museum of Watercolor
This free art museum is the first in the world specifically dedicated to watercolor paintings. It showcases watercolor art from pre-Hispanic times all the way up to present day in its seven galleries.
It also hosts watercolor classes for kids and adults, so a visit to this museum has a community feel. Since the pandemic, the museum requires a reservation, which you can make on the website. Their current operating hours are 11am to 4pm Monday through Friday.
29. Shop for trinkets in the Mercado Artesanal Mexicano
The Mercado Artesanal is the ultimate place to buy any trinkets or souvenirs while visiting Mexico City, hands down. There you can find brilliantly colored textiles, clothing, jewelry, pottery, and other handicrafts to bring home. The market feels a bit like a maze but is totally walkable and actually quite fun to walk through.
Last time I visited, I found a beautiful handwoven scarf that is still one of my favorite things I've bought in Mexico. If you're feeling adventurous, the nearby Coyoacán Market is a great place to have a delicious meal. Food stalls at Coyoacán Market sell plenty of local treats like tostadas, quesadillas (in Mexico City, you have to specify that you do want cheese on your quesadilla, which makes me chuckle), and other snacks.
The Mercado Artesanal is open every day from 11am to 7pm, and the Coyoacán Market is open from 9am to 6pm. You can find the markets on Google Maps or by checking out the map at the end.
28. Dine near Fuente de los Coyotes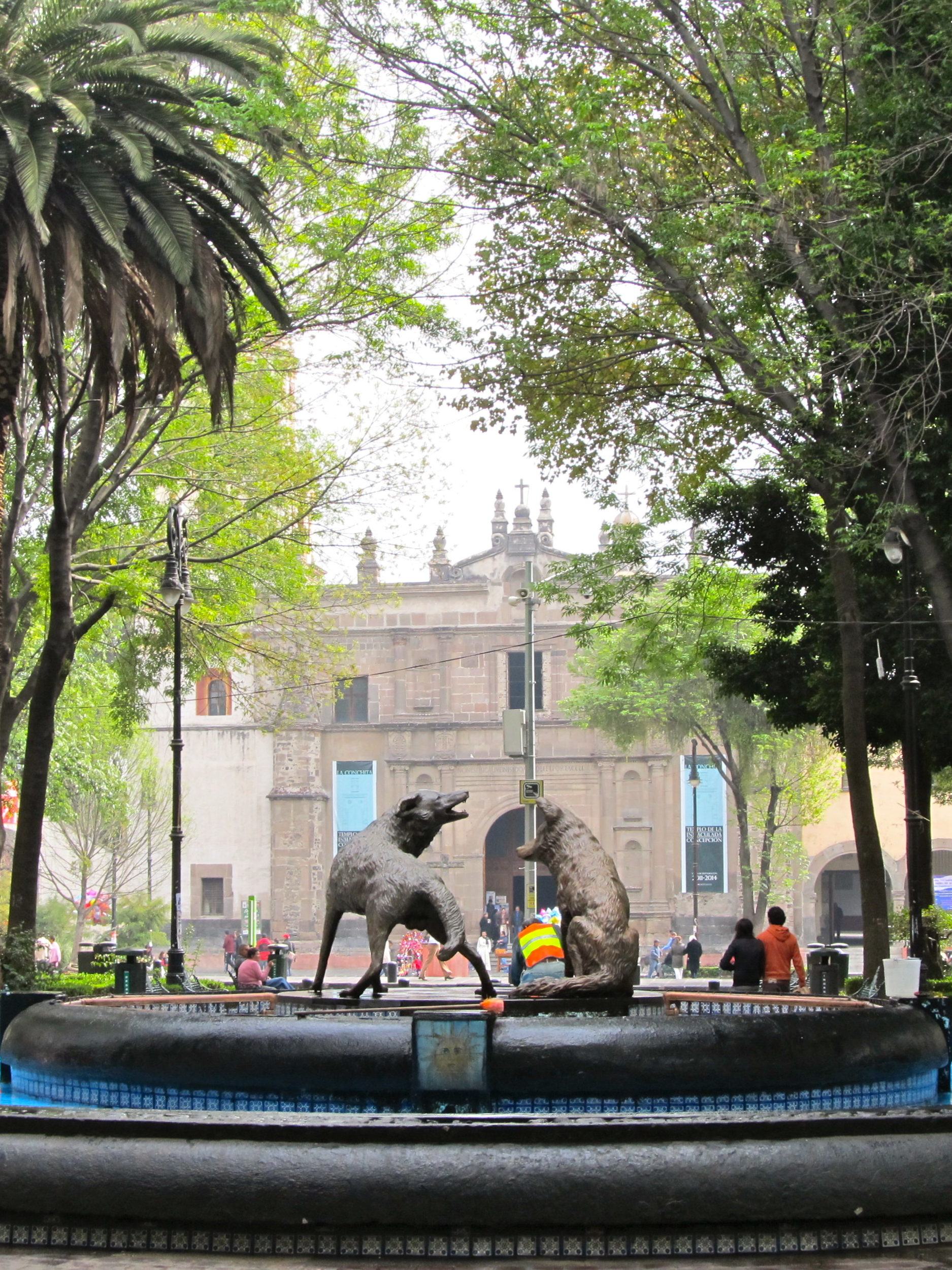 Right outside the Mercado Artesanal Mexicano is Plaza Hidalgo and Jardín Centenario, two large squares with trees, bushes, and fountains. This area is beautiful to walk through, and you'll see a lot of people out and about.
The Fuente de los Coyotes is a famous fountain that features two large bronze coyote statues, a nod to the name of the Coyoacán neighborhood, which means "land of abundant coyotes" in Nahuatl.
Around the park, there are some great restaurants you can try. My favorite is Corazón de Maguey, which has traditional Mexican fare and a delightful atmosphere. Try the enchiladas de tres colores for a taste of three different sauces! There are plenty of other restaurants to choose from, and the view of the park is a lovely setting for a meal.
27. Take a step back in time at the Trotsky House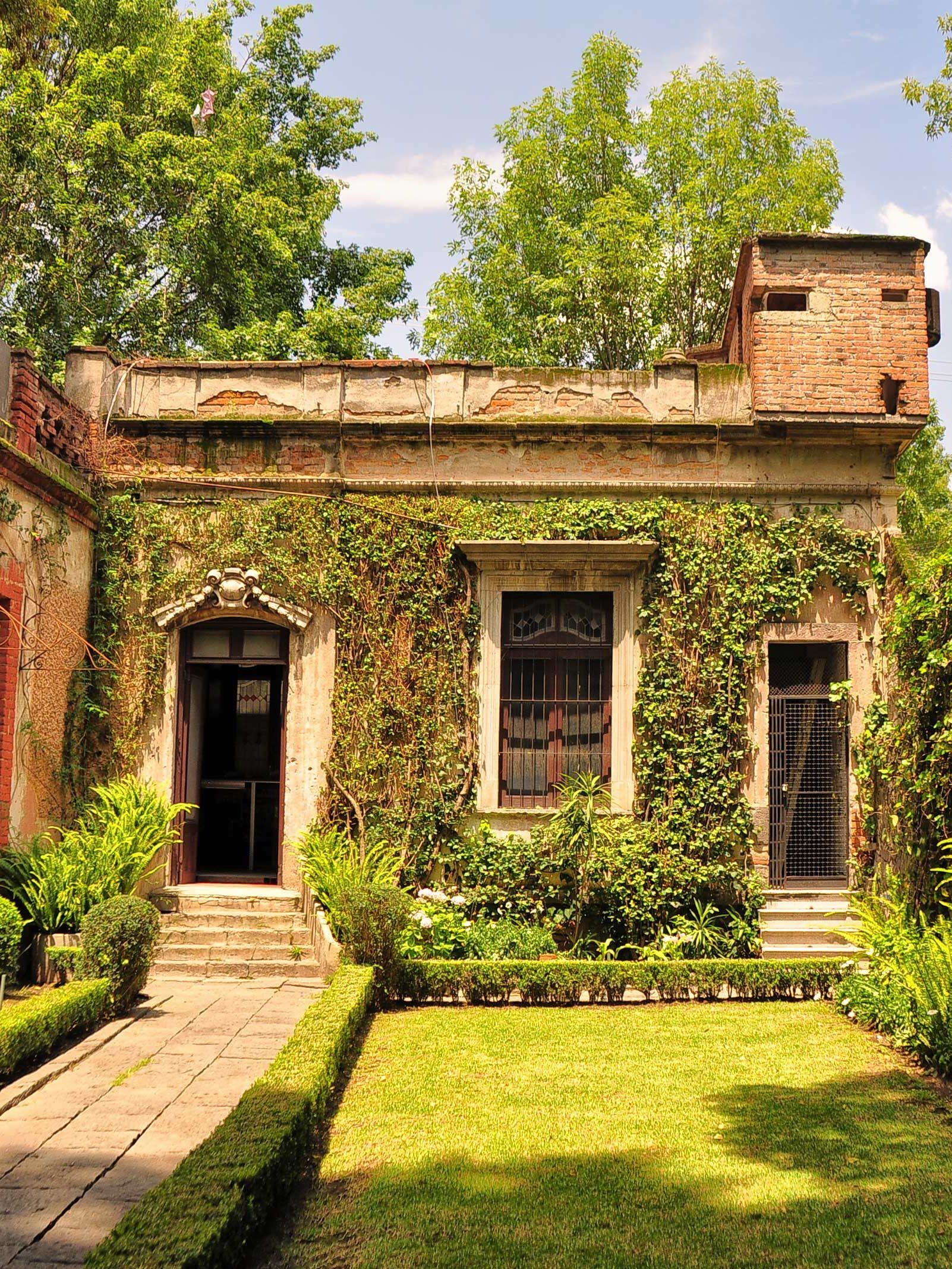 The Trotsky House is a unique museum located in the heart of Coyoacán. It's the former home of Leon Trotsky, who was exiled from Russia and ended up living in Mexico, just a few blocks from the home of Frida Kahlo and Diego Rivera. (He actually lived with the artists for a short time in the Casa Azul before he moved to the Trotsky House.)
While the museum is closed during the pandemic still, it is expected to open soon with the same schedule as before, which was 10am to 5pm Tuesday through Sunday. The entrance fee is 40 pesos ($2) and has a free English-speaking guide if you ask upon entry.
26. Watch a movie outdoors at Cineteca Nacional
If you have any friends from Mexico City, you have probably heard about Cineteca Nacional. It's a huge outdoor movie theater that was first opened in 1974. They play movies in both English and Spanish, and it's a great way to spend a relaxing evening in the city. Just bring a blanket and some snacks and you're all set!
To find out what movies are playing and to buy tickets, check out Cineteca Nacional's website. The theater is on the outskirts of Coyoacán, in a smaller neighborhood called Colonia Xoco, and you can get there easily in an Uber or by walking.
Xochimilco
This working-class neighborhood is on the south side of Mexico City and is most known for its series of canals that were built by the Aztecs to transport water and goods throughout the city. The canals are still very much intact and are famous for the colorful gondolas that visitors can ride.
25. Float through the floating gardens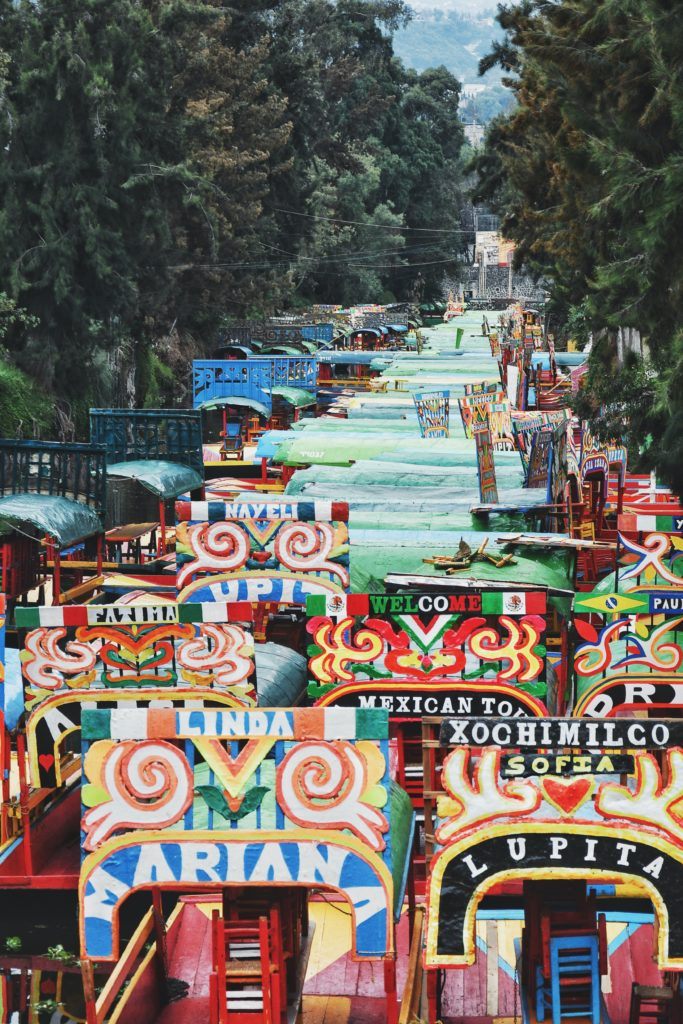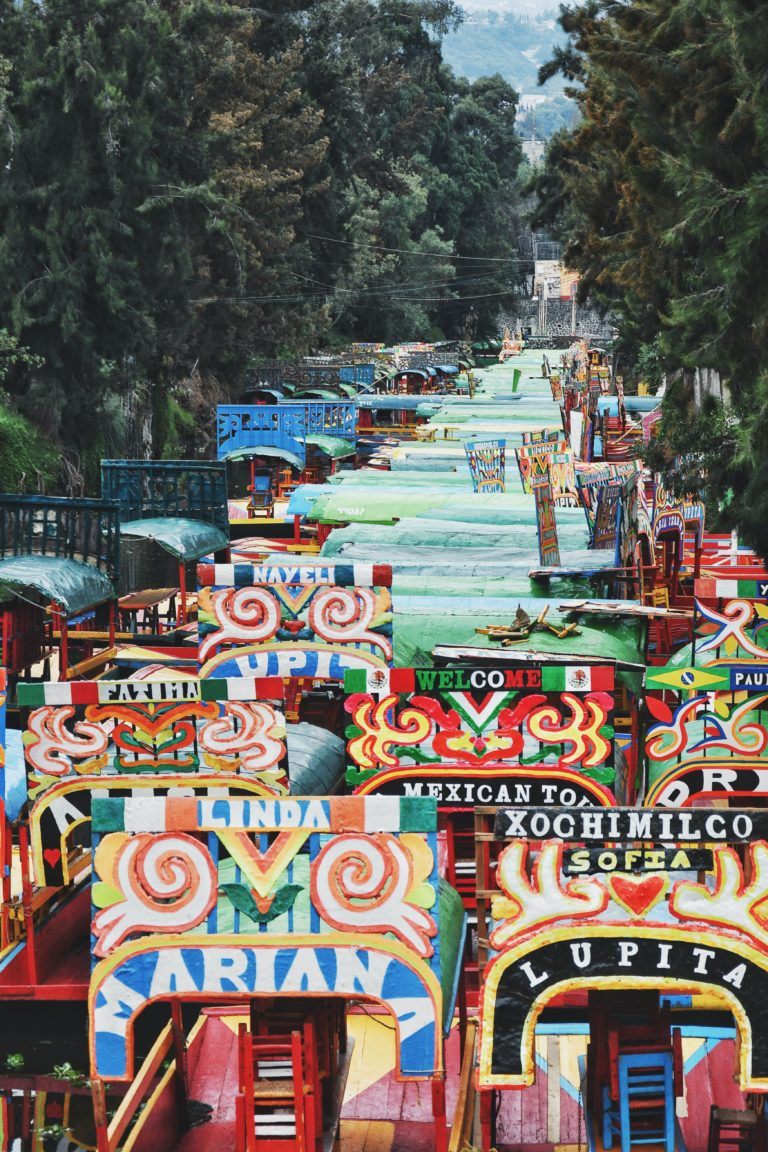 This is absolute must-do while visiting Mexico City. The colorful gondolas called trajineras are used to float through the canals of Xochimilco. While most of the canals are big party spots nowadays, there is still a part that has preserved nature, where you can find people still practicing the same agricultural techniques of the Aztecs.
Either way, a tour of the canals is an amazing way to take in the colorful atmosphere and enjoy the city. Consider taking a tour around the canals that also goes around UNAM's campus nearby.
If you're feeling brave, check out the Island of Dolls. It's a creepy part of Xochimilco that is rumored to be haunted and has a collection of antique dolls hidden around the tiny island.
Polanco
This upscale neighborhood is known for its excellent contrast between shiny new office buildings and classic colonial architecture. On the streets of chic Polanco, you'll find some of the city's best restaurants, kitschy boutiques, and classy museums. It's a pricier neighborhood to stay in, but definitely worth a visit while you're out and about in Mexico City.
24. Window-shop on Avenida Presidente Masaryk
I'm not much of a shop-'til-you-drop kind of gal myself, but it's quite fun to window-shop along what is known as the Mexican version of the Champs-Élysées. Avenida Presidente Masaryk's upscale designer boutiques and chic restaurants are a big reason why Polanco feels so fancy.
Even if you're not into peering into the shops, it's still worth a stroll to take in the neat architecture and overall vibe of the neighborhood. There are also several fabulous places to grab a bite or a coffee along the avenue.
23. Explore the iconic Soumaya Museum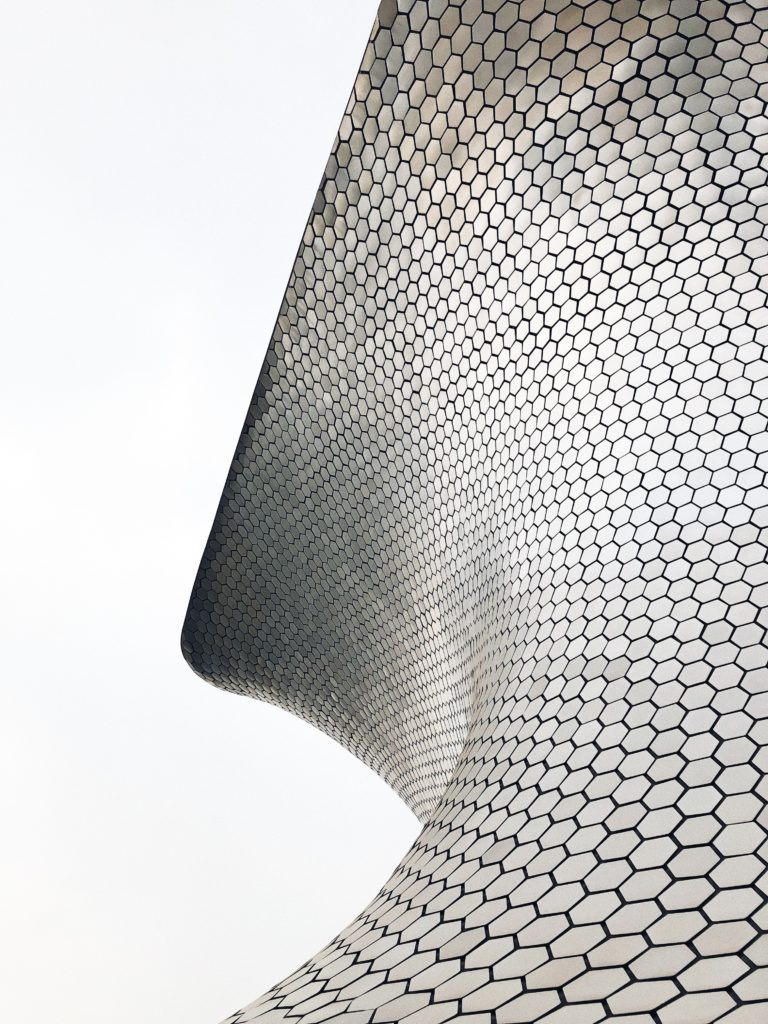 When is she going to cool it on the art museums? Never! There's a reason why this isn't the first (or last!) art museum on this list. Mexico City's art scene is just that good.
Soumaya stands out from the others, though, because of its fantastic collection and jaw-dropping architecture. After a visit, it became my all-time favorite art museum.
The building is gigantic and silver, so it's impossible to miss. You'll see thousands of silver tiled hexagons outside, creating a shimmery effect. Inside the museum, the expansive collection includes over 60,000 pieces from world-renowned artists such as Henri Matisse, along with famous Mexican artists.
Museo Soumaya is open every day from 10:30am to 6:30pm, and it's free to visit. You read that right. It is one of the many museums in Mexico City that are completely free!
22. Take a breath at Plaza Uruguay
In a city famous for its smog and nasty pollution, finding green spaces is key when you're out exploring. Plaza Uruguay's wooded park is the perfect place to take a breather. The square is also home to a bronze statue of General José Artigas, which was donated by Montevideo, Uruguay. Hence the name, Plaza Uruguay.
21. Find a hidden speakeasy
Even if you're not very into the party scene, this hidden gem is a fun adventure. The speakeasy is a bar called Jules Basement, and its entrance is in an unassuming taquería called Surtidora Don Batiz. In the taquería, there's a long hallway. Look for the La Cocina sign, and you'll see a bouncer in a suit standing in front of what appears to be a refrigerator door. The door is the entrance to the speakeasy, and you should be able to get in unless they are at capacity. The bar itself is posh and is known for its delicious cocktails and occasional live music.
Keep an eye on the Jules Basement website for updates.
20. Treat yo'self at Pujol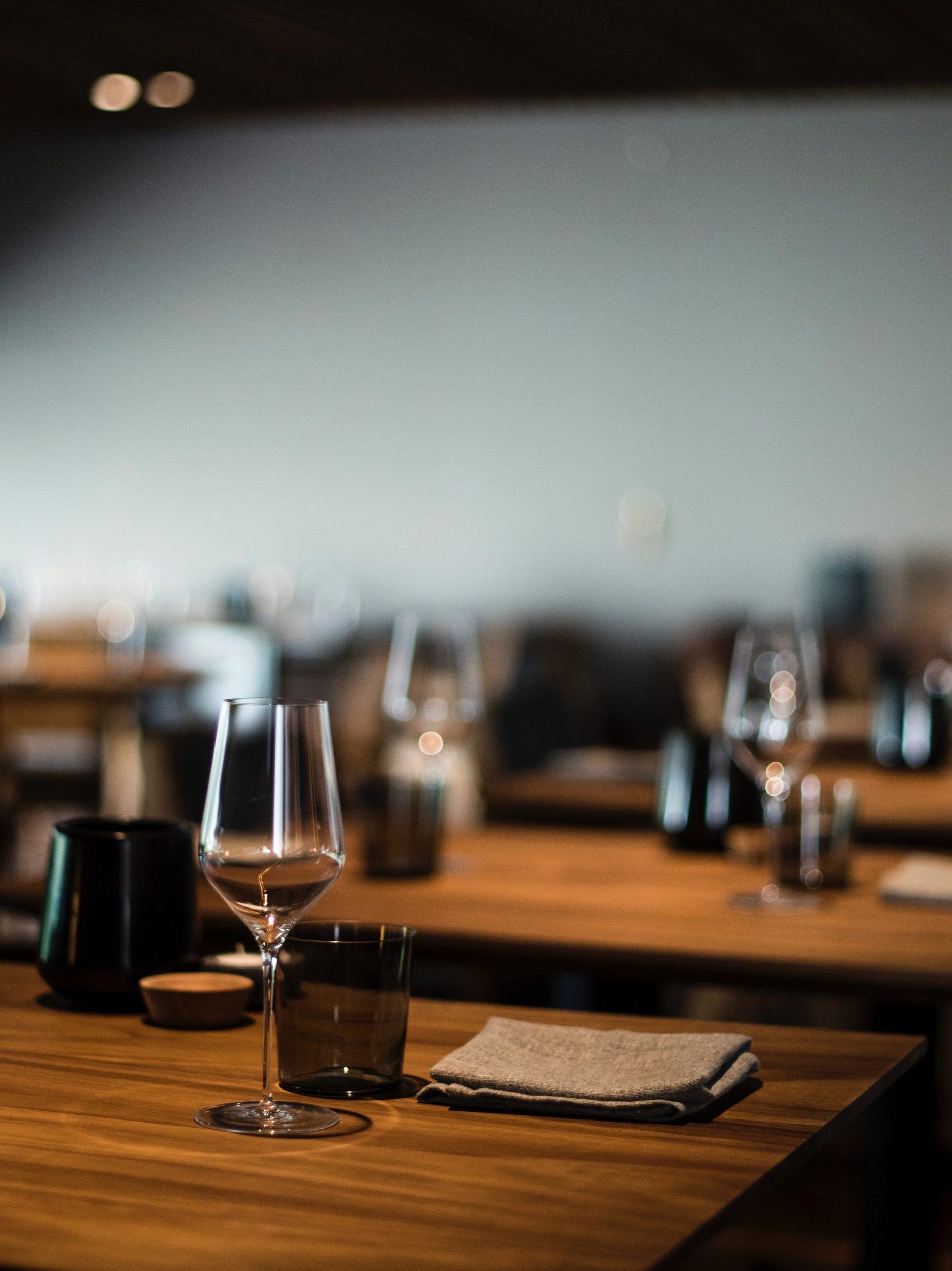 Pujol is one of Mexico's most famous restaurants and is run by mega-popular chef Enrique Olvera. If you've seen Chef's Table on Netflix, you might already know about Pujol's incredible reputation.
This is certainly a fine dining experience, so you'll have to make a reservation ahead of time to get in. You can make one by contacting the restaurant. They recommend reserving a few weeks in advance for weekend bookings and at least one week for weekdays.
Reforma and Chapultepec
This chic and historic area is where you'll find the city's most prestigious museums and parks, along with the famous Ángel de Independencia monument. For a full overview of this area of the city, consider taking a bike tour along the longest bike lane in Mexico City!
19. Wander around the Chapultepec Forest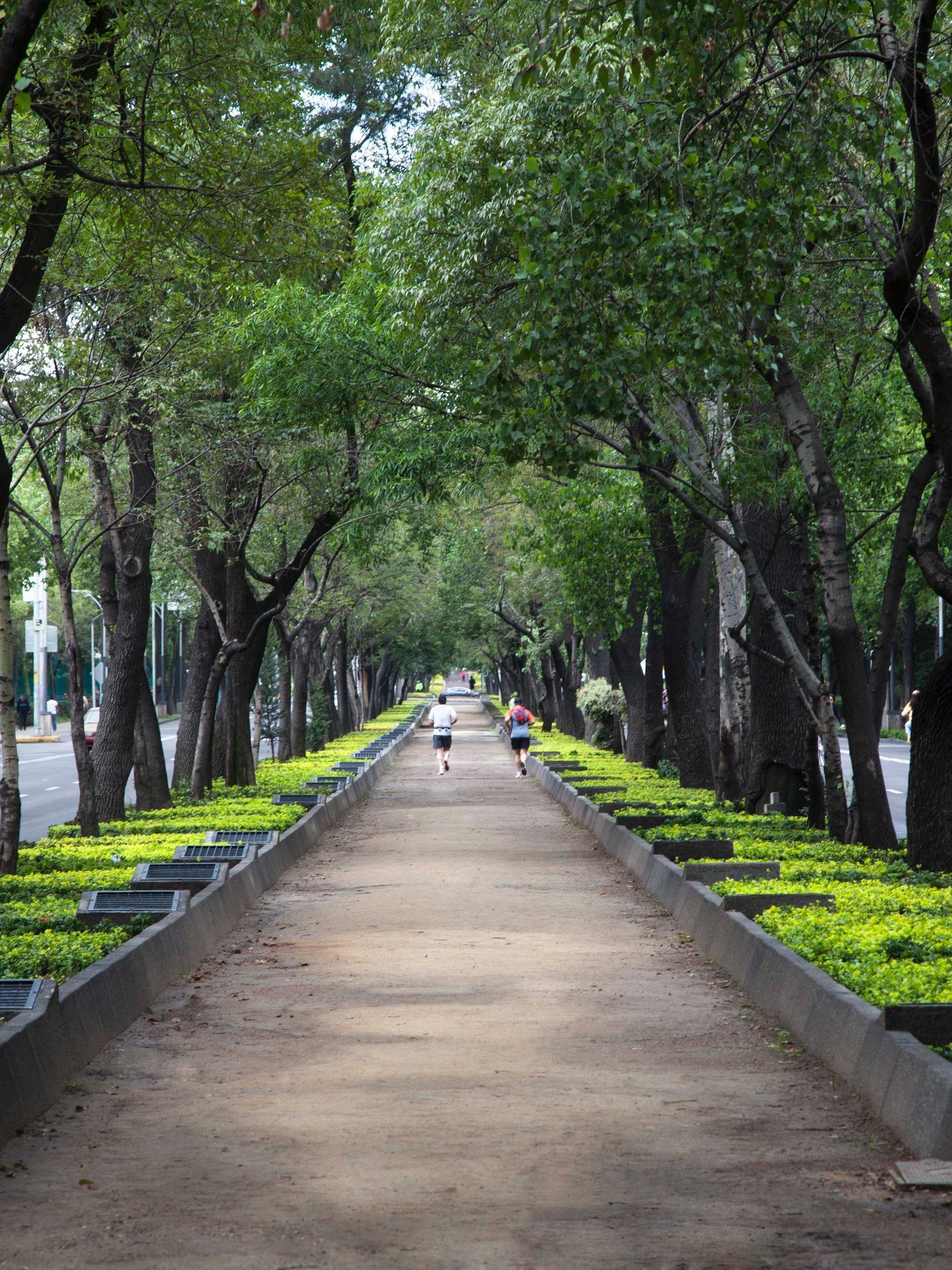 At 1,600 acres, the Chapultepec Forest in the heart of Mexico City is nearly twice the size of Central Park in New York City. This enormous park is full of towering pine trees, running trails, open green spaces, a couple of ponds, and even a few museums!
You can easily get lost here, so it's best to go with a plan. There are three distinct sections of the park: the Primera Sección, the Segunda Sección, and the Tercera Sección. The Primera Sección has a small lake where you can rent a paddleboat, the zoo, the Chapultepec Castle (more on that in the next entry), and some of the city's best museums. You could spend an entire day in this section alone.
The Segunda Sección has more impressive museums, such as the Natural History Museum. There you'll also find La Feria de Chapultepec Mágico, which is a large amusement park, and El Panteón Civil de Dolores, Mexico's national cemetery.
The Tercera Sección is much more tranquil and is mostly pine forest. There you might spot some wildlife, and it's a great place for a long walk or run.
18. Feel like royalty at Chapultepec Castle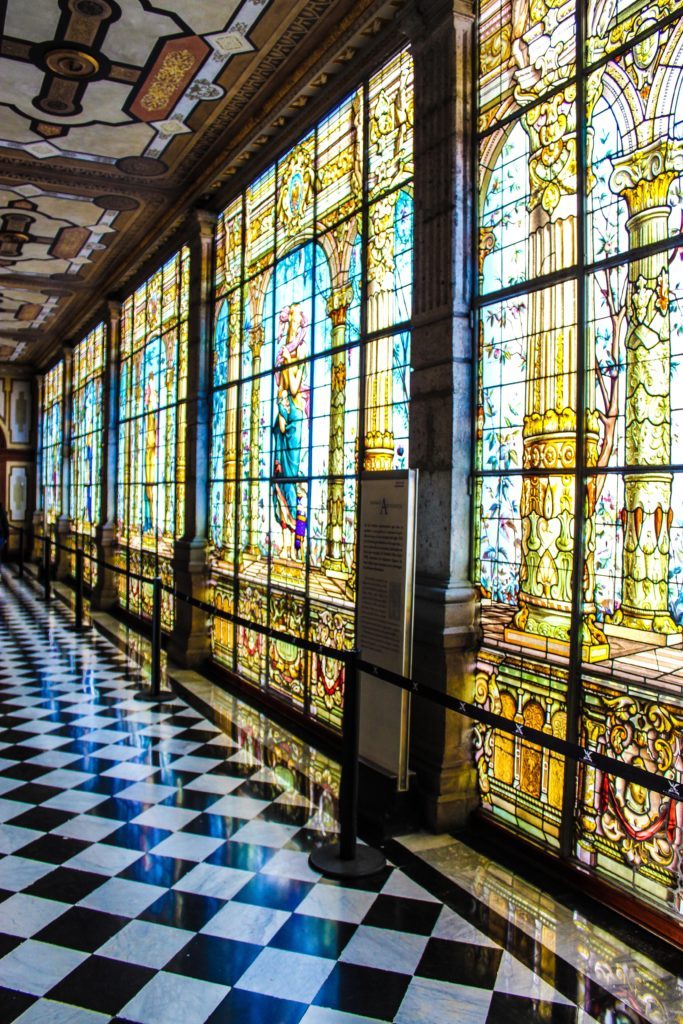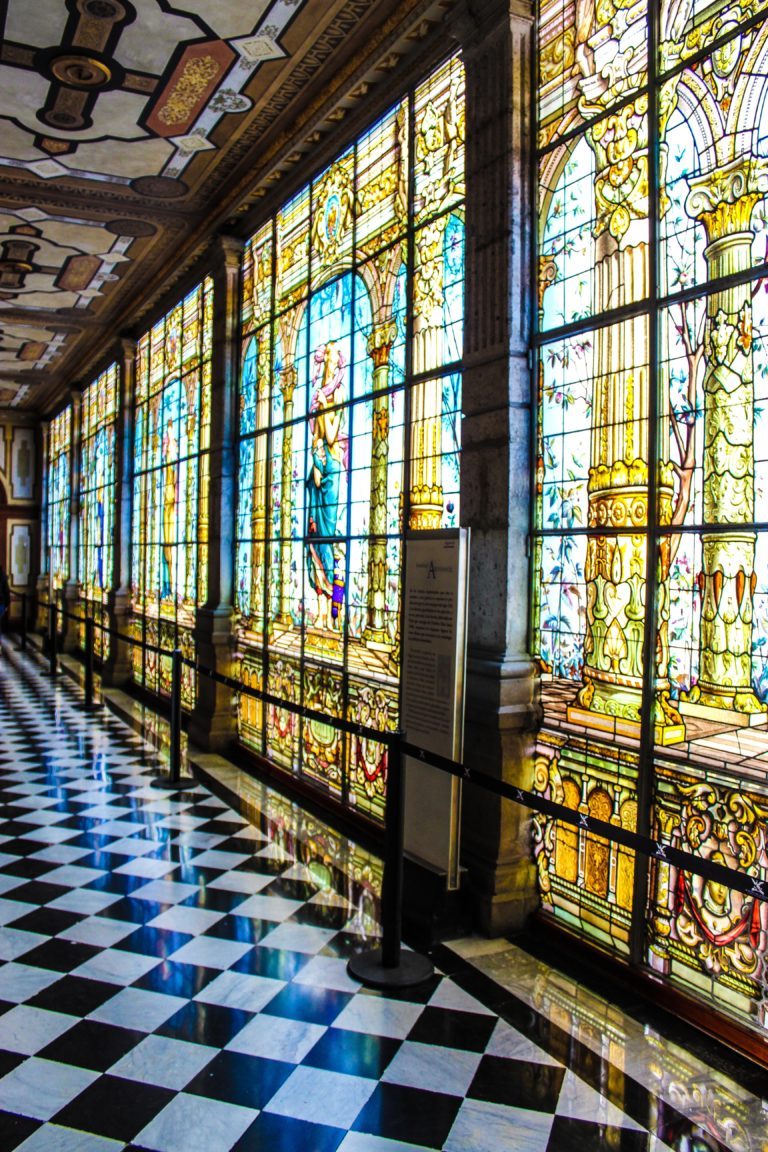 The National Museum of History at Chapultepec Castle is an essential stop on any Mexico City itinerary. It's truly impressive and gave me some serious Versailles vibes when I went.
The castle is located atop a huge hill in the middle of the Chapultepec Forest and was originally built as a summer home for Viceroy Bernardo de Gálvez, but it has changed hands several times. It was once a military academy, then turned into the emperor's house, and then later was the presidential residence up until 1939 when it was converted into a museum.
Now, visitors can wander the halls of the castle, check out the incredible city views from the gardens (when the infamous smog isn't too thick), and feel like they're taking a step back in time.
The museum is closed on Mondays but open from 9am to 5pm Tuesday through Sunday. The entrance fee is 80 pesos ($4). Due to the pandemic, the museum is currently closed. Check the website for updates.
17. Learn about ancient civilizations at the National Museum of Anthropology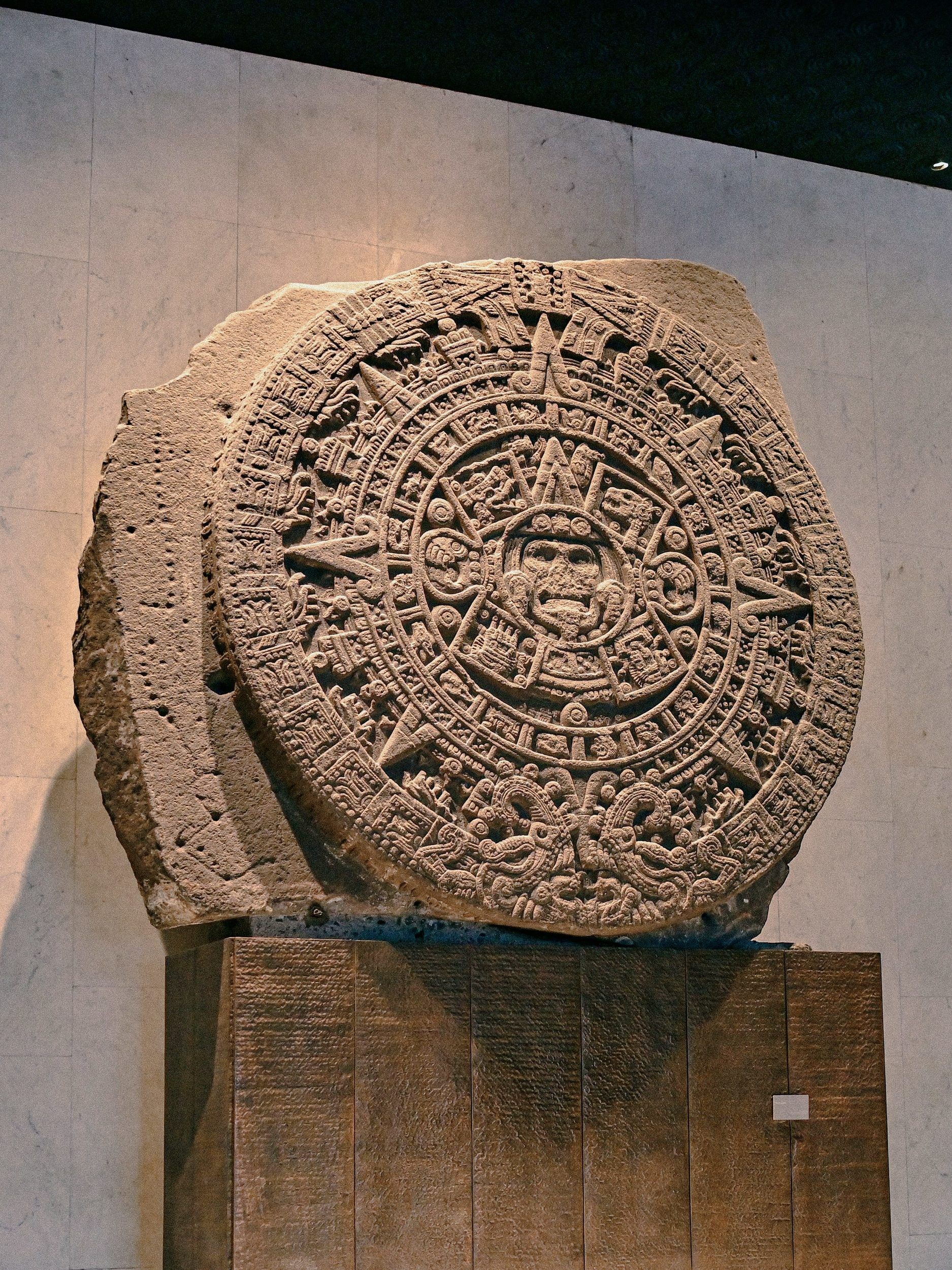 If you're an anthropology nerd like me, you've probably already heard of Mexico City's National Museum of Anthropology. It's the absolute best anthropology museum in all of Mexico and has some of the country's most precious archaeological treasures.
After visiting countless archaeological sites all around Mexico, I found this museum astonishing, because many of the artifacts I had heard about at sites in Chiapas and Yucatán are on display there. If you've been to any ruins in Mexico, you have to check this museum out for a more in-depth look at the ancient civilizations that once existed here. After all, there is a reason why this is the most visited museum in Mexico. You could spend an entire day there as it's huge and has so much to see.
The National Museum of Anthropology is open from Tuesday to Sunday from 9am to 7pm and the entrance fee is 80 pesos ($4).
La Condesa and Roma
These adjacent neighborhoods are known for their lush green avenues, bohemian boutiques, incredible restaurants, and art galleries, as well as the best nightlife in the city. You may have heard about the Oscar-winning movie Roma, which is set in the Roma neighborhood. The colonial architecture and ample tree-lined boulevards give this neighborhood its romantic feel, which you're sure to fall in love with, just like I did!
16. Catch a Show at Foro Shakespeare
Foro Shakespeare houses five theater halls that host performances by independent companies, in a break from the traditional Mexican theater scene. Their mission goes beyond putting on a great show, as they strive to educate audiences about the behind-the-scenes processes that go into their work.
This theater also stands out because of its focus on independent artists and out-of-the-box performances that can't be found anywhere else in Mexico. I went to a show there a few years ago and was blown away by how wacky and artistic it was!
Check out what shows they have on Foro Shakespeare's website, where you can also purchase tickets ahead of time.
15. Get lost in the stacks at El Péndulo Bookstore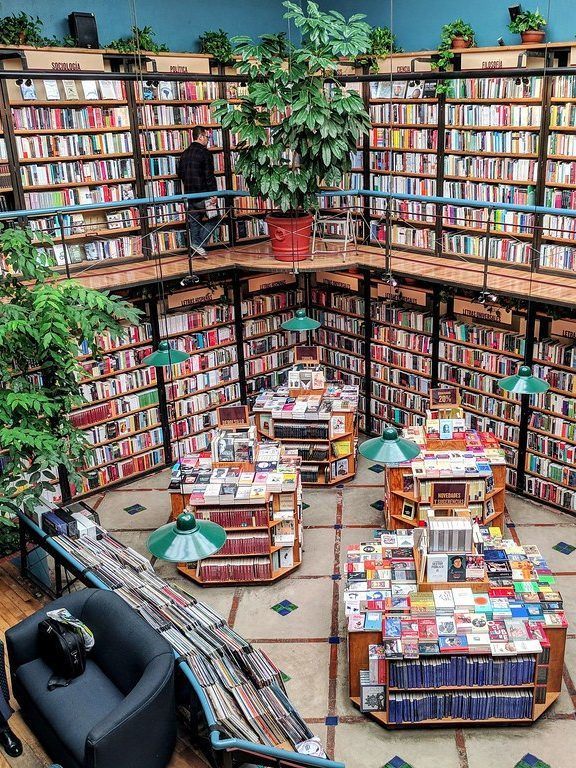 When it comes to charming bookstores, the Roma neighborhood has plenty to choose from. However, this one remains my favorite. El Péndulo has a few locations throughout Mexico City, but the one in Roma is special. It has two floors with floor-to-ceiling shelves and an adorable café, whose balcony seating is the perfect spot to flip through the pages of your newly purchased book while you sip on some coffee or tea.
El Zócalo and Centro Histórico
14. Walk around the second-largest plaza in the world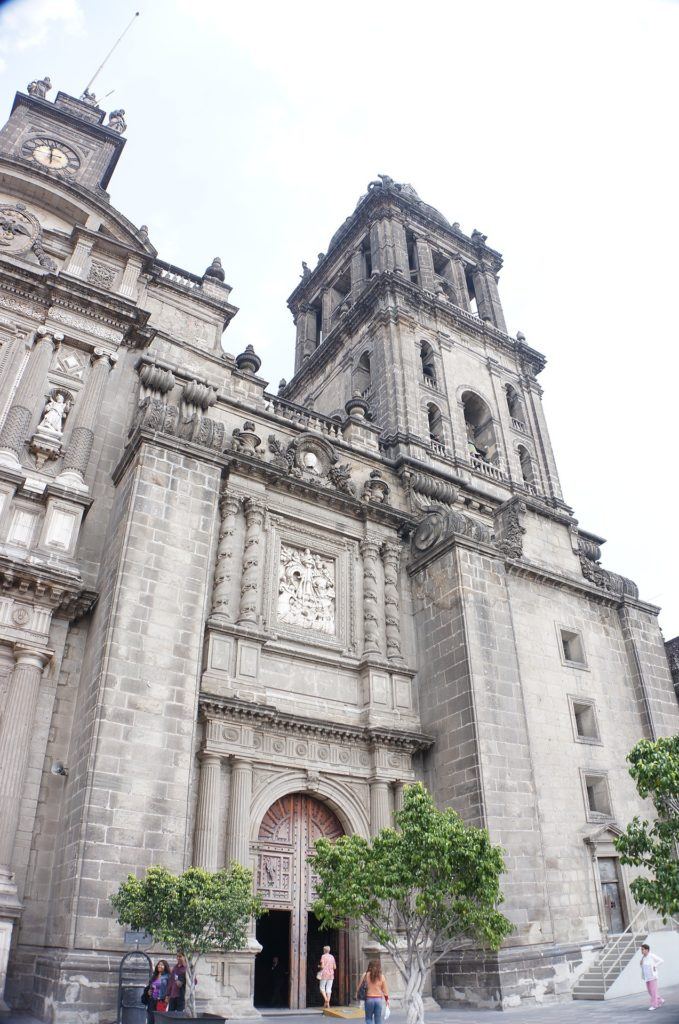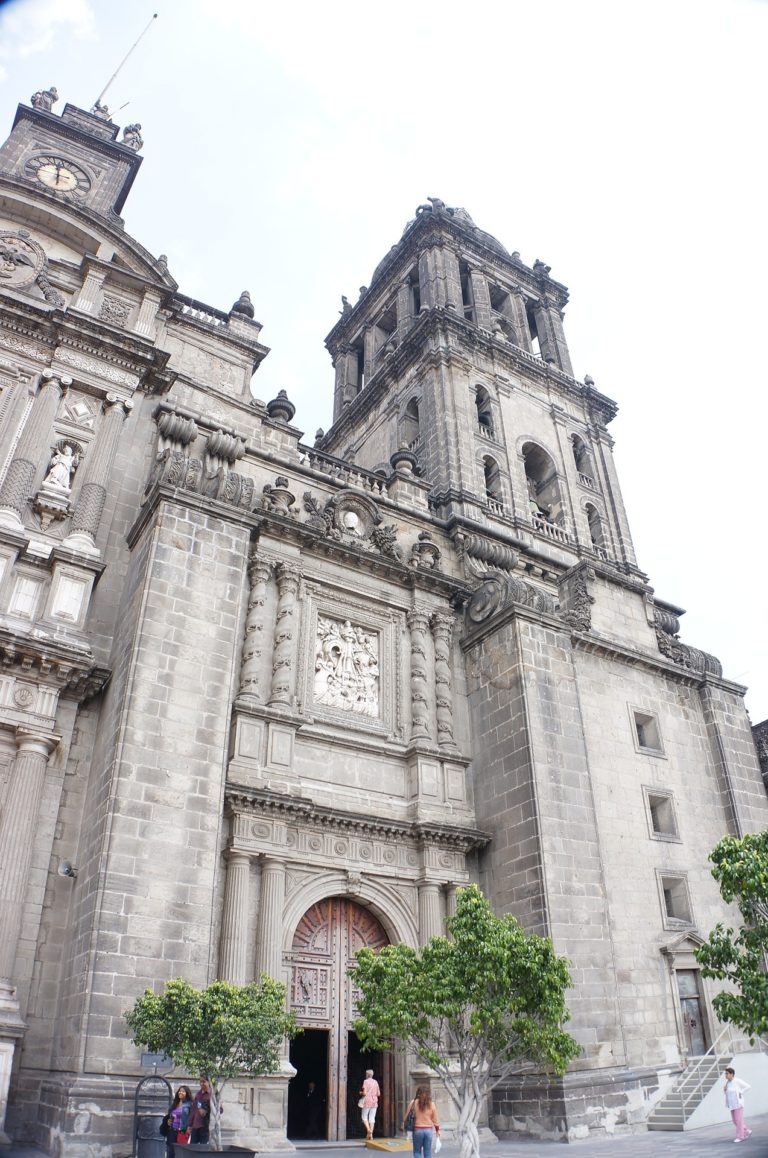 The Zócalo (also known as the Plaza de la Constitución) is the heart of Mexico City. There you will find some of the city's oldest architecture, which was built right on top of the former ceremonial center of the ancient city of Tenochtitlán, built by the Aztecs on top of a lake — which is one of the reasons why you'll see a lot of buildings in modern-day Mexico City that look like they are sinking. In the Zócalo, you can actually see how much they have sunk into the ground over time, and some of the buildings even look a little lopsided.
In this main plaza, you will see people selling handicrafts and doing limpiezas, a spiritual cleansing that is conducted by wafting copal incense and shaking various herbs around a person's body. This tradition dates back to ancient Aztec times and is performed in the Zócalo because of the spiritual significance the area has.
13. See what Mexico City once was at Templo Mayor
Constructed in 1325 in the marshes of Lake Texcoco, the main temple of the ancient city of Tenochtitlan was located in the present-day Zócalo. The foundation of the ruins are well preserved, and there is a museum right next to the Metropolitan Cathedral where you can see them.
A visit to the museum is definitely worth it if you want to see the sculptures and paintings of the ruins up close, but you can also see the ruins from far away, from the platforms around it, which are free to access.
The entrance fee for the museum is 70 pesos ($3.50), and it's open from Tuesday to Sunday from 9am to 5pm.
12. Admire the Palacio de Bellas Artes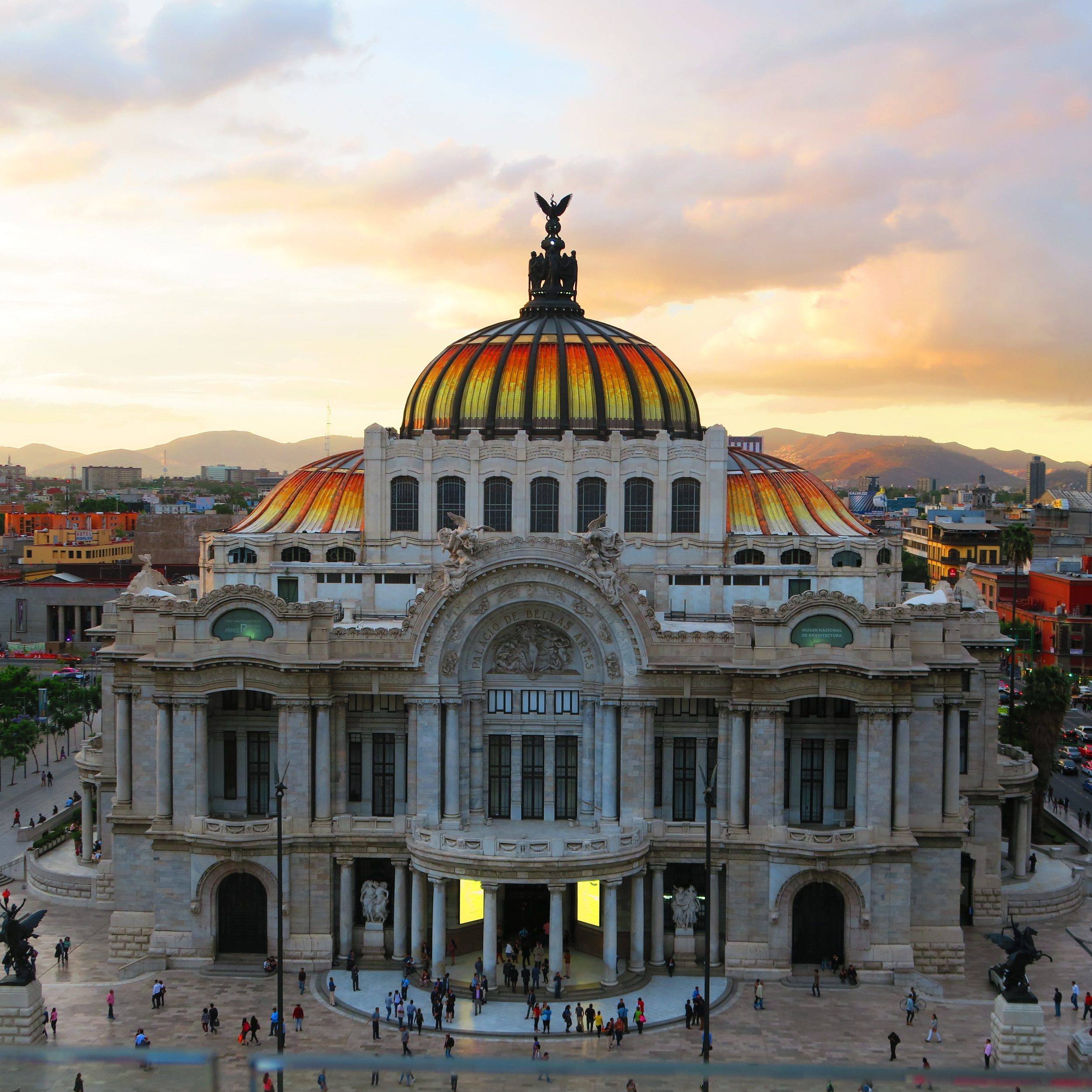 El Palacio de Bellas Artes is easily one of the most beautiful buildings in the entire city. Its architecture is breathtaking! Inside you'll find a popular art museum, a concert hall, a theater, and several halls with sculptures and paintings. Most notably, the building features works by some of Mexico's most famous muralists, including Diego Rivera and Roberto Montenegro.
As Mexico City's most important performance space, Bellas Artes hosts some of the grandest events in the city. Recurring events include performances by the Mexican Folklore Ballet, the Bellas Artes Opera, and the National Symphonic Orchestra.
The entrance fee to the Bellas Artes Museum is 75 pesos ($3.75). The palace is open to visitors from Tuesday to Sunday, from 10am to 5pm.
If you want to admire the building from afar, the best view of it is from a café across the street called Cafetería Terraza (inside the Sears store, which you will have to walk through to get there).
11. Find the best view of the city from the Torre Latinoamericana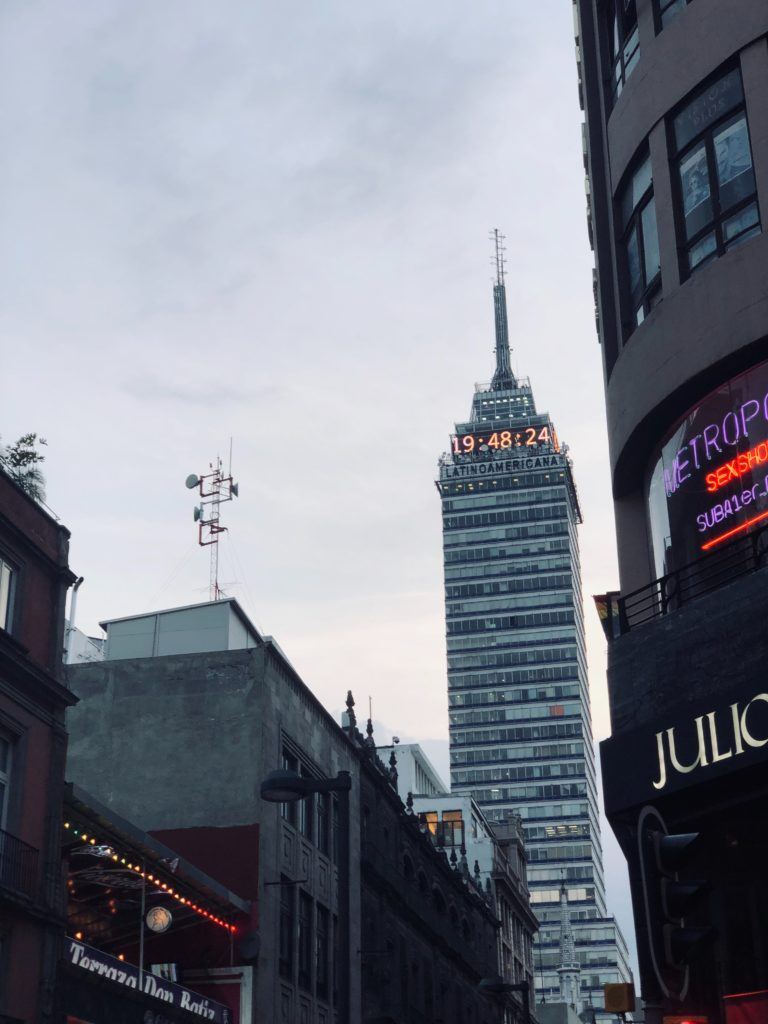 While the view of Bellas Artes from Cafetería Terraza is phenomenal, the best view of the whole city is from the 600-foot Torre Latinoamericana downtown, right next to the Palacio de Bellas Artes. It has 45 floors; the highest observation deck is on the 44th floor. Due to the frequent earthquakes in Mexico City, there are very few skyscrapers like this one downtown.
It costs 120 pesos ($6) to access the observation decks. The building is open every day from 9am to 10pm. Perfect for daytime or nighttime views!
10. Listen to mariachis at Plaza Garibaldi
It's no secret that mariachi music is very important in Mexican culture. If you've ever been to a Tex-Mex restaurant in the states, you've certainly heard it blasting through the speakers. Ever wondered about the history and significance of mariachi? Plaza Garibaldi is the place to find out.
The square itself has live mariachi music each night, and there are several restaurants and bars around it that have bands that go from table to table at which patrons pay them to sing specific songs. It's a fun way to spend an evening, and I found the entire square to be charming and romantic.
If you want a more in-depth look of Plaza Garibaldi, this tour includes a guide, dinner, and a drink!
9. Eat your way through the city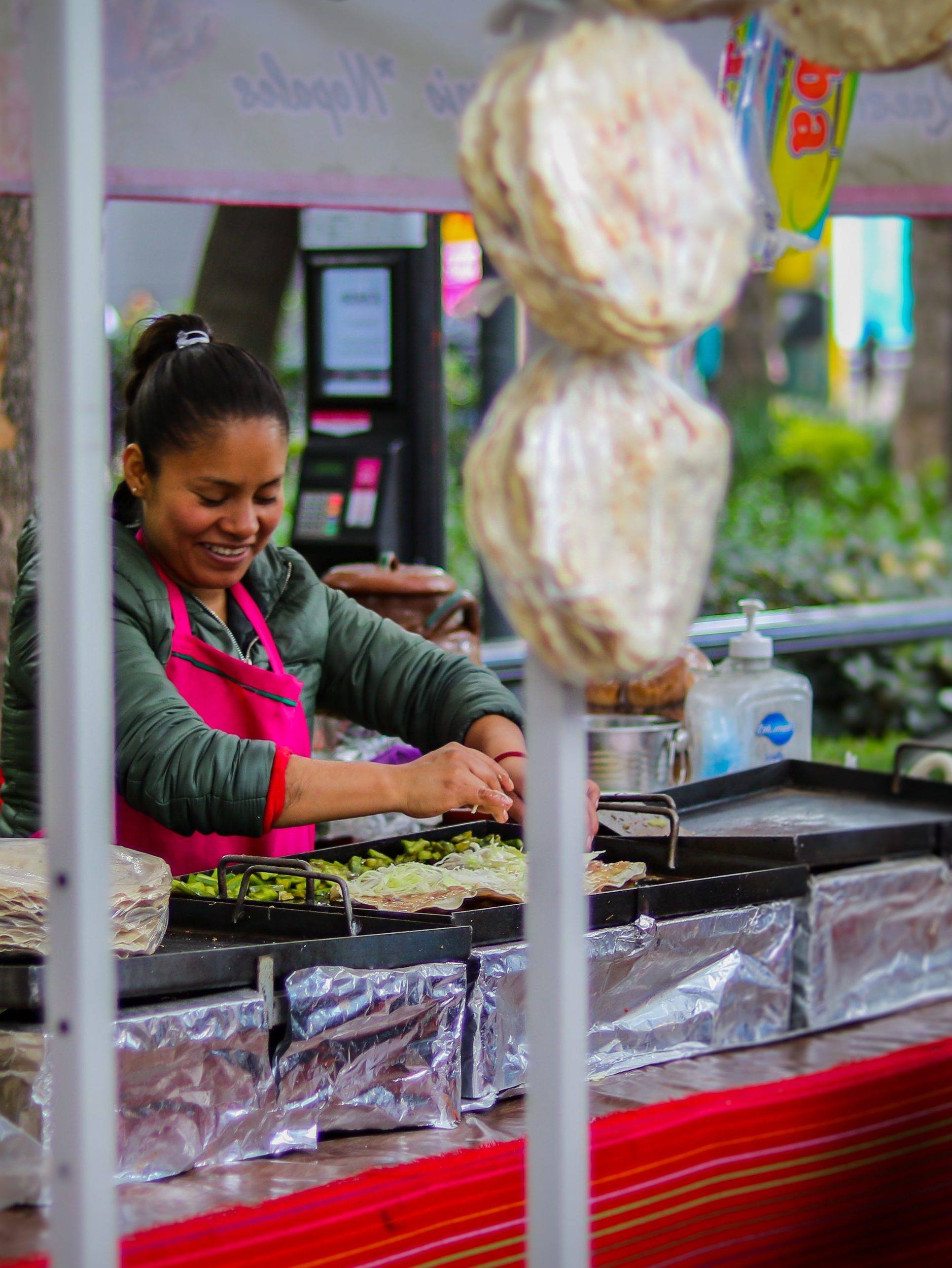 Who doesn't love to be fed a bunch of delicious food? I've said it once (or many times, oops), and I'll say it again: Mexico has the best food in the world. Don't try to argue with me until you've gone on one of Club Tengo Hambre's famous street food tours.
Their downtown walking tour will take you to some of the city's best street food stalls, markets, and sweets shops. It includes a local guide who will give you the inside scoop on Mexico's food scene. You'll even get to try pulque, a fermented beverage that was once consumed by Aztec royalty. It as a very peculiar texture that has grown on me, but it is definitely not for those who are weirded out by slimy treats.
8. Swing by Palacio Postal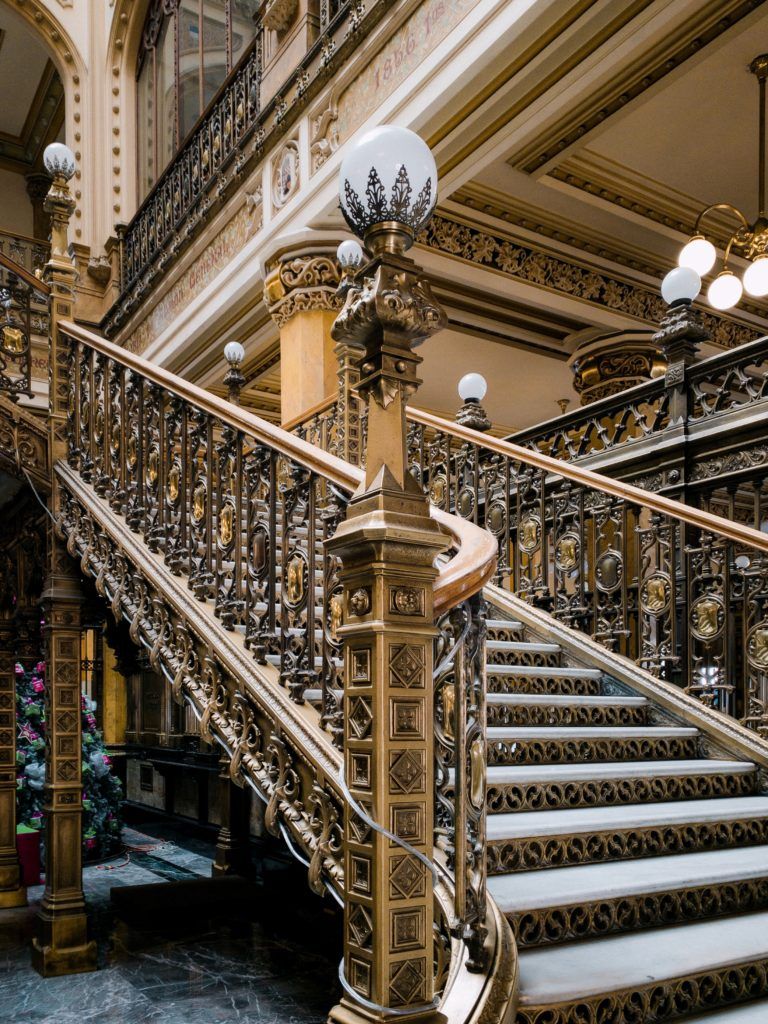 Palacio Postal literally translates to "postal palace." Confused? I was, too. But then I decided to check it out and wow, was it worth passing through. The building was designed by the same architect, Adamo Boari, who was behind the beauty of the Palacio de Bellas Artes. His style is a mashup of Neoclassical, Baroque, Gothic, and Art Deco, to name a few.
The post office is open to the public and is easy to walk into. The detail in the wrought-iron and special chiluca stones is particularly stunning. There isn't much else to see at Palacio Postal beyond the architectural details, however. It is a functioning post office, after all.
7. Snap a pic in front of Casa de los Azulejos
This gorgeous building is one of the most photographed sites in the entire city. Named for the intricate bright blue tiles on its façade, it makes the perfect backdrop for a cute Insta pic.
The building was originally built for the Count del Valle de Orizaba family in the 18th century, but it now houses one of the many Sanborns locations, a popular restaurant chain in Mexico. This Sanborns location is special because everything inside mimics the style of Casa de los Azulejos, including the menus, which feature the same peacock drawings from the murals inside.
Juárez and La Zona Rosa
Located next to Roma, the Juárez neighborhood is a hip artistic enclave that is home to Mexico City's proudest LGBTQ+ neighborhood, known as La Zona Rosa. There you'll find plenty of shopping, dining, and thumping nightlife.
6. Take a glass elevator to the top of the Monumento de la Revolución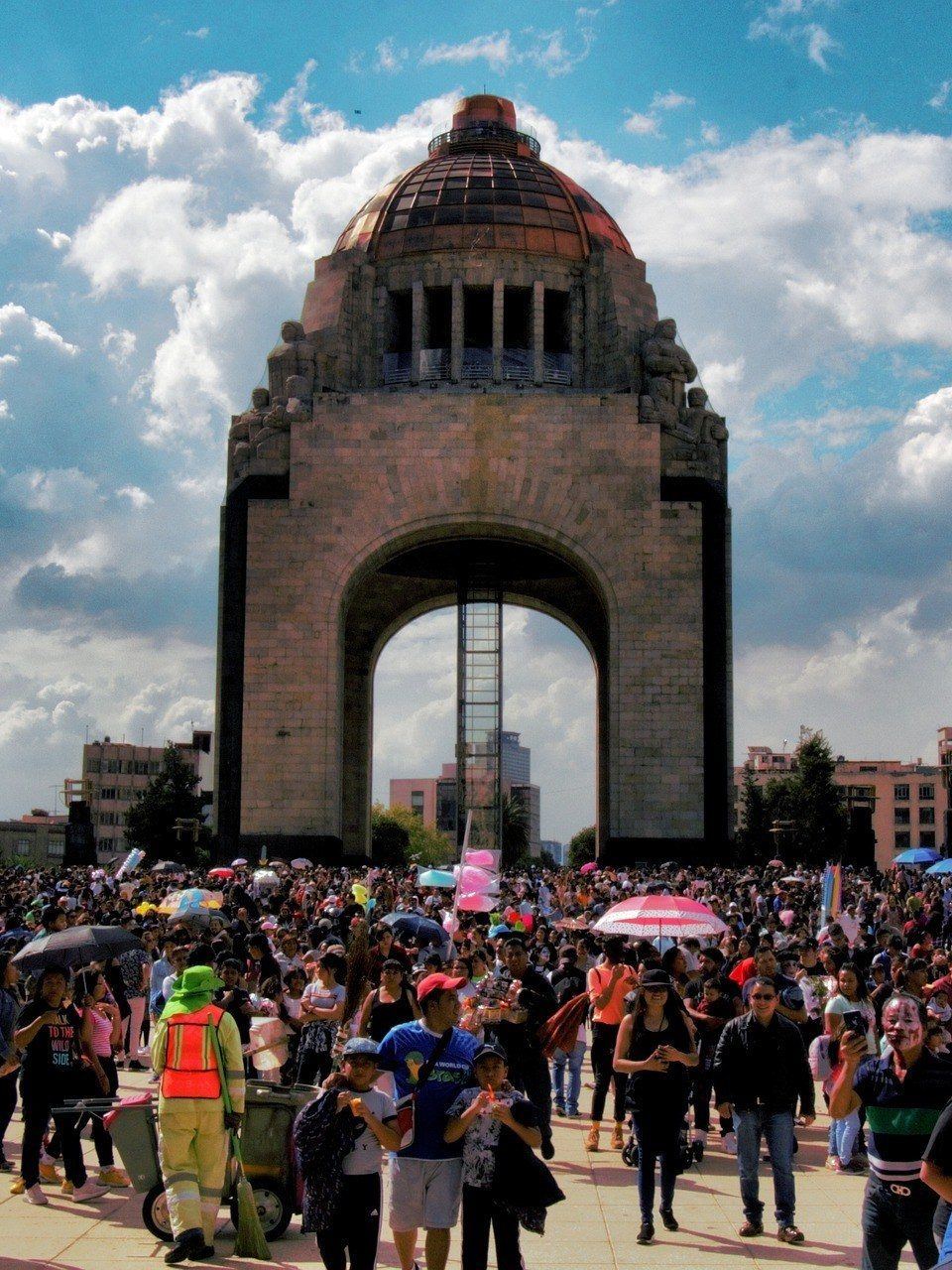 This historic arched monument was built to celebrate the Mexican Revolution. It's one of the city's most revered landmarks and has a beautiful glass elevator that you can take to the top. The panoramic view is great from up there!
An all-access pass to the highest observation deck and terrace costs 100 pesos ($5), but the lower deck is free and has a good view as well. It's open noon to 7pm Monday, Wednesday, and Thursday plus noon to 9pm Friday through Sunday.
5. Indulge at the MUCHO Mundo Chocolate Museum
Cacao is an incredibly important part of Mesoamerican culture and traditions, which have been passed down for centuries. The MUCHO Mundo Chocolate Museum focuses on the process of growing and producing chocolate, along with a deep dive into its cultural significance. From the strange-looking cacao pods all the way to the chocolate bar you can buy at the store, the museum provides a comprehensive look into one of the world's most treasured treats.
The museum is open every day from 11am to 4pm, and tickets cost 75 pesos ($3.75). Stay up to date on the museum's hours on the MUCHO Mundo Chocolate Museum website.
4. Have brunch at Café NiN
This adorable café is known by locals as the absolute best place to have brunch. The owner is Elena Reygadas, a famous Mexican chef who is also behind my favorite restaurant in town, Lardo (which you also have to try!). Café NiN has a cool Art Deco vibe, and the guava roll is so good that my mouth instantly waters when I think about it.
It is open from 7am to 9pm Monday through Saturday and 7:30am to 6pm on Sundays. Because of its fame, plan to get to Café NiN as early as possible to avoid the inevitable lines that form later in the morning.
3. Cheer on queens at a drag show
La Zona Rosa is full of fun LGBTQ+ bars and therefore is known for its party scene. While I'm not big into staying out all night, I did make an exception for a drag show. Baby is a popular spot to catch a show on the weekends. (During the pandemic, tickets are limited so make sure to call ahead of time and reserve your spot.)
Being so huge, it's no surprise that Mexico City is one of the most LGBTQ+ friendly cities in Latin America. Areas like La Zona Rosa make it really evident, and it's a fun place to hang out at night because of the open-minded atmosphere.
Day Trips Outside the City
2. Climb the pyramids at Teotihuacán Archaeological Site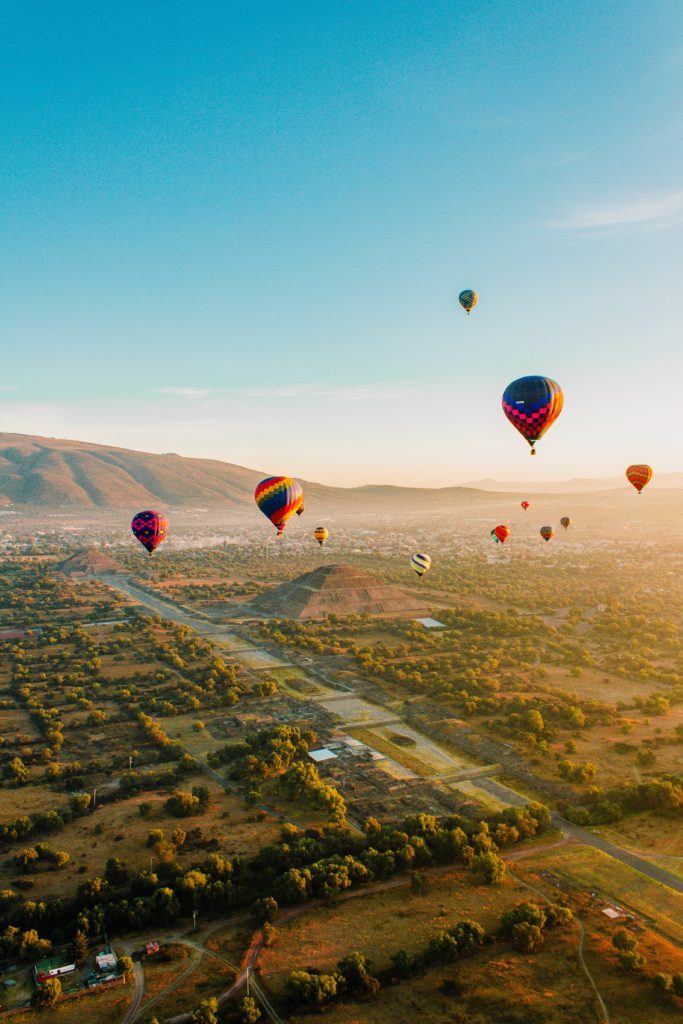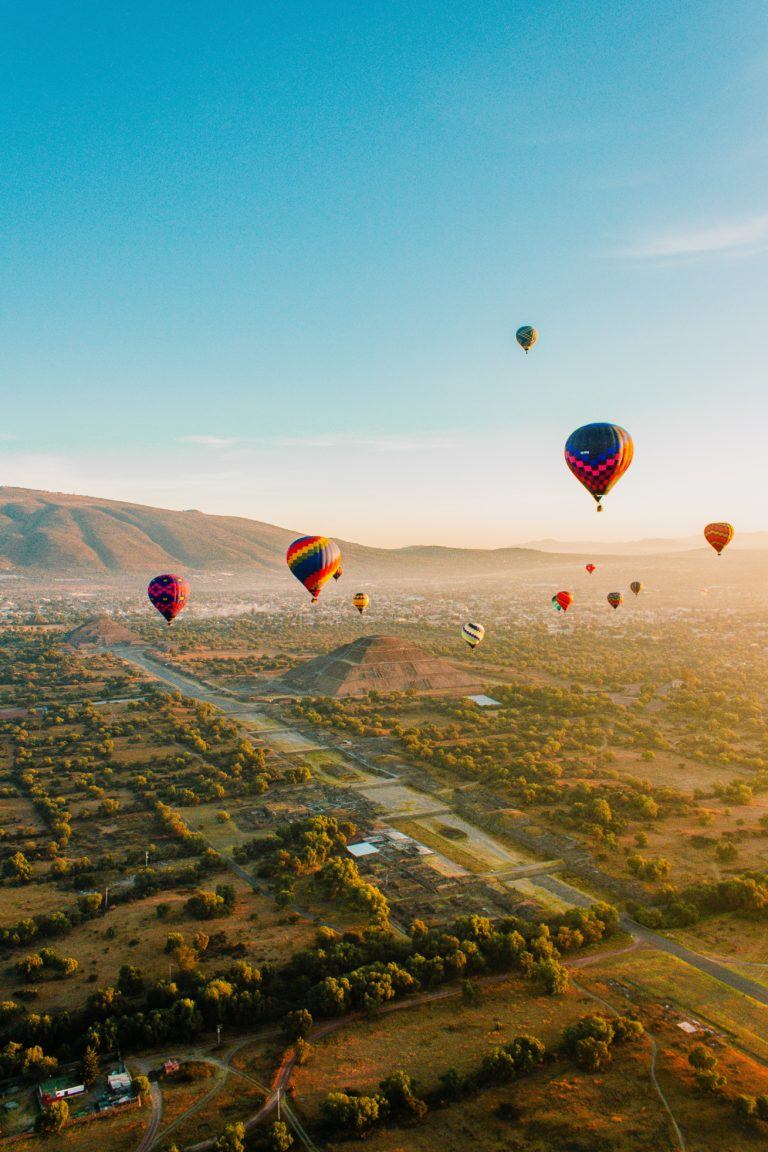 Teotihuacán is located just about an hour from Mexico City and is one of the most impressive archaeological sites in the country. It features two large pyramids: the sun pyramid and the moon pyramid, which represent masculine and feminine energy. You can climb to the top of the taller sun pyramid, but it is only permitted to climb about halfway up the moon pyramid. The view from either one is astounding!
There is a lot of historical significance to the site as a whole, so I suggest hiring a guide to give you greater insight. This tour includes a guide and also visits the Basílica de Guadalupe.
While a guided tour is certainly the best way to learn about the ruins, the coolest way to see them is from a hot-air balloon. There are a few companies that offer hot air balloon rides over the pyramids. There is one from GetYourGuide that will pick you up from your hotel and includes breakfast.
As one of the most visited places in Mexico, expect to see crowds at Teotihuacán. If you want to avoid them as much as possible, consider visiting early in the morning on a weekday. Driving there from the city is easy if you rent a car. If you want to take public transportation, buses to the site leave from the Terminal Central del Norte station every 20 minutes. Entrance to the ruins costs 80 pesos ($4).
1. Los Dinamos National Park
This enormous eco park is technically located within the city limits, but it makes a great day trip on its own. The park is over 6,000 acres of forest, including miles of hiking trails and even a few waterfalls on the Magdalena River. It's hard to believe it's so close to such a bustling metropolis!
In the park, you'll find plenty of opportunities to connect with nature. There are biking trails and rock climbing walls; zip-lining, rappelling, and horseback riding are also available. There is also a designated camping area in case you want to stay the night.
Los Dinamos is open from 6am to 6:30pm every day and is free to access. We love it!
Pin me for later:
Mexico City by Color
To plan your next CDMX adventure, check out this color-coded map with everything I just mentioned above:
That's a wrap for the 33 best things to do in Mexico City! Tackling it one neighborhood at a time is a great way to enjoy everything CDMX has to offer, without becoming too overwhelmed by choice. In such a colorful, bustling metropolis, you could spend days, months, or even years trying to see everything. Prioritize using this list, and you'll see why so many travelers keep coming back for more.
About the author: Emily is a Mexico travel enthusiast based in San Cristóbal de las Casas, Chiapas.
Click to read more posts about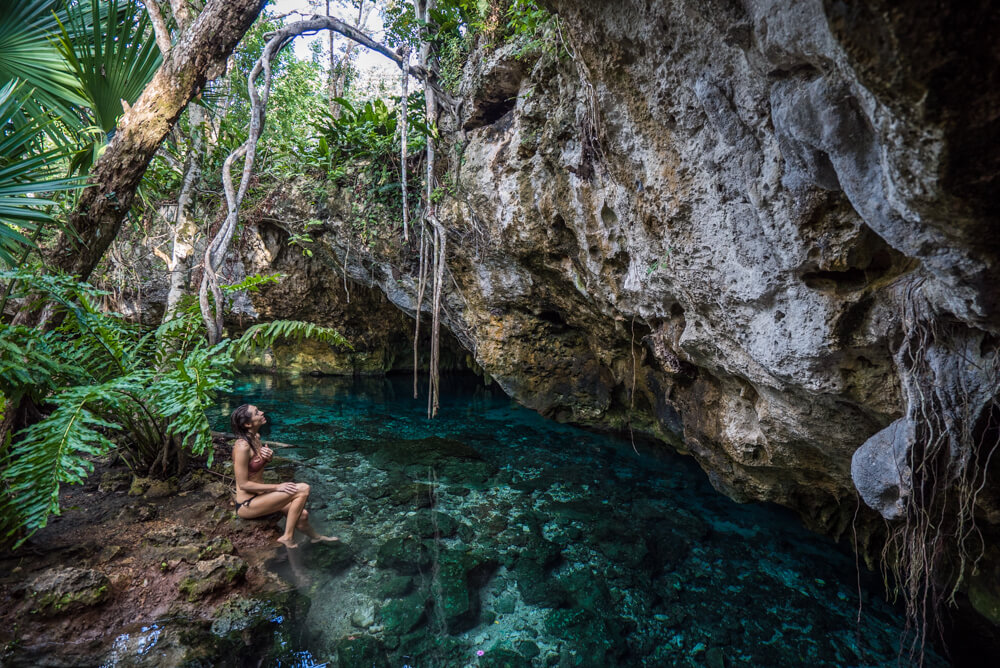 Mexico