This guest post is written by Theresa McKinney, a USVI enthusiast and travel blogger:
Are you traveling to St. John in the U.S. Virgin Islands soon, but fear crowded beaches will put a damper on your trip?  While it's true that many popular beaches, like Maho and Trunk, fill up each day, there are still plenty of ways to avoid the crowds.  Simply head to these underrated St. John beaches that draw far less people, but are just as stunning.
As St. John is two-thirds covered by Virgin Islands National Park, there is plenty of pristine beauty to go around.  These means that while some lesser-known beaches may sacrifice amenities and convenience, they will still deliver incredible views and solitude.  There are also ways to counteract the inconveniences, or simply embrace them, like a doing a scenic hike that leads to a beach.
With that, let's dive into six of the most underrated St. John beaches, and why they are totally worth your time.
1. Denis Bay
Denis Bay is a lengthy beach lined with fluffy white sand and beautiful jewel-toned water.  While this beach is not very protected and gets some swells and wind, it is still possible to swim and snorkel here.  Just keep in mind that some parts of the beach are a bit rocky, and that you might be alone.
What deters most people from reaching Denis Bay is the fact that it requires a quarter mile hike down a narrow path.  While not difficult when going down to the beach, the gradual uphill climb heading back is a little harder.  This is further complicated if you carry a lot with you, like chairs and coolers.
There is a small parking lot at the beginning of the trail, where it's usually easy to find a spot.  Once at the beach, there are plenty of trees for shade, and likely just a couple other groups around.  Enjoy the view of the British Virgin Islands in the distance.
As an added excursion, consider hiking 100 feet up to the Peace Hill Windmill ruin after visiting the beach. From this perch you can see several of St. John's other North Shore beaches below. 
2. Salomon Bay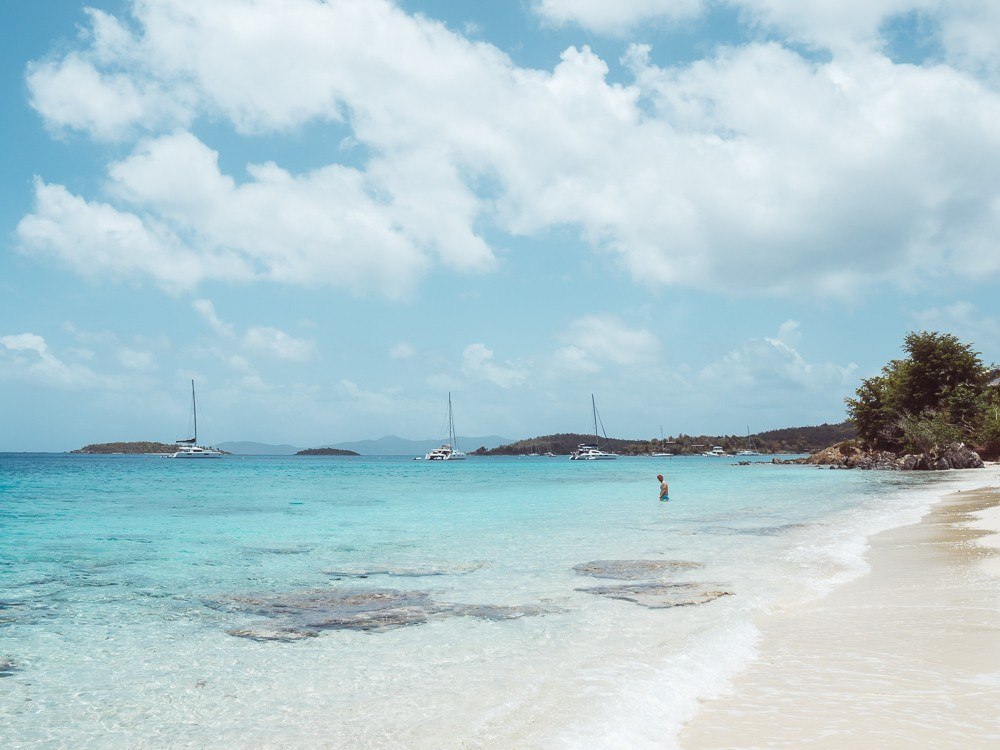 Salomon is a small north shore beach that can only be reached via hiking the Lind Point Trail or by boat.  This limited access helps keep the beach low key and relaxed, making it much easier to enjoy its translucent, rocky waters.
Most visitors hike the Lind Point Trail to reach Salomon Bay, which is about a mile each way.  While this can be a pain for beachgoers wishing to carry coolers and chairs with them, the trail is mostly flat and offers sweeping views over Cruz Bay.
Salomon Bay's clear water lends itself nicely to snorkeling, and the beach looks out toward the small cays of Pillsbury Sound.  If you happen to grow tired of this small beach, simply hop back onto the Lind Point Trail and take the 100-meter hike onward to Honeymoon Beach.  Then you can take advantage of Honeymoon's perks, including kayak and stand-up paddleboard rentals, a snack shack, and real bathrooms.
If you hike the Lind Point Trail, you will need to find parking near the trailhead at the Cruz Bay Visitor Center. Avoid getting towed by simply stopping inside and asking for a parking pass to put in your windshield.
3. Salt Pond Beach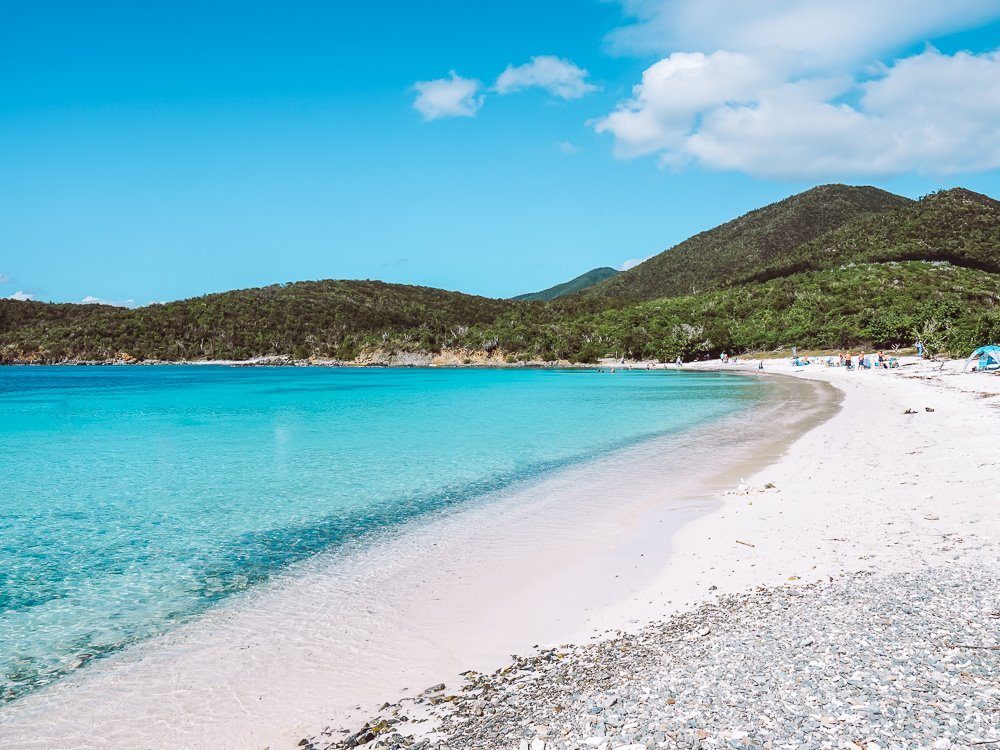 For some of the stillest waters on St. John, head to Salt Pond Beach on the south shore.  This beach's super clear water is perfect for snorkeling, or simply relaxing with a pool floaty.  The only drawback is the lack of shade and some mild rockiness in the sand.
A three-quarter mile hike down a wide, but bumpy path is required in order to reach Salt Pond Beach.  Therefore, make the most of your hard work by packing a lunch and making a day of it.
Besides enjoying the dreamy water, there are a couple worthwhile hikes nearby.  The short trail to Drunk Bay is only about 200 meters long, flat, and doable for all skill levels.  The hike ends at a rock beach with rougher waters than you'll see at any of the other St. John beaches, as it faces out to the open Atlantic.
The cactus-lined Ram Head Trail is another hike with even better views of the cliffs along St. John's south shore.  The end of this out-and-back trail is a cliff, from which you can see the deep blue sea below and St. Croix in the distance.
4. Hansen Bay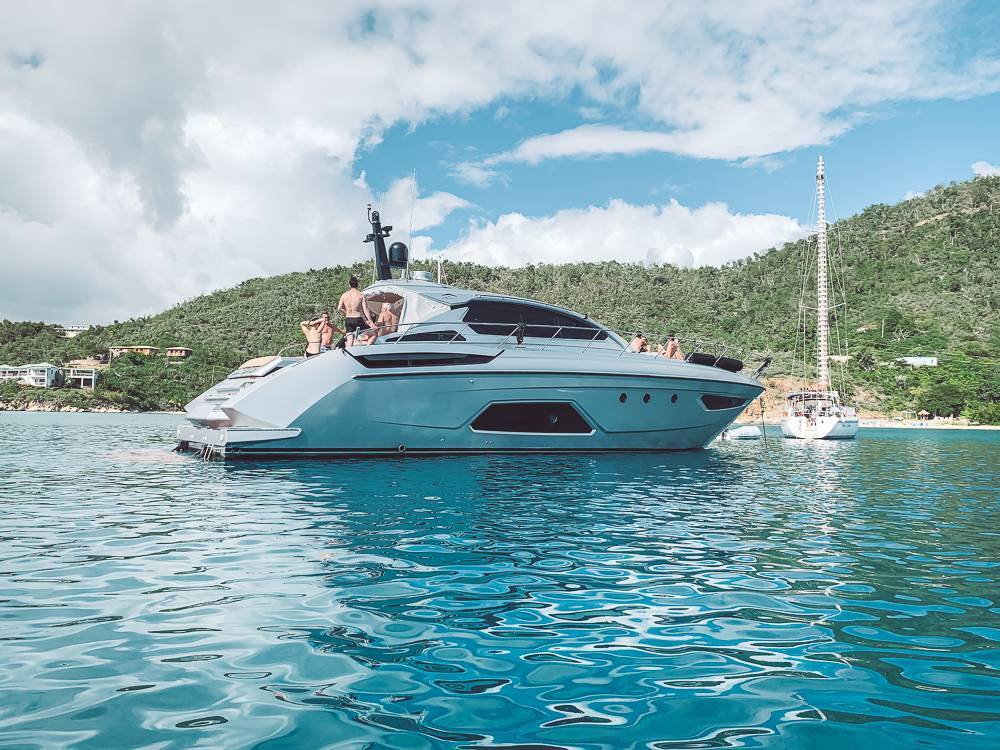 Hansen Bay is located on St. John's East End, which is another, lesser-visited part of the island.  It is a bit of a drive to reach at around 30 minutes from Cruz Bay, so just sit back and enjoy the island views along Highway 10. 
Hansen Bay is privately owned, and there is a discretionary donation required in order to visit. That said, after payment you are free to park and use all the amenities, which include toilets, kayaks, and stand-up paddleboards. Additionally, for those who can't quite disconnect for their whole trip, this beach also offers free WIFI.
Even with these great perks, Hansen Bay never gets that crowded and has protected, smooth water perfect for stand-up paddleboarding. This is also a great snorkel spot, where you can see corals, all sorts of fish, and even sea turtles. 
5. Francis Bay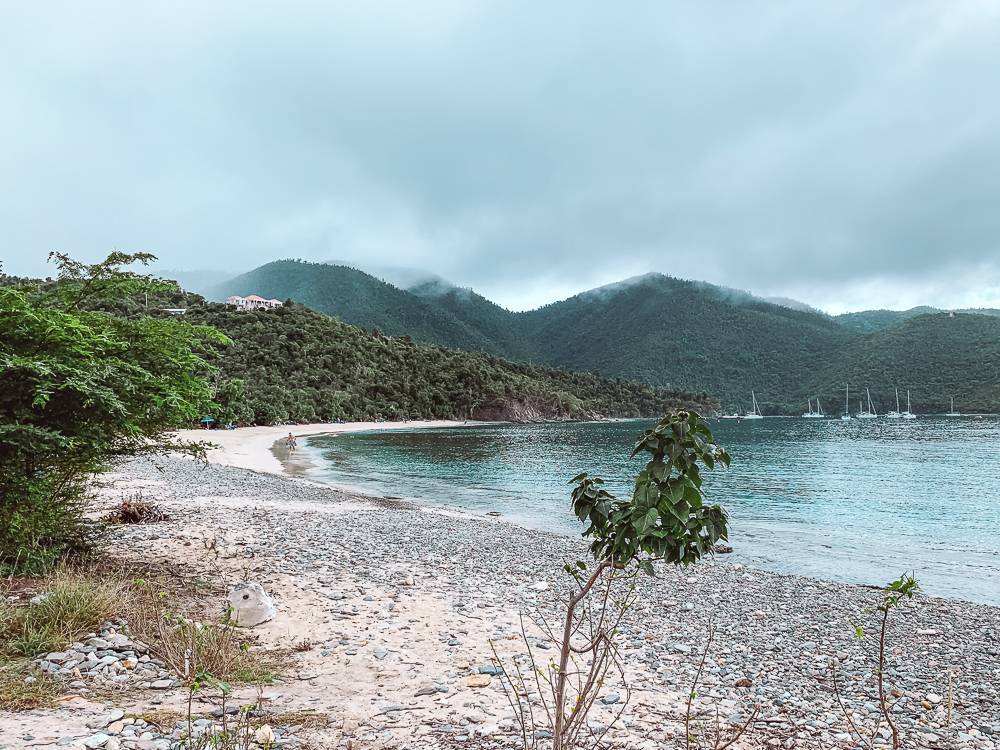 Francis Bay has been deemed by some to be "the new Maho" in recent years.  This is because, pre-Hurricane Irma, you could enjoy Maho Beach's waveless waters and sea turtles without crowds.  Since Irma, a lot of development has happened around Maho, which has turned it into more of a party scene.
Francis Bay is located on St. John's north shore, across the bay from Maho, and delivers many of the same perks. It also has calm waters and sea turtles, but without the development of Maho.  The downside is that Francis Bay faces directly into the sun all day, making it hard to find lasting shade.
Francis Bay has some parking available near the beach, or you could park at the trailhead to the Francis Bay Trail and take the quarter mile hike.  The Francis Bay Trail is relatively flat, passes an old ruin, and eventually turns into a boardwalk that passes beyond the beach along a salt pond. 
6. Brown Bay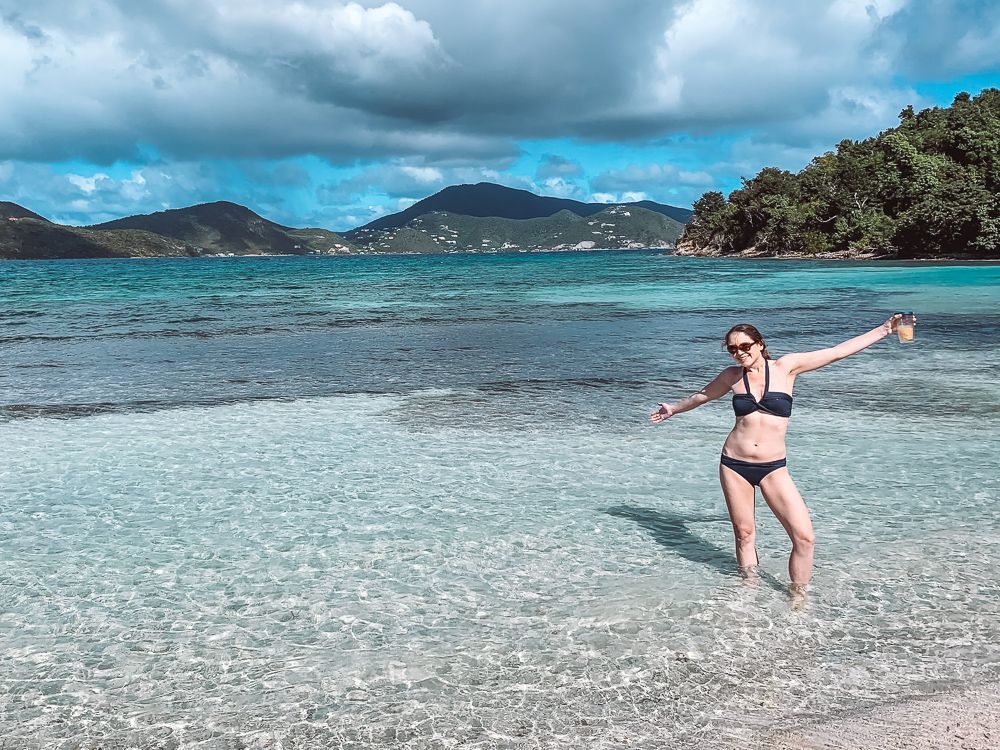 Brown Bay Beach requires hiking the Brown Bay Trail to reach it.  This trail involves climbing a hill both coming and going, which provides great views, but is tricky when carrying beach gear with you. 
However, it's worth the effort, as not many people make it out to Brown Bay.  That means you'll have your pick of shade spots on this narrow beach. From shore, there is a beautiful view of Tortola in the British Virgin Islands that beats just about any other vantage point on St. John.
Brown Bay has shallow, gentle waters, which makes it a dream for snorkeling.  Just watch your step on the way in, as there are some rocks in the water. Even inexperienced snorkelers will love the easy waters of Brown Bay, and you may get lucky and see a starfish. 
For more on St. John check out my guide!
Tips for Visiting Underrated St. John Beaches
Rent a car to more easily reach lesser visited beaches on St. John, since taxis don't travel to them as frequently. St. John Car Rental and Mr. Piper's Jeeps are both great options.
For beaches with less shade, combat those powerful rays by packing a portable beach tent in your carry-on.
Don't forget to bring reef safe sunscreen, as all other varieties have been outlawed on the island. 
Pack light! For example, rather than lugging chairs down a trail to the beach, simply sit on a towel instead.
While these beaches might have less amenities and conveniences than the more popular options on St. John, their lack of crowds is a rare gift to those seeking solitude. Plus, you are not sacrificing anything in the way of scenery, as their surroundings are just as gorgeous. Everyone should squeeze at least one of these underrated beaches into their St. John vacation schedule.
Pin me for later:
About the author: Theresa is the creator of Fueled By Wanderlust.  Although she did not start traveling until her mid-twenties due to some pesky student loan debt, with careful budgeting, she was able to pay that off and start planning trips.  Since then, she has traveled more and more each year to various places in the U.S., Europe, and the Caribbean.  You can follow along with Theresa's adventures on Instagram.
Click to read more posts about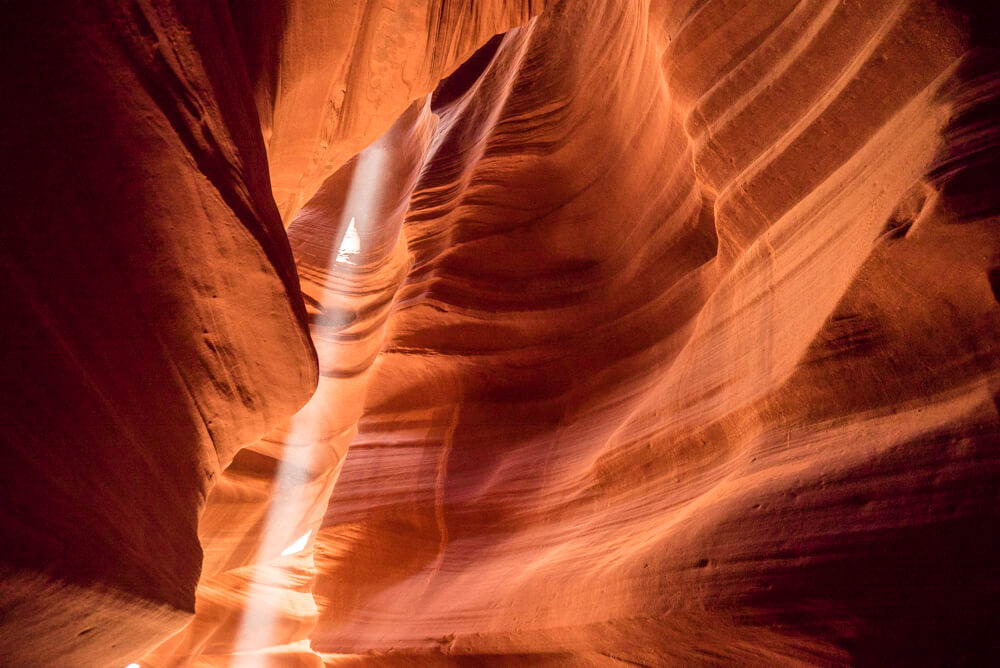 The USA