Now is the optimal time to start your August vacation planning. The August heat might have you running to the beach to cool off, or perhaps to the mountains where it's cooler. Maybe you want to get out on the road for an epic road trip or stargaze on a remote camping adventure.
Whatever it is you're looking for, we've got you covered, with some epic destinations that are perfect to visit in August:
21. Big Island, Hawai'i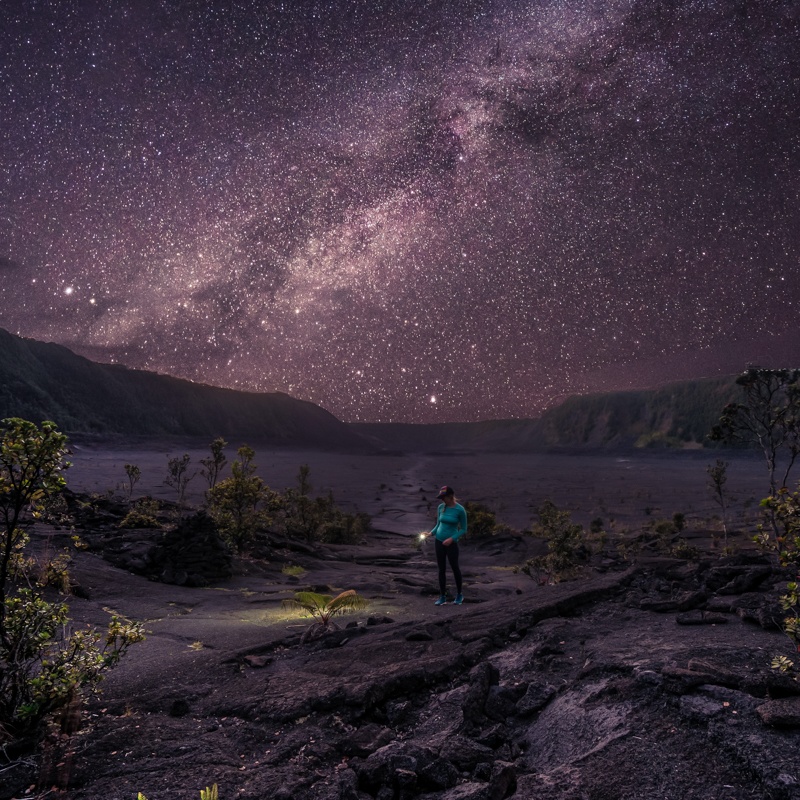 Summertime is in full swing on the Big Island (aka the Island of Hawai'i), boasting ample sunshine. As it's the the largest, most diverse, and most adventure-filled island in the state, there is a lot to do on the Big Island.
Cool off from the summer heat by snorkeling taking a dip in the ocean. The balmy August temperatures also make it a great time to enjoy an evening stroll or stargaze on the Kīlauea Iki Trail; as there's very little rain during this time of year, you're likely to catch an epic star-filled night.
While the island sees its biggest spike in tourism in the summer months, the end of August is slightly less crowded as students go back to school. That said, flights and hotels also tend to be cheaper toward the end of the month.
20. Glacier Bay National Park, Alaska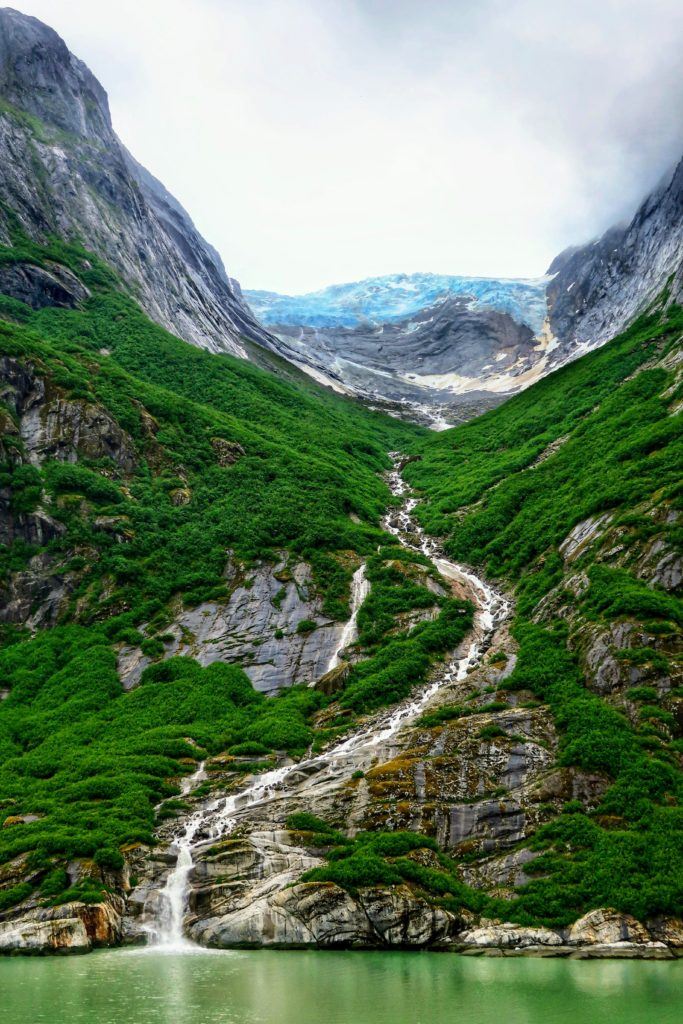 Considered the highlight of Alaska's Inside Passage, Glacier Bay National Park is one of the most beautiful places in Alaska. While the park gets its name from its stunning glaciers, it is also home a million of acres of mountains, temperate rainforest, and coastline. It is quite remote, making it ideal for adventurous travelers. In fact, you can only reach it by boat or plane!
August's warmer temperatures attract a swarm of visitors each year, but not as many as June and July. As the rainy season start up again in September, aim to visit at the beginning of August if you want to avoid the downpours as much as possible. Keep an eye on the weather while planning your trip, but also come prepared for anything! There is both lodging and camping available once you get there, so you have the option of being as rugged as you please.
19. Olympia, Washington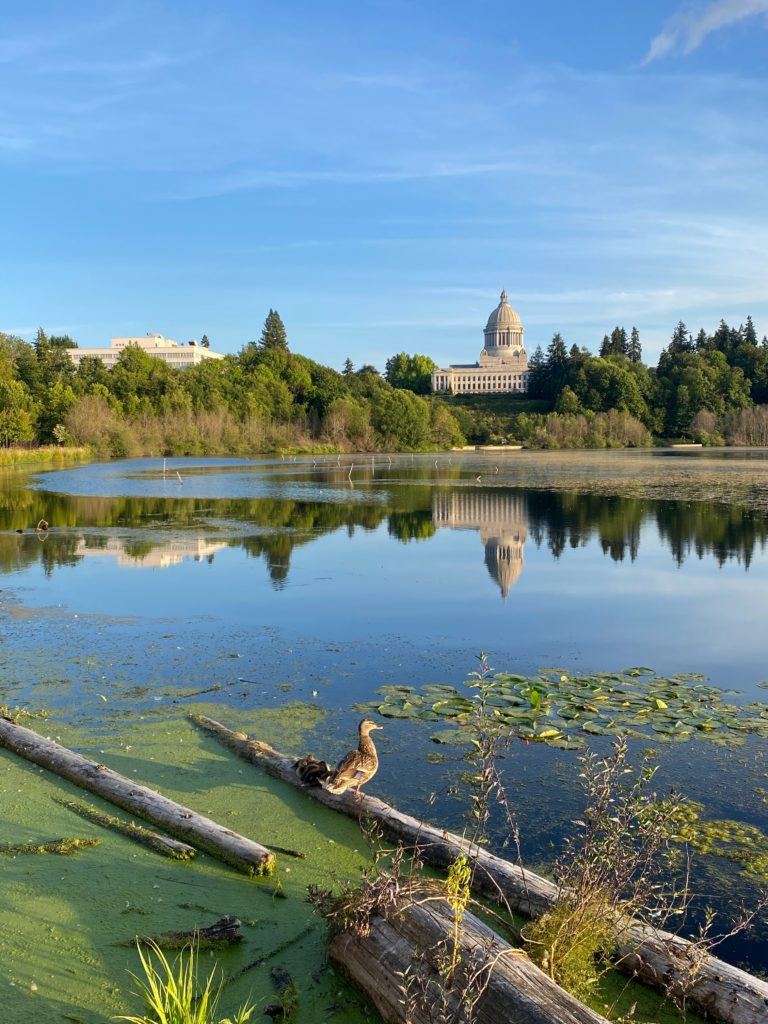 Sitting alongside the pristine waters of the Puget Sound, this quaint Pacific Northwest city is a superb end-of-summer getaway. Olympia is known for its legendary farmers' market, the second largest in the state, right after Pike Place Market in Seattle (just over an hour north). There you'll find the best handmade and locally sourced goods, which you can buy directly from their source.
Olympia is a hub for art and culture, with numerous galleries, music venues, and museums to enjoy. Beyond that, its location makes it a fine launching point for all kinds of outdoors adventures because of its proximity to the coast, national and state parks, and lush forests.
August is a great time to visit Olympia because it's the warmest month of the year there. Even so, temperatures are rarely higher than mid-80s, tending to stay around 78 degrees. Since it also tends to be drier, it's a great time to get out and explore in nature on the many biking and hiking trails nearby. August is toward the end of the tourist high season as well, so you won't find the same crowds as June and July bring.
18. Half Moon Bay, California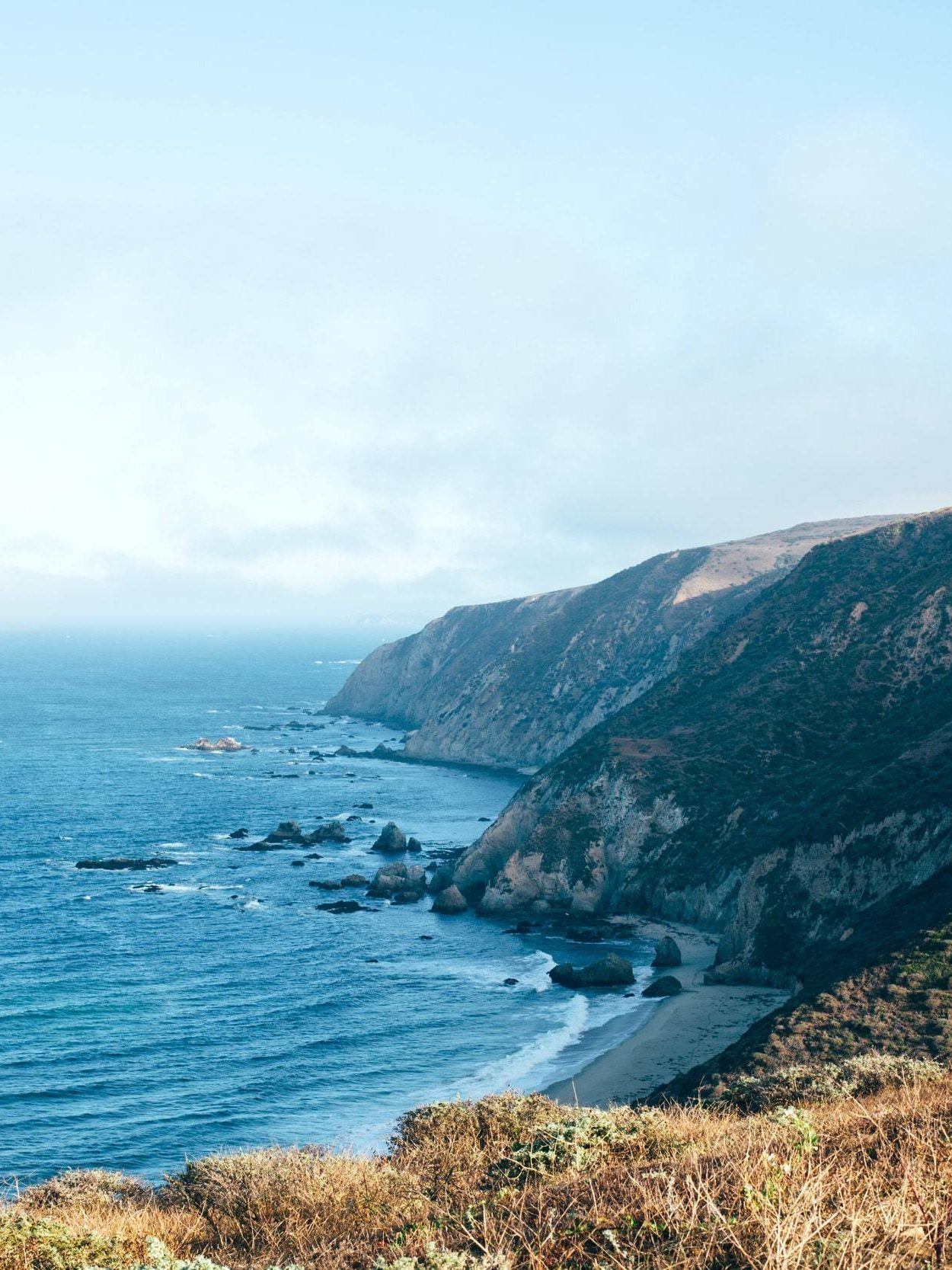 This cozy coastal town is a precious place to visit any time of the year, but especially in the summertime. It's a bit off the beaten path and is surrounded by rolling hills and farms, which means some incredible local produce is available year round. In fact, the town has a few ecotourism initiatives that involve visiting nearby farms and taking behind-the-scenes tours.
With temperatures at their highest in Half Moon Bay in August, it's just the right time to hit up one of the many beaches nearby. Half Moon Bay State Beach is four miles of coastline and includes Roosevelt Beach, Dunes Beach, Venice Beach, and Francis Beach. Each is an awesome spot to sunbathe, surf, picnic, and birdwatch!
17. San Diego, California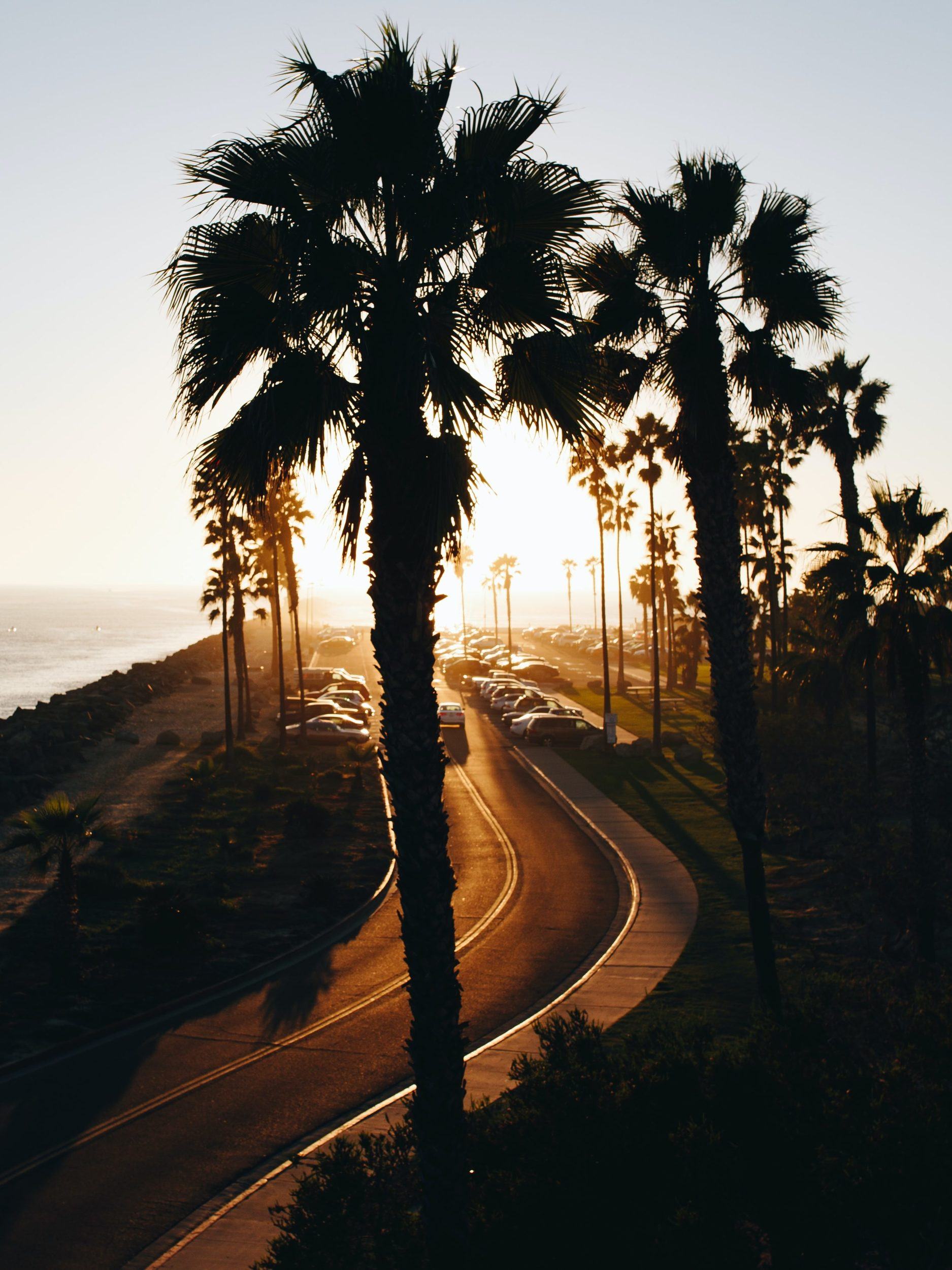 This beachy California city may be hot in the summer, but August is still a great time to visit. When kids go back to school in early August or mid-month, the beach crowds dissipate substantially. Take advantage of the famous Southern Cali sunshine by grabbing your boogie board and a picnic and spending the day at famous La Jolla Shores Beach or Pacific Beach.
San Diego is bursting with fun things to do, including a visit to the San Diego Zoo or catching a Padres baseball game. The Japanese Friendship Garden is a unique place to check out when you take a stroll in Balboa Park; there you can learn about Japanese culture and admire the beauty of unique plants.
Since August is a popular time to visit San Diego, make sure to book your accommodation months ahead of time to avoid an increase in prices closer to your travel date. The sweet spot for cheaper lodging is from mid-August until Labor Day Weekend, when prices go back up.
16. Petrified Forest National Park, Arizona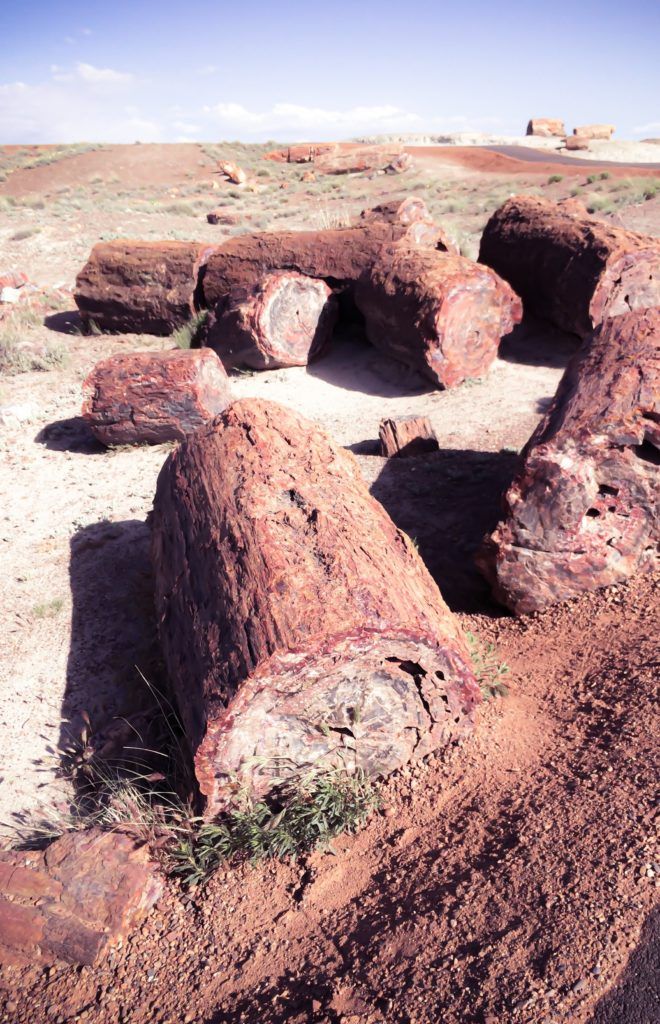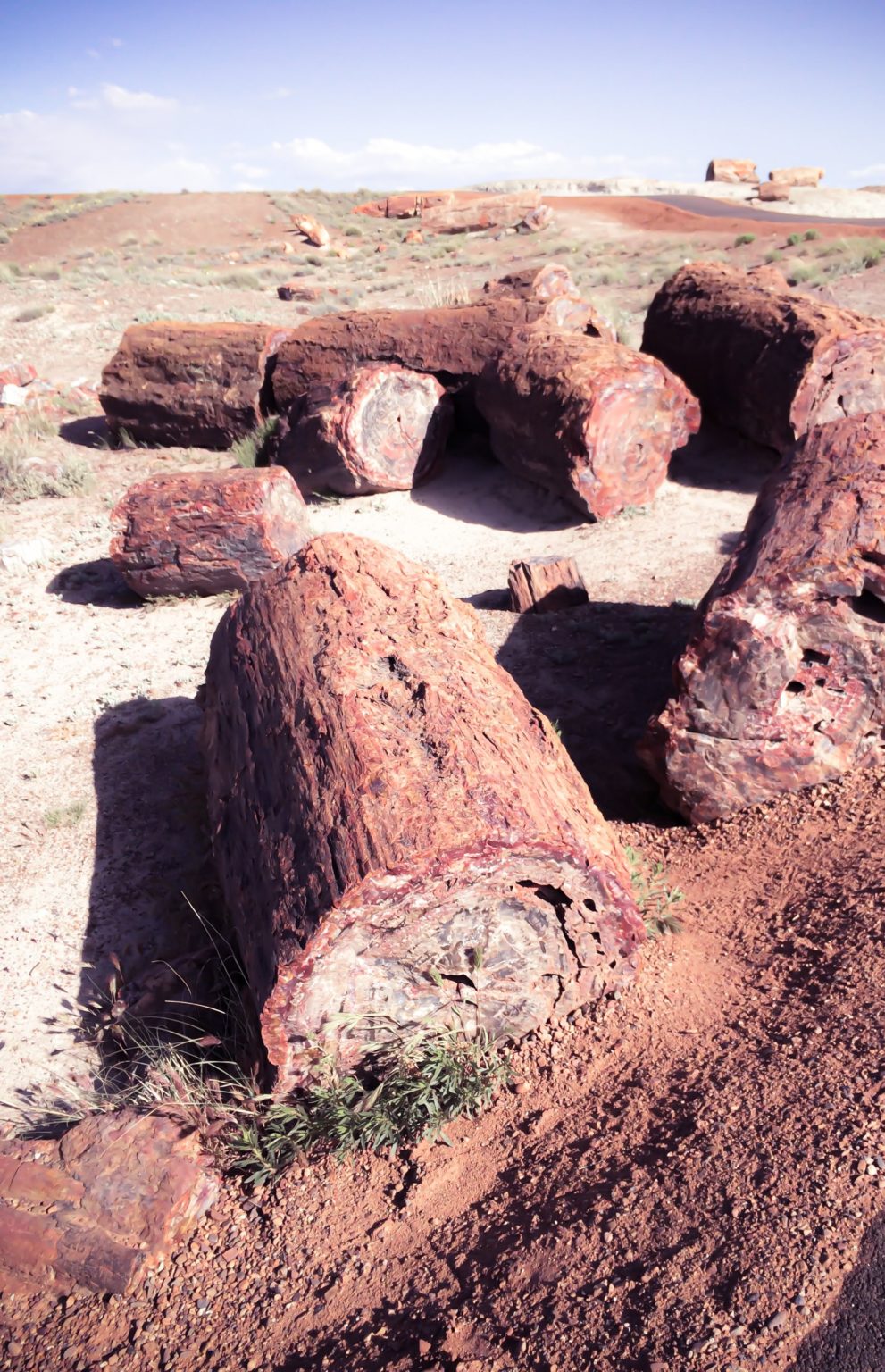 Petrified Forest National Park might be one of the most unexpected places to find on a list of where to go in August. After all, the heat there is quite intense in the Arizona desert. But if that doesn't dissuade you, a visit to this natural wonder is a treat.
The park is named for its petrified logs, which have unexpectedly bright and vibrant colors and are a joy to see for all my science nerds out there. In addition, there is also a lot of human history to uncover, such as Puerco Pueblo, an 800-year-old dwelling with prehistoric pottery fossils and other artifacts.
A second round of desert blooms happens in the desert in August, which is why this month is such an ideal time to visit. The blooms are best if there has been a lot of rain in June and July, and they tend to yield different species than the spring months, meaning a completely different colored landscape this time of year.
15. Priest Lake, Idaho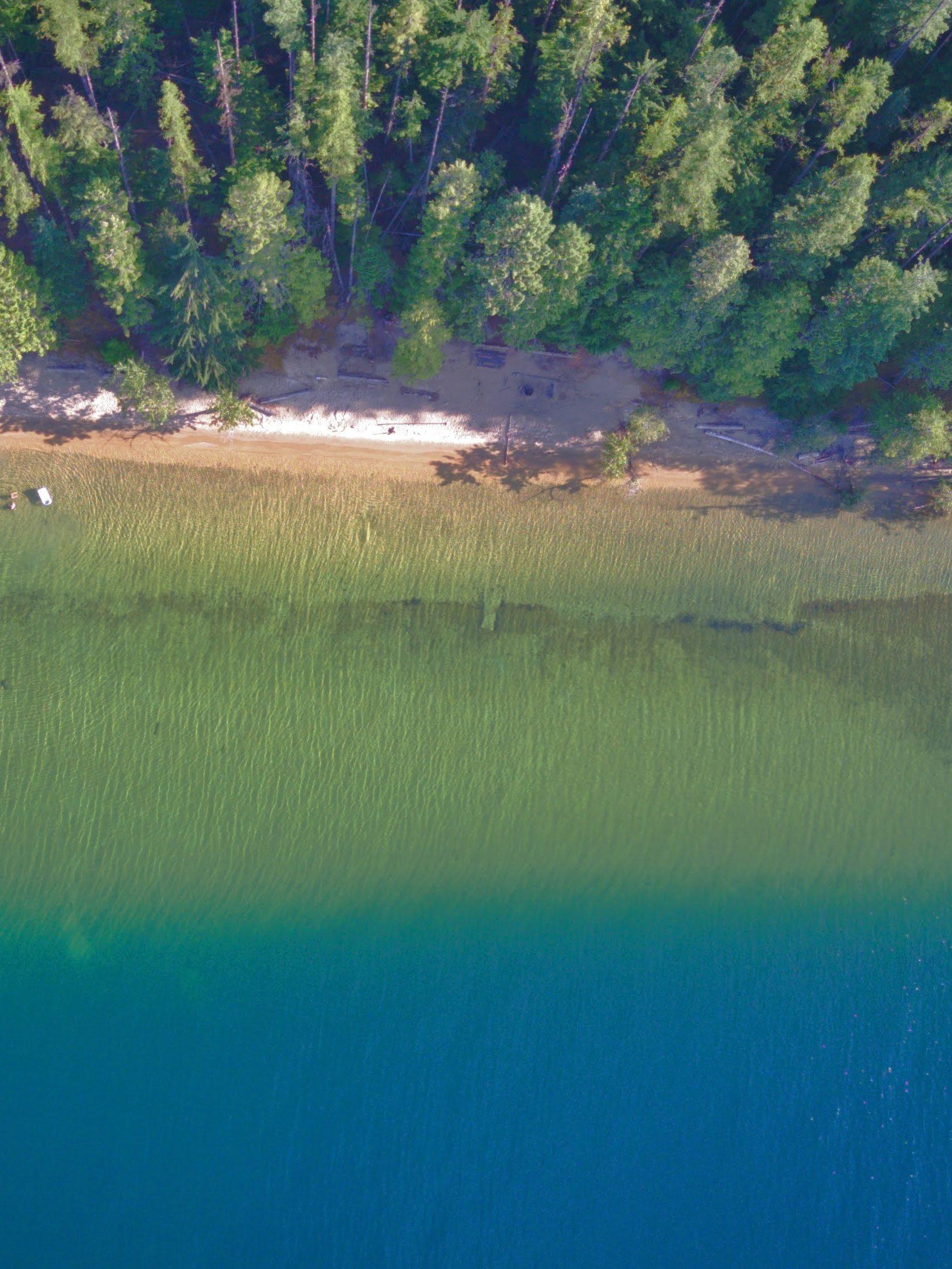 Idaho summers are severely underrated, if you ask me. In this part of the state, they tend to be warm and dry, if short. This makes August the best time to fully enjoy the water and get out for a hike in the forest.
Priest Lake covers 23,000 acres and is nestled in the rugged Selkirk Mountains. Check out Priest Lake State Park, located on the east side. There you'll find plenty of opportunities to hike along mountain trails, swim in the lake, kayak, and so much more.
At Priest Lake, you can choose how off-the-grid you want to be. There are several small towns with resorts if you want to be more connected, but you can also camp around the lake or in the state park.
14. Glacier National Park, Montana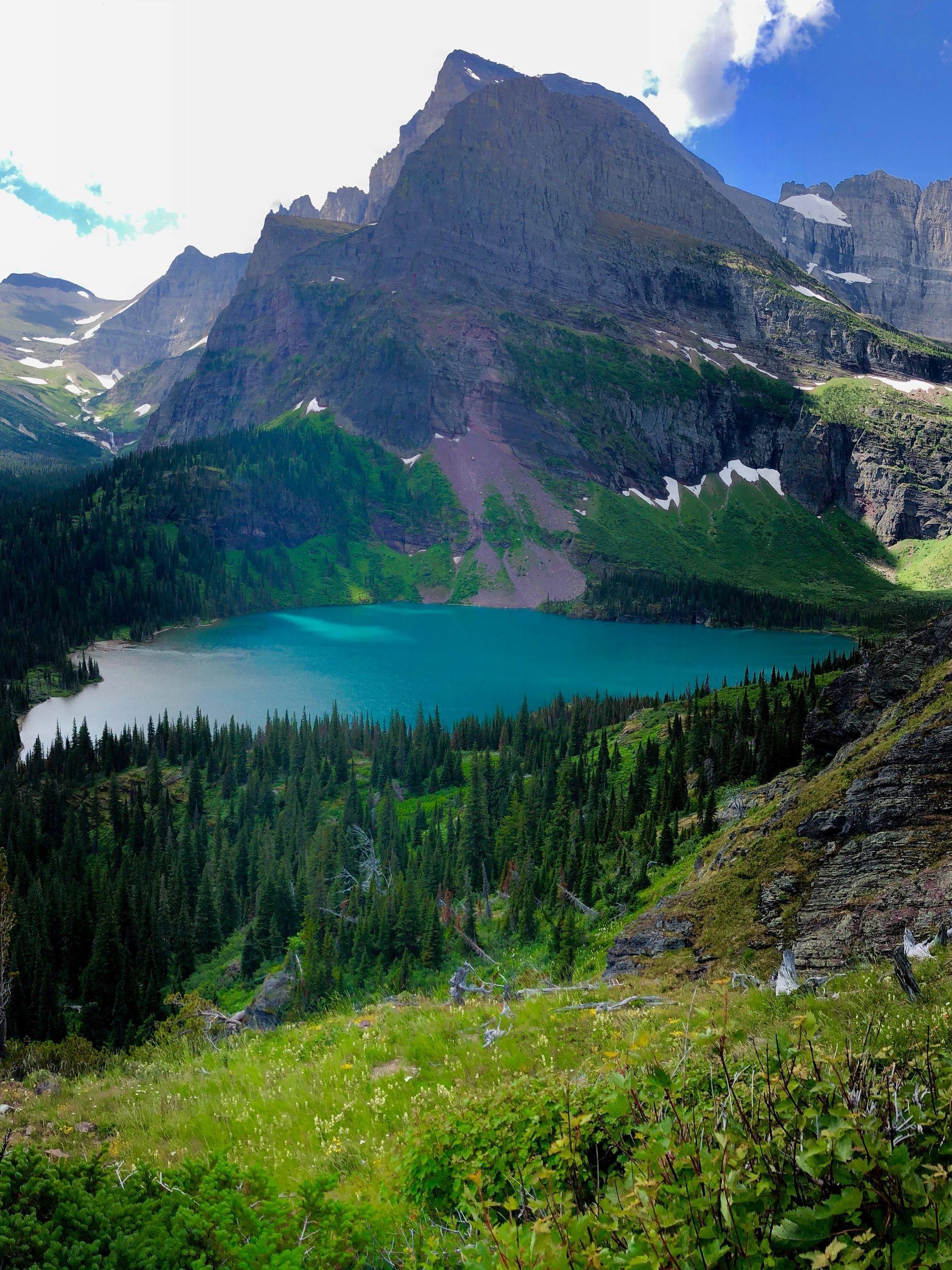 Not to be confused with previously mentioned Glacier Bay National Park, this Montana treasure is another fantastic wilderness to visit in August. The park is full of forests, mountains, meadows, pristine lakes, and wildlife. It's ideal for any outdoorsy traveler who wants to connect with Mother Earth by wilderness camping, hiking, mountain biking, or kayaking on the lakes, which are just a few of the many things to do at the park.
August is the best time to visit this national treasure, as all the ice and snow on the trails will be completely melted by then. Sure, this makes it one of the most popular months to visit, and you will see many other visitors there, but the park has lots of wilderness for everyone to enjoy, and the further out into the backcountry you get, the fewer people you will see.
A complete August itinerary will take you to some of the park's best features: Sun Road, Granite Park Chalet, and the Continental Divide!
13. Park City, Utah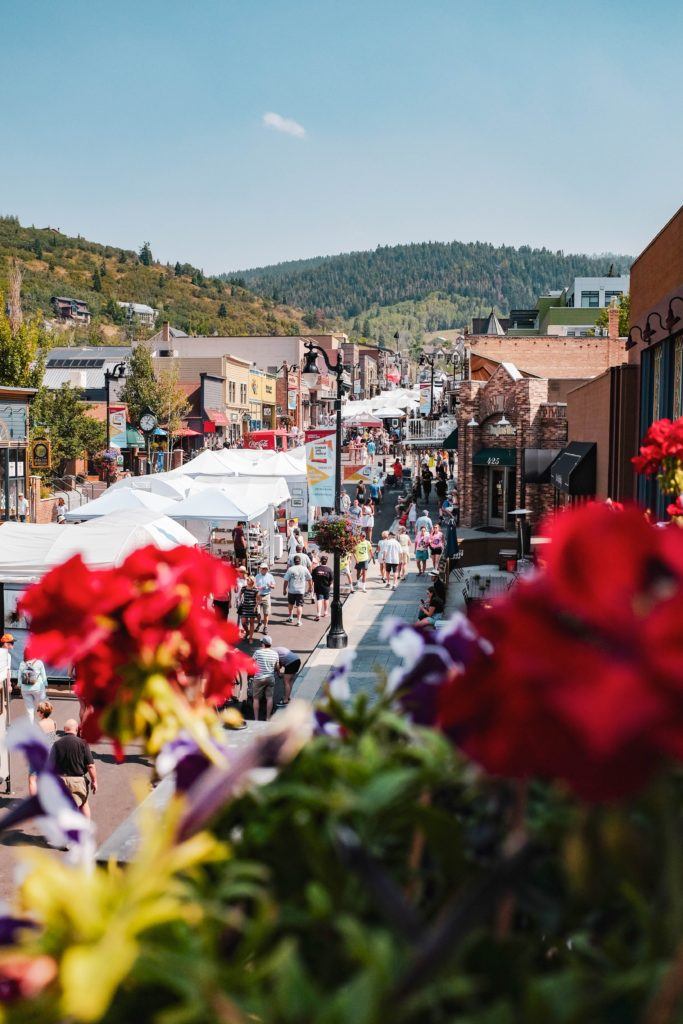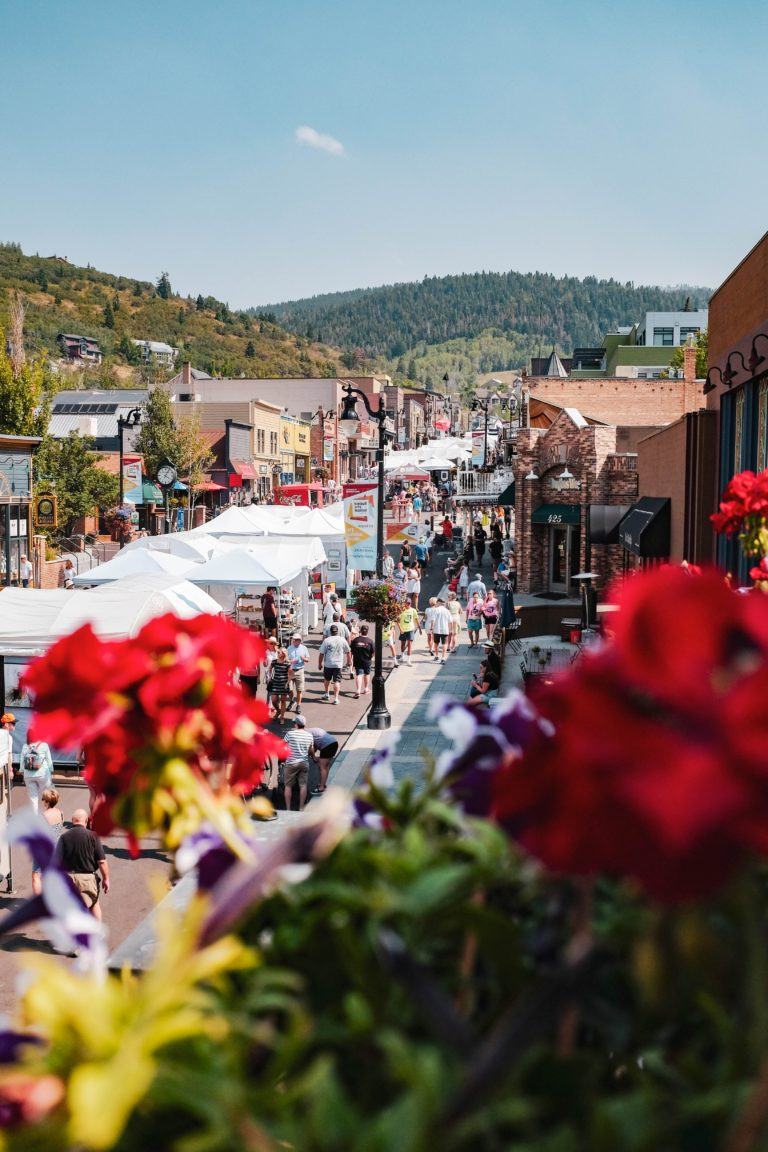 Anybody else think that ski towns are actually the best in the summer? Park City is one of those that attracts its largest crowds in the wintertime, when the slopes are in their full glory. However, there are many epic things to do in there during the off-season, especially in August.
Being nestled in the gorgeous mountains of Utah, this cozy town has some great views. Want to see it from above? You can take a hot air balloon ride for a bird's eye view. Given the plethora of lakes nearby, there are also water activities, such as stand-up paddleboarding an fly-fishing.
The city also hosts a free summer concert series on Wednesday nights at the Deer Valley Resort Amphitheater. There you can bring a picnic and enjoy the mild August temperatures that make this winter wonderland equally as enjoyable in the summertime.
12. Boulder, Colorado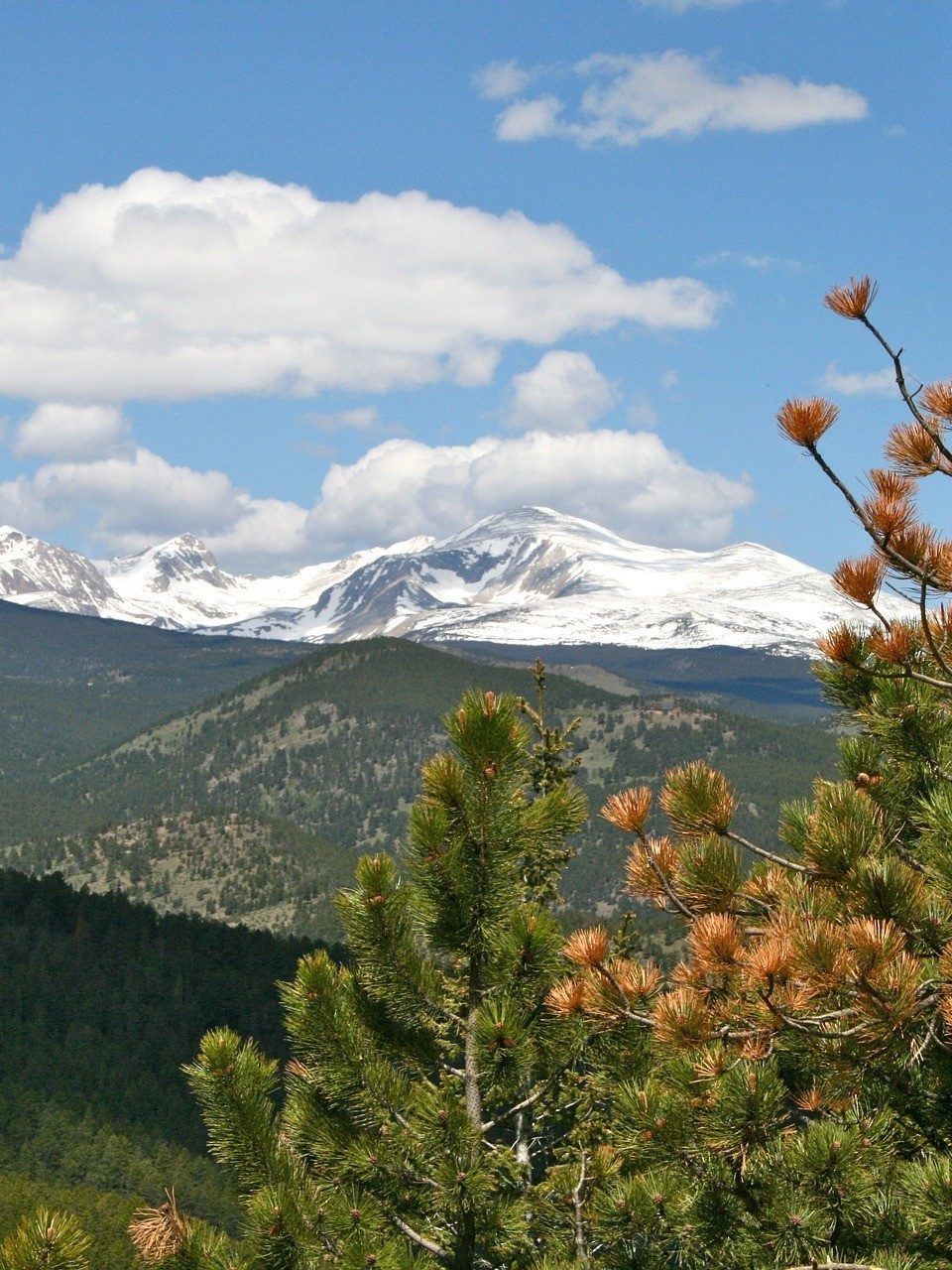 August is one of the most exciting times to visit Boulder, as it hosts its best festivals during this month. Bands on the Bricks is a live concert series that has everything from reggae to rock and runs from late July through mid-August. The Colorado Shakespeare Festival also runs through mid-August, and craft beer lovers can enjoy local brews at the Boulder Craft Beer Fest (which will be back in 2022).
Beyond all the fun events, Boulder is a fantastic place to explore the outdoors. Given the mountains surrounding it on all sides, there are numerous trails to hike. Try the famous Royal Arch Trail for a bit of a challenge, or an easier hike at Enchanted Mesa.
11. Beavers Bend State Park, Oklahoma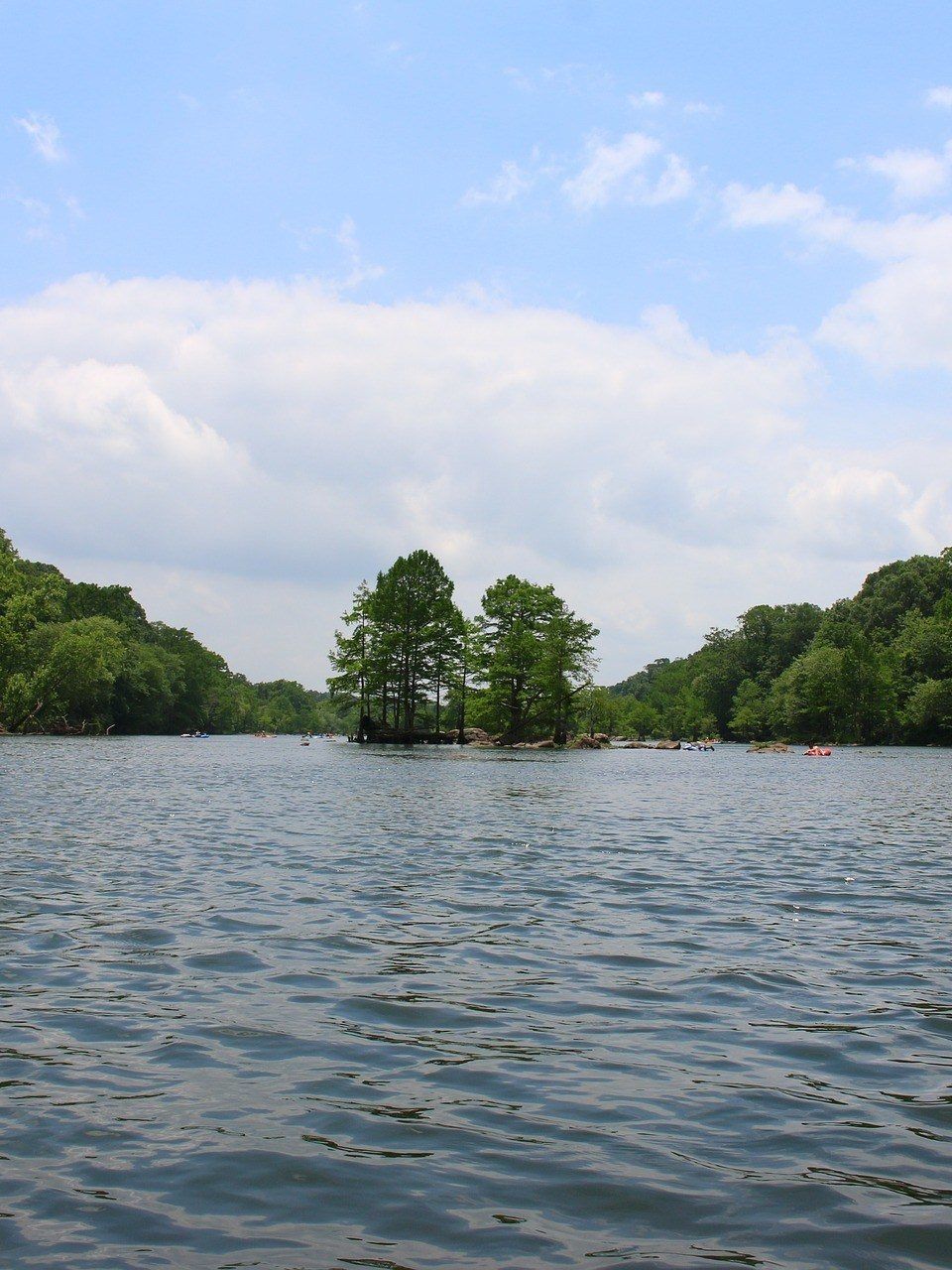 Beavers Bend State Park is one of the most popular tourist spots in Oklahoma, and for good reason. There is so much to do there in the summertime, including canoeing, horseback riding, hiking, biking, waterskiing, and so much more.
Located along Broken Bow Lake and Mountain Fork River, this gorgeous, nature-filled mountainous area is the perfect place to find solitude and relaxation. In its ample cabins and campsites, you can fully immerse yourself in the ambiance of the Oklahoma wilderness. August brings steamy temperatures, however, which will give you plenty of reason to take a dip in the lake or river, so come prepared to swim!
10. Mackinac Island, Michigan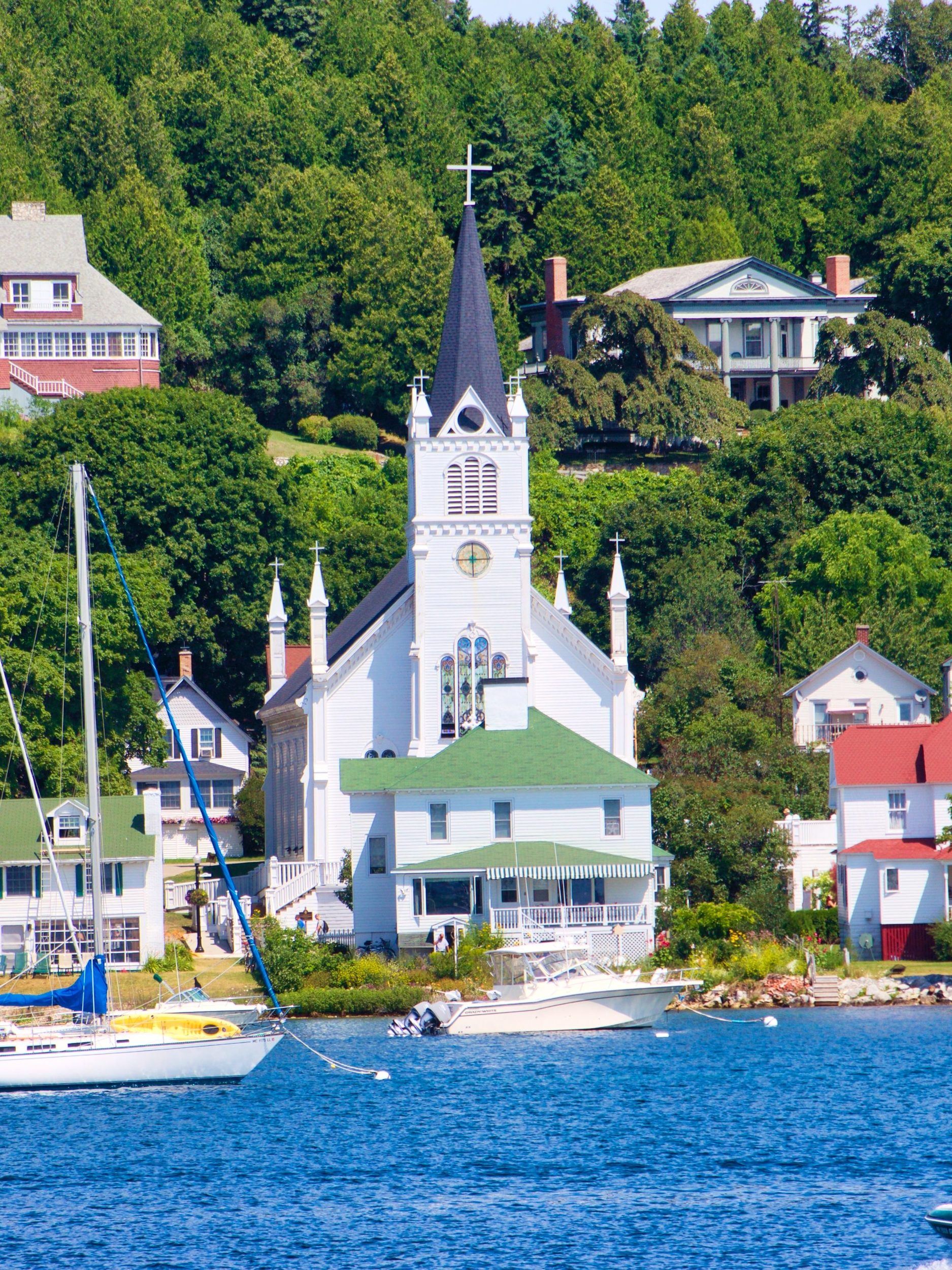 This quaint Midwestern island is the perfect spot to relax and recharge. It's sure to capture your heart and have you coming back for years to come.
Regardless of its popularity, it doesn't have a single chain hotel, and there are no cars on the island. Most people get around by bike; there are plenty of places where you can rent one. After all, you'll have to leave your car at either Mackinaw City or St. Ignace, where you can take a ferry to Mackinac (pronounced Mackinaw) Island.
Summertime offers an abundance of opportunities to explore the area via boat, horse-drawn carriage, or bike, or on foot. August has excellent weather for dining along the lake and listening to live music, with the highest temps only reaching the mid 70s or 80 degrees.
9. Door County, Wisconsin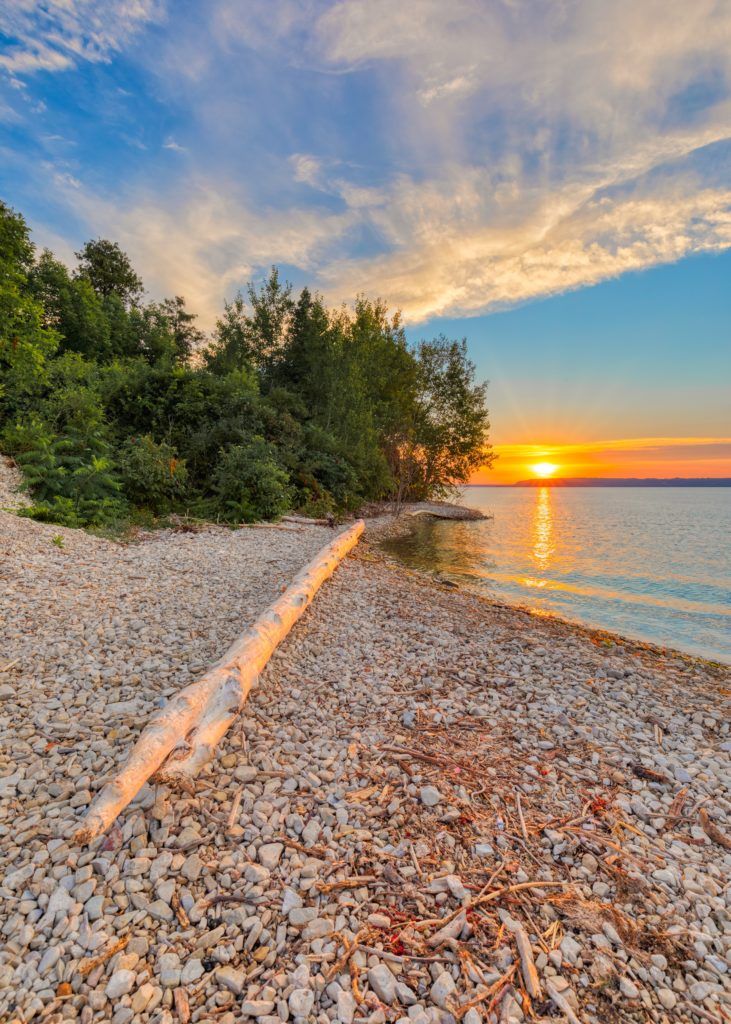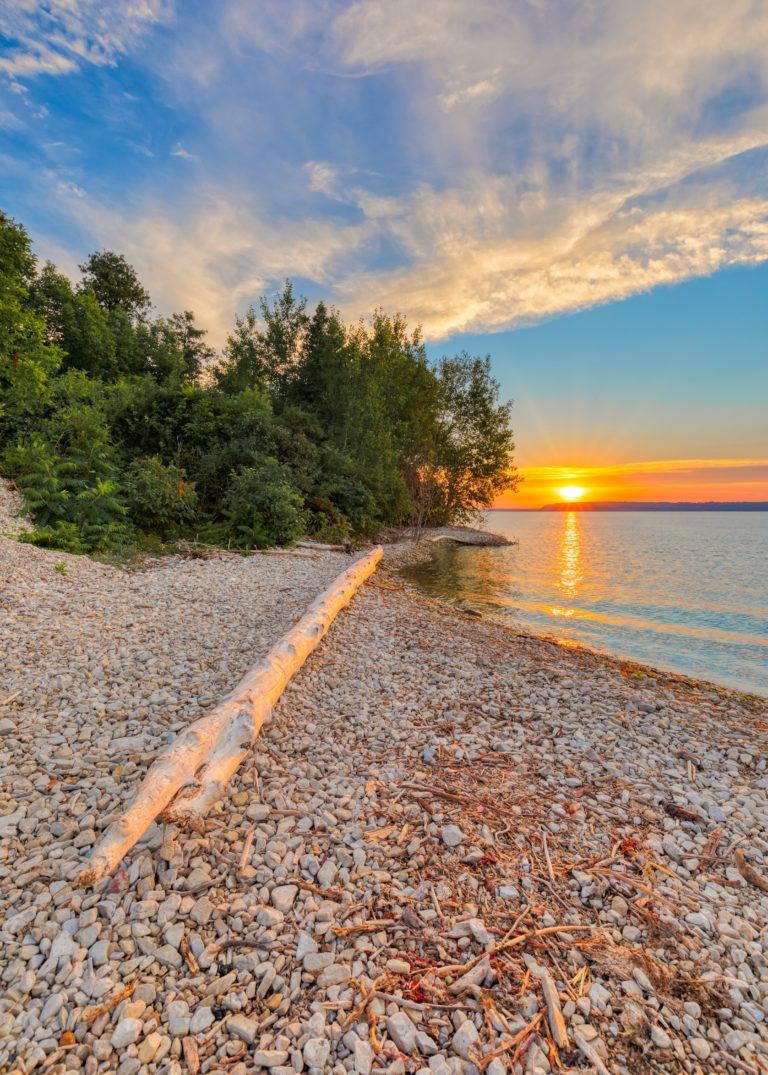 Door County in Wisconsin, with over 300 miles of shoreline on Lake Michigan, is an ideal summertime destination. Several shipwreck sites and lighthouses are scattered through the peninsula and the islands. A number of small lakeside towns also make for a great road trip.
The entire area has a rich history dating back to the Belgian and Scandinavian settlers who made their home there, which is evident in the architecture on nearly every corner in the county.
Summer temperatures and sunshine make August a great time to head to this Midwestern gem. You'll find many live music events, including bluegrass shows from local bands. August is also prime cherry season in Door County; you can go picking at one of the many orchards in the area.
8. Cuyahoga Valley National Park, Ohio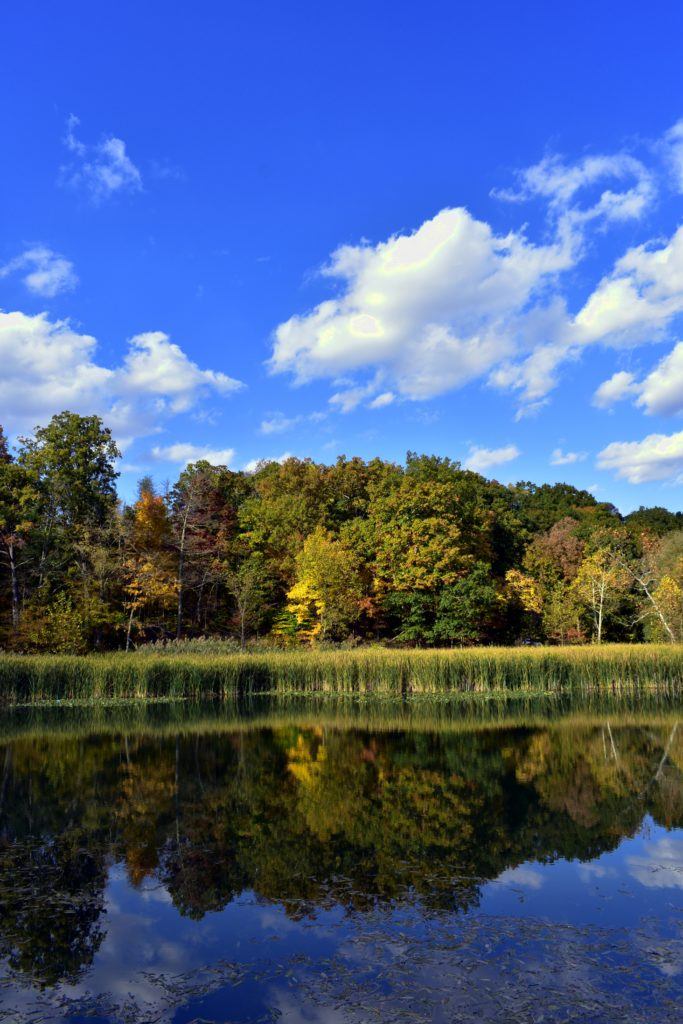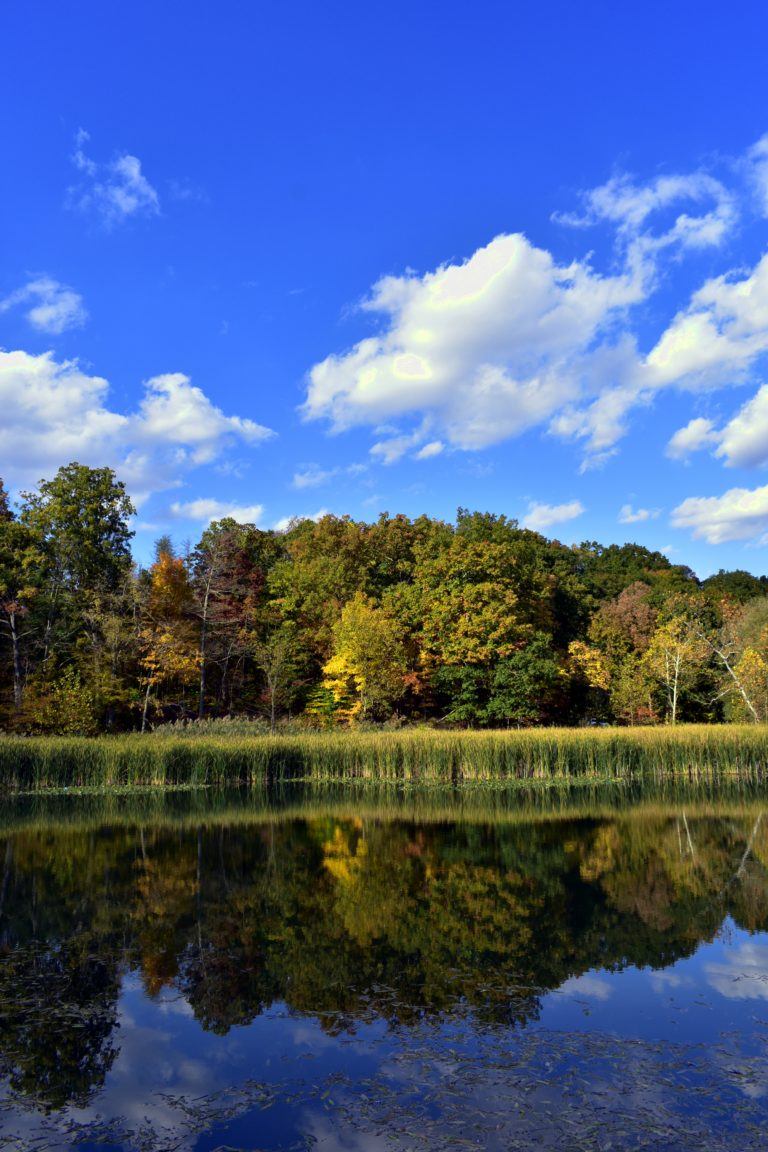 Located just a short drive away from either Cleveland or Akron, this gorgeous national park feels worlds away from the cities nearby. Its namesake Cuyahoga River runs through the park's forests, hills, and farms. The highlight of the park is the scenic railroad that runs through it: the Cuyahoga Valley Scenic Railroad is fun to ride during the day for some incredible nature views, but it also has a cool nighttime option, which includes dinner and an event on Friday nights.
The warm weather in the Cuyahoga Valley makes it a great place to enjoy the outdoors during the month of August. Take in the mist coming off of Brandywine Falls to cool off while on your hike, or paddle along the river in a canoe or kayak before picnicking in the forest. Sounds like paradise to me!
7. Memphis, Tennessee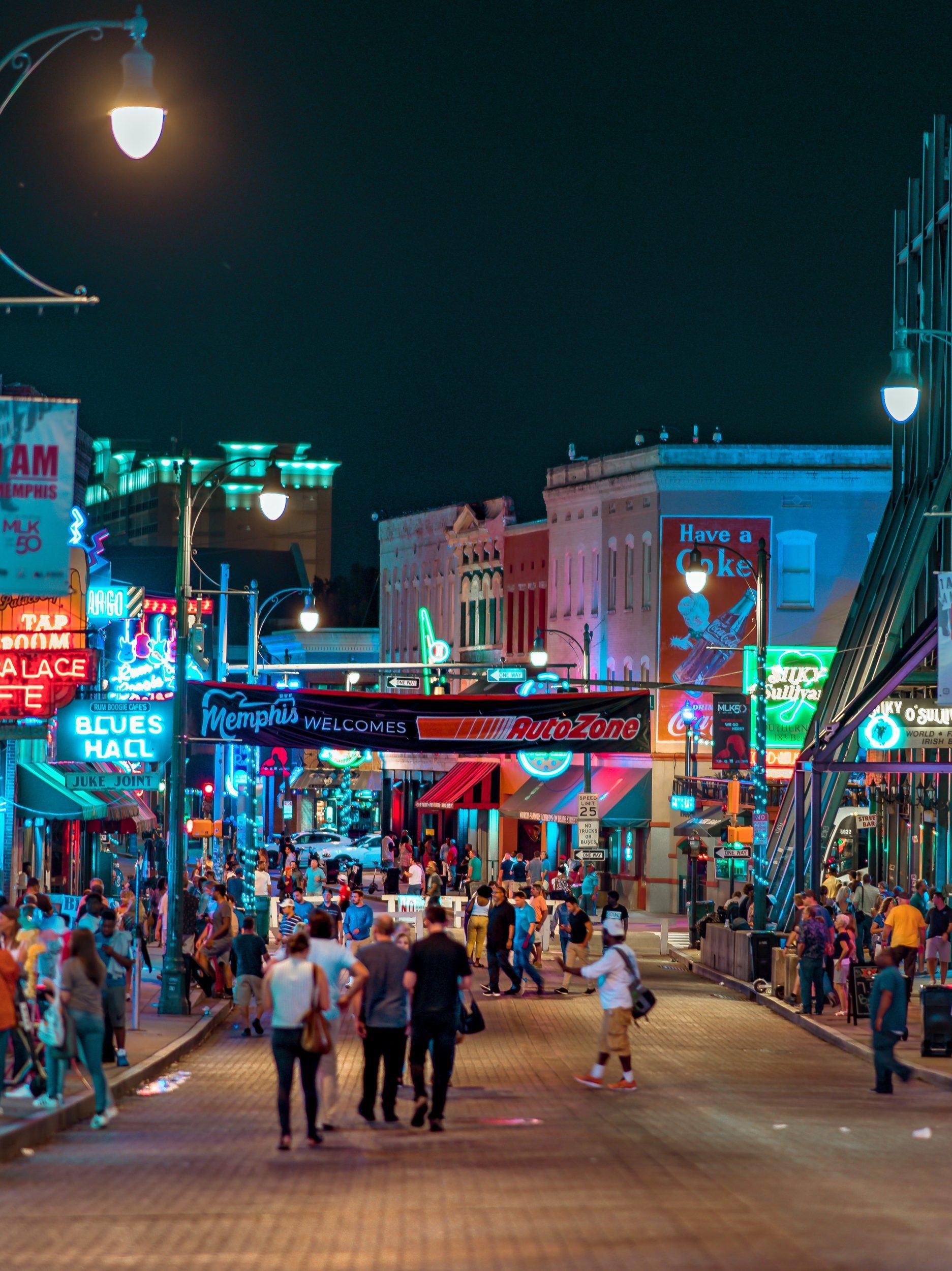 Famous for its BBQ and music scene, Memphis is a great summer destination. August is a great time to hit up the Cooper-Young Community Farmers Market or the Memphis Farmers Market downtown. The sticky heat isn't so bad when you have so many awesome things to do, like checking out the Blues Hall of Fame or the picturesque Memphis Botanical Garden.
Summer is also prime time for music events, such as the Nighttime Jazz Brunch every Sunday night, or Elvis Week, which happens every August. I can't think of a better way to enjoy a night out than jamming to some jazz or Elvis while munching on some famous Memphis BBQ.
6. Kiawah Island, South Carolina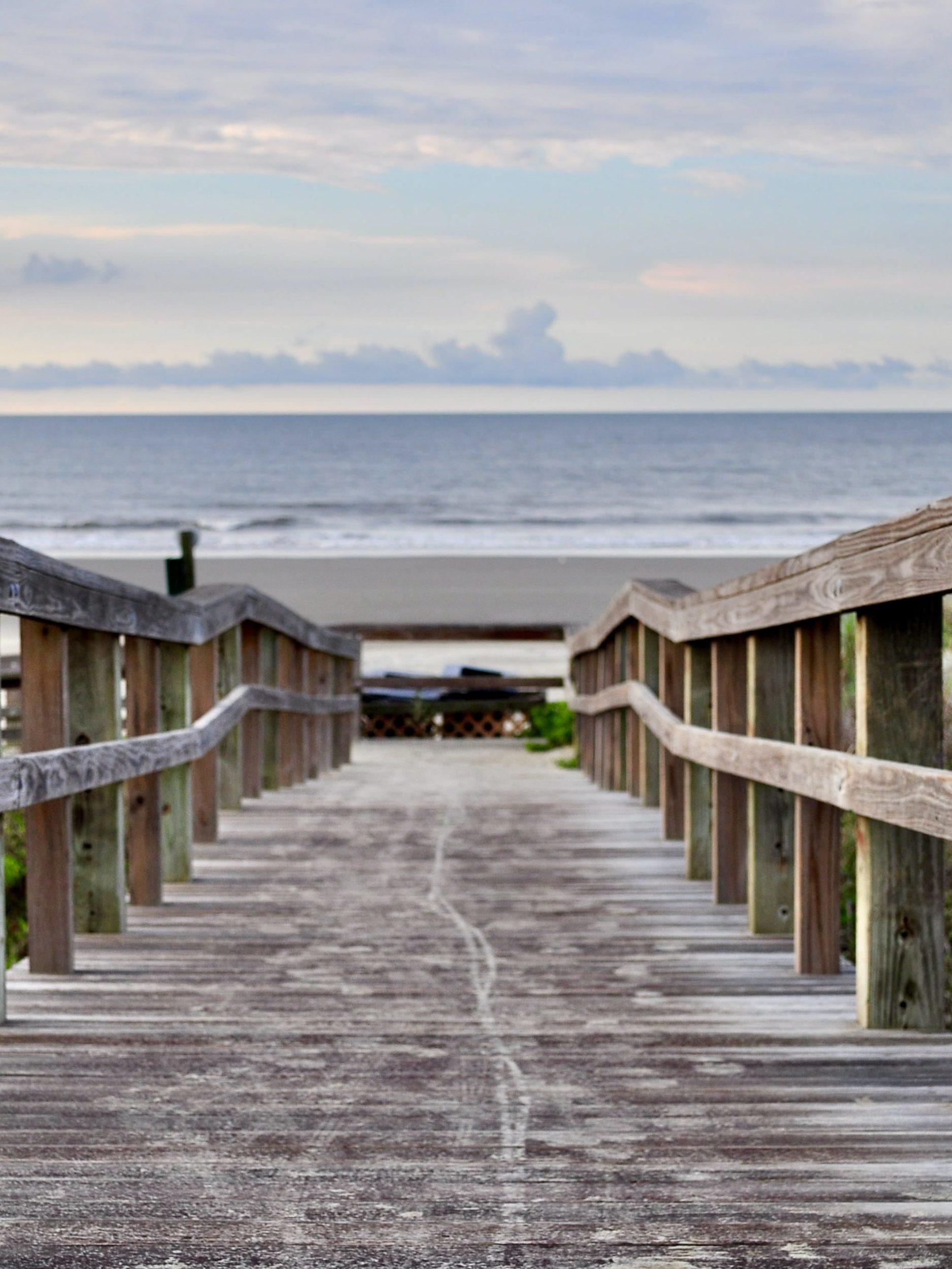 If you want to get away to a beach this August but don't want to deal with crowds and overhyped resorts, Kiawah Island is the place for you.
This small island off the coast of South Carolina prides itself on having some of the most untouched beaches, where you can truly feel connected to the beauty of the sea. Rent a kayak or a stand-up paddleboard and explore. You might even find some dolphins or sea turtles swimming below you! Kiawah also boasts pristine maritime forests, sand dunes, marshes, and plentiful wildlife!
The island is busiest in the spring and early summer, but if you don't mind the higher August temperatures, you'll enjoy a short dip in the number of tourists.
5. Northern Neck, Virginia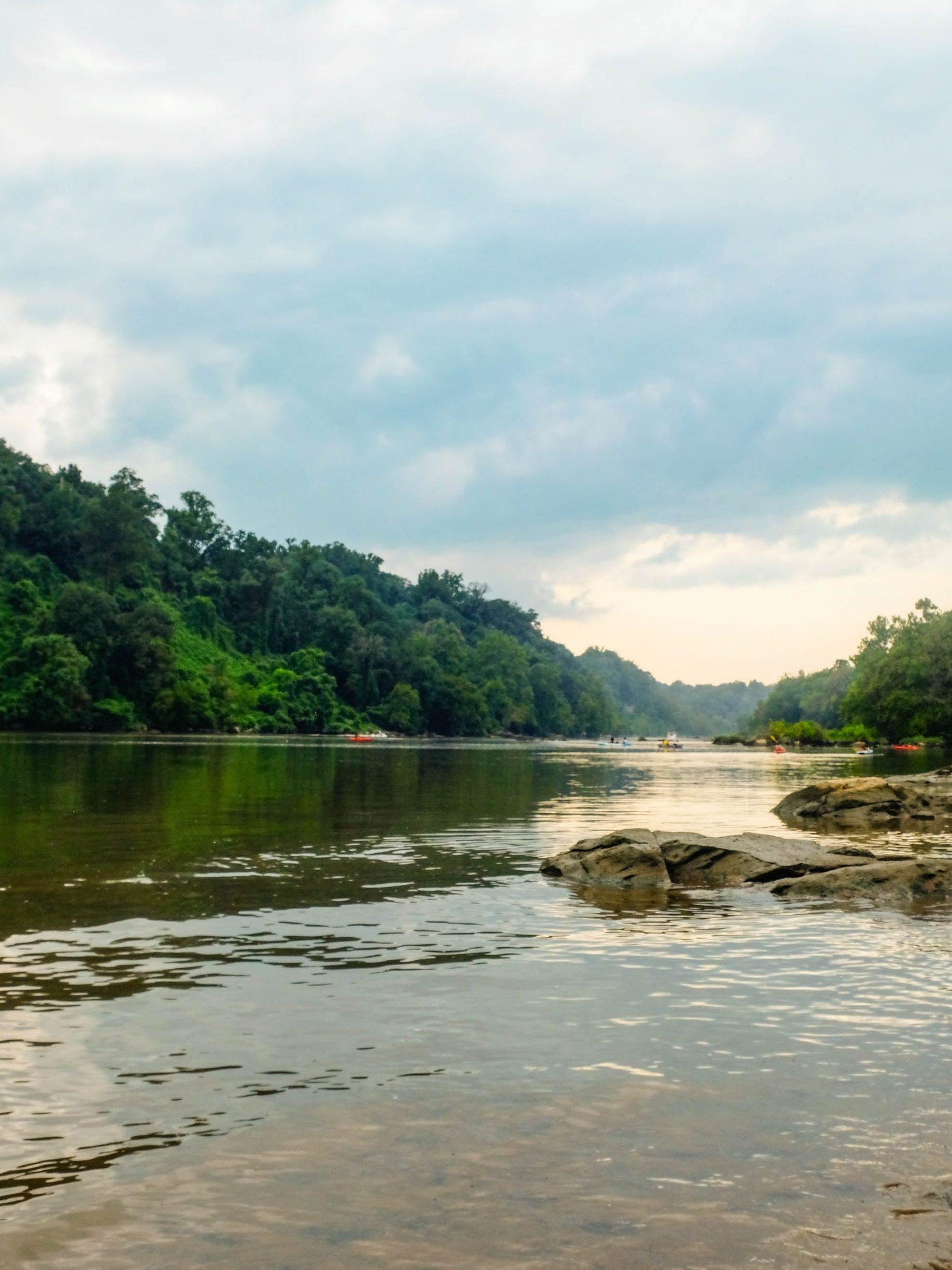 The Northern Neck of Virginia is the area where the Potomac and Rappahannock Rivers meet the Chesapeake Bay. This region is known as the "road less traveled," because it is sparsely inhabited and has plenty of untouched nature to enjoy. It makes for a great slow-paced road trip, as there are numerous towns and historic landmarks to visit. The area is also home to many parks and nature trails for wandering even further off the beaten path.
If you get as excited about antiques as I do, there is a wealth of shops to check out. Due to the rich history of the area, you're sure to find many treasures.
Summertime is a splendid season to visit the Northern Neck because of how lush and green it is. August is especially bright and vibrant, but does mean higher temperatures and humidity. For that reason, being close to the bay and the rivers is ideal!
4. Watch Hill, Rhode Island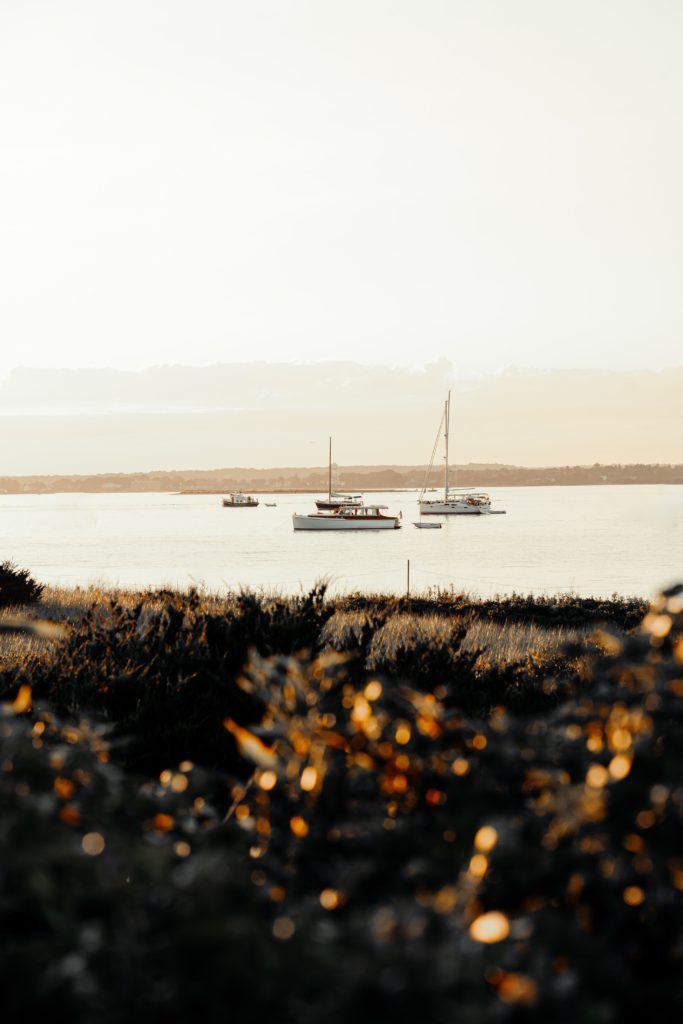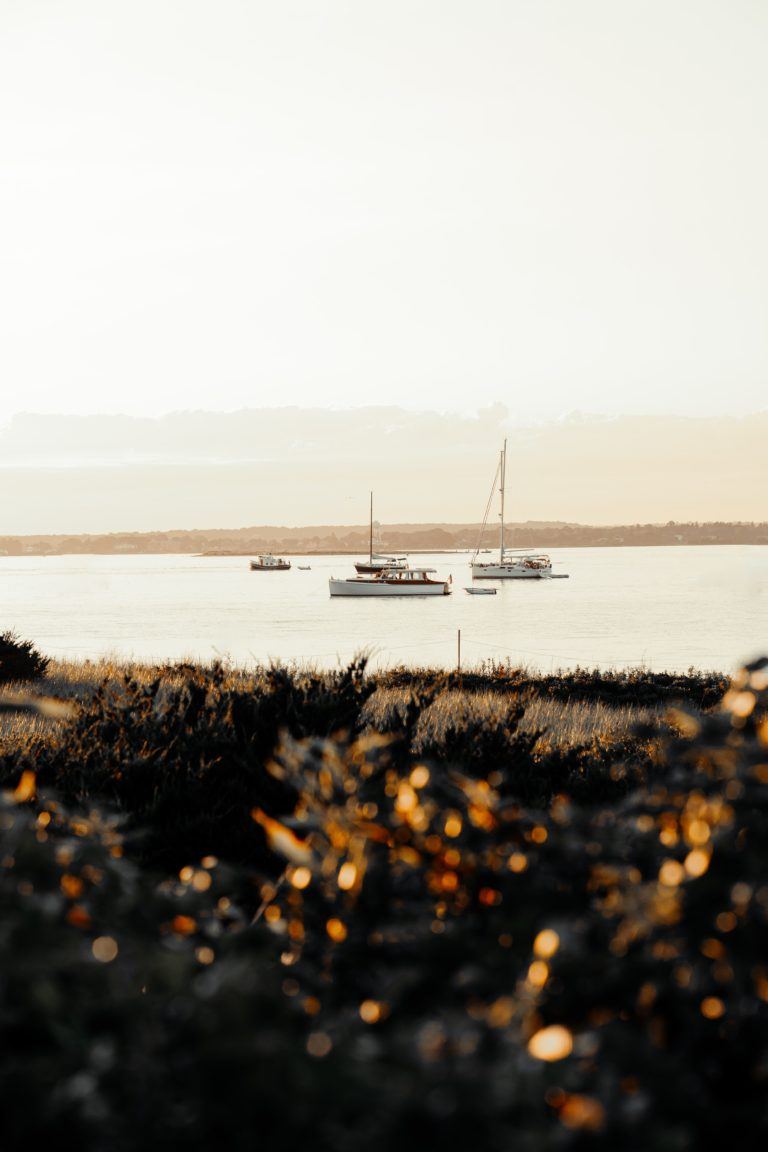 This small Rhode Island community is perfect for any traveler that wants the charm and luxury of the Hamptons in the summertime, but without the crowds. Part of the larger town of Westerly, Watch Hill is known for its remodeled historic New England homes and calm, beachy atmosphere.
Hike to Napatree Point for some stunning views and perhaps a wildlife sighting or two; it is also a popular spot for birdwatchers. There are several miles of beach to walk along, much of it relatively untouched, unlike many of the other overcrowded beaches on the East Coast.
Here you'll also find the oldest continuously operating carousel in the United States, Flying Horse Carousel. This neat landmark is a testament to the town's commitment to preserving its history and culture.
3. Cape May, New Jersey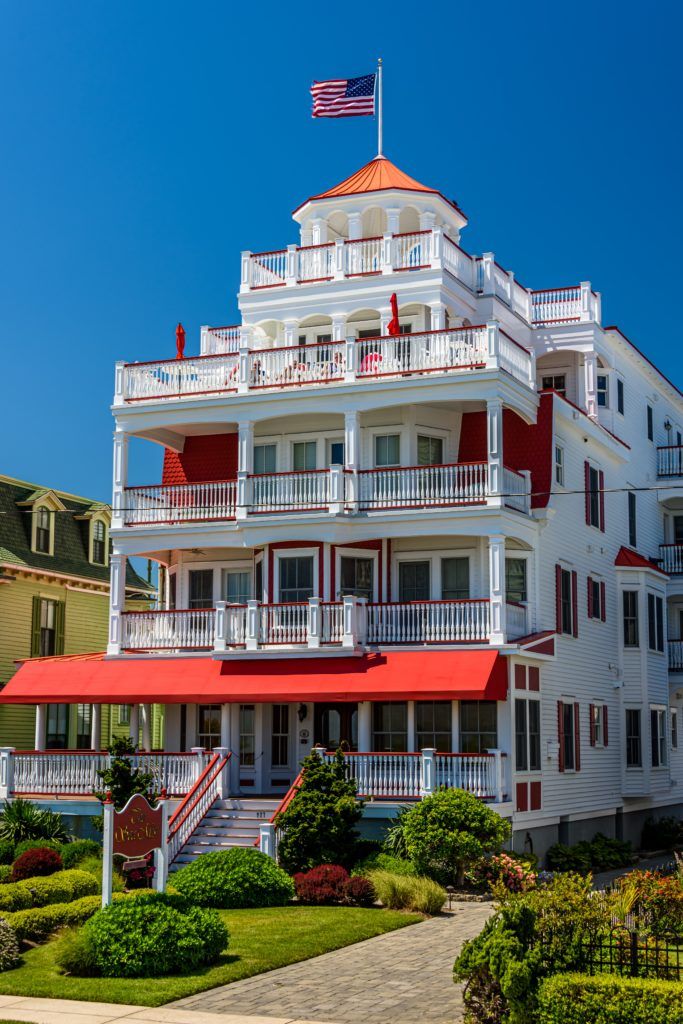 This kitschy beach town is known for its grand Victorian houses and seaside views. August is great for soaking up the sunshine by hanging out on its pristine beaches or taking a stroll on its three-block pedestrian street lined with neat shops and restaurants.
You can take a sunset dolphin cruise or a whale-watching cruise with Cape May Whale Watcher to get familiar with the incredible animals living near the coastline. Since prime whale-watching season is May through October, August is a ideal for that.
Another great thing about this destination is that there is a variety of lodging options, from camping to luxury resorts — something for everyone!
2. The Berkshires, Massachusetts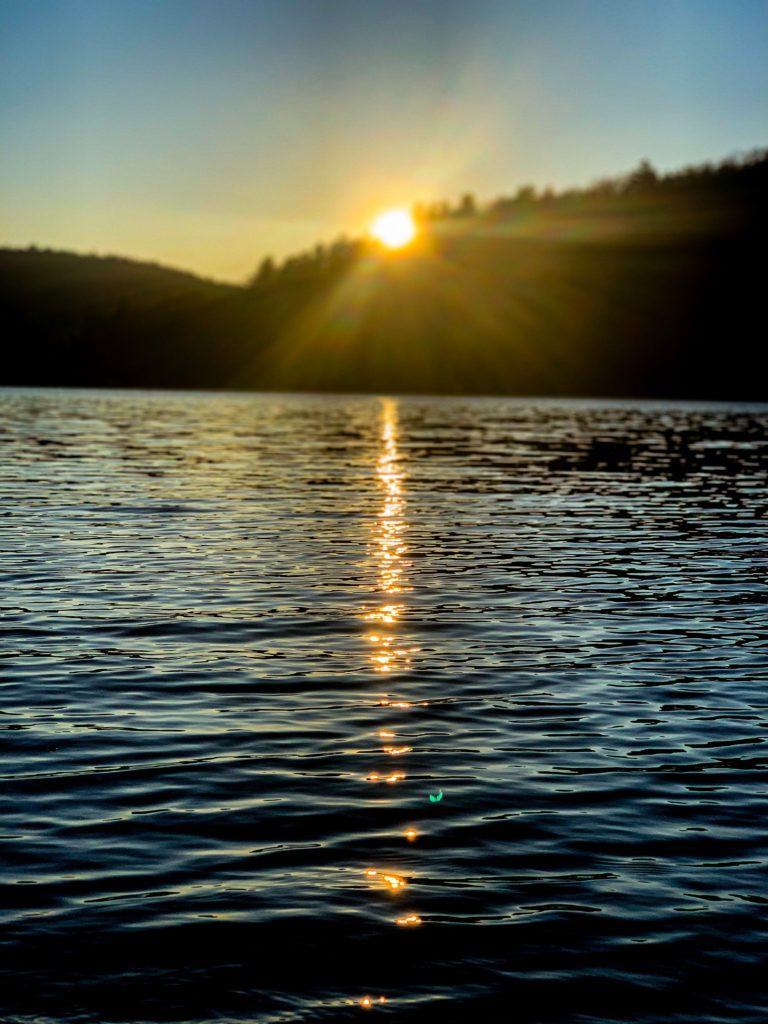 This green, hilly area of Massachusetts is best known for its stellar hiking and water sports. Beyond that, there are also cultural events all summer long, such as the Boston Symphony Orchestra at Tanglewood and dance shows at Jacob's Pillow. It is also home to the Norman Rockwell Museum and the Clark Art Institute.
August is just the right time to visit the Berkshires, because the mild summer temperatures in the mountains are great for getting outside to explore. There are abundant trails to trek, and being close to lakes and rivers means it's easy to break up a long day of hiking with a quick swim or some whitewater rafting.
1. Acadia National Park, Maine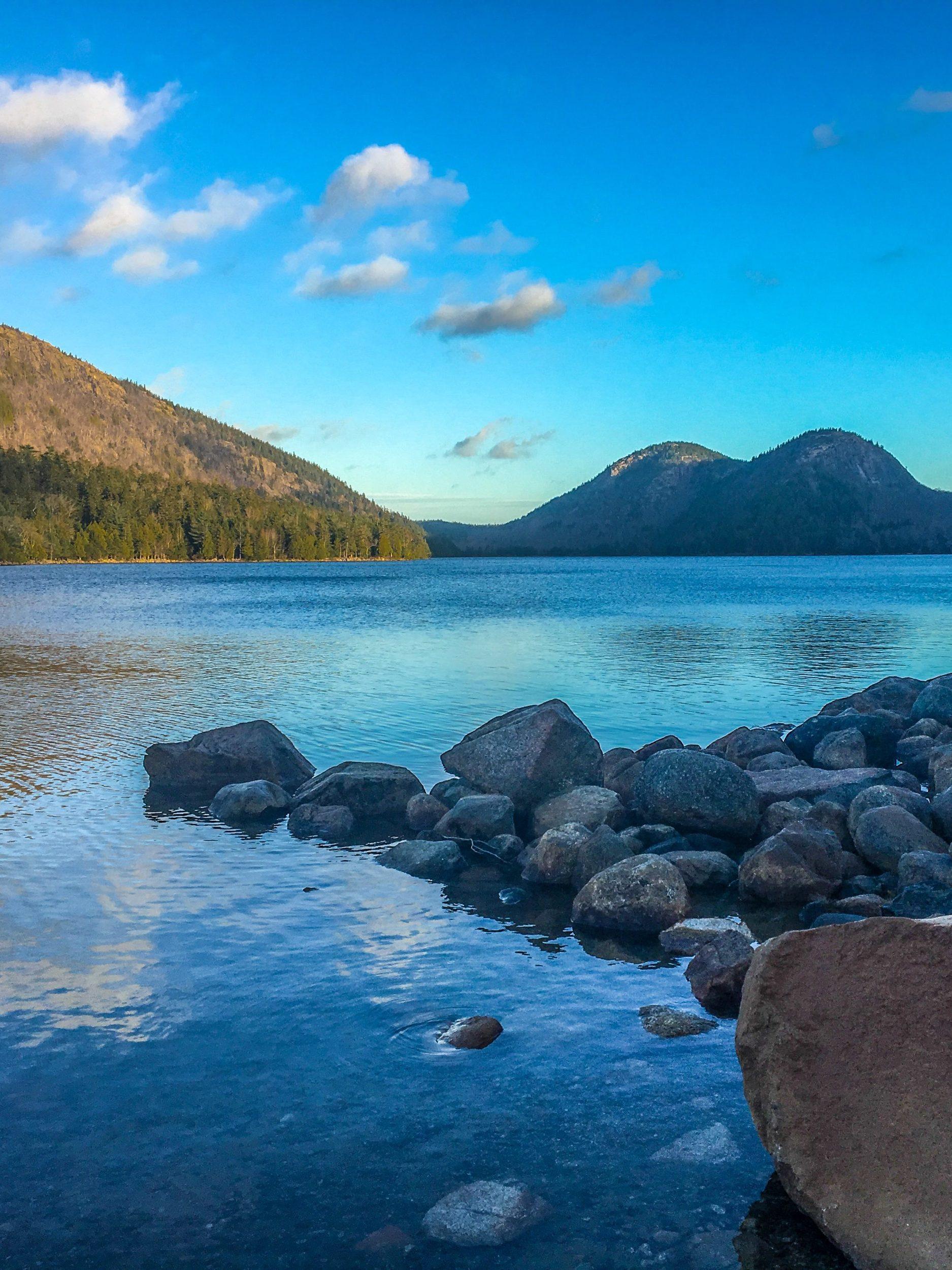 Known as the crown jewel of the North Atlantic coast, this park boasts some killer ocean views, along with winding forest trails and even a few islands. One in particular, Bar Island, is only accessible during low tide, when you can cross the gravel path.
High season is at its peak in August, so book your accommodations ahead of time, and expect to see plenty of other visitors. This doesn't necessarily have to be a bad thing, however, because the trails are quite spread out, and if you get there early enough in the morning, it will give you a head start before the crowds show up.
So now is the fun part: planning your August adventure! Thinking about adding one of these destinations to a road trip? We've got awesome ideas, from the East Coast to the West Coast, the Midwest, and even the South. Happy adventuring!
Click to read more posts about