Camping for the first time can be intimidating. Especially if you're planning on going camping solo, the usual travel jitters can be multiplied just by thinking about how many details there are to consider. Just like any travel adventure, though, there are many ways to take your trip planning from good to great.
The following beginner's camping guide has what you need to get you started planning your next camping trip, including everything from choosing the best tent and sleeping bag to personal hygiene and even some sleep tips!
Choosing a Tent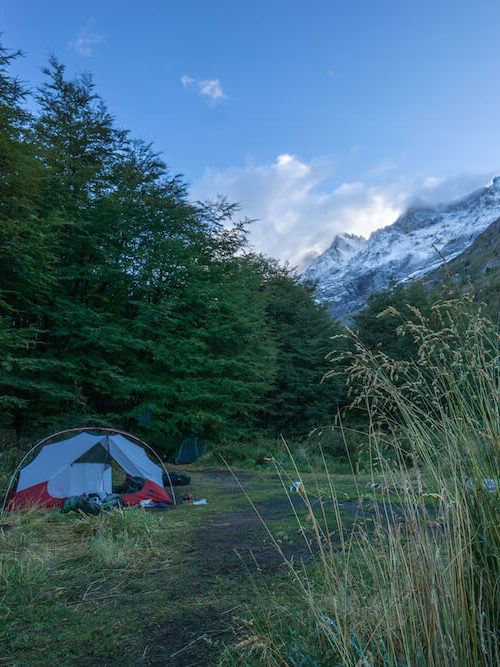 Your tent can make or break your camping trip. (No pressure or anything!) Thankfully, choosing the right tent for you doesn't have to be complicated or scary.
It's recommended to choose a tent that is at least a size or two bigger than what you think you need. If you will be camping with just one other person, for example, choose a 3-4-person tent. This is because tent sizes only account for how many literal skeletons can fit in a tent lying down. They don't account for your personal items — or any wiggle room, for that matter.
You'll also want to consider how waterproof your tent needs to be. Camping in the desert? Well, perhaps you won't need a proofed and re-proofed tent. If you're camping anywhere where it might rain, however, you'll want to make sure your tent can handle moisture. Also consider bringing along an extra tarp or groundsheet to place underneath your tent to further protect it from moisture and make it easier to pack up.
If you're intimidated by pitching your tent, especially if traveling alone, consider a pop-up or quick-pitch tent. These aren't as sturdy as regular tents and should not be used anywhere there is wind, but they are great for festival camping or quick trips. This tent from REI is very easy to set up, and it's lightweight!
Choosing a Sleeping Bag
If you're a beginner camper and not sure what kind of sleeping bag to purchase, check the temperature ratings on different sleeping bags, which will give you an idea of how much warmth they offer. Consider the season you'll be camping the most and what the weather will be like where you're going. Remember that while camping it's easier to cool off at night in your tent than to create warmth.
More layers inside of the sleeping bag does not equal more warmth, contrary to what would seem logical. The warmth would have to travel through all of those layers both ways to heat the bag, so it's less about more layers, and more about getting a bag that's meant for the temperatures.
My advice would be to go for a three-season one like this one from REI. It's the most versatile, but if you know you'll be camping in cold or rainy weather most of the time, perhaps opt for one with an even lower temperature rating.
Getting a Good Night's Sleep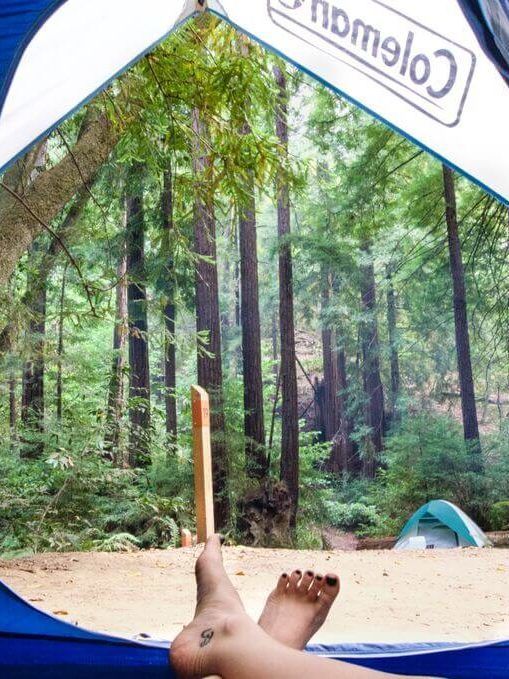 There's no rule that says you have to be uncomfortable or cold when sleeping in a tent. If you're driving up to the campsite and weight isn't a consideration, bring lots of comfy blankets, pillows, and blow-up mattresses, and it'll be almost as comfortable as home! A lightweight blow-up mattress is super easy to bring along and makes a world of difference in terms of comfort.
Also, insulate your sleeping pad or mattress to keep the chill from the ground from creeping up into your sleeping area. A thick blanket underneath will do the trick. The last thing you want while trying to fall asleep is to be cold and shivering!
Another way to make your tent more cozy is to bring along some solar- or battery-powered string lights to hang inside. REI even has some string lights that are USB rechargeable and 30 feet long! Having these in my tent really helps me wind down for the evening — and they make great lighting for reading at night.
I find that getting a good night's sleep means having a solid nighttime routine. The same goes for camping. Try to incorporate as much of your normal at-home nighttime routine as you can while camping. If that means winding down with a face mask or some aromatherapy, see how much of that can be brought with you. I like to bring a vial of lavender essential oil with me wherever I go, because it mimics the way my bed smells and helps me relax.
Avoiding Critters
If you're worried about insects and/or animals, remember that making sure your tent is zipped closed is the best way to keep everything out that isn't welcome. As long as it's a solid tent that doesn't have holes, mosquitoes, spiders, and anything that doesn't come in with you shouldn't be able to get in. You can also use sage in your campfire or citronella candles to ward off mosquitoes
Remember not to keep food or trash in your tent. In places with mice, hanging it up on a nearby branch is the best way to keep them out of your tent and provisions. In places with bears and other large animals, use the bear boxes provided and keep food far away from your tent.
Find the Right Campsite for You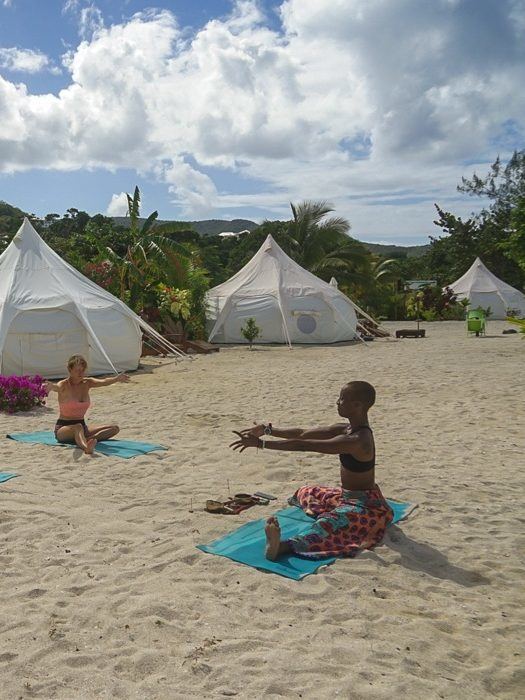 Not every campsite is created equal, and the same goes for campers. Before choosing one, take a mental inventory of everything that is essential to your camping wishes. Will you be bringing a pet? Children? Friends? Also make a list of what your essential amenities are. From there, check out campsites online beforehand and review their rules, amenities, and general information.
The rules especially will give you an idea of what kind of vibe the campsite has. Some campsites allow dogs, for example, while others don't. Some have restaurants on-site and some are more bare-bones, and some have a 9pm "no noise" rule and some do not. It's important to consider what your non-negotiables are beforehand, so you can choose a campsite that fits your needs and expectations.
Plan Your Meals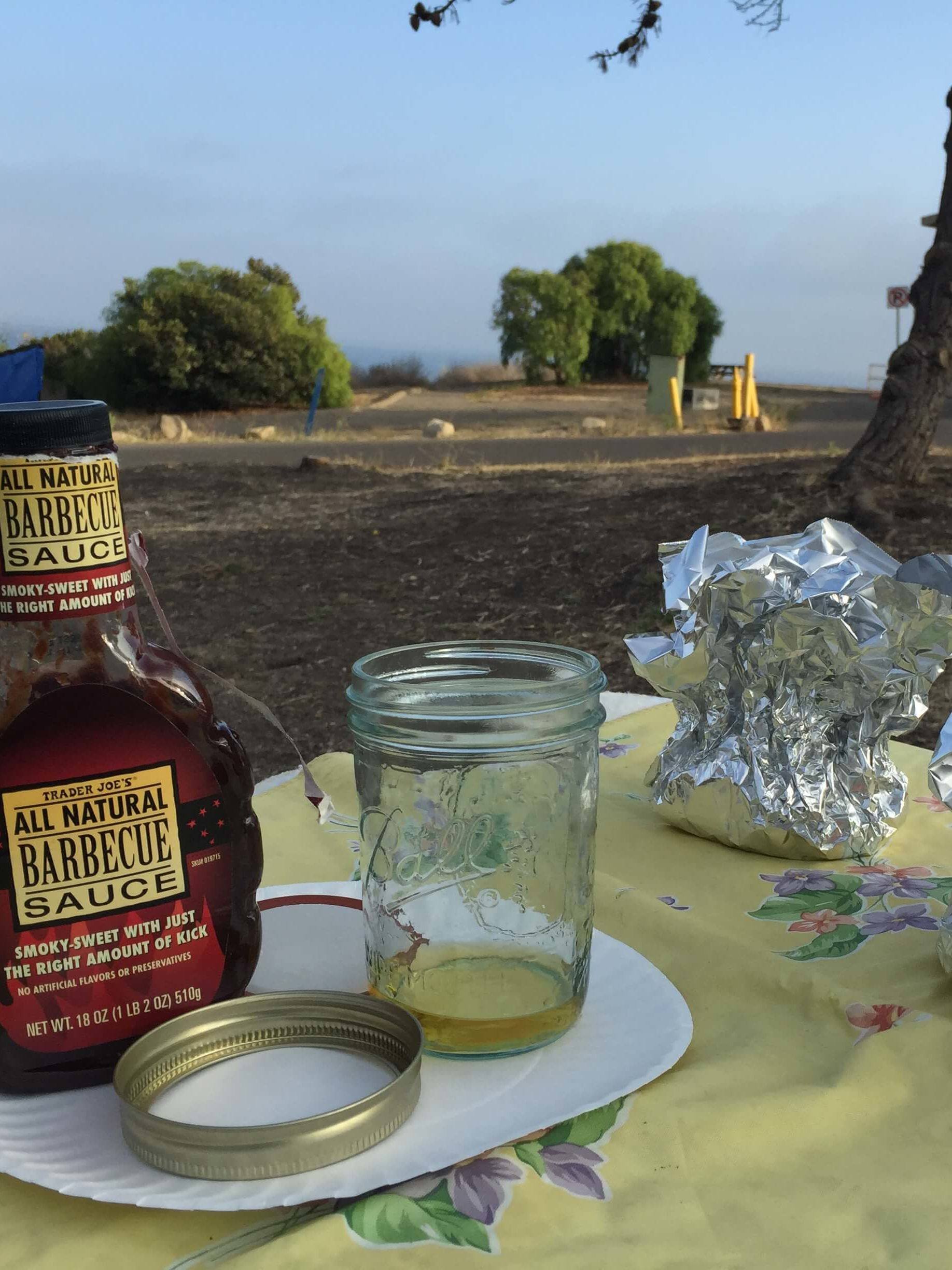 There are many things about camping that you can get away with "winging." But your food is not one of those things. It's important to have a plan for what you are going to pack, cook, and eat. Consider how long you're planning on camping, and see if there are ingredients you can bring in bulk, like dried beans.
My best advice for meal prepping is choosing a few protein options, a few carb staples (pasta, rice, oats), and easily transportable fruits and veggies. Make a couple of spice mixes at home beforehand, to give your food some flavor and variety. Then, you can build your menu from there.
Also, consider which kitchen items are going to be the most versatile. Some campers do this first and build their meal plan around what they are willing and able to bring with them as far as cooking utensils, pots and pans, and other items. Avoid bringing anything that you would only use for one meal — opt instead for things that have multiple uses.
Another pro tip for meal prepping is chopping and freezing your vegetables ahead of time. This saves cooking time and also cuts down on bulk, because you won't be bringing the parts you'd throw away anyway. Freeze the veggies (and fruit) in reusable bags and then pop them in your cooler. Easy-peasy!
Bonus tip: Try making hobo stew!
Hobo stew is my favorite easy camping meal, because it's fresh, delicious, healthy, and so easy to make and clean up!
It's just a mix of your favorite vegetables cut into bite-sized pieces, ground meat (optional), a few squeezes of barbecue sauce to taste, and a splash of whiskey. Arrange it on a square of tin foil with the things that tend to take the longest to cook at the bottom, and wrap it up into a little package. Then throw it on the grill for 10-20 minutes, checking every so often for doneness.
I personally love adding thinly sliced sweet potatoes, plantains, squash, zucchini, a layer of onion (great for flavor, and it liquifies for cooking), peppers, mushrooms, and/or broccoli.
Clean-up is super easy: just ball up the foil and throw it away or pack it out when you leave.
Starting Campfires Like a Pro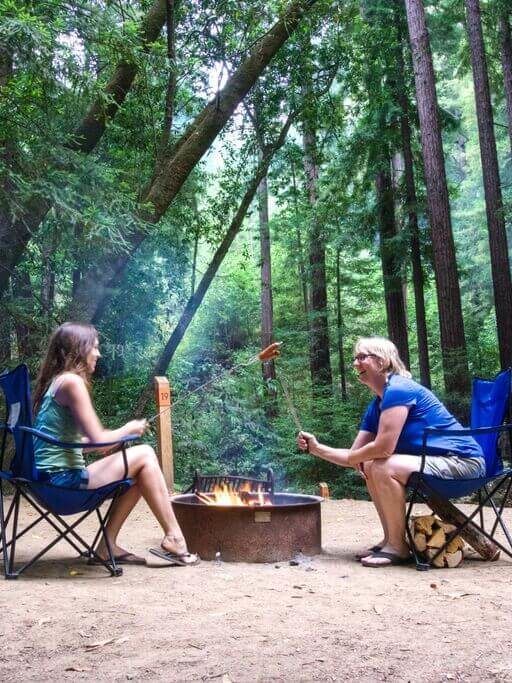 Making fire is one of those fun, primal things that makes camping feel cozy and social. Plus, it's helpful for eating — and s'mores!
If you don't have kindling, the next best thing is chips — like Fritos or Doritos! You can also prep ahead of time by stuffing toilet paper roles with dryer lint. Both are great DIY ways to make fire starters.
Just make sure you're allowed to have fires — which will depend on how easily the surroundings could be set on fire — and that you're allowed to collect wood for burning. If you're in a national or state park, there's often firewood for sale if picking up branches is not allowed.
Keeping Clean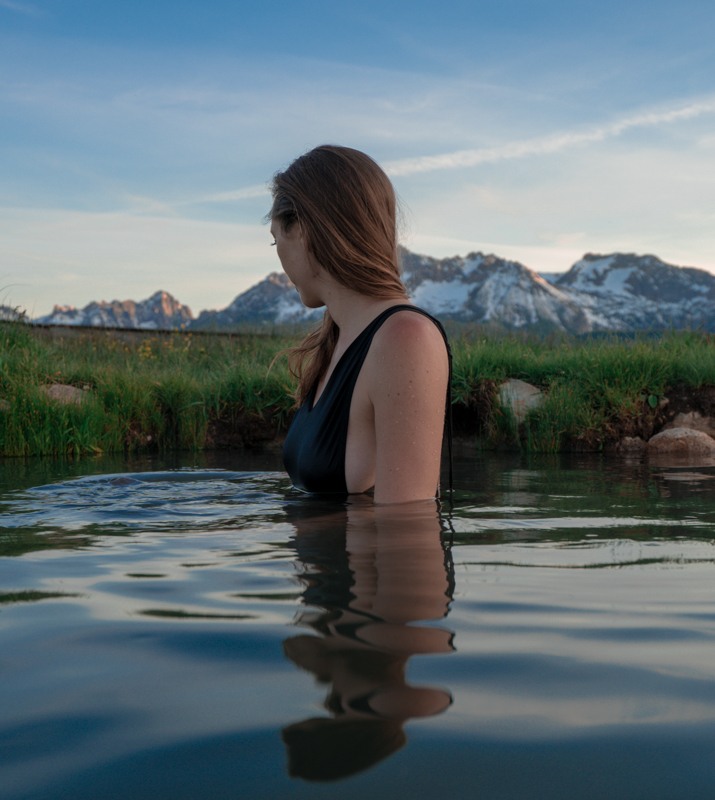 Let's face it, even the most adventurous and rugged campers still want to keep clean while camping. It honestly brings me great comfort to be able to get completely clean before going in my tent for the night, and I like to maintain my sleeping area as pristine as possible.
Having a pair of inside-tent shoes or slippers helps keep your tent clean and your feet warm. I also always make sure to shed any exceptionally dirty layers outside of my tent and then place them in a bag or foldable hamper to avoid making a mess inside.
It's also important to have a hygiene plan in place before you head out on your adventure. Wet wipes can be a lifesaver if you find yourself in a showerless situation and want to get clean. I really like Essential Wipes (coupon code to get 10% off: bemytravel-fresh), which are made from renewable bamboo, essential oils, and natural ingredients and just need a tiny bit of water to hydrate. When hydrated with hot water, they're a nice steamy towel at night, or when used with cool water, a nice relief on a hot day.
Making or buying some toothpaste tabs is a great way to save space and avoid waste. Make toothpaste dots by squeezing some toothpaste onto foil, sprinkling it with baking soda, and letting it rest for three days or so. Boom, lightweight toothpaste.
Practice Makes Perfect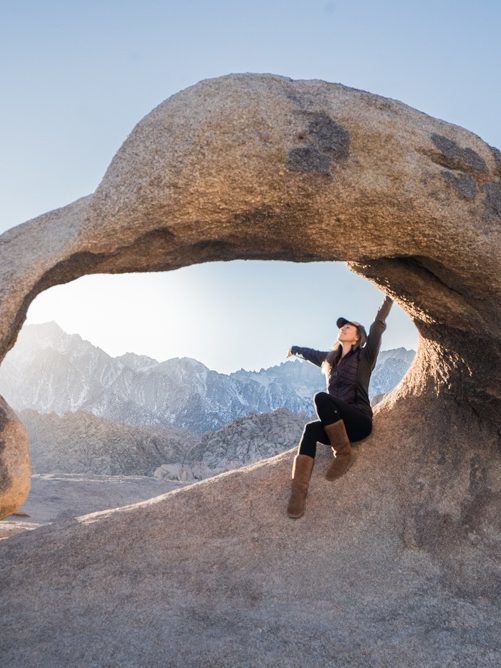 So you've got your tent, your sleeping bag, and a whole camping plan ready to go. The next step is to give everything a try before you set out on your adventure. Pitch your tent somewhere spacious before you go — it can be in your living room, patio, or yard. This will give you an idea of how long it will take to pitch your tent, as well as get you familiar with how to do it and what the different pieces are for. That way when you get to your campsite, you'll already be a pro!
It's also a good idea to practice cooking on your camping stove and over an open fire. The last thing you want is to get to your campsite and not know how to prepare your food! Set up your camping stove and practice one of your camping recipes for (a) practicality and (b) taste. Who wants to eat bland food? Not me. If you wouldn't eat it at home, you won't want to eat it while you're camping. Test your recipes, people!
Pin me for later:
It's important not to hold yourself to a standard of perfection, though, especially on your first camping trip. Things are bound to go wrong, and it's almost inevitable that an item or two will be forgotten at home. My favorite part of camping is having the opportunity to connect with nature and let the trip unfold organically.
Sure, there are plenty of things you can do to plan ahead and level up your trip, but at the end of the day it's all about enjoying the ride. These tips will at least help you feel more confident and prepared for your adventure. Happy camping!
Click to read more posts about
Outdoors 101