Thinking of heading to Lake Tahoe this summer? You've seen the photos of it all over social media, and the lake is calling you! After all, it is one of the best places in the USA to visit for its beauty and abundance of awesome things to do.
No matter how long you plan to visit or the level of luxury you seek during your stay, here are 45 things to do during the summer in Lake Tahoe:
45. Tahoe Rim Trail
The Tahoe Rim trail circles Lake Tahoe, passing through Desolation Valley and Carson Range. It's a 165-mile loop that you can walk, bike, or ride through on horseback. You'll find gorgeous vistas, lakes, peaks, meadows, and more on this trail. If you want to backpack, it's possible to do the whole loop in one trip. However, the eight trailheads can be broken up into one-way day hikes between 12 and 33 miles in length.
44. Emerald Bay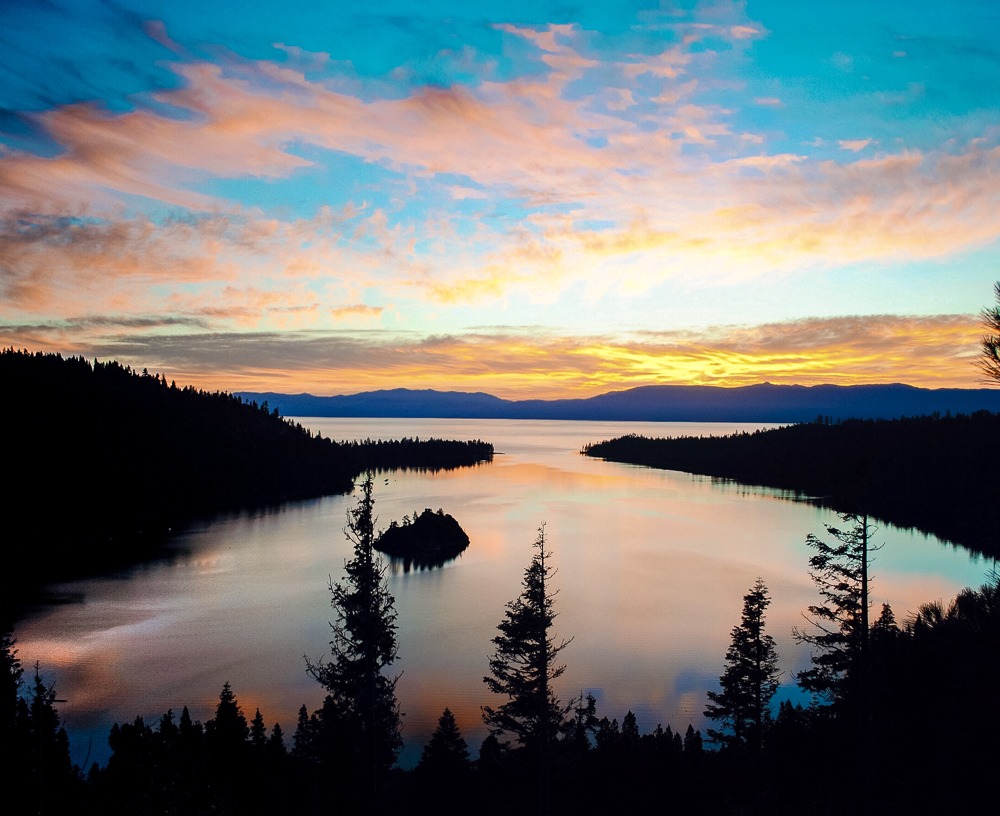 Emerald Bay has scenery that includes some of Lake Tahoe's best sunrises and clear blue waters. In fact, it's one of the most photographed spots in California! You'll find Emerald Bay on the southwest shore of Lake Tahoe, on tiny Fannette Island. You can get there by boat or kayak.
Vikingsholm Estate, a famous 38-room mansion, is close to Emerald Bay and is now on the National Register of Historic Places. It's open for touring and definitely worth a visit. Consider booking a cruise tour to get some stellar views of Emerald Bay.
43. Mountain Biking
Because of its numerous bike paths, dirt roads, single tracks, and bike parks, Lake Tahoe is a paradise for mountain bikers. Flume Trail is one of the most popular rides and follows mountain ridges up above the lake for 14 miles. Take advantage of nearby ski resorts' lifts for an easy ride to a summit, which allows you to coast the trails down the mountainsides. Keep in mind, though, that some trails only allow bikers on either even or odd days.
42. Mt. Tallac Hike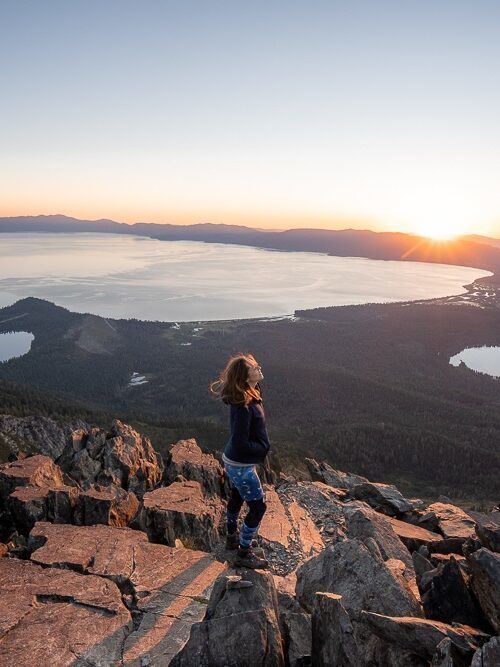 One of the most famous hikes in the area is Mt. Tallac. This steep and challenging hike has an overall 7,000-foot elevation change during the 10.4-mile round trip. You can choose between a day hike or a several-day trip into Desolation Wilderness. If you want to take it slow, you can camp overnight on Mt. Tallac, which requires a Desolation Wilderness backcountry permit.
41. Sand Harbor
Sand Harbor is a great swimming spot, where you can also go boating, kayaking, and much more in the clear Lake Tahoe waters. To cruise along the east shore, you can rent an e-bike, which is a fun and relaxing way to take in the sights.
You'll find plenty of barbecue grills, picnic tables, and shady trees in Sand Harbor, making it the ideal picnic spot. Summer is definitely high season, so get there early in the morning to secure your spot. It's also the home of the annual summer Shakespeare Festival, which happens from mid-July to mid-August.
40. Sand Harbor Overlook Hike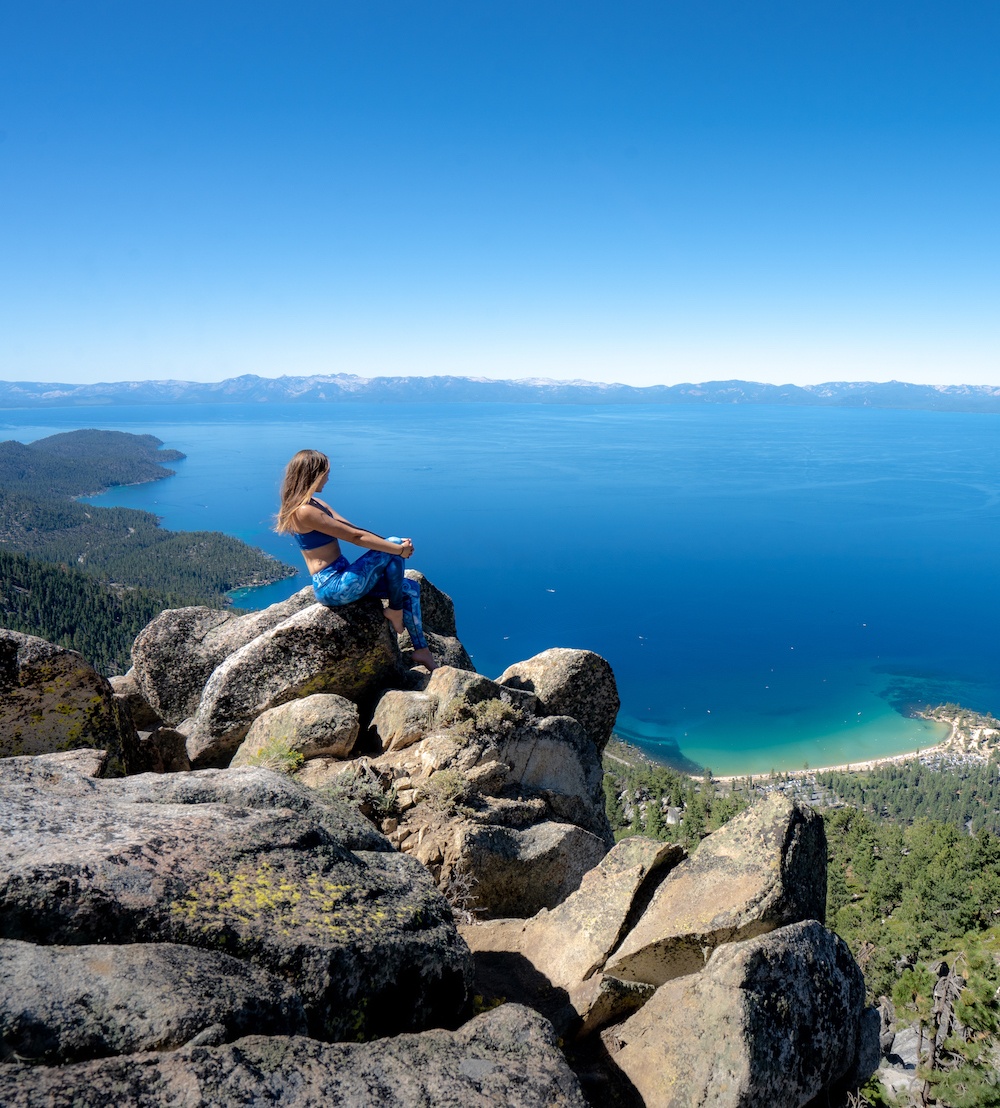 For a stunning view of the lake and surrounding mountains, don't miss out on the Sand Harbor Overlook, which is a popular segment of the Tahoe Rim Trail. This bird's-eye view is impressive and allows you to see all of the lake's shades of blue. This moderately difficult four-mile loop is great to do on a guided hike with a local park ranger.
39. State Line
Gambling isn't allowed in most of California, but it is in Nevada, so many visitors like to cross the state line in South Lake to take advantage of Nevada's casino scene. Here you'll find a strip of bustling hotel-casinos, including Harrah's, Harveys, and the Hard Rock. Gambling isn't everyone's thing, but State Line still has some pretty cool luxury hotels, famous restaurants, and big events to check out.
38. Kings Beach
Kings Beach, named for card shark Joe King, is on North Shore. It's a huge stretch of sand that is perfect for sunbathing in the late morning to afternoon. The town of Kings Beach has a bunch of restaurants, shops, and street vendors close to the beach for easy access. There's even a minigolf course close by!
37. Camping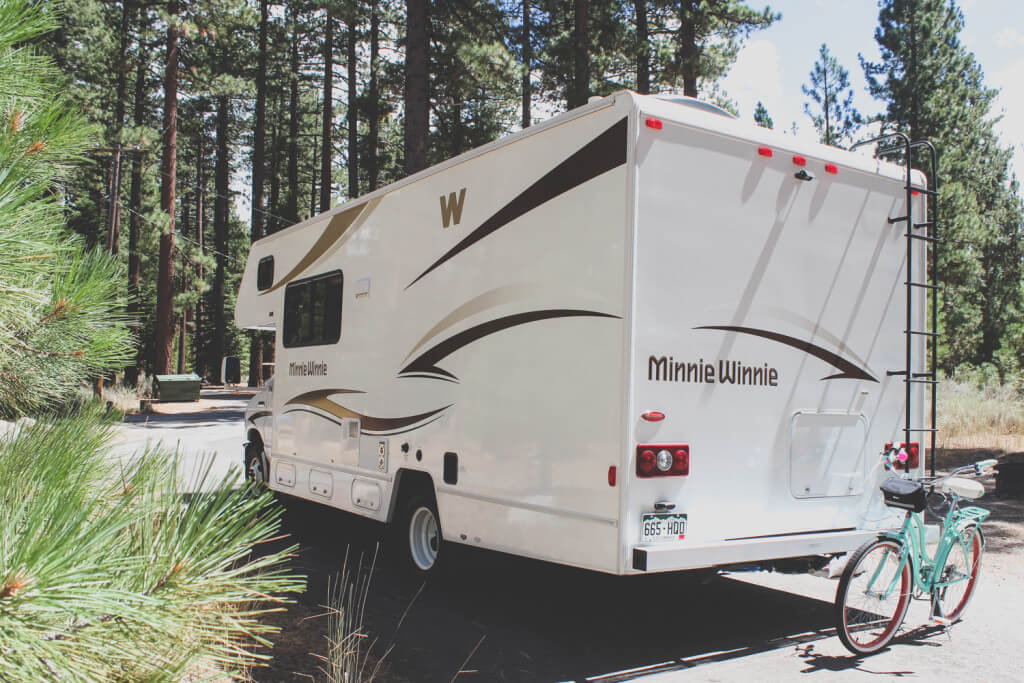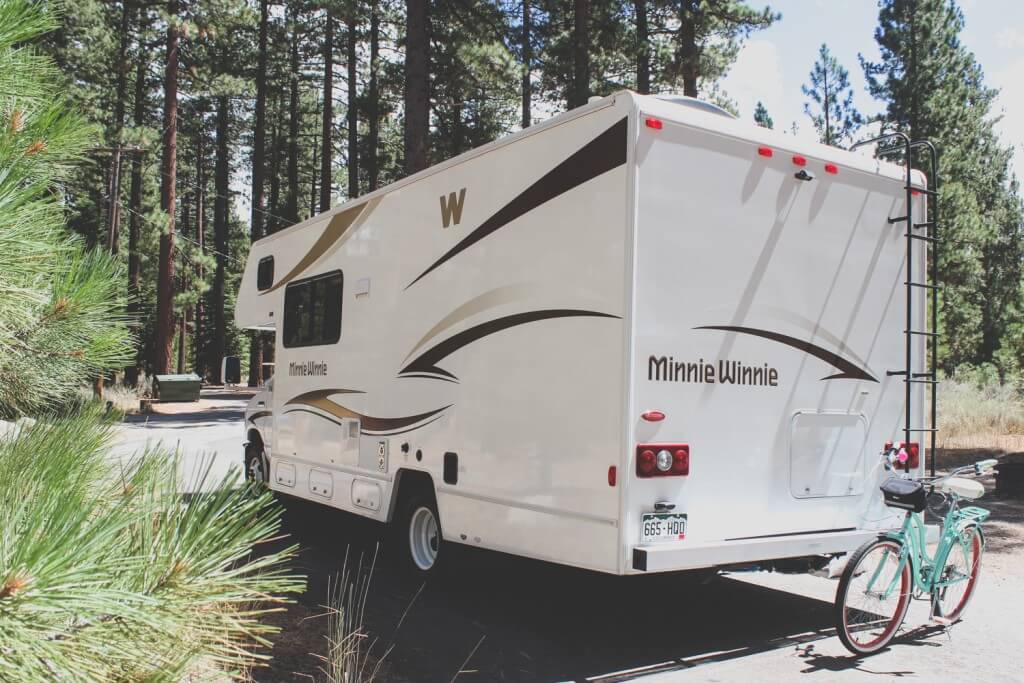 Lake Tahoe has no shortage of campgrounds, from rustic tent sites to fully equipped RV hookups. It's truly one of the best places to camp, because it has tons of hikes, a chill forest feel, and a gorgeous lake. What more could you ask for?
36. Scuba Diving
Scuba diving in Lake Tahoe is still a relatively unknown activity, probably because of the abundance of surface-level activities. However, there are also awesome diving opportunities due to the lake's surprising depths. It's actually the second deepest lake in the US! If you want to see the sunken barges and boats, check out Emerald Bay Maritime Heritage Trail.
35. Steamboat or Ferry Ride across the Lake
If you're a first-time visitor to Lake Tahoe, spending a few hours heading to the far side on a daytime cruise is an awesome way to see the lake's beautiful scenery, get acquainted with the area, and see as much as possible in a short amount of time. The MS Dixie II is a great option.
34. Kayaking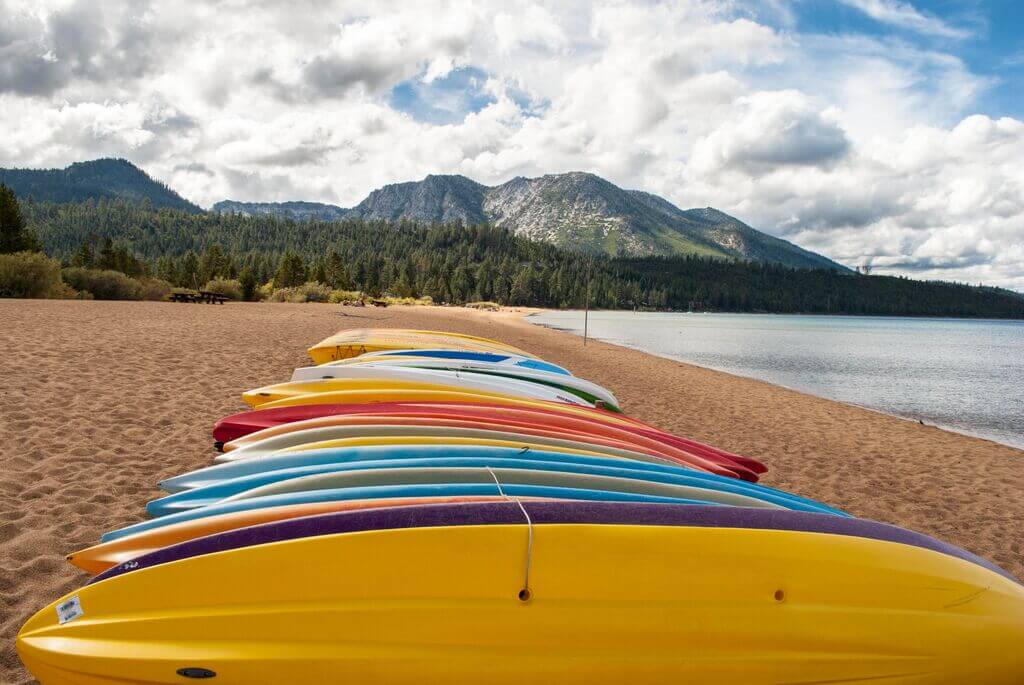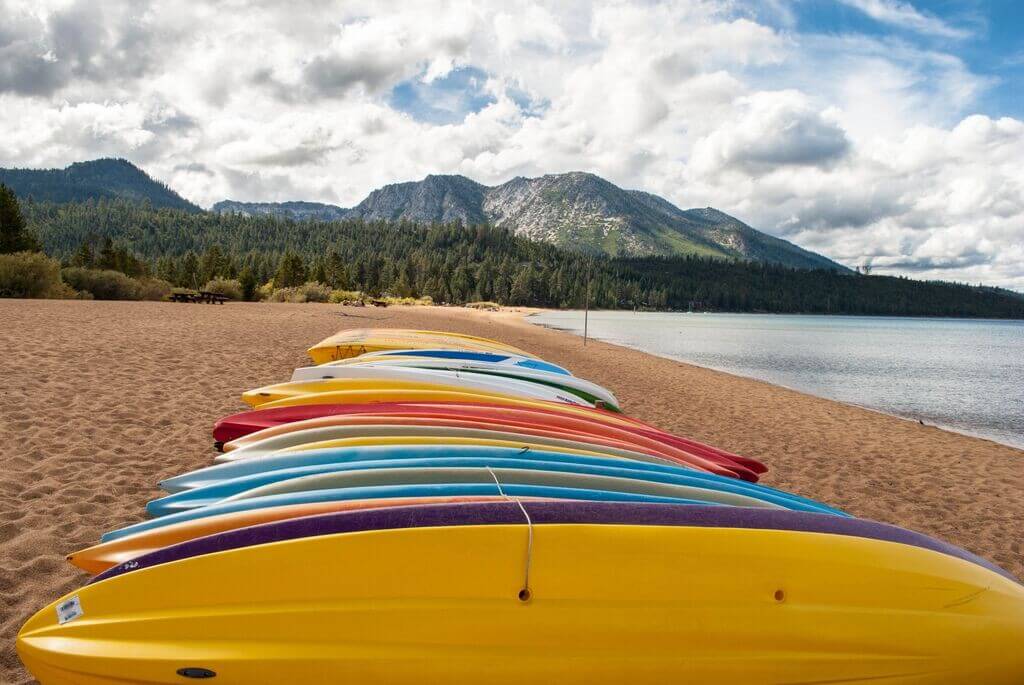 Kayaking is one of the most popular ways to enjoy Lake Tahoe. Unlike SUP boarding, you can kayak with a friend by grabbing a two-seater. It's also a bit more leisurely than paddleboarding since you're sitting down. Overall, it's a laid-back way to venture around the lake.
33. Parasailing
By parasailing over the lake, you'll be able to enjoy the natural beauty of Lake Tahoe in a relaxing way. The panoramic views and floating feeling of parasailing are a thrill! There's no shortage of parasailing providers in Lake Tahoe, but Ski Run Boat Company comes highly recommended.
32. Speedboat Beach
If you want a great place to go kayaking, check out quiet Speedboat Beach. It has huge rocks along the shoreline that are interesting to explore from a kayak. It's on the California side of the state line in the middle of North Shore.
31. Hidden Beach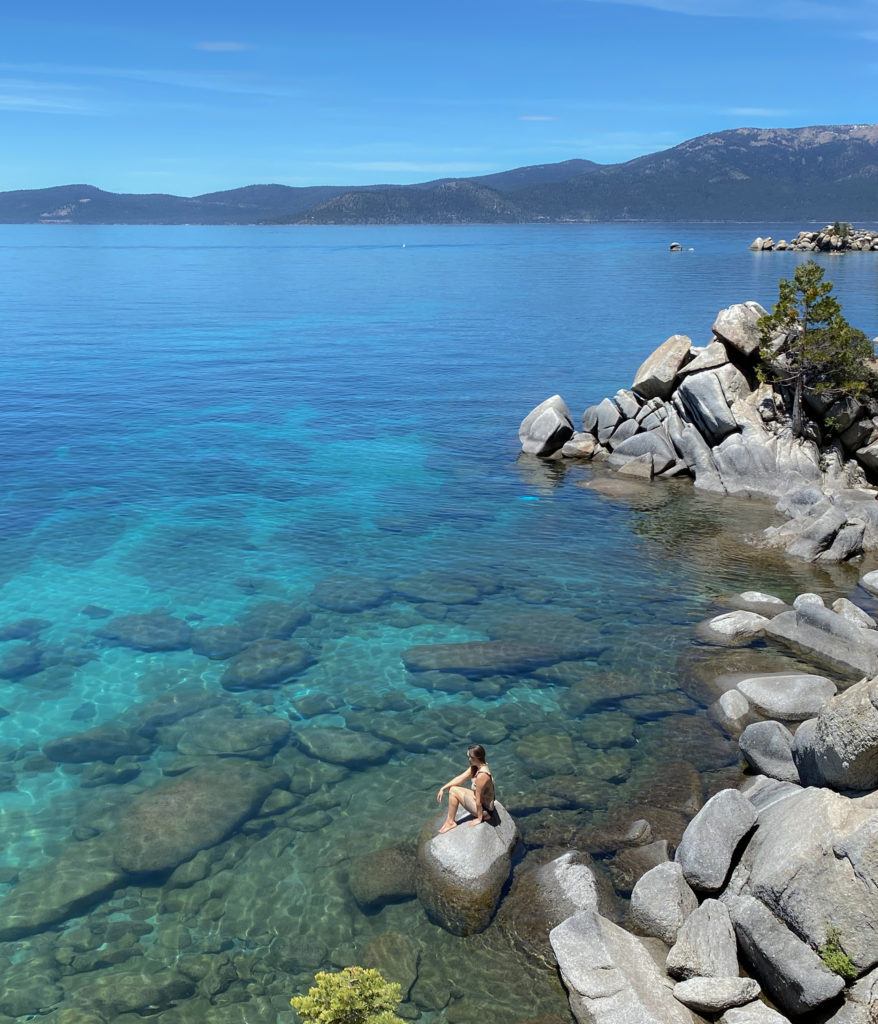 The large rocks and Highway 28 hide this busy beach, which is near Sand Harbor. It's an ideal place to swim and sunbathe, so its popularity makes sense. Get there early for a good parking spot along the highway.
30. Jet Skiing
An exciting way to enjoy the lake in the summer is renting a jet ski at one of the many rental spots. It's a fun solo adventure, but it can also be enjoyed with a friend. Be careful while operating a jet ski, as they can go up to 70 miles per hour! Also, they should only be driven in open areas, away from swimming spots where there are people in the water.
29. Bonsai Rock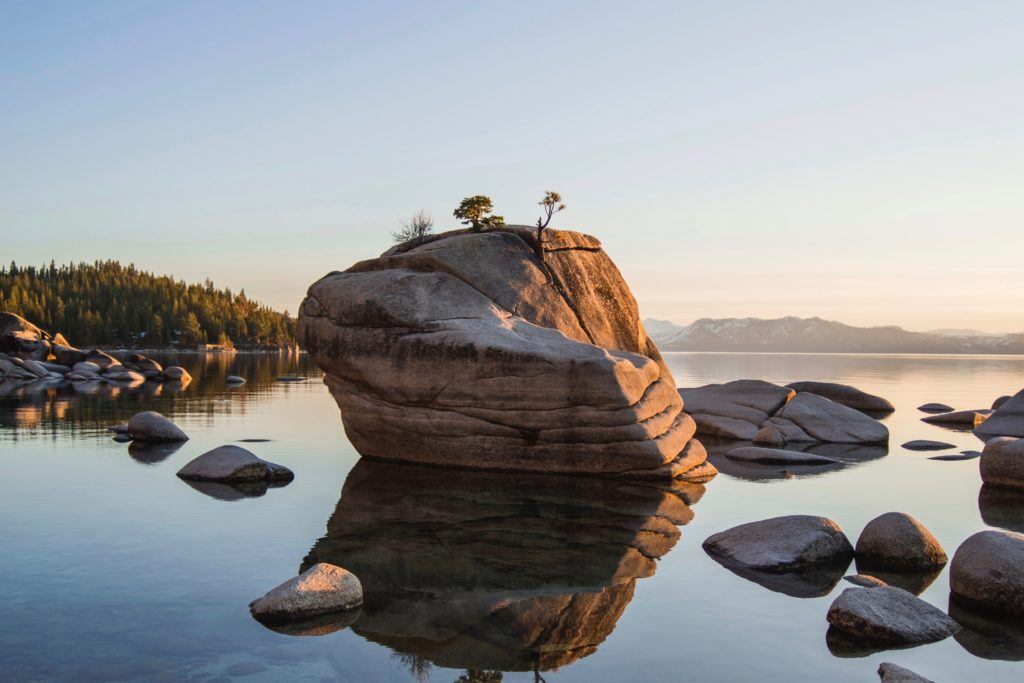 Bonsai Rock is an enormous boulder with four lovely bonsai trees growing out of it. You'll find it on the Nevada side of the lake, halfway between Hidden Beach and Sand Harbor. It's a great spot for photos, especially at sunset or sunrise!
28. D.L. Bliss State Park
D.L. Bliss State Park, on the lake's western shore and spanning 750 acres, is easily one of Lake Tahoe's most popular destinations, because it's close to so many attractions and has an adjacent campground. You'll find Lighthouse Trail here, a 2.3-mile loop to a 1916 lighthouse. Other famous places include Rubicon Point on the north end of the park and Balancing Rock Nature Trail.
27. Rubicon Trail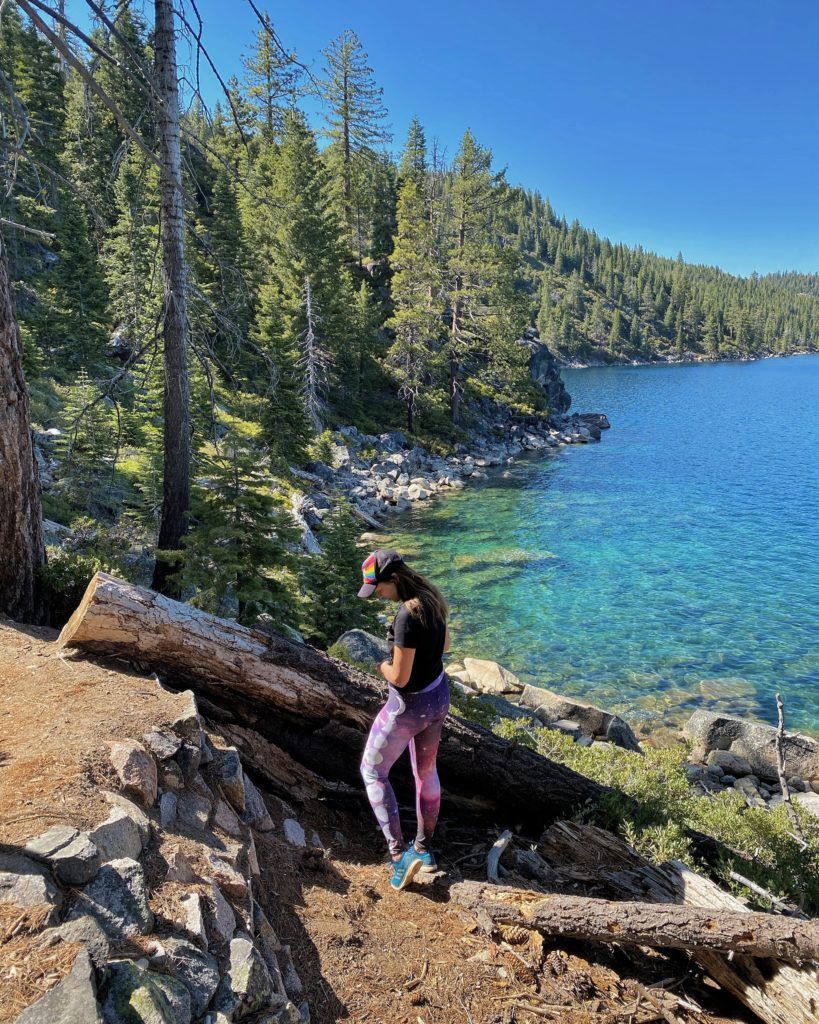 While you visit D.L. Bliss State Park or Emerald Bay State Park, check out the Rubicon Trail out-and-back hike. It's 4.5 miles long and goes between Vikingsholm Estate and D.L. Bliss. You can do the hike in either direction, and there is a 2-mile optional extension past Vikingsholm.
26. Cave Rock
You can see Cave Rock on Lake Tahoe's southeastern shore from practically any location on the lake. It's also known as "The Lady of the Lake," because it looks like the profile of a woman's face from a distance. It is part of the Sierra Nevada Mountains and you can get there on a 15-minute hike. Note that the Washoe Native American tribe considers this rock to be sacred.
25. Olympic Valley
On the northwestern side of Lake Tahoe lies the site of the 1960 Winter Olympics, Squaw Valley. It's a sprawling, 4,000-acre property that has 34 ski lifts, 6 peaks, and an Olympic museum. You can take the Squaw Valley Aerial Tram up the mountain; the 10-minute ride runs 2,000 vertical feet upward and has some awesome views.
24. Watching a Sunrise or Sunset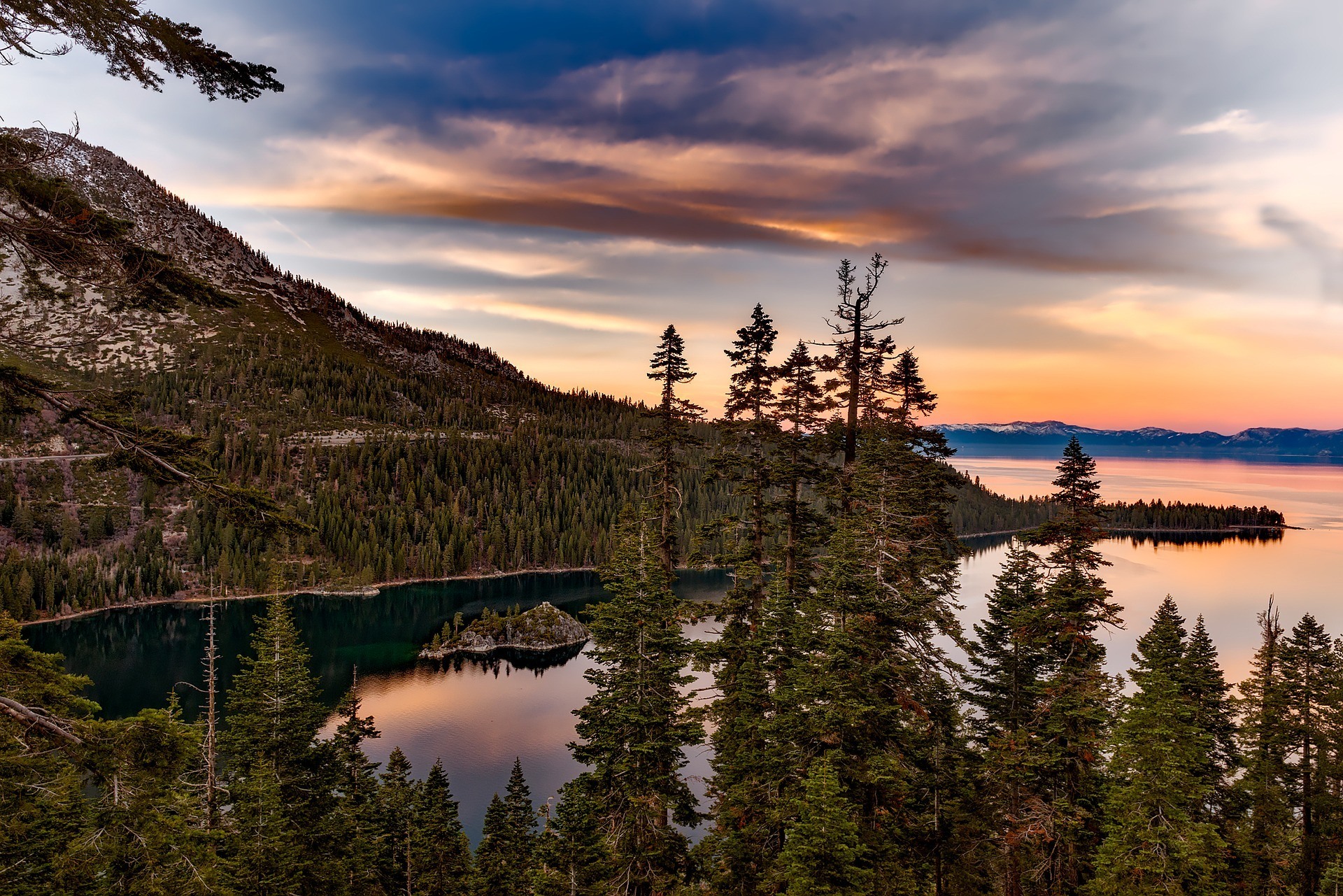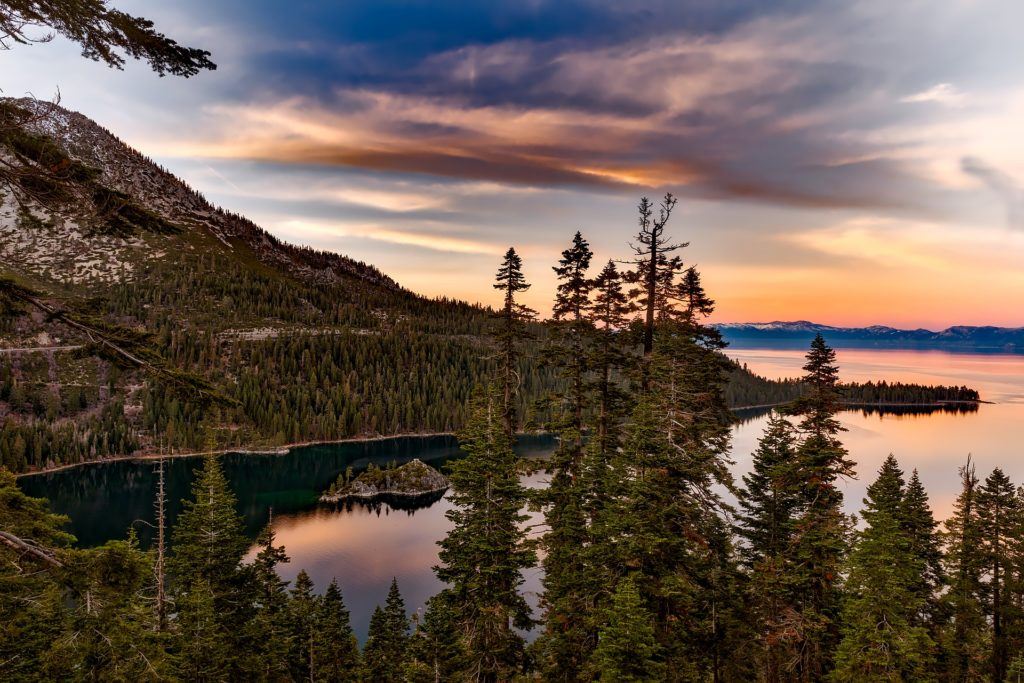 You definitely don't want to miss a sunrise or sunset at Lake Tahoe. The glistening aquamarine waters are stunning during the day, but the sunrise or sunset creates an even more breathtaking scene as the light reflects off the perfectly smooth water. If you want to avoid crowds, a sunrise is your best bet, as sunsets tend to attract many more viewers. Get up early and head to any east-facing viewpoint to see the brilliant colors!
23. Train Tracks into the Water
Years ago, train tracks were built on the shore of Lake Tahoe to launch boats into the water. Nowadays, the spooky tracks raise some eyebrows — why would a train run into a lake, right? The tracks are at Sugar Pine Point State Park and make for a neat photo!
22. Bayview Trail
For a great view of Emerald Bay and the rest of the lake, head to the challenging Bayview Trail. It's a steep one and goes uphill most of the way, taking two to three hours to get to the top at Maggie's Peaks. A permit is required to access the trailhead.
21. Cascade Falls
At the end of a moderately challenging hour-long hike in the southwestern region of Lake Tahoe near Emerald Bay, you'll find massive Cascade Falls. It's 200 feet tall, and the trail leading to it has some killer views of Cascade Lake.
20. Stand-Up Paddleboarding
So, you tried kayaking and you want to explore the lake with a bit of a tougher workout. Try SUP boarding! It's a fun and active way to take in the beauty of Lake Tahoe. Rental facilities are abundant along the lake. If you're a first-timer, check out this tour, which is perfect for beginners.
19. Carnelian Bay
Carnelian Bay on the western side of North Lake gets its name from the red and yellow stones dotting its shore. If you want to check out the town, be prepared to see lots of kayakers, SUP boarders, trout fishermen, and adorable dogs everywhere.
18. Eagle Lake Trail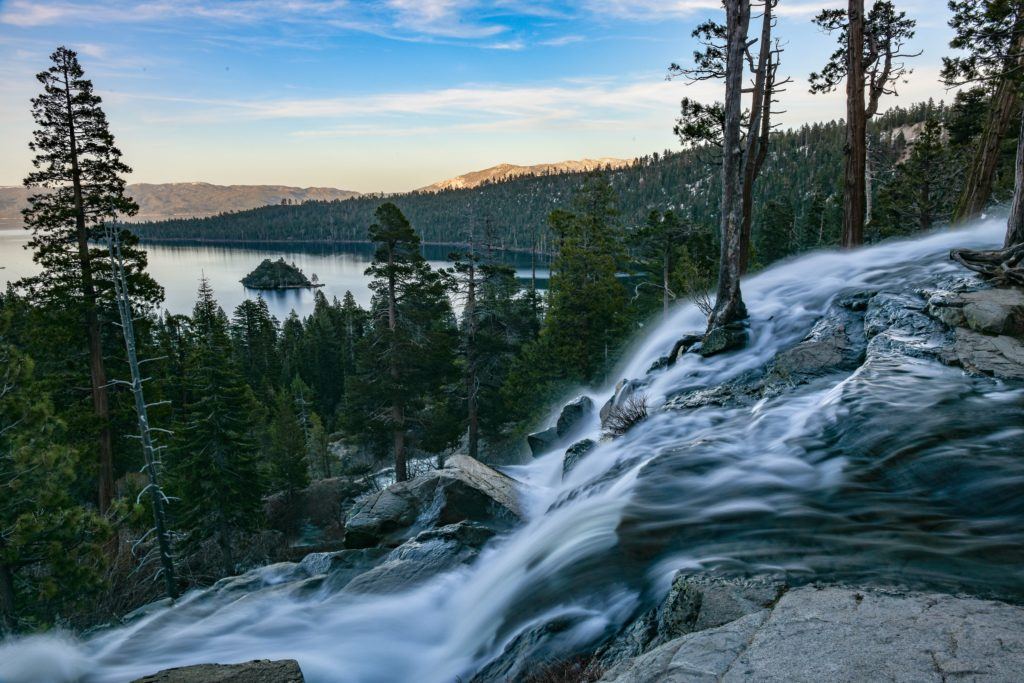 This moderate two-mile round-trip hike is right off Highway 89, and the scenery is incredible. Expect crystal-clear waters at Eagle Lake and Eagle Falls, with a backdrop of vibrant green foliage. There are a bunch of hiking trails that you can explore from Eagle Lake Trail (near Emerald Bay), which vary in difficulty.
17. Ski Run Marina Village
The Ski Run Marina in South Lake is a crowd favorite for both locals and tourists and has been around since 1939. It has a beach next to it where you can enjoy the lakefront before popping over to the village for a bite to eat at one of its restaurants or for some live entertainment. Here you'll find Riva Grill, which is easily the most popular restaurant in Lake Tahoe.
16. Heavenly's Lakeview Lodge
One of the best views of the lake can be found at Heavenly Resort's Lakeview Lodge, which sits 2,000 feet above the water's surface. You can get there via a short tram ride up the mountain. The lodge has great dining options, as well as an outdoor deck and a massive bar with 97 beers on tap.
15. Tahoe Tastings Boat Wine Tasting
Imagine cruising around on Lake Tahoe in a 1953 Venetian water taxi with a glass of South Lake's finest wine from Tahoe Tastings. It doesn't get much more relaxing than that! This activity is perfect for a girls' weekend getaway. Tahoe Tasting partners with popular wineries to give guests the best tastes of Northern California's wine.
14. Glen Alpine Falls
On the southern side of Lake Tahoe, you'll find Glen Alpine Falls, a 65-foot tiered waterfall that is right along the roadside. Early summertime is a great time to see it at its best, while the water levels are still high from the spring snowmelt.
13. Tahoe Treetop Adventure Park
An afternoon spent at one of the three Tahoe Treetop Adventure Parks is sure to get your adrenaline pumping. There are 10 treetop adventure courses at each park, all with different levels of difficulty. There are 97 tree platforms, 27 zip lines (from 30 to 200 feet), and 60 other obstacles. Don't miss out on this thrilling adventure on a summer afternoon!
12. Shirley Canyon Trail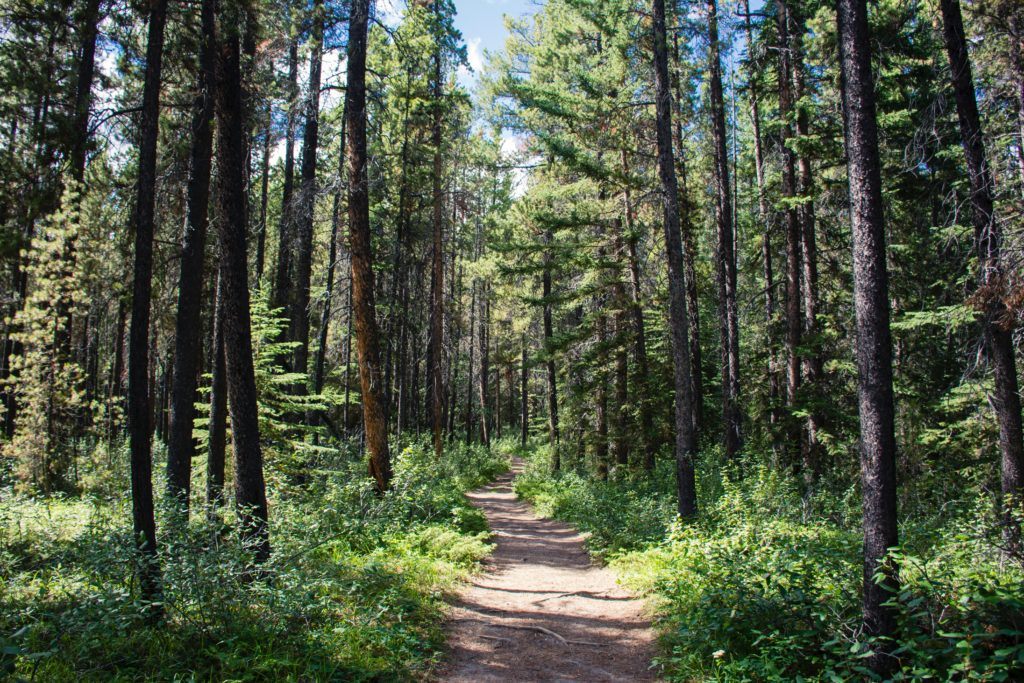 Passing waterfalls and granite rock formations, this half-day hike along Shirley Canyon Trail will take you to gorgeous Shirley Lake. It's a fairly difficult hike, taking three hours round trip; it's three miles to Shirley Lake and two more to the highest point of the trail. It's a 2,000-foot elevation gain on the way up, but the natural beauty all around makes it worth it.
11. Ring Road
This 72-mile drive takes around three hours with no stops, but you can make a full day of it by stopping at different places along the way. You'll find Kings Beach, Carnelian Bay, South Lake, Sand Harbor, and Emerald Bay all along this route. It's the perfect summer road trip and can be done at a leisurely pace.
10. Inspiration Point
Inspiration Point is 600 feet above the lake, looking out over Emerald Bay, Fannette Island, Vikingsholm Estate, and beyond. It's a great place for an epic photo, because it is close to a few Emerald Bay hiking trails, including Cascade Falls and Bayview. Tack it onto your Emerald Bay itinerary!
9. Downtown Truckee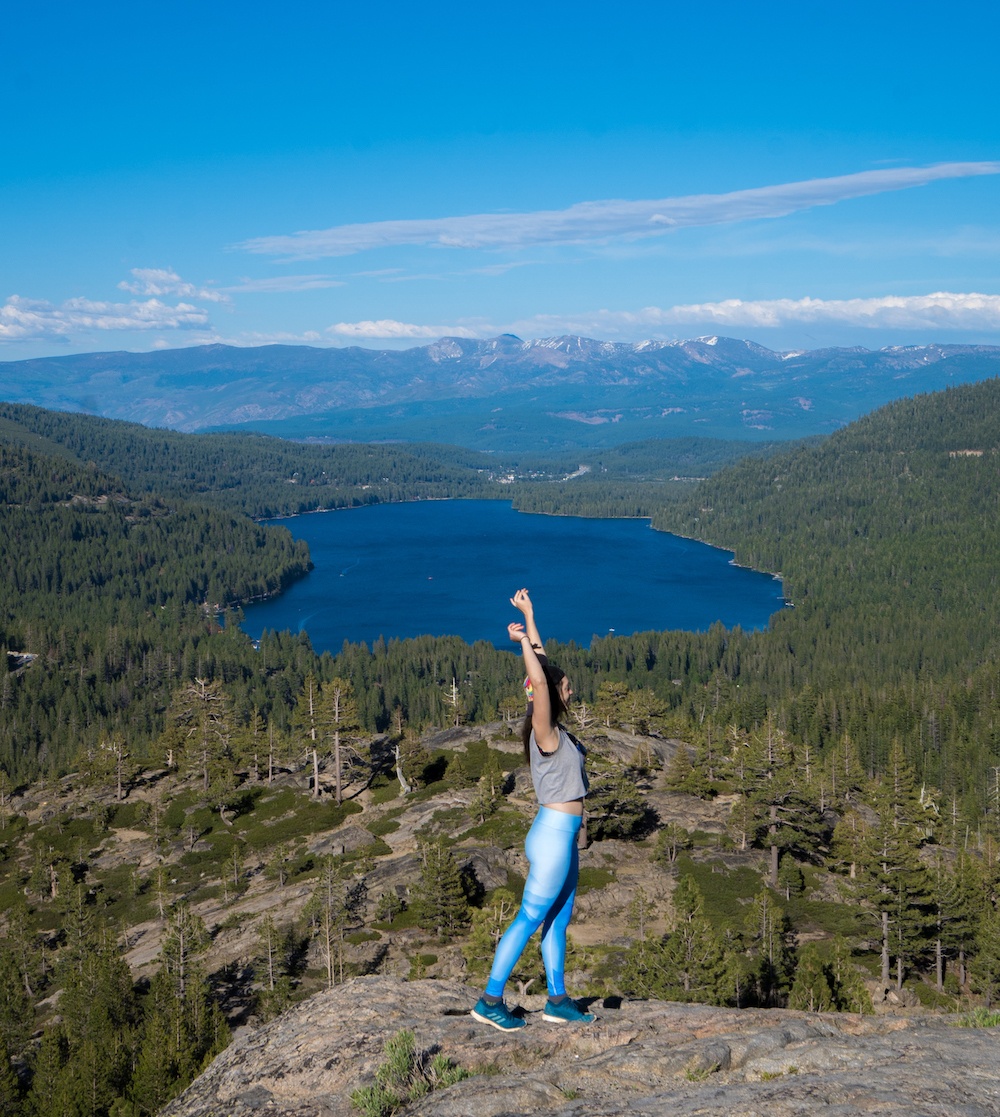 Truckee is a quaint mountain town with plenty of different things to do. It's about a half hour northwest of North Shore and has lots of places to eat, boutique shops, and art galleries. Donner Lake is also in Truckee, which makes the town a local favorite. Looking to satisfy your sweet tooth? The ice cream at the Little Truckee Ice Creamery is pretty legendary.
8. Meeks Bay
At the mouth of Meeks Creek on the western side of the lake lies Meeks Bay. This area has a resort, a campground, bike paths, and both public and private resort beaches. You'll find family-friendly camping and long stretches of soft sand here, with shallow waters perfect for swimming.
7. Pope Beach
This three-quarter-mile-long sandy beach is three miles west of South Lake on Highway 89, on national forest land. Pope Beach is famous for its shallow waters and beautiful scenery, and has plenty of shady trees to picnic under.
6. Hot-Air Balloon Ride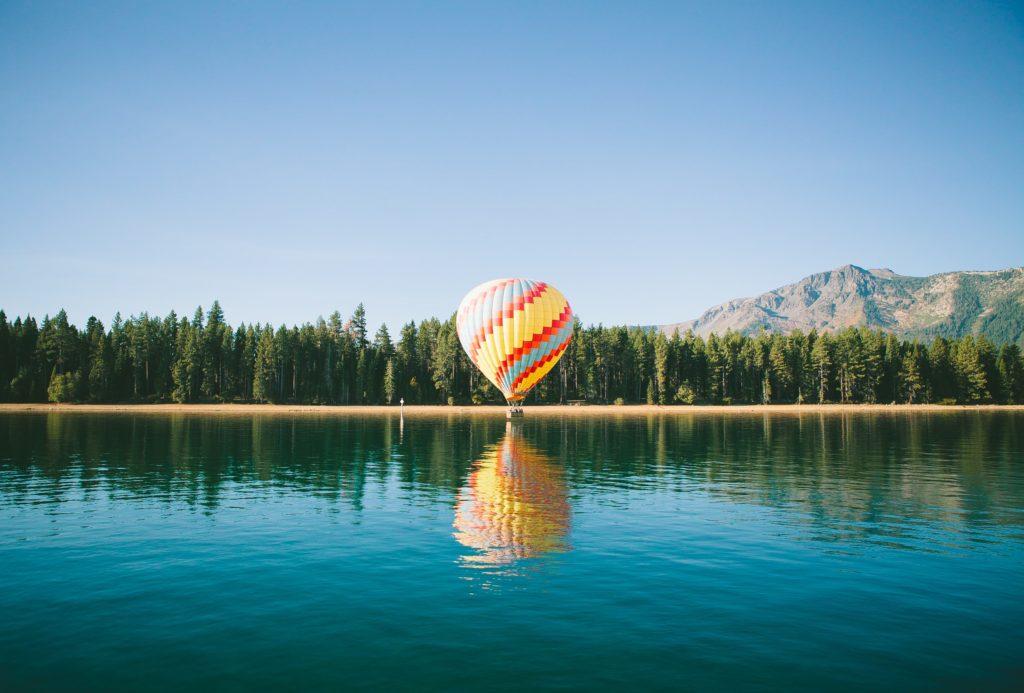 If you've ever thought about going on a hot-air balloon ride, Lake Tahoe is one of the absolute best places to do it. They reach elevations of up to 10,000 feet above sea level, but can also go down to just a few feet above the water's surface. Some of them actually touch down onto the water! The sunrise balloon rides are incredible. I mean, can you think of a better way to start your day?
5. Zephyr Cove
Popular Zephyr Cove, on the southeastern part of the lake (on the Nevada side), has beaches, a marina, a variety of restaurants, and camping. It's a great launching pad for a bunch of summer activities.
4. Moraine Trail
Running to the dam at Fallen Leaf Lake, this easy trail is only about two miles round-trip and takes about an hour and a half to complete. You'll find some killer views of Cathedral Peak and Mount Tallac along the way. Summer is just the right time to hike this trail, because the water at Fallen Leaf is warm and perfect for swimming and fishing.
3. Pacific Crest Trail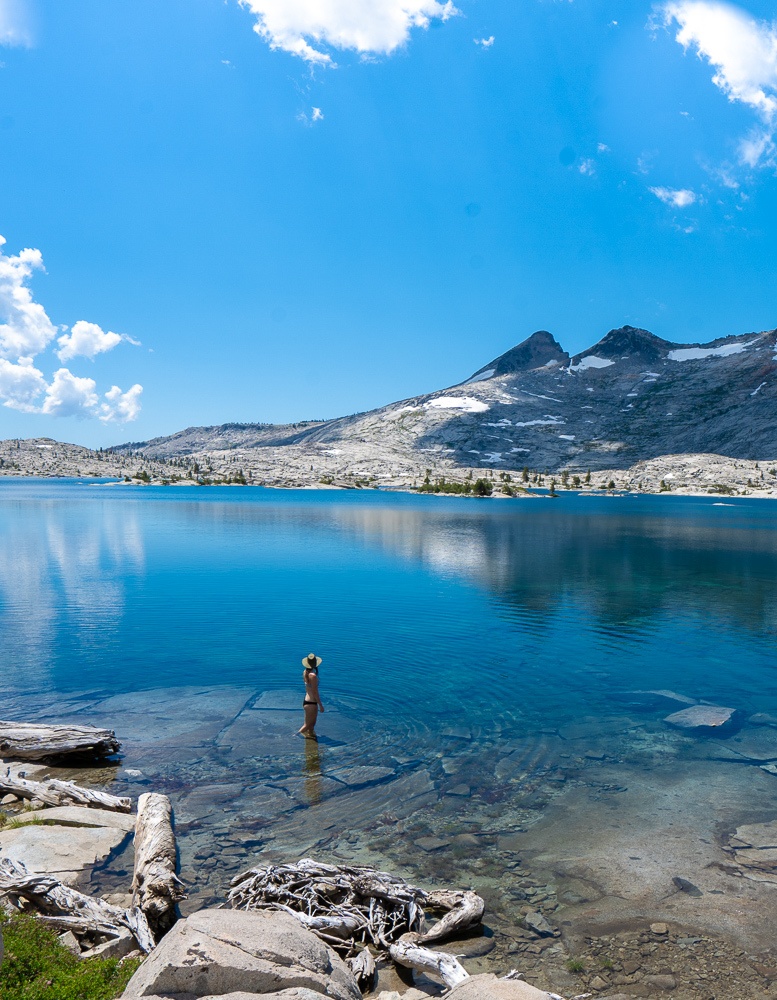 The 3,000-mile-long Pacific Crest Trail (PCT) runs all the way through the western United States down to Mexico. Along the way, it passes through the Desolation Wilderness Region on the west side of Lake Tahoe. This section, between Tahoe and Mt. Whitney, is known as "the crown jewel of the PCT" because of its varied topography: lakes, valleys, granite peaks, and forests. Hikers usually access this part of the PCT through Eagle Falls, Lake Aloha, Fallen Leaf Lake, Wrights Lake, or Echo Lake.
2. Wakeboarding and Waterskiing
If you're an outdoor adventure enthusiast, consider trying wakeboarding and waterskiing when you visit Lake Tahoe. If you have a boat or can rent one, these activities are great to enjoy with friends. There are a variety of places around Tahoe to take lessons or rent equipment, since this is such a popular activity.
1. South Lake Food and Drink Scene
South Lake's food and drink scene is definitely not something you want to miss while visiting Lake Tahoe. The hustle and bustle of South Lake is exciting, and the delicious restaurants and neat breweries are abundant. Not sure where to start? Check out South Tahoe Restaurant Association's Elevate Your Palate Map!
Pin me for later:
As you can see by now, Lake Tahoe has no shortage of incredible things to do in the summer. Whether you're heading out on a camping trip, staying a cozy Airbnb, or going for a more luxurious resort vibe, there is enough to keep you busy for your entire stay. In fact, I'll bet that you'll be returning time and time again to continue exploring the area.
Click to read more posts about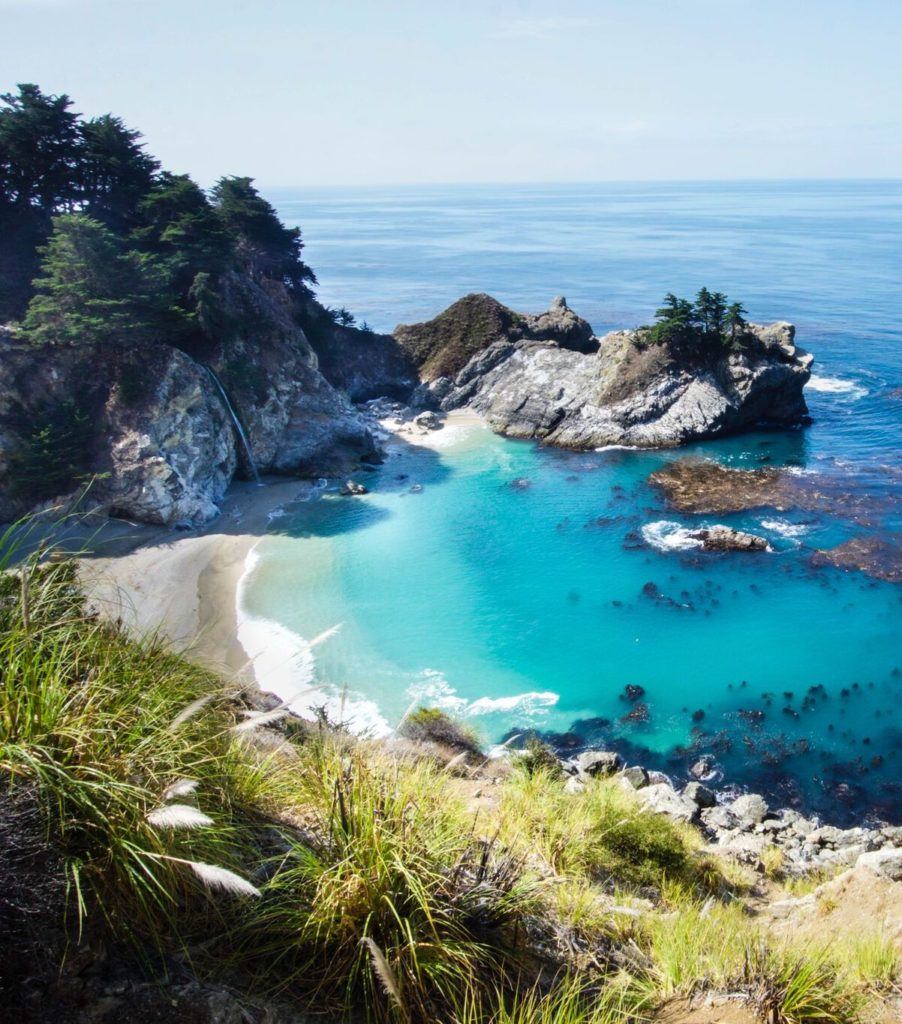 California